Since they formed in New York in the summer of 2018, MICHELLE have been releasing some of the best in sunny, summer anthems. Blending funk, dream pop and simmering jazz sounds, their debut album 'Heatwave' gave the collective a platform to spread messages on social justice, and a little bit of joy with musical themes highlighting the stories of young people in New York.
A predominantly queer band with Black members and members of colour, their rise has marked a renewed approach to pop, where representation is not a performative focus and visibility becomes a beautifully normalised element of their group. In anticipation for the release of their new single next month, we caught up with all six members of MICHELLE over Zoom – Julian Kaufman and Charlie Kilgore on production and vocalists Sofia D'Angelo, Jamee Lockard, Layla Ku and Emma Lee – to chat about self confidence, fundraising and their journey so far.
How did you all meet?
Jamee: So we all either knew Charlie or Julian, and this was our summer 2018 project. I knew Charlie from our freshman year of college that we'd just finished, Charlie and Layla went to high school together and Sofia and Layla met organically as part of the New York City music scene. We got together separately, pockets of us got together with Julian and Charlie, recorded the songs the day we wrote them and we didn't actually all meet until our first concert a couple of months after we released the album!
As a band only a couple of years into your career, how do you find the self confidence to keep going?
Sofia: Interesting question. I never really thought of it in that context before because like Jamee said, we all just came together in 2018 to make a record. None of this was really supposed to happen, we weren't expecting all of this to get to where it is now. When I left the studio… well, Julian's apartment, after writing and recording 'Ideal', I didn't think the songs we were playing together would be playing on BBC Radio 1. That was always a dream of mine for music generally, but I never expected it to happen with this. Now that we have this new platform, we want to share the fun that we have with each other, with the world, but also use the platform to empower our fans and our listeners. I think that's where we get the confidence from – taking advantage of our social media platforms to share resources, share music that we love, share inspiration, share artists of colour that we admire, queer artists that we admire, and share the stage. That's something that gives us all more confidence in being MICHELLE out there.
You're a predominantly queer BIPOC band. Do you see your band as a bit like an act of resistance, considering you produce such happy music and you're being visibly queer BIPOC?
Layla: We were recently talking about how we are such an authentic reflection of where we come from in the sense that it's not forced and it's not a product of "oh there's a demand for representation of these communities, let's put together a group that amplifies that and meets that demand". It was actually more "these are the people who were brought into this project because of their talents and their abilities and their skills and desire to work on this together".
We just all happened to be of very diverse backgrounds, and happened to meet that need for representation that is being pushed to the forefront and is being listened to a little bit more than it has been in the past. But I take a lot of comfort in knowing that we make this music because we want to make that music and that's what's come to us and what we've gravitated towards and created together. The people behind it and the people making it is an afterthought. What we look like isn't the first thing we bring to the table. It's not everything we are.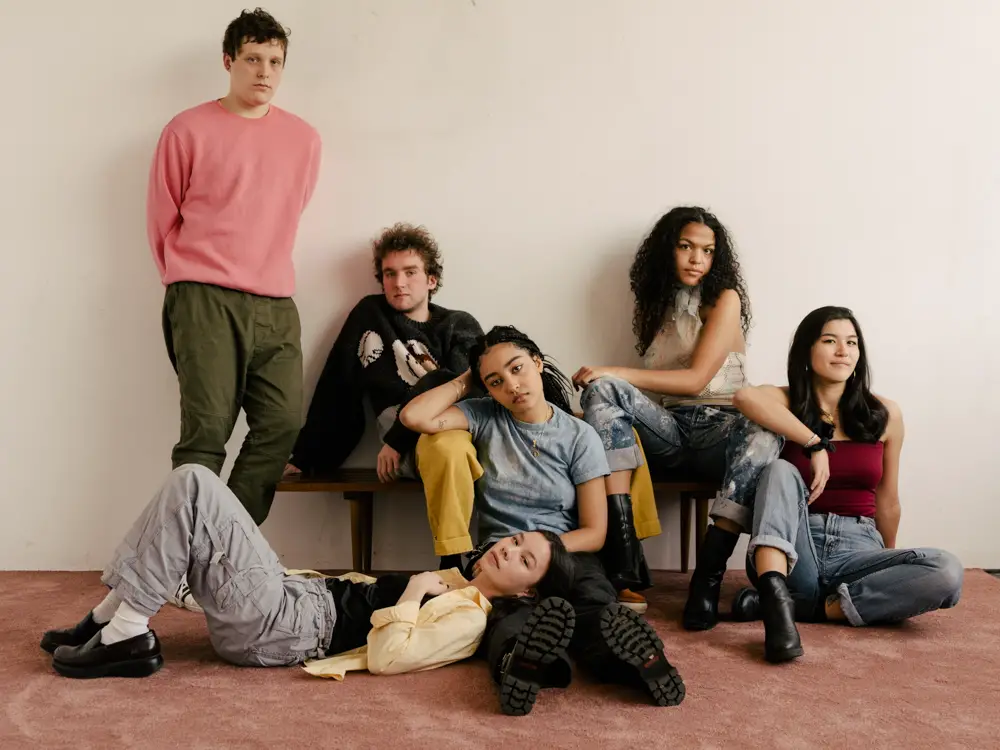 Who or what inspires you?
Julian: Everybody else in the band! I feel like, no matter how good I think I am when I'm in my room, I'll walk into a session or walk into the studio and all of a sudden, I am… nothing. I look to someone else and see what they can do and how I can learn from them as people and as musicians. I'm lucky that I get to be in a group of people who inspire me.
Emma: Of course I agree with Julian – I think it's my band mates and also my friends. We're fortunate that so many of all of our friends are also musicians and makers and creatives. I think friends and bandmates, and also I'm very inspired by the neighbourhood I grew up in. I find, when I'm writing music, or making any kind of content, calling back to spaces I grew up in is pretty inspiring.
That's so lovely! What's the music scene in New York like? How important has it been to you as a band?
Sofia: In high school myself and Julian were in rock bands and the scene that we were in had a lot of guitar music: rock bands, shoegaze or indie-rock inspired music. And then, evolving as we went through college, I would perform solo sets with my laptop and a guitar and that started to be the new normal of what you would see in the music scene – solo artists or duos that were playing through their laptop with an instrument, and bands as a whole didn't become as prominent as they were when we were in high school. That's really what I noticed from the New York scene.
How did the remix of 'The Bottom' with Rosa from Let's Eat Grandma come about?
Julian: Toby and Mike at Transgressive connected us, so graciously, and we are ever thankful!
Jamee: Just wanted to add that the cover art was a picture of the East River, and it was a picture Emma took when she was inspired and wrote down a little memo that turned into 'The Bottom' later.
Who else would you like to collaborate with? You can choose anyone!
Julian: Prince!
Sofia: Tough! Ooh BROCKHAMPTON would be a good one. That would be fun.
Layla: Yeah!
Jamee: That would be the most crowded performance ever
Sofia: It would be like an entire village on one stage!
Jamee: And I know Frank Ocean is always hiding but I'd love to do something with him
That would sound amazing! You took part in The Fader's Digital Fort a few months back and a lot of countries are now trialling a socially distanced gig format. Is that something you'd want to do?
Sofia: I miss performing live more than anything. I miss being on stage with everyone and sharing that energy. I'm sure you could get away with socially distant gigs, but in the US, people have proved time and time again that they don't care which is really hurtful and saddening. There was a drive-in Chainsmokers concert which I saw on my Instagram stories and I was like… "Wow, we're never going to be able to have a festival in the next five years if people keep doing stuff like this".
Until there is a way for the country to get the virus under the control, until there's a way for people to wear a mask properly and take the proper precautions and everyone can be safe and healthy in live music spaces, I won't feel comfortable doing it again. It just doesn't seem worth it to me, which literally breaks my heart.
You did a quarantine version of 'Mango' for No Kid Hungry which was beautiful! Why was it important for you to support that charity and cause?
Layla: We'd seen so many different charities and organisations that are really in need of attention and support right now, but a beautiful aspect of having this time at home to actually engage with each other virtually, is that we can direct our focus to these causes in a new way.
Alongside our own Go Fund Me and virtual performances we did to raise awareness for a lot of New York City organisations, we've just been taking every opportunity we can to re-route that energy for No Kid Hungry, and I'm sure we're going to continue doing this for more causes along the way. There's literally no reason to not do something productive – not for yourself but for others – especially when the world is in need of aid in every facet and every corner in every way.
You released your debut album 'Heatwave' in 2018 which was had a gorgeous, summer feel, and you followed up with your latest single 'Sunrise'. Are you working towards a second album? How do you want it to sound?
Julian: We have another single coming soon that's going to lead to an album. I'd rather everybody else decide what it sounds like.
Jamee: Yeah, I think it's definitely more of an eclectic sound, than 'Heatwave', because we have a wider range of genres in there.
Sofia: We've been sitting on a lot of music and we're very excited for people to hear it!