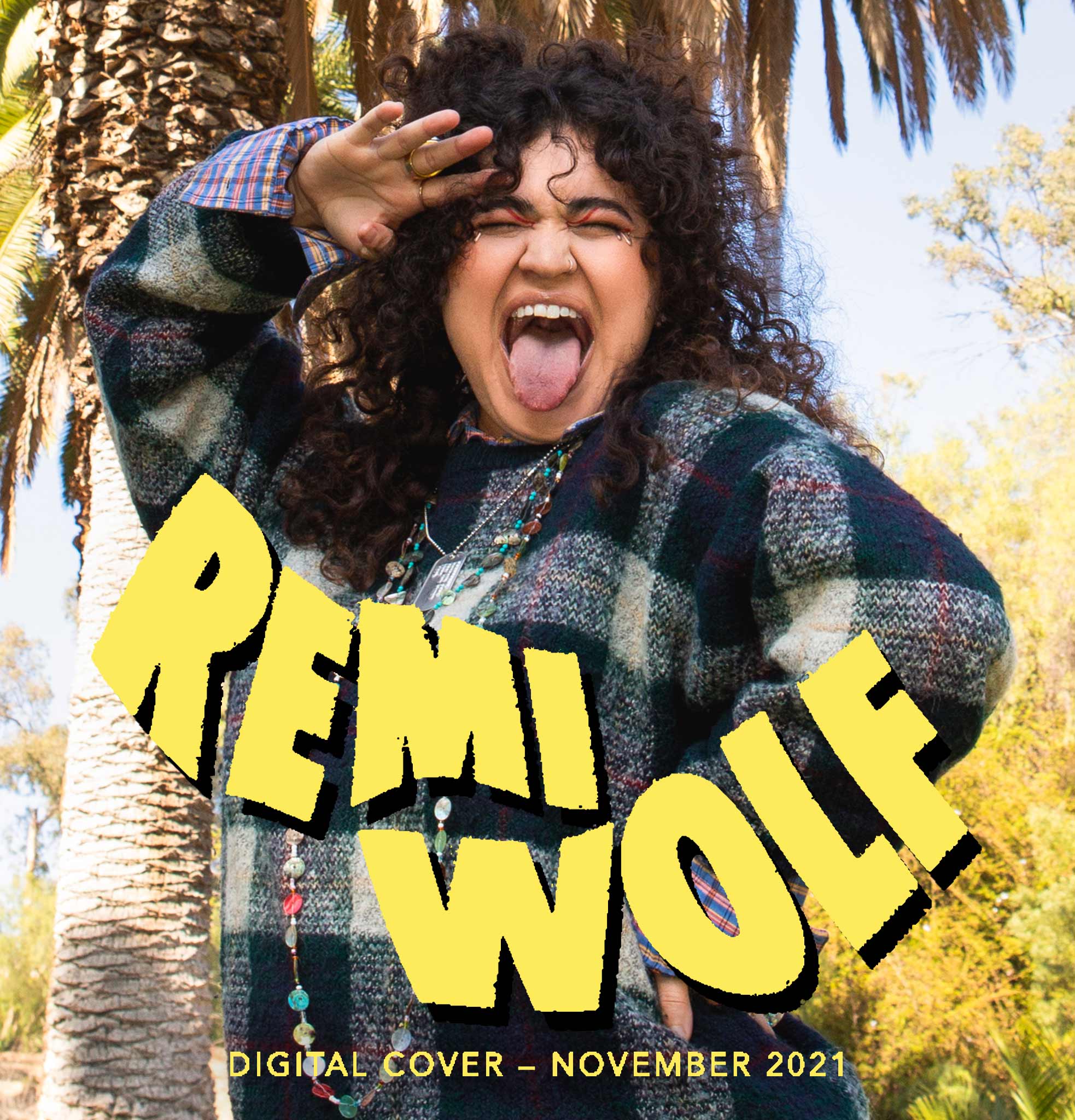 REMI WOLF
---
With her psychedelic visuals and perfectly-produced pop anthems, Remi Wolf is about to be your new obsession. Arusa Qureshi enters her multicoloured world.
PHOTOS: Jenn Five
---
Remi Wolf bursts onto the Zoom, head to toe in colourful tie-dye print. "I'm just having a blast," she says gleefully, with warmth and candor in her voice. It's been almost seven days since the Californian pop singer set foot in London and in that time, she's managed to pack in a decent amount. As well as playing Hackney's Moth Club and Pitchfork Music Festival's debut in the capital, she's also dropped by Radio 1's Future Sounds with Clara Amfo, visited a range of famous landmarks and walked tirelessly around her temporary neighbourhood of Shoreditch. "This is the longest time we've ever been in one city for a tour," she beams, "so we've been really trying to hit spots and explore."
Remi is an artist known for her vibrant soundscapes and eye-poppingly funky visuals, which, against the current backdrop of often bleak world happenings, offers a necessary juxtaposition. Sat in her hotel room in London, she's reflecting on the events of the past year and the release of her euphoric debut album 'Juno', emanating a playfulness in both her attire and temperament that fully illustrates why people are so drawn to her world of kaleidoscopic fun.
"I think that I'm able to channel all of my neuroses and all of my aesthetic dreams, and I'm able to channel this awesome version of myself into my visuals," she explains of the partnership between her sound and artistry. Working closely and solidly in collaboration with LA-based creative Haley Appell over the course of around six months, Remi was able to create her own universe to accompany 'Juno'; one that magnificently amps up the surreal and quirky.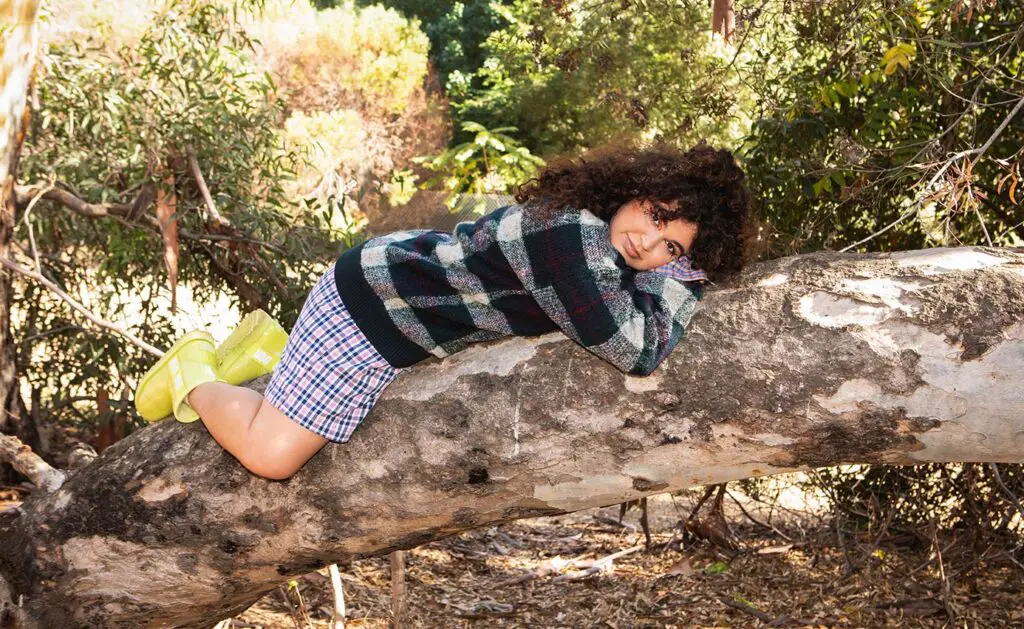 "I love working with Haley – she's part of the reason we were able to do so much in a short amount of time. She's the yin to my yang. We're also both kind of chaotic in our own way too, so we're able to feed that energy into the visuals. I love wacky colourful shit, I love geometric shit, I love trippy shit."
'Juno' and its surrounding aesthetics overflow with a fizzing energy and tongue-in-cheek sharpness. Across 13 tracks, we enter a dimension of upbeat melodies, bubbly harmonies and hallucinogenic instrumentation, from the thick synths of 'Guerrilla' and shrieked vocals of 'Front Tooth', to the frenetic 'Quiet on Set' and infectious production of 'Anthony Kiedis'.
The latter track, an ode to the Red Hot Chili Peppers' frontman, doubles as a love letter to her family, as she sings: "I fit my family dynamics / Like a Red Hot Chili Pepper / I love my family intrinsically / Like Anthony Kiedis". "I wrote 'Anthony Kiedis' after I read his memoir 'Scar Tissue'," Remi says. "I was thinking a lot about the relationships in my life with my family and friends after reading the book and learning about the relationship with his dad. That really inspired me. I truly think this song is my COVID anthem." But underneath the party atmosphere lies the feeling that this all represents something that goes a little deeper.
"I think in hindsight, the energy of the whole record is very indicative of the mania, the sadness, and the anger of COVID, and of my career coming up in COVID," Remi reflects. "I was talking to a friend yesterday who asked me what I thought the primary feeling in my music was. And I think it's probably rage – which might sound weird, because the response I've gotten from people listening to my album is that it helps them get through the day and that makes me so happy. But I think a lot of times, I'm writing my music out of rage and pain and confusion, and there was a lot of that going on during the pandemic."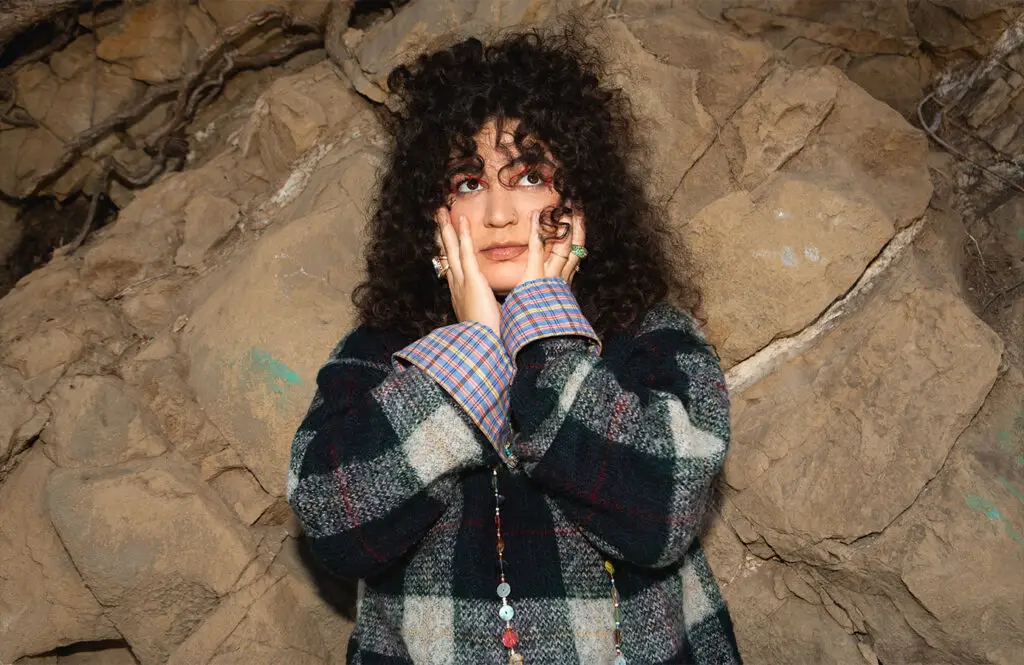 The trio of rage, pain and confusion likely don't match up with the eclectic and buoyant image that many have of Remi. But through her own admission, it's clear that there is weight in her emotions and in her storytelling, as opposed to the pure whimsy that may appear on the surface. In making the album though, there wasn't a clear mission statement that placed these feelings front and centre. In fact, as she reveals, each song was a genuine expression of herself on any particular day. "I don't have a grand plan; I kind of live by the ideology that if you start thinking too much, that's when you're in trouble. So I try to not think as much as I possibly can and that's when I get my best work."
Remi grew up in an environment where she was supported in her musical aspirations, her chef mother and entrepreneur father always encouraging her to reach for what she wanted. She was the lead vocalist in a childhood girl group and loved to perform but she initially seemed bound for a different life. A competitive skier for around 10 years, she represented the US at the Junior Olympics and had to find a way to split her time between training and performing. Music eventually won the battle though, with Remi going on to study music at the University of Southern California. At 17, she also auditioned to be on American Idol, making it through to the top 150. It's clear, speaking to her now, that the determination and fervour needed to compete at a young age, both in sport and American Idol, have followed her all the way to 'Juno'. Challenges are part of the process and Remi is insistent on making it work.
From the bedroom pop sounds of her 2019 debut EP 'You're A Dog!' to 'Juno' this year, Remi's personal and musical growth has been evident, largely because of a change in outlook.
"I grew a lot as a human over the pandemic," she says. "I was sober throughout which led me to think a lot more critically about myself and my life decisions and how I want to live. And obviously I just a lot more time in my head which was sometimes good and sometimes bad. That was definitely a big difference from previous releases. I had more of a focused and insightful mindset which made its way into the music."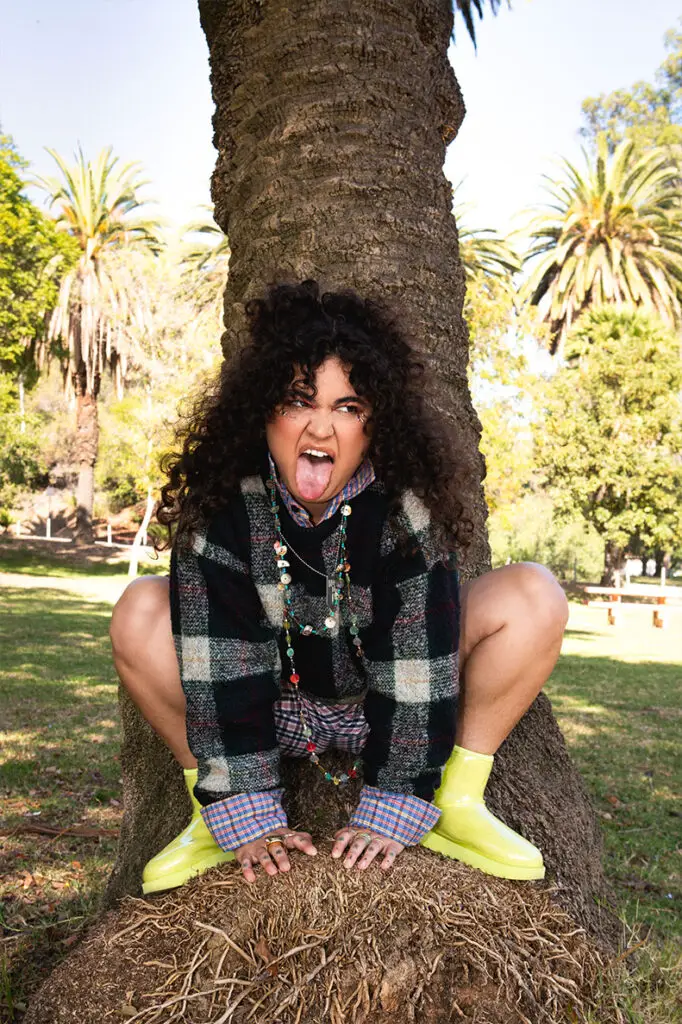 Remi's journey through sobriety is a key subject in 'Juno', and one that played an important role during the writing and recording of the record too, as she came to terms with her struggles. It seems fitting, then, that 'Juno' would open with 'Liquor Store', a track in which that internal battle manifests itself so perfectly; its cheeky vocal delivery and electro-pop terrain almost obscuring the depth in the lyrics: "You can go if you want to / But you know my mind will be walking a tightrope". But as Remi explains, 'Liquor Store' is significant for more than just its contents.
"It was the first song on the record that I wrote, that kind of kicked off this domino effect of all these other songs. So it was a turning point musically and a turning point lyrically and physically, in terms of me actually saying 'I'm going to make this album, I'm going to go to the studio every day, we're gonna do this'. It's also one of the only songs where I actually directly reference my sobriety and the emotional dependency that I was going through at the time and struggling with a lot."
Working on 'Juno' gave Remi a renewed focus that was much-needed in a time where everything felt generally unsteady. But it also presented a challenge that she wasn't initially sure how to embrace.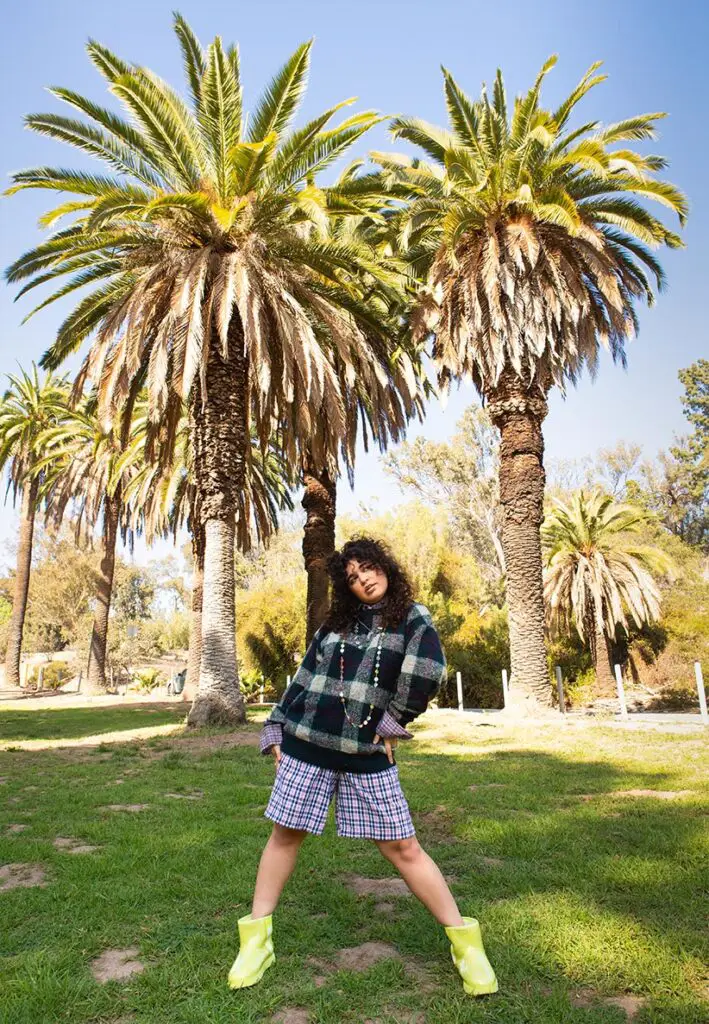 "I come from a background of making music in a jam band setting," she says. "Because of the pandemic, it was pretty much just me and my collaborator Solomonophonic [Jared Solomon]. We brought in a couple of other people as well but I feel like my joy and my practice in music creation for most of my life has been in a band setting." Though they tried to recreate this as much as possible using the resources that they had, Remi admits that it was pretty much impossible to get their set-up to the place that she wanted. "It was much more isolated, much more me in a room with Jared and us losing our minds together a little bit, trying to get these songs out. It's not my ideal way to work but I think that tension created some good music. So I can't hate on it too much because I'm happy with the end product."
Though Remi and Jared were the primary contributors to 'Juno', there's another important piece of the puzzle that in a way, helped the whole process along. "He's literally one of the only reasons that I'm standing here today and the only thing that kept me sane, especially through all the isolation." Remi's talking about the album's namesake; her dog Juno who she adopted over lockdown. "He was truly with me 24/7 throughout the entire pandemic. He was in every single session for the album, and because he was a puppy when I got him, I was training him throughout the pandemic, so he was peeing and pooping everywhere.
"It was me, Juno and Jared," she continues, "we were the trio making this album together. And I'm sure if you solo out a lot of the tracks in the album, you can hear him barking and gargling – he's a very noisy dog. So he was really part of the lifeblood of this album and that's why I decided to name it 'Juno'. He really made the album with me and was my support throughout the entire thing so I wanted to pay homage to him and make sure that that was recognised."
Fans will know Juno the French bulldog well from Remi's social media, which is where many of her younger Gen Z followers initially came across her for the first time. Her track 'Photo ID' set her career ablaze last year when it went viral with billions of views and catapulted her to TikTok fame, boosted further by the subsequent remix with Dominic Fike.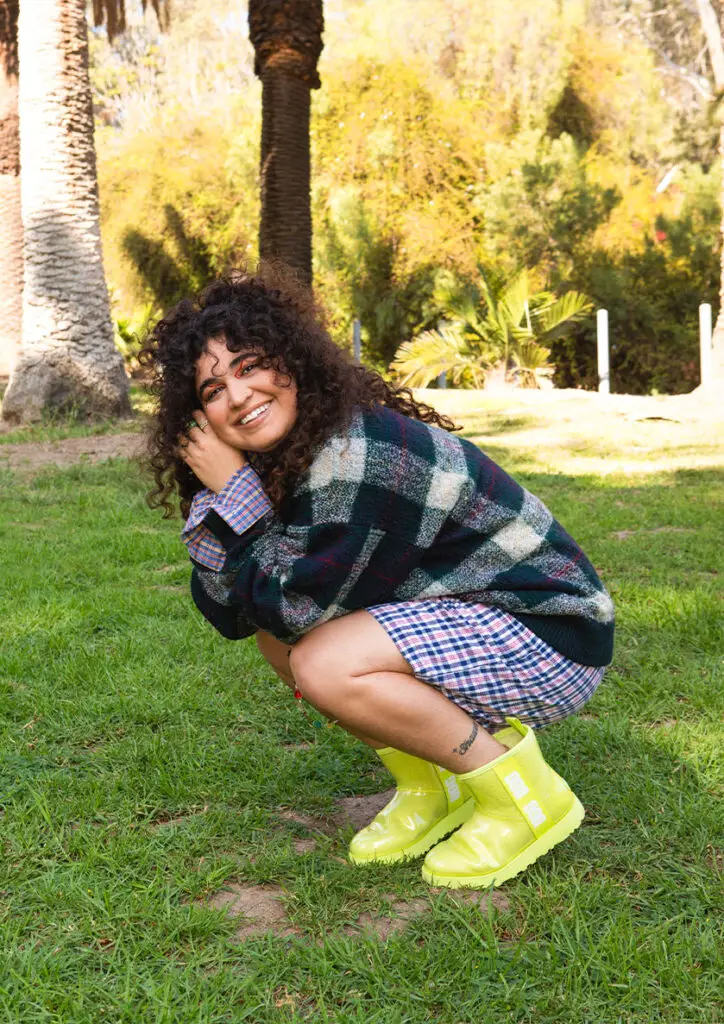 "TikTok has become this very big thing," Remi notes. "There are so many people who are creating these amazing careers for themselves on TikTok and doing it by themselves and being their own label, their own marketing team, their own producer, their own creative director. People are really, really embodying what it means to do everything by yourself and it's very cool."
Although a fan of TikTok, which has undoubtedly contributed to amplifying her career, Remi admits that she tries to disengage from the online sphere as much as possible. This is partly down to the draining nature of digital culture, which she believes can really suck life away from you if you let it. But it's also linked to the pressures and expectations that come with being labelled a 'rising star' or 'the next big thing'.
"I really try my best to take it out of my mind and not let it affect me at all. I'm not gonna lie, it has been hard. I feel the pressure of the culmination of everything, like I really do. I feel like I spend a lot of the day fighting that." Still, Remi is dead proud to be a part of this forward-thinking era of pop music that feels so free and unrestricted in its make-up, despite the surrounding pressures. "What I love to see is that pop music right now is being really dominated by women and it's fucking sick. Really strong, powerful women are coming up right now and I feel really grateful to be a part of this."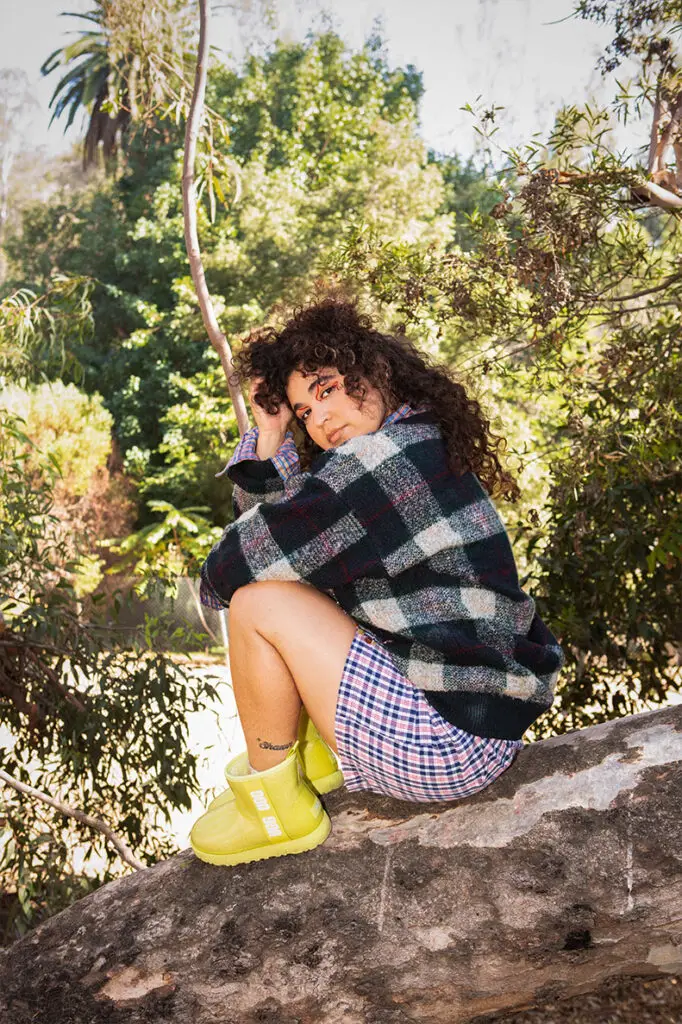 She's especially glad to represent a new generation of artists that are using their voice and presence to transform the entire landscape of the industry, and hopes that their existence and success will signal even greater changes and cultural revolutions in the future. "I'm just happy to be part of anything that paves the way for girls – that's mainly it," she affirms. "I think the most beautiful thing about what's going on right now is women having a voice. And if I'm inspiring anybody to give themselves the permission to let their voice be heard, I'm fucking stoked."
Whether or not she would label herself a role model, Remi should be incredibly pleased by the role she has played in improving the sheer range and multiplicity that exists in pop music today and also, of her emphasis on the freedom to be whoever you want to be, without restriction. Naturally, though, she does have some wishes for the future of the wider music industry.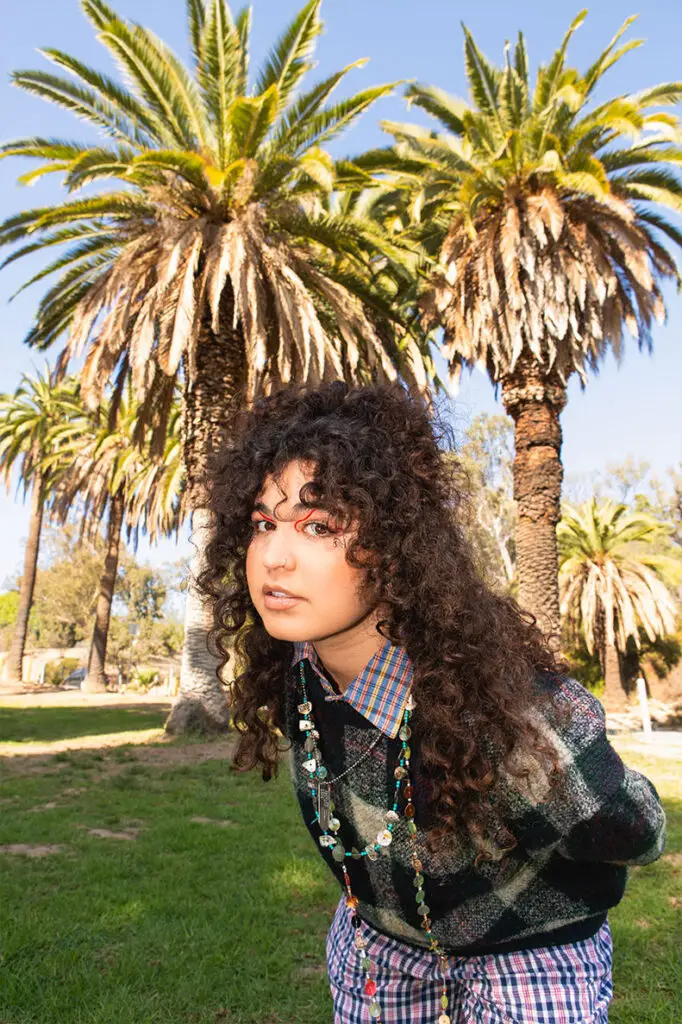 "I would just like to see a little bit more empathy," she says. "I think it's a brutal business, there's a lot of people who forget that artists are human beings and this is our life. This is our work, and our work is our life. I think if people flexed that muscle a little bit more, it would be a much better space."
As with her visual reveries, Remi has a charm that shines with brightness and authenticity, which explains why she also has so many famous fans in her corner. As well as collaborating with Dominic Fike, she's worked with Beck and Nile Rodgers and counts people like Willow and Camila Cabello among her 'Remjobs' (a name given to her fans based on a rather inappropriate nickname from a childhood ski coach).
"I feel super grateful that all these amazing artists even have any fucking clue who I am and the fact that they respect what I'm doing is just surreal. I can't really describe it because it's just the most dreamlike simulation I've entered into."
From the outside, Remi's world is indeed dreamlike and full of wonder, while still possessing that heart, gravity and sincerity of real life. With 'Juno', she proves that you can rage in art, and still come out the other end in glorious technicolour, offering something comforting, inspiring and uniquely human above all else.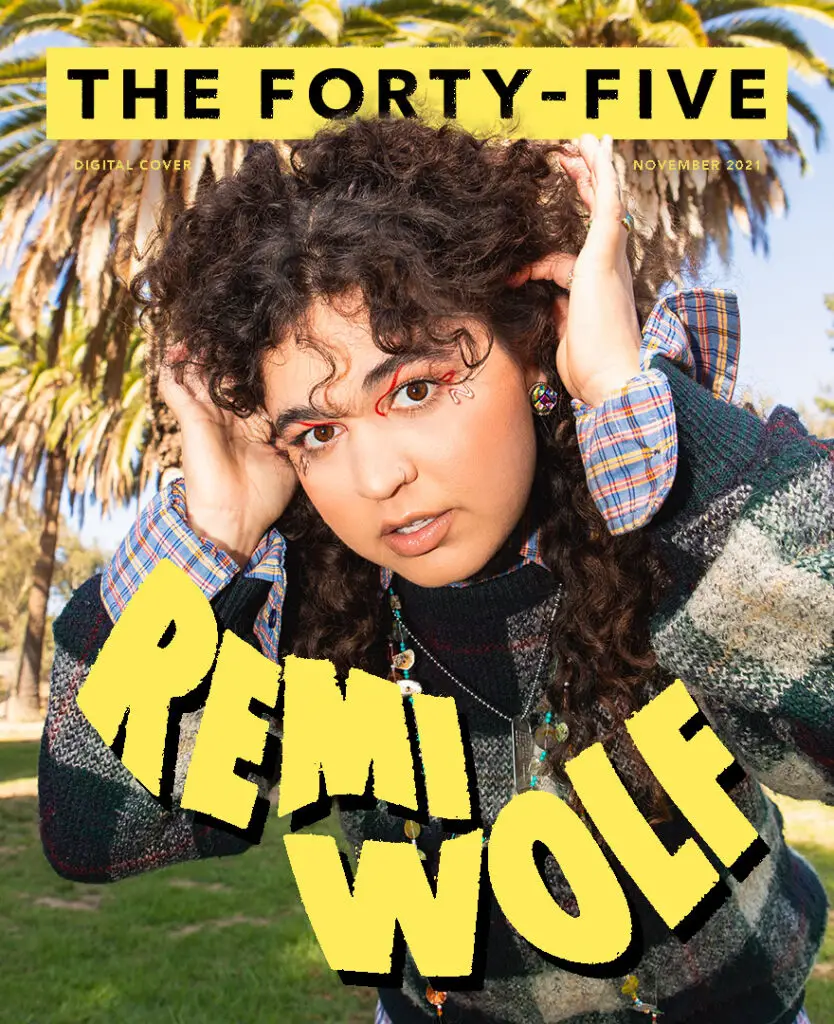 Remi Wolf plays Bonnaroo festival 2023
---
Like what we do? Support The Forty-Five's original editorial with a monthly Patreon subscription. It gets you early access to our Cover Story and lots of other goodies – and crucially, helps fund our writers and photographers.