The journey to the second Pale Waves album was anything but smooth. A near-fatal bus crash, global pandemic and creative differences fractured the band as it was.
A period of soul-searching followed, but their aptly titled new album 'Who Am I?' is far from morose. The band have faced their demons and come out the other side. The result? A bombastic Avril Lavigne-inspired celebration of being unapologetically you.
"This is the music I would make if I was a solo artist," says singer Heather Baron-Gracie. "It's the core of my musical heart." It's a departure from their jangly synth pop debut, but for Heather this record feels more honest. "I've realised what I want to say with my art," she states.
When 'My Mind Makes Noises' was released in 2018, Pale Waves were hyped as a The 1975 adjacent band with a similar sound – the album was co-produced by Matty Healy and the two groups toured together. Heather and Matty still speak, but he wasn't involved with this record. "He texted me to say that the album's amazing, that he really loves it and I'm sure we'll hang out soon," Heather says. She's past the point of needing a mentor now. If anything, this album is a testament to her strong vision and unwillingness to compromise.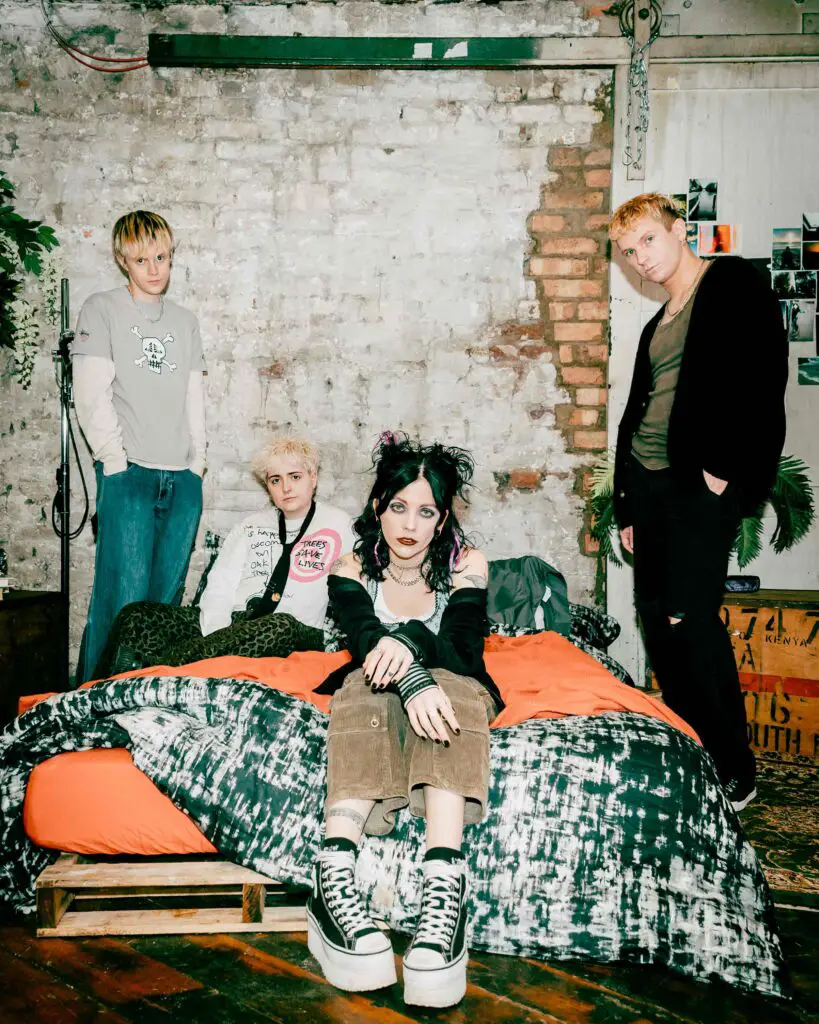 However, Heather's stubbornness can cause tension. To make the album she wanted, there had to be a tough conversation with co-writer and bandmate Ciara Doran about the future of Pale Waves. The duo had written together since meeting as students at BIMM with Heather focused on writing and Ciara on production. This partnership ended when Heather decided what they were writing together didn't feel good enough for a second record – a difficult conversation to have with your best mate, no? "It wasn't the easiest pill to swallow," Ciara recalls. "I'm not gonna lie about it. It's a huge thing to happen to a band when the two creatives stop writing together. Imagine Lennon and McCartney just being like no, we're gonna go separate ways. It made me go to a pretty low place."
---
---
Heather stands by the decision but admits that "it was a difficult process. What we struggle with is that we like different music. We'll be at a music video shoot and I have the speaker because I brought it and I'm playing the music that I love and Ciara's like, "Turn that shit off! Turn it over! It's so depressing!" and I'm like, 'What? This is John Mayer!"
In February last year, everything was suddenly thrown into sharp focus when the band were in a serious road accident. Their tour bus crashed on their way to a show in Berlin. Heather had flown ahead of the band and wasn't on the bus, but, for Ciara, "it changed everything." The band and their crew all survived with no serious injuries. Other bands who've been in similar crashes in recent years, like Viola Beach and Her's, haven't been so lucky. "It was a death trap," Ciara says. "People don't survive bus crashes on that road."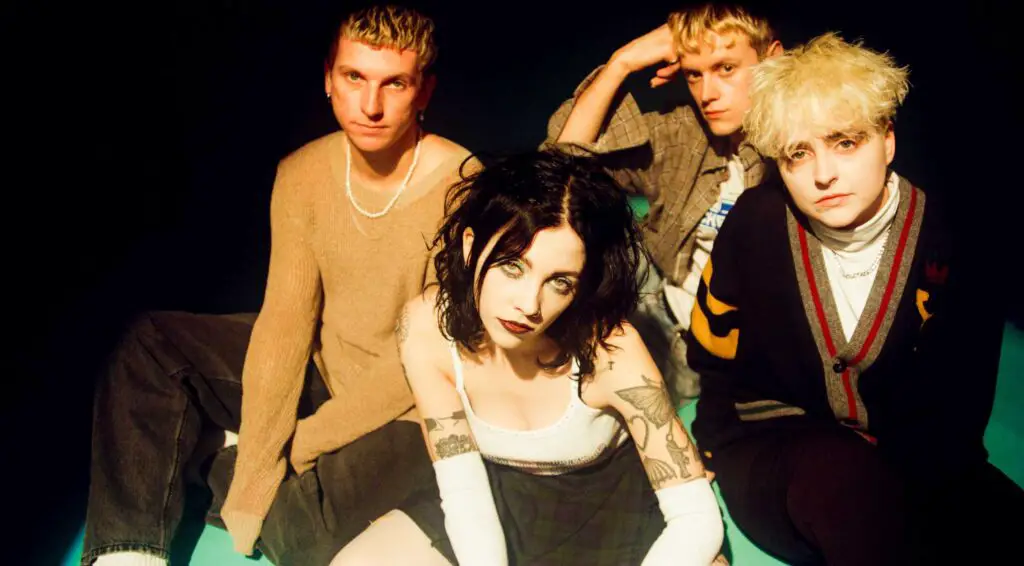 "I was in bed making music and stuff started happening," Ciara continues. "The bus started rocking. We got hit by a lorry and we fell and tumbled and the bus was upside down. Me and Asia, the photographer were stuck in the bunk area so there was like ten minutes of sheer panic that we were gonna die." It's an experience that will stay with everyone who was on that bus forever. Ciara gets emotional talking about it, tearing up as they say, "It was the first time I didn't want to die for a while. I actually didn't want to die and I wanted to see my girlfriend. Afterwards, I came out of my shell more. It woke me up. I realised that life can be good now."
The next day, Ciara cut off all their hair and since then they have come out as non-binary. "It's funny what happens when you really look at yourself in the mirror and acknowledge yourself," Ciara says of more or less going straight from the bus crash into lockdown. "I'd been ignoring myself in the haze of touring and alcohol. The bus crash was a big wake up call for me. It really slapped me round the face and told me to live properly and stop ignoring myself and pushing myself into the background."
This mentality is strongly echoed on 'Who Am I?' with its nostalgic pop punk anthems that are like a call to arms for anyone who feels different. Since the first album, Heather has publicly come out as gay, an experience that informs many of her new songs. "A lot of the first album doesn't use pronouns because I didn't feel comfortable and I definitely wasn't gonna lie and say 'he,'" she says.
'She's My Religion,' the second single from the new album, marks a euphoric embrace of her sexuality. The music video shows Heather with real-life girlfriend Kelsi Luck driving a convertible, breaking into an empty country house, and dancing around a bonfire. It's joyful and liberating but, most importantly, it feels real. "I didn't want to misrepresent it as playful or experimental or overly sexualised," Heather explains. "I wanted it to be genuine and honest rather than a straight girl dabbling with another girl to get more views. There are too many videos like that and they piss me off."
---
---
Heather hopes the video will empower anyone who watches it to feel confident in themselves and their sexuality, the way that she is now. "People should accept your sexuality," she says. "It's not like you're killing children! If anyone was to ever reject me because of my sexuality I would tell them to fuck off."
---
---
Throughout the album Heather gives out advice like your cool, goth big sister. "I like to have a close relationship with my fans and be there for them," she says. When a girl messaged her last year saying that she had come out to her mum as gay and her mum kicked her out, Heather wanted to help. "There was a point where the girl literally had nowhere to go. I was thinking about inviting her round to my house to sleep on my couch! Then I thought I could give her some money for a hotel but then she went to stay with her aunt. It's like, how much can you do? I try and do as much as I can but there's just so much going on all the time."
Heather wants to be the sort of frontwoman she couldn't see when she was growing up. As a kid in Preston, she didn't want to wear skirts or play with dolls and she always asked for the boys' toy in her McDonald's Happy Meals. The closest she got to feeling represented was in Avril Lavigne whose disaffected skater girl look and boisterous pop punk sound made her feel understood for the first time. "I'm not embarrassed that Avril Lavigne is probably my favourite artist of all time because she's fucking cool!" Heather says. "She definitely influenced this album. I grew up with her music."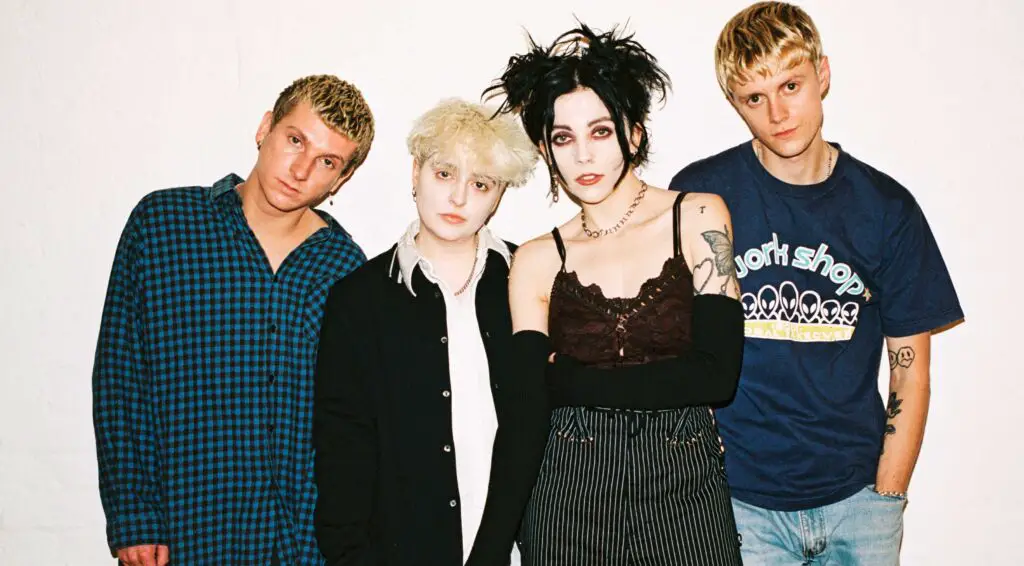 Avril's influence on 'Who Am I?' is inescapable. It's packed with punchy choruses and teen angst. For other millennials in their 20s who grew up with Avril's music, the sound is comforting and nostalgic. That warmth extends into the lyrics too. Heather is in love and she wants the world to know about it.
The singer describes meeting her girlfriend as the moment that encouraged her to leave unhealthy coping mechanisms such as heavy drinking in the past. "At the start of our relationship I was still a mess," she admits. "It took meeting the right person for me to want to get rid of that toxic lifestyle. Now I'm looking forward to playing shows sober and waking up and remembering it. Life is hard. It takes a lot of navigating and making mistakes. I just want our fans to know that I will always be there for them. I will always try and represent them. I want them to feel less alone."
'Who Am I?' by Pale Waves is released Feb 12 2021. Listen to the album, along with commentary from Heather, in our new episode of the Sleeve Notes podcast.
---
Like what we do? Support The Forty-Five's original editorial with a monthly Patreon subscription. It gets you early access to our Cover Story and lots of other goodies – and crucially, helps fund our writers and photographers.
Become a Patron!