It's Saturday afternoon and Jehnny Beth is reading erotic fiction on Instagram Live with a huge plaster cast on her finger. The story, 'Bitching', taken from her new book CALM, is about a woman who is treated to a night of anonymous sex with a car queue full of strangers. Getting your Sainsbury's Click & Collect has never been such a thrill!
Jehnny reads slowly, softly, her jet black hair slicked back behind her ears. As the story reaches its climax – quite literally – Insta hearts spurt across the screen in a shower of appreciation. Our narrator beams sweetly, gratified.
Years of living in London (Beth recently moved to Paris with long-time partner and collaborator Johnny Hostile) have given Beth impeccable English, just a hint of her French accent still audible, the odd mispronunciation only adding to her charm as a storyteller.
"Spread the word about our union of perverts" she says, waving at the camera, her comedy plaster wagging back and forth. "I'll be back next week with another story."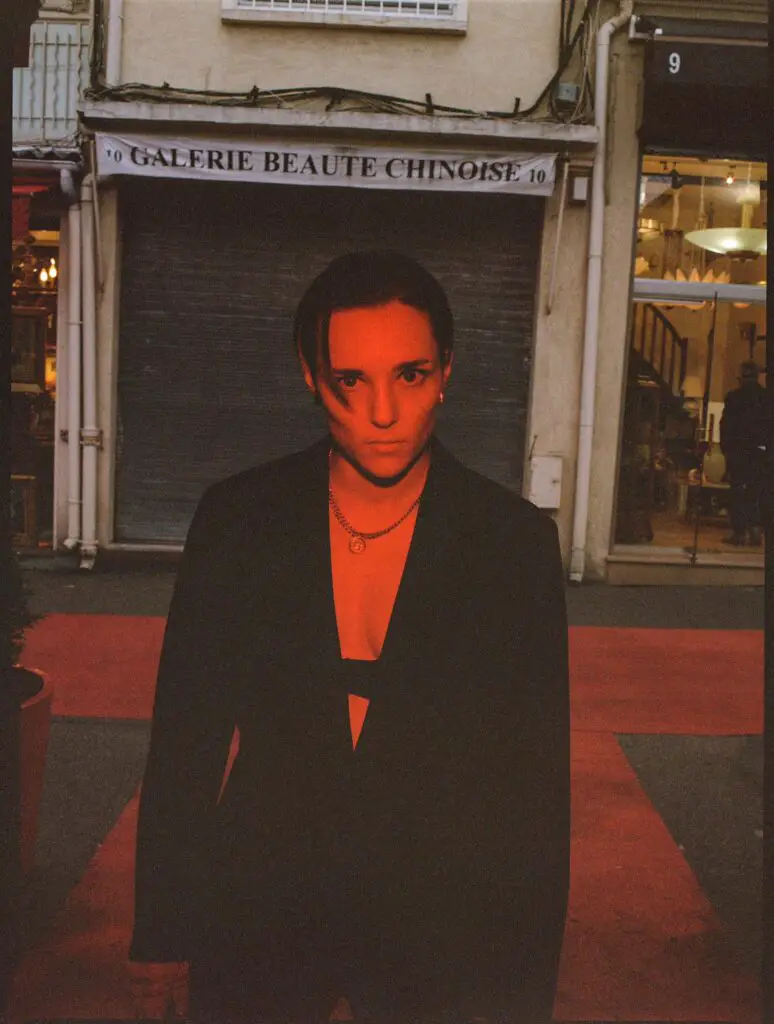 Jehnny Beth has had a bountiful few years. Since putting a pause on Savages, the all-female post-punk band that brought her much critical acclaim, she's explored different outlets for her art. Finding herself in the purplest of creative patches, Beth's recent work includes a TV show, ECHOES, a book of erotic short stories, the soundtrack to a documentary about the life of Chelsea Manning (the trans military Wikileaks whistleblower) and she has even created a solo album, with a little help from her friends.
"The word solo record doesn't really seem to fit." she explains, on the phone from Paris. "I prefer to call it a personal record. When I informed the band of my decision [to go it alone], I think I was finding myself in a place of feeling genuine tiredness."
Now, more than ever, most of us can relate to being exhausted by The State Of Things. "I was feeling quite disgusted at the world and sick of people and I really needed to regroup myself. I felt very fragmented. Everything felt too frightening, too violent almost, the world and everything and even my rapport to it and I wanted to find a way to change. I felt that personal change was the only way to do that moving forward. I had to go through a certain level of pain because I believe that to be happy you can't be so impervious to pain." She chuckles, to lighten the mood but it's a sentiment that resonates, particularly now, where the world is questioning what they've done – and what more they can do – to help eradicate others' pain and make a better, more accepting society.
On the whole, Jehnny Beth – real name, Camille Berthomier – isn't quite how you'd imagine her. For someone who so ferociously sings about sex and pain, she is, well, very smiley, her fierce stage presence at odds with the gentle person I find myself conversing with.
Born in Poitiers to theatre director parents, Beth was classically trained in piano as a child. On meeting Johnny Hostile in 2006, the pair formed musical duo, John and Jehn before founding Savages in 2011 along with Gemma Thompson, Ayse Hassan and Fay Milton. The band made two records, 'Silence Yourself' and 'Adore Life', but in 2016, Beth found herself needing time away from the group to look inward.
"I needed to reconcile myself with an identity and with my French identity," Beth explains. "Not just my French identity, but the part of myself I left behind when I moved to London in my early twenties and I decided to put art in front of anything else in my life. I felt a bit unhappy by these fragmented parts of myself and I needed time to regroup them."
So, to Paris then, to work on "personal" project, the album 'To Love Is To Live', out June 12. Fans first got a glimpse of Beth's solo work in the TV show Peaky Blinders. Beth had a prior relationship with the show – Savages' songs having been used on the soundtrack – and got to know Cillian Murphy after he agreed to read on one of the album tracks 'A Place Above'.
"I knew I wanted a record that had different voices, field recordings and a variety of sounds and ideas mixing together. Johnny and I thought about who could read on 'A Place Above' and Cillian's name came up. I wrote him an email and he was a fan, loved the text and agreed to meet in London to record it without even hearing any music. I was honoured he would do it."
Some months later, backstage at a show, Beth met Peaky director Anthony Byrne. He asked to hear the new music as he was finishing off the soundtrack for the latest series and looking for songs. He selected, 'The Man' to play in a now legendary montage scene among Peaky Stans, the show's female gangster, Polly Gray, stepping in horse shit, removing her shoes and walking on barefoot.
"I thought it was really cool, says Beth, who had long been a fan of the show. "From there, he wrote a script for the video and that's how it started, really." Byrne directed the cinematic first video for the album's opening single, 'The Man', Beth as rowdy protagonist on a boozy night out, kissing who she wants, jumping on cars and squaring up to blokes outside pubs. Despite its fairly patent characterisation of Beth as 'The Man', roaring "I'm the man, I fuck all I can, I'm the man", she insists it wasn't supposed to be a gendered song, more one about introspection.
"I was surrounded by a lot of people who were pointing very assured fingers at people in power and saying how evil they were, some of which is absolutely true. I'm not defending any of those people. But I felt that it would be interesting to step into the shoes of that evil character and wear the mask of evil because often there is this lie that we grow, where there is good on one side and bad on the other side."
"I feel that my duty as an artist is to say 'Hey, hang on. That evil man? That evil exists in me as well and I have to accept that we belong to the same humanity, we share the same humanity."
Cillian isn't the only guest on the album, the breadth of guests explaining Beth's reluctance to call it a solo record. The XX's Romy Madley Croft provides backing vocals on 'We Will Sin Together' and helped to write two other tracks. Idles' Joe Talbot also lends his voice ('How Could You') and Warpaint's Stella Mozgawa her drum mastery ('We Will Sin Together'). Forming community and alliance within music is something that Beth has long been an advocate of.
"If I love an artist who is beginning, I always write to them and say: 'I see you. I hear you. This is great. I hope we can catch up if we're in the same city. How are you doing? I love this song. How did you write it?' she explains.
"Musicians are very vulnerable and sometimes can feel very isolated – they're very sensitive people – and sometimes you just need to know that your community is there for you and knows what you're doing. It's not just you on your own against me. So that is something that's dear to my heart, very, very much, and it has an effect. It definitely works."
But when you get a lot of musicians together, is there not the potential for an ego clash of epic proportions? "It's not like it's that 'me against the world' mentality, like Blur versus Oasis, anymore. Bands are less cliquey and more inclined to want to collaborate," she says.
"I didn't want to fall into the trap – which is something I've witnessed – where you feel like you have to write, produce and record everything yourself. It's an ego trap. If I go in saying: 'you can't remove that idea, that's my idea,' then you're not serving the greater purpose, which is to make the best music it can possibly be. I've heard Bjork talk about that with people she's collaborated with and it always stayed with me; which is that if you've invited someone in it's because you love their talent – they do it better than me – so I want them to be able to express themselves and take ownership of that bit of the record."
Overall, the record is not such a departure from Savages' sound that fans of the band will find themselves lost at sea. Beth's knack for intertwining intensity and beauty, both industrial and vulnerable all at once, is present in abundance.
On album opener, 'I Am', Beth's distorted vocals play over cinematic strings. "I am burning inside, I am burning inside," that introspection setting the tone for the record.
On 'Flower', a track written as an ode to a stripper at hip LA bikini bar, Jumbo's Clown Room – the same place Courtney Love was once a dancer – Beth has created the album's "sexy song". Inspired by Kendrick Lamar's 'To Pimp A Butterfly' and its many complexities and characters, the track is one of unbridled desire.
"It's about that sort of attraction that you can feel, especially when you are very young – with your first love or your first sensation of lust – and that distance that is sexier than the touch," she says, of the track's voyeuristic tone. "The fact that you are not really sure if the attraction is real, whether there is really a story between these people or whether it is a fantasy."
There are moments of quiet and beautiful reflection too, alongside those of uncomfortable self-realisation. 'French Countryside' is a pared back piano track about promising to change, to better yourself for your partner. "Oh my love, don't desert me know", Beth pleads. "It was the track I struggled the most with. It's the most exposing, the most personal", she says of the song.
At its core 'To Love Is To Live' is a record about doing what we're all realising we need to do: to look within ourselves and face up to the darkness, the prejudice that lives inside us all. In order to change personally and collectively, introspection is vital and on creating an album focused on that journey, Beth may just be about to release the perfect record for our times.
"When you're changing, all your alarm bells go off. You feel afraid, you feel anxiety. I try to follow that path and tell myself if it's uncomfortable, I'm doing something right. It's uncomfortable, but not life threatening."
As the western world slowly wakes up to the darkness within, we are reminded to embrace the discomfort, let the alarm bells ring and perhaps, we might just emerge with a little more love to live.
To Love Is To Live is out June 12 2020.