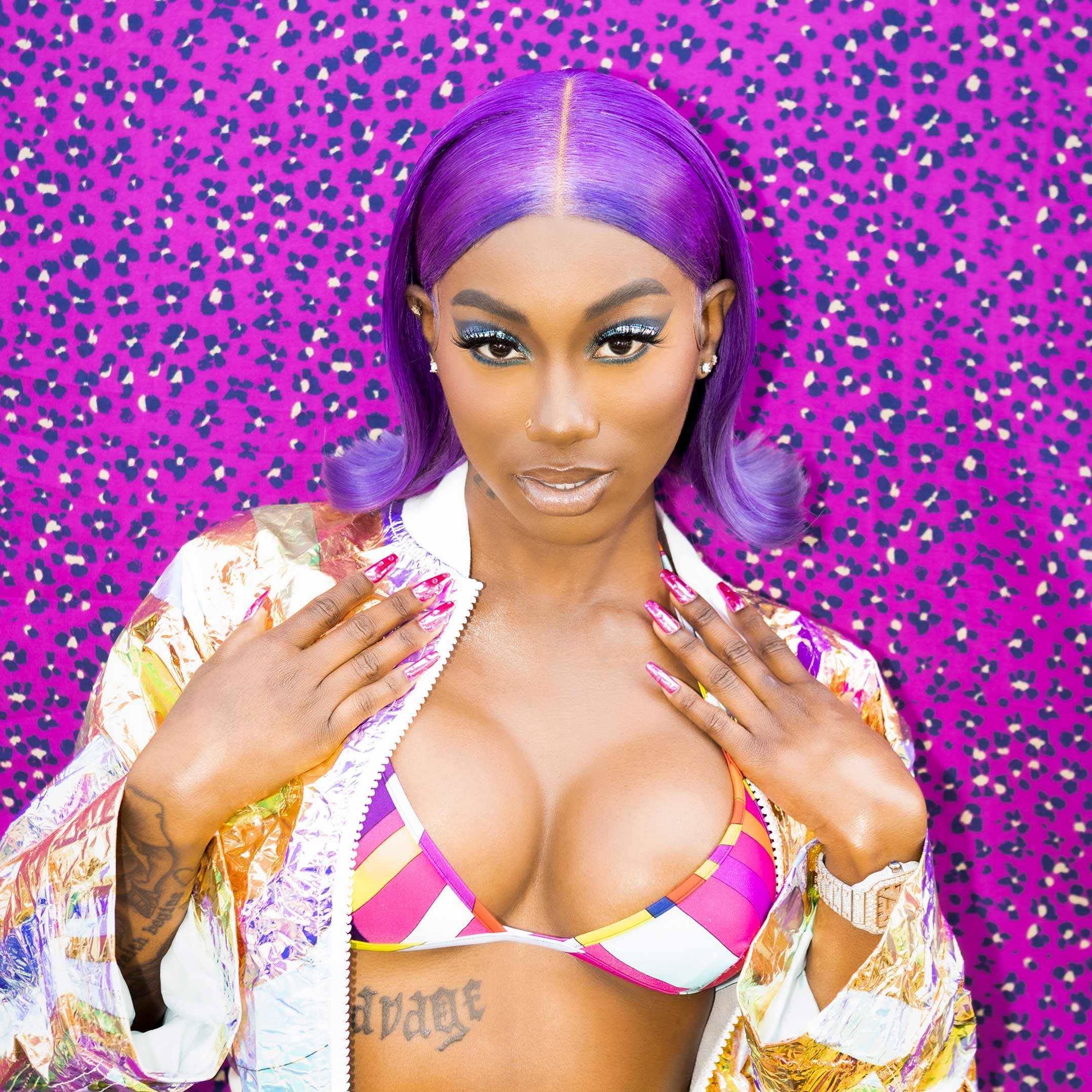 Flo Milli
---
On site at Flo-Chella, Rhian Daly meets Flo Milli to talk about female empowerment and being one of the baddest rappers in the game.
PHOTOS: Jenn Five and Brandon Almengo
---
"I need y'all to turn the fuck up, OK?" Flo Milli tells the huge crowd filling up Coachella's Sahara tent. It's the second day of the Californian festival's first weekend and the Mobile, Alabama rapper is bouncing across the stage as she performs an irresistible version of her thumping 2020 track 'In The Party', flicked out purple hair bobbing around as she lights up the tent with her infectious, warm energy.
A few days later, she sits on a hotel rooftop in Beverly Hills, waiting on an order of salmon and fries. "It was so exciting," the 23-year-old rapper gushes enthusiastically, the weekend's vibrant violet 'do replaced by her natural black. "I felt like I was doing what I love. I almost cried." She pauses for the briefest moment and smiles: "I think I did cry."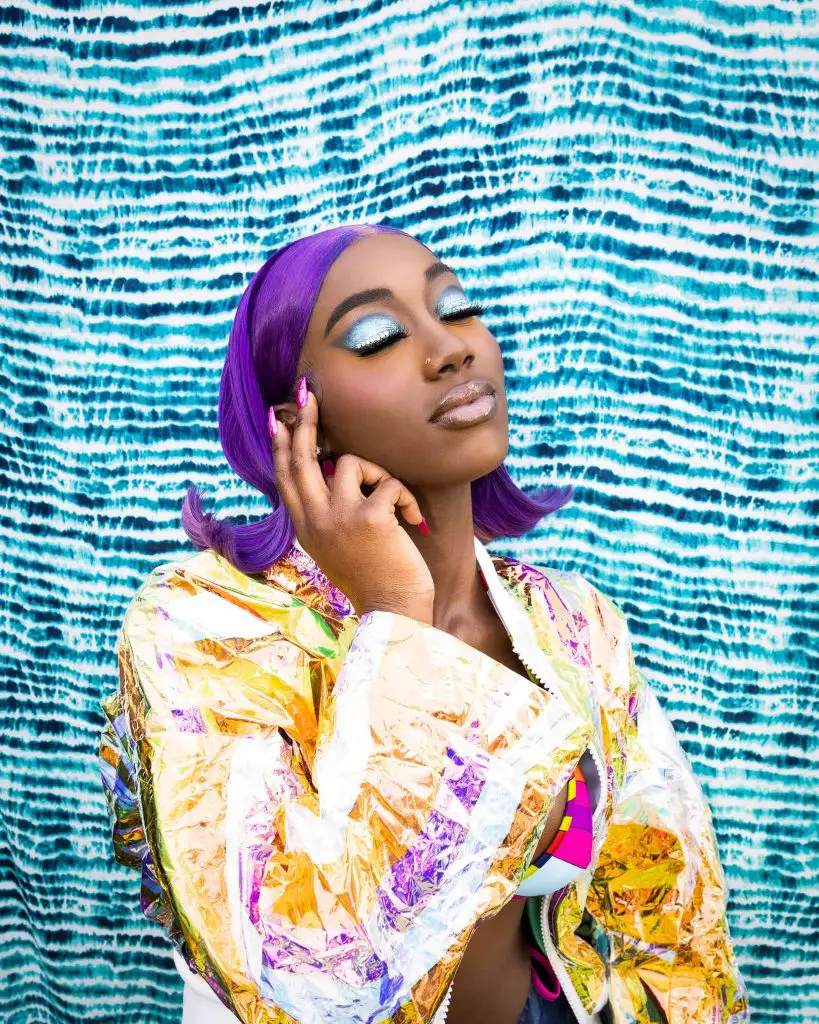 Getting teary is understandable – performing at Coachella is something that Flo says means everything to her. Taking the stage in Indio has long been her dream and, when she got the chance to make it reality, her "whole life flashed before me". "It was like everything that I was praying for or asking for was actually happening, and I felt really proud of my work." No longer was she sat at home tuning into the livestream, but making her own mark in the festival's history.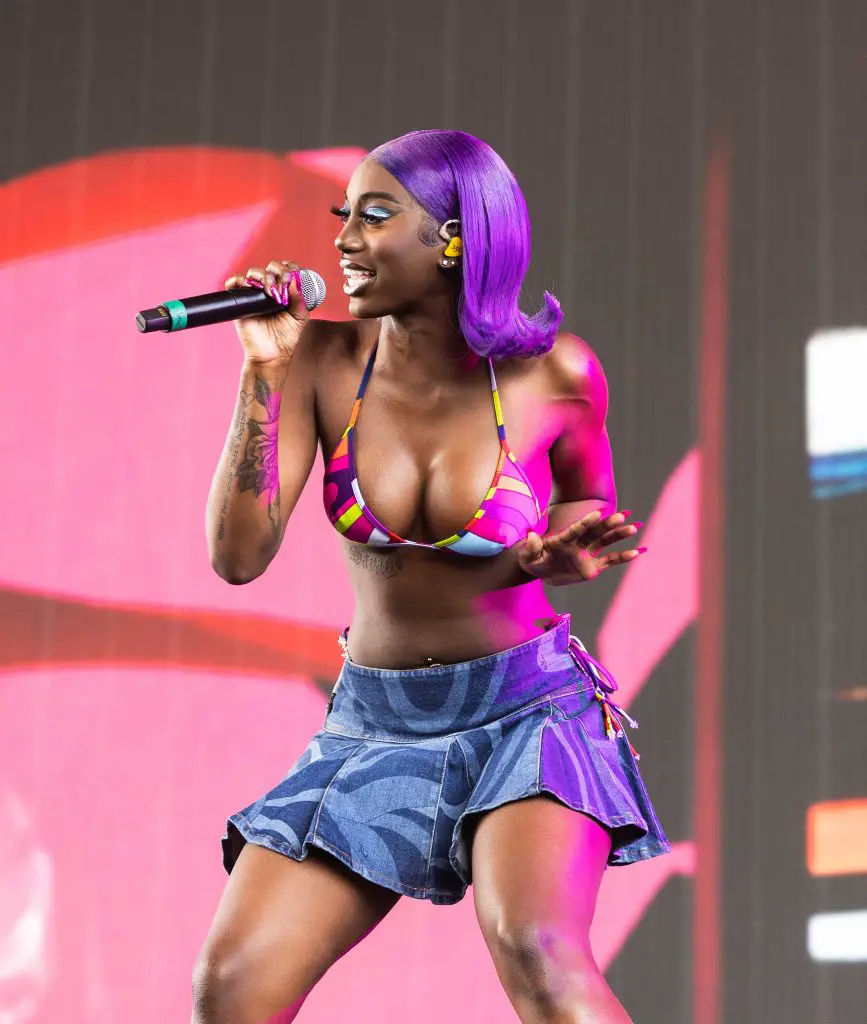 Although Flo says she tried not to look back at sets from Coachellas past for inspiration, one performance remained in the back of her head regardless. "I remember watching the Beyoncé performance and I was like, 'Oh my gosh, that's the performer I want to be like'," she says, eyes lighting up. "To be the best you gotta learn from the best."
Flo Milli might have some way to go before she's at Beychella levels but, right now, she's one of a slew of female rappers who are spearheading a new wave of hip-hop – one that's finally seeing a whole collective of women smash the genre's glass ceiling and lead it into a brighter future. Their presence is felt at Coachella with Doechii, GloRilla, Noname, Latto and more putting in killer performances that earn them big plaudits, as well as Flo's exhilarating set, which itself features another of their number, Texan MC Monaleo.
"That's my sister," Flo grins of her special guest, who made headlines by appearing on stage for 'We Not Humping' heavily pregnant in a hot pink Pucci bodysuit. The pair toured together last year and have formed a strong bond. "It meant everything to share that moment with her cos we relate on a lot of things in our personal lives, so it was just exciting."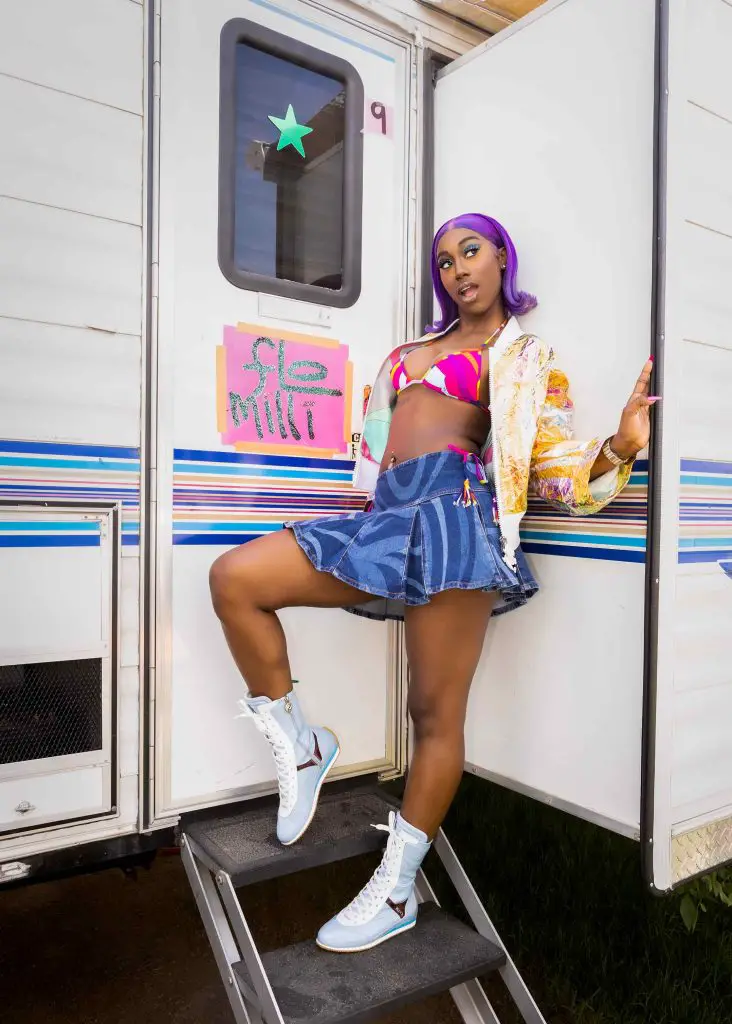 Beyond the festival field, rap's sea-change is being reinforced by even more exhilaratingly talented women. Ice Spice is one of the hottest musicians of the moment, while Coi Leray, Lakeyah, Lola Brooke, and Renni Rucci frequently line up on ones to watch lists. Higher up, the already-established likes of Saweetie, Megan Thee Stallion and Rico Nasty are setting the bar high, the upper echelons of the genre no longer an exclusive realm for just one or two women at a time, as has often felt the case in the past.
Flo takes a second to think about the wealth of female rappers taking charge right now and reasons: "There were always female rappers around, but I think the barriers have broken down a little bit more for us to be accepted. A lot of us new girls, we were always rapping – we're just older and able to actually chase the dream the whole way without being a kid. At least for me, that's what it is."
---
---
Growing up, the limited room for female rappers didn't discourage the young artist from trying to make it, but it was something she says she thought about a lot. "I would see how men would try to degrade female rappers – because, in rap, men already degrade women anyway," she says, a weary look in her eyes. "They've been doing that for a long time. Imagine trying to be a woman rapping in their sport – well, it's not really their sport, but that's what they thought." Instead of being put off, Flo acknowledged the hard path that she likely had ahead of her and doubled down on her dream, trusting it would "all work out the way it's supposed to".
While hip-hop's rising women are more interested in solidarity than beefing, one of the pitfalls of being a female artist is the predictable inevitability that somewhere along the way – whether through the media or Internet trolls – you'll be pitted against other women. It's something Flo has experienced, with people online trying to fabricate bad blood between her and Latto, with whom she is friends. "I didn't even notice, honestly," she shrugs nonchalantly. She wouldn't have fallen into the trap of starting a beef even if she had, though. "I learned how social media works and, being that I grew up on it, I know the intention. With a lot of stuff, people just want to go viral, or they'll say something to get a reaction or get attention."
Instead, the rapper wants to be an artist who stands united with her peers and supports, uplifts and empowers them, just like Summer Walker, Kehlani, Lizzo and SZA did for her when she was starting out. "I'm a girl's girl," she grins. "I grew up in a house full of women, so it was easy for me to be like, 'Hey, I'm always ready to help'. I know how it is to be a new artist – especially because I was a new artist in the pandemic, it was even harder. So I always try to extend help or give credit where it's due."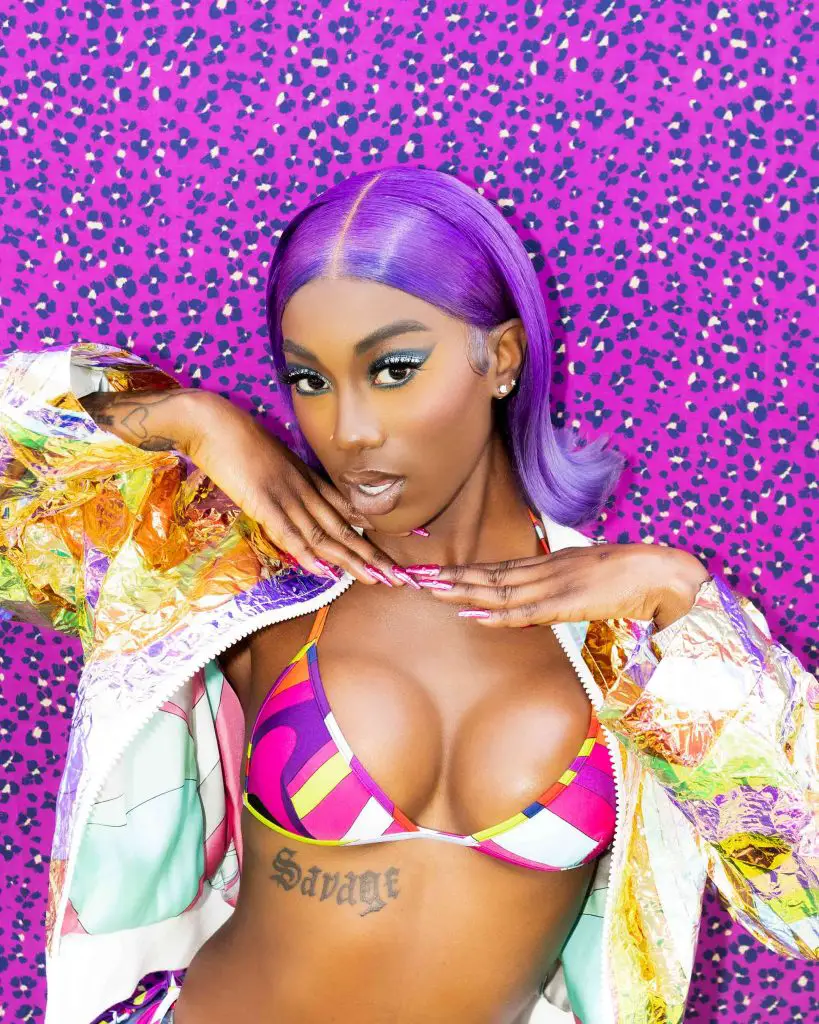 Flo Milli – aka Tamia Monique Carter – has been working towards her current position as one of rap's best and brightest for more than half her life. She started writing her own songs around the age of nine, before forming a girl group with her school friends, which lasted for a few years. Rather than other artists she grew up listening to or watching, she cites the communal aspect of growing up in church as sparking her love of music and desire to pursue it full-time. "My mum always had us doing activities in the church," she recalls. "So I was in the choir, I was in the play, I was in the dance team, and then that transformed into school, too. I was always in talent shows my whole childhood, I was in a girl group. We were always doing things to put ourselves out there."
Nine years after she wrote her first song – and three years after releasing her debut track, 2015's 'No Hook' – Flo got her breakthrough. She laid down her own lyrics over the top of Ethereal and Playboi Carti's 'Beef', renamed it 'Beef FloMix' and introduced the wider world to an ambitious and creative new star. "I'm tryna make a million my salary," she shared. "I might've took a L / But I'm pretty sure nobody could tell."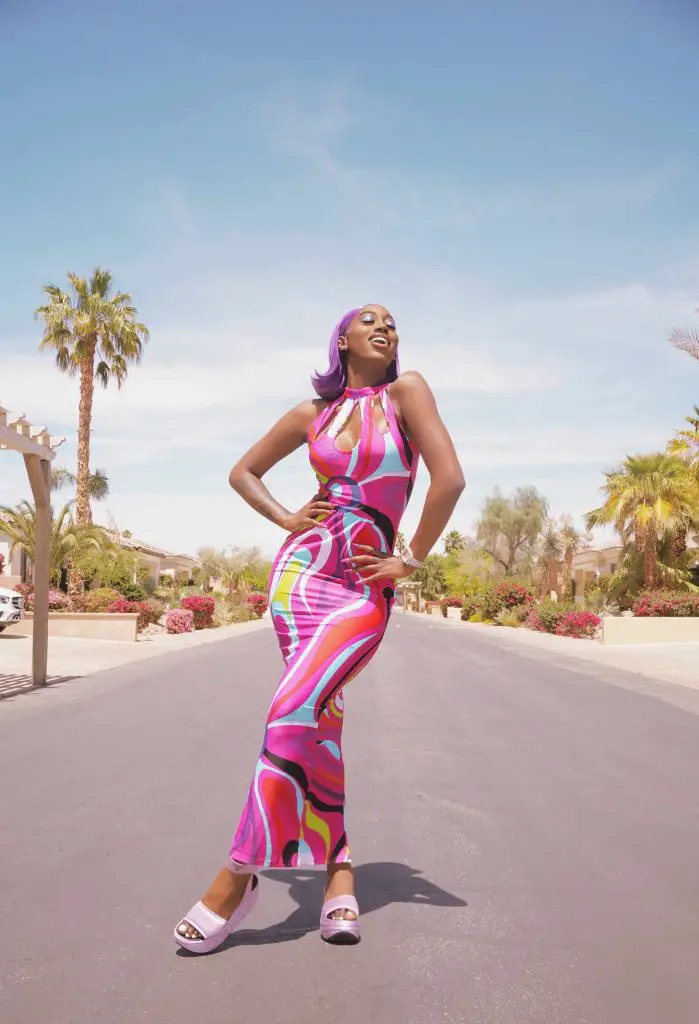 Six months later, the remix went viral. "I did not expect that," she laughs now, taking a dainty bite out of a fry. "All the other songs I had on SoundCloud [at the time] were more aggressive and upbeat because that's the music I love making, but that one was very slow and calm. [When it went viral], I was like, 'What, that song?!'"
Since then, the bubbly MC has given listeners a much bigger insight into what she's capable of in the 2020 mixtape, 'Ho, Why Is You Here?', and its album follow-up, 2022's 'You Still Here, Ho?'. In March, a deluxe, expanded version of the latter arrived, taking us even deeper into her world.
Much like Flo wants to be a champion of other female artists, her debut album saw her uplifting female engineers and mixers – figures in the music industry that often get overshadowed the most in the incredibly male-dominated studio environment. "The engineer I work with is Ashley [Jacobson], I've been working with her for three years now," she says. "I love working with her – if I don't have her, it's just not the same. I've also been working with Tasha Catour, who's a producer. I just love working with females."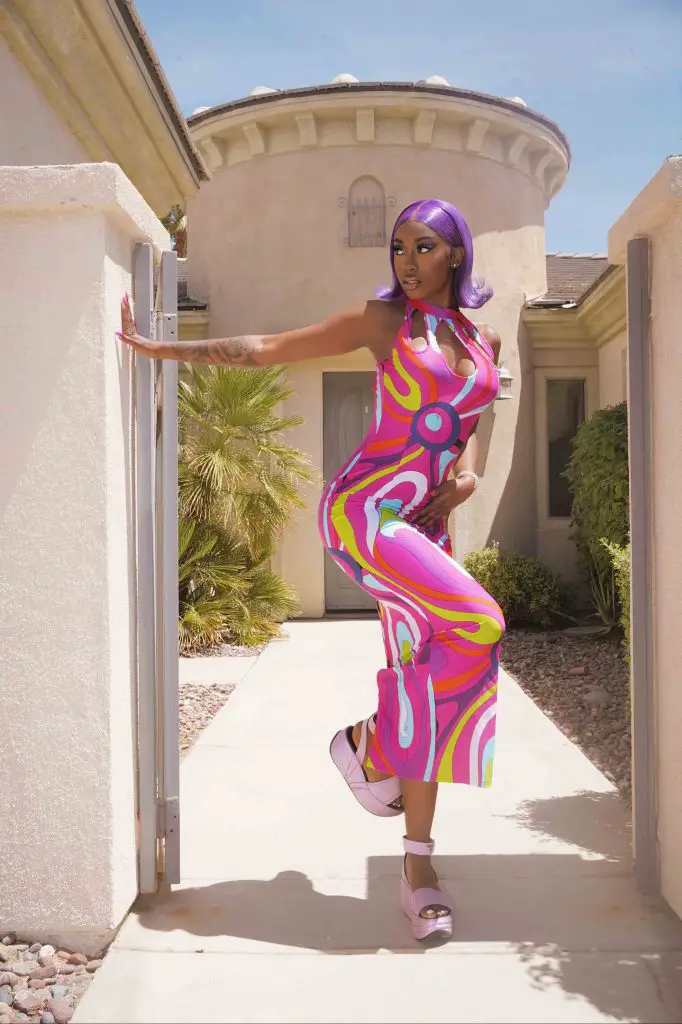 As Flo has progressed, her sound has broadened and become more versatile, not least on the likes of the softer, more downcast 'Tilted Halo'. The melancholy, woozy song positions her as both the heartbreaker and a potential victim of love as she tries to figure out a romantic prospect. "I've been takin' it slow, I ain't tryna rush," she sings gently. "Is this love or lust? / I ain't really tryna hurt again / And dog you out in front of all your friends / I don't wanna have to count to 10 / And leave your ass cryin' in a Benz."
Flo herself acknowledges the track is "very opposite" to the supremely confident, in-your-face force she normally presents herself as. "I was scared to put that out," she admits. "But I think that's what's important – being relatable – because artists and celebrities go through stuff just like any other person goes through, and it's a good thing to show that."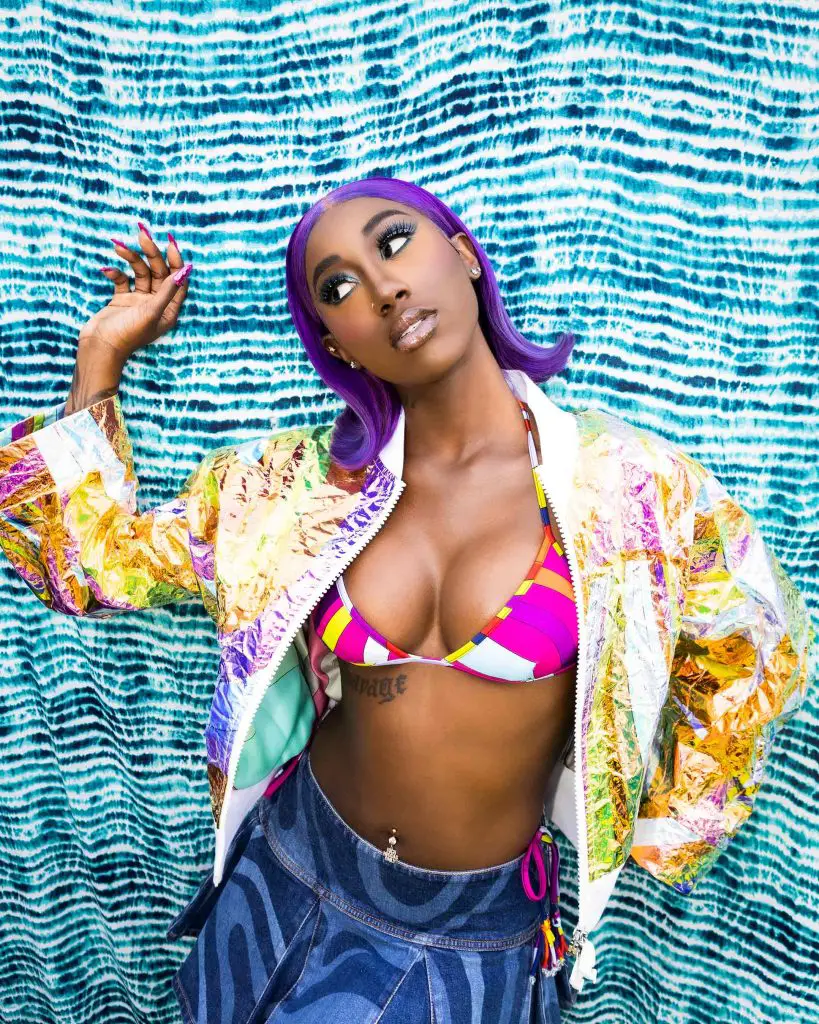 Although that's a side of herself she's not delved into too much on the music she's released so far, it is something we could see more of in the future. "I think I've been [exploring that vulnerability] a little bit more. But I've been exploring lots of different pockets. Y'all will see on the new album the versatility that I bring."
No matter how much versatility she shows, it will take a lot to change the fact that when you think of Flo Milli, you probably think of the prime example of a bad bitch – a badge she wears proudly. So, what's the key to earning that title? She bursts out laughing as she reaches for another fry before letting The Forty-Five in on the secret.
"Don't let nobody tell you that you're not – don't let society or anybody's version of a bad bitch tell you you're not, because what makes you a bad bitch is you being completely you," she instructs. She hasn't always been so self-assured, though, admitting she had to gain her confidence. "But it starts with yourself – don't lean on anybody to make you confident. I used to write 15 affirmations in my bathroom when I was in school – 'I'm a bad bitch', 'I'm pretty' – even if I didn't feel like it. I just wrote whatever I wanted to feel. Just you writing it down and speaking it makes it true."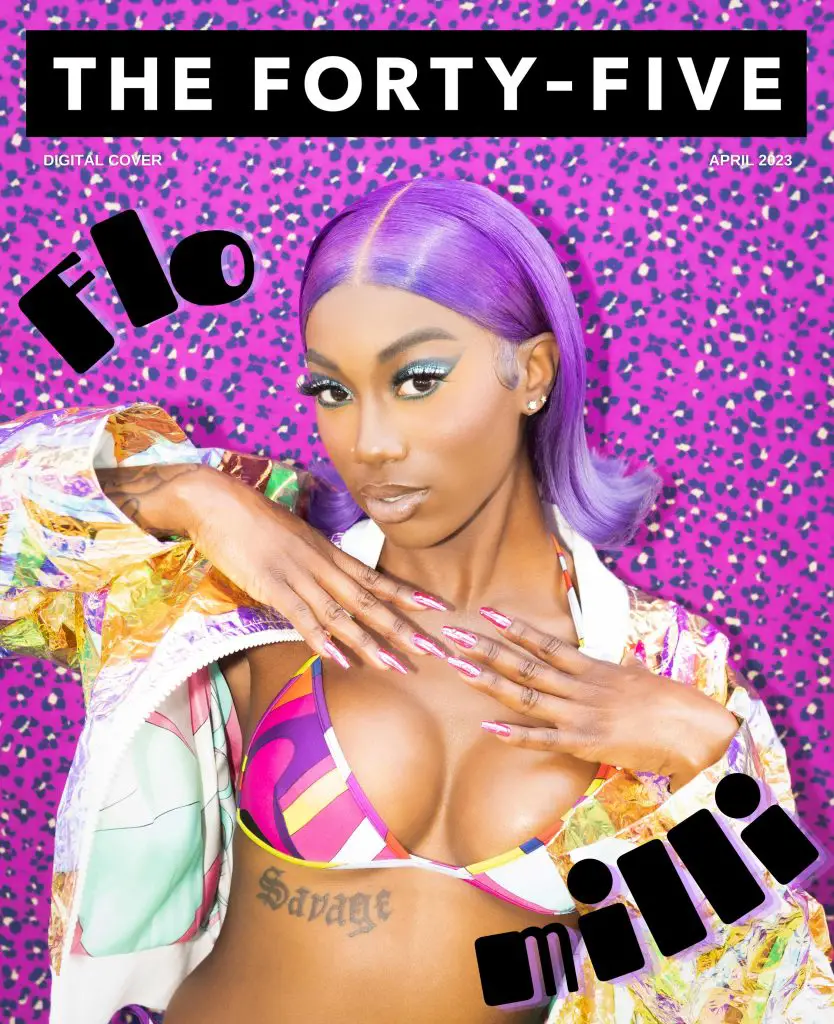 ---
---
Right now, the artist is in the process of a different type of writing. Despite being busy with dream performances and deluxe editions, Flo has been knuckling down on fresh material, which she hopes will be released as a full body of work later this year. "I'm really deep into [the progress of] it," she says, flashing another smile. "It's me expressing myself more – when I started writing this album, I was feeling out of colour, but this album is very rejuvenating."
Although it's not clear yet whether any of them will feature on the upcoming record, she says that, alongside her forever inspiration Lil Wayne, a lot of rap's freshest females have been inspiring her latest efforts: "Just seeing my peers go crazy and go hard keeps me going hard."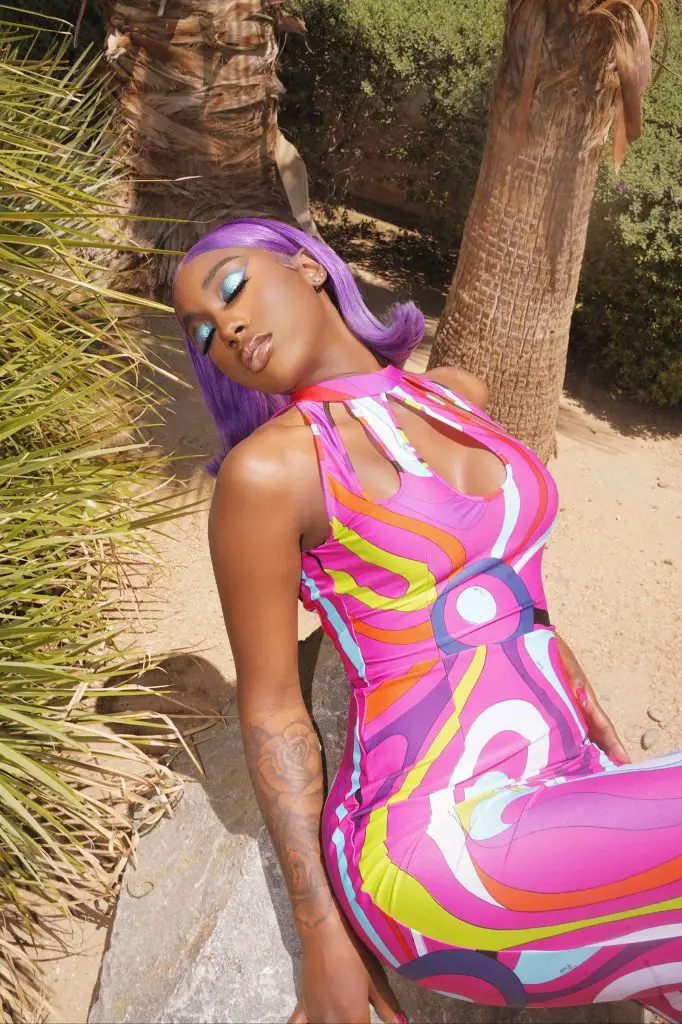 It's not just new music that we could be getting soon, but the launch of Flo Milli, the actor. Another passion she picked up from her youth in church, she sees it as another, fuller way to express herself. "If you got a crazy role where you go off on somebody, you can actually express that – if you're feeling that in life, you can actually do that," she reasons. "With music, you can do that, but it's more structured."
Regardless of what medium she works in, Flo has high hopes for her output's influence on the world. "I hope my legacy is me impacting generations and making timeless [art] that speaks to people, and me healing people and helping them be better versions of themselves," she says, looking down at her plate. As her Coachella debut proves, she's already blazing a trail down the right path.
READ MORE: The big Coachella 2023 review