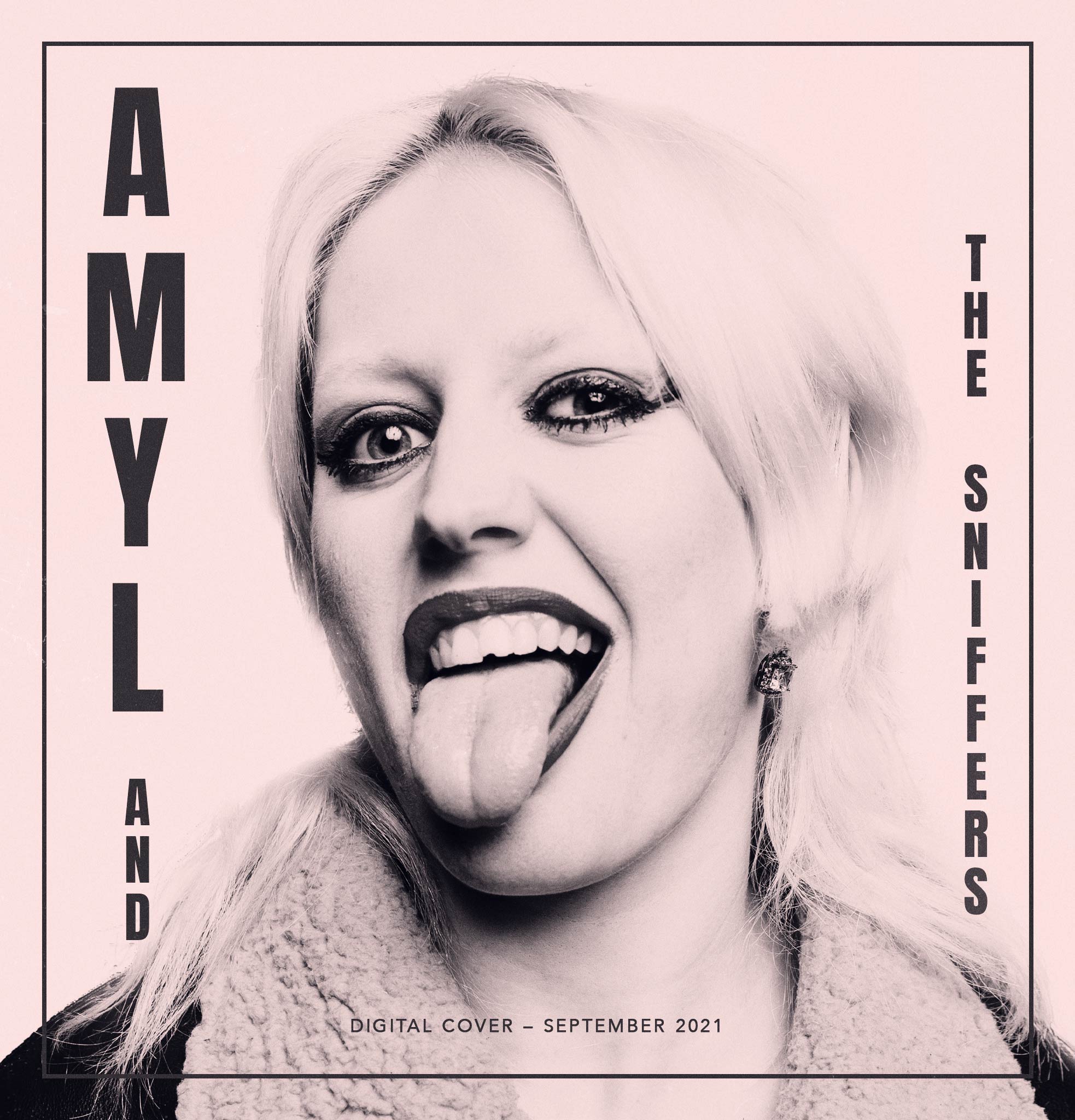 Amyl and The Sniffers
---
Whatever you think about Amyl & The Sniffers frontwoman, Amy Taylor, is likely all wrong. Leonie Cooper meets the Melbourne punk-rocker to talk reading, capitalism and why telling people what's what is really important.
Photos: Andy Ford and Jamie Wdziekonski
---
If Amy Taylor didn't exist, John Waters – the high priest of all things flashy, trashy and fabulous – would have had to invent her. A no-bullshit songwriter and fizzing bomb of boundless energy, Amyl and the Sniffers' coiled spring of a frontwoman is currently holding one of her homemade paintings up to her laptop camera. A peculiarly coloured creation of bold brushstrokes, thick lines and globs of blurry features, we're trying to work out what the piece is depicting when Amy pipes up with a helpful explanation. "It's a pole dancer and she's dancing for some babies," she explains, a huge grin plastered across her face. As a piece of tasteful contemporary art, it might not be suitable for prime wallspace in the Tate, but as a strange slice of everything that is great about the punked-up, giddy and sleazy world of Amyl and the Sniffers – a band that go so hard someone once had a heart attack in the middle of their moshpit – it's perfect.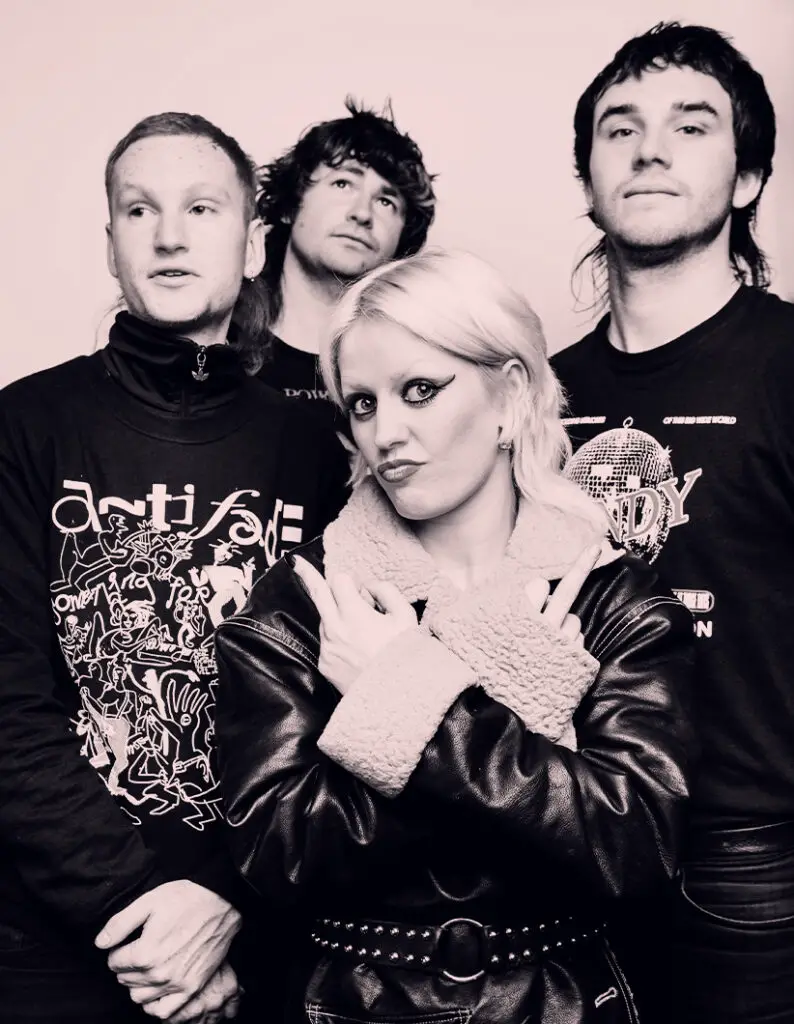 At home in her Melbourne flat, occasionally sipping from a bottle of beer and sitting underneath a framed portrait of her icon Dolly Parton, right now Amy is waiting out the city's latest lockdown while simultaneously getting ready to release her band's second album, the thumping, breakneck punk triumph that is 'Comfort To Me'. She's been painting lots, and not just of strippers entertaining a wildly inappropriate clientele, but rather vinyl-sized custom versions of the new record's artwork to give away to fans and friends. With two days to go before the release when we call – morning for us in London, evening for her in Australia – she's on buoyant form, despite the enforced house arrest.
That massive grin is in place for pretty much the entirety of our conversation, even when Amy starts digging into the delicate process of writing the lyrics for 'Comfort To Me', an album that follows Amyl and the Sniffers' 2019 self-titled debut, which was released when the world – and Amy – were both very different. Where 'Amyl and the Sniffers' was a rowdy, no holds barred stream-of-consciousness ode to partying and punch-ups, 'Comfort To Me' sees Amy grappling with politics, feminism and straight-up survival over punishing BPMs and cathartically aggressive guitar. It's still music made for the pit, but Amy's open-hearted and open-minded experience is now front and centre, with words and concepts that have been long laboured over and injected with love as well as mayhem.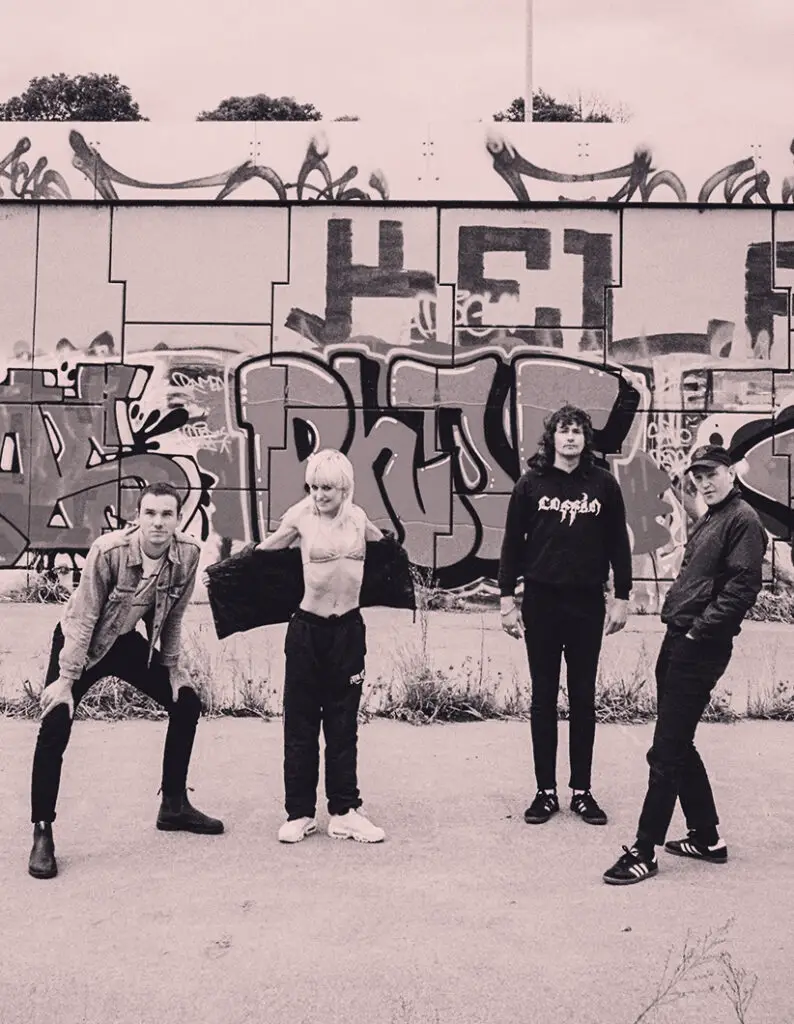 "I always just want to be as authentic as I can be to me at the time," explains Amy. "For prior records, that was me being authentic to who I was then, whereas this one's more me talking about my feelings and being more open because that's how I'm feeling now." She shrugs. "Sometimes I'm like, oh, 'Future Amy is gonna think you should have shut the fuck up', but I just like talking about [my feelings]! I think it's fine! People being open is contagious."
---
---
During last year's lockdown Amy was stuck in a cosy three-bedroom house share with her bandmates Dec Martens (guitar), Gus Romer (bass) and Bryce Wilson (drums). They took it in turns sleeping in the makeshift fourth bedroom – a chilly shed at the bottom of the garden. There wasn't much to do apart from hang out, play music and knock back beers. In search of new distractions, Amy went on something of a self-improvement bender and started working out as well as reading anything and everything she could lay her hands on. "I never read books before, I always wrote them off as crap, but last year I really found value in them," she admits, her smile widening. "It was so great to realise that you could just go anywhere and meet anyone just in this little stupid thing in your hand." Her literary journey of discovery began with a memoir by actor Fran Drescher of 1990s US sitcom The Nanny, which somehow lead to Cormac MacCarthy's All The Pretty Horses and ended up with the work of journalist Malcolm Gladwell and Caroline Criado Perez's The Invisible Woman, which investigates the way the gender bias within data leaves women on the backfoot in everything from medical treatment to government policy. "That rocked my world in a lot of ways," nods Amy.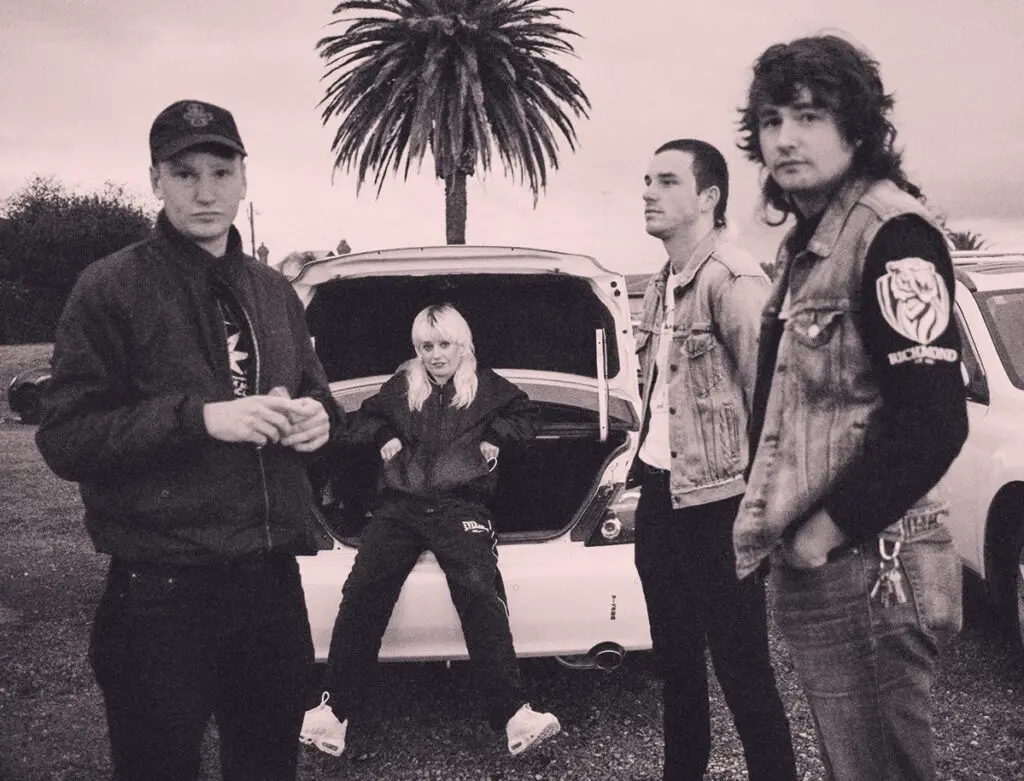 All of it got Amy thinking about where she was at and what the hell she was doing with her life. "I don't think it was necessarily so much about my position in the music industry, but just my position in the world and my position as a female and my thoughts on capitalism and consumerism and just humans in general," she says. Working through such major concerns wasn't an entirely pleasurable experience. In fact, it was awful. "It was kind of like a huge existential dark cloud as well as, like… an inverted personal black hole," she admits. "It was pretty tough."
Dealing with the weight of the world on her shoulders, we ask if Amy's lockdown crisis led to her taking a more revolutionary stance in her day-to-day life. "Absolutely not!" she offers with a joyful cackle. "I shop at McDonald's. I shop at KMart. I still do all that stuff, but I guess I just got really cynical about it and then I circled back out of it." Instead, Amy decided to embrace the novelty and high camp of the corporate system. "I don't reject it completely because I'm a bit like a weird human baby who gets entertained by flashing lights and colours and outfits and makeup. All that stuff's so wonderful." Another laugh. "We're just weirdos, humans!"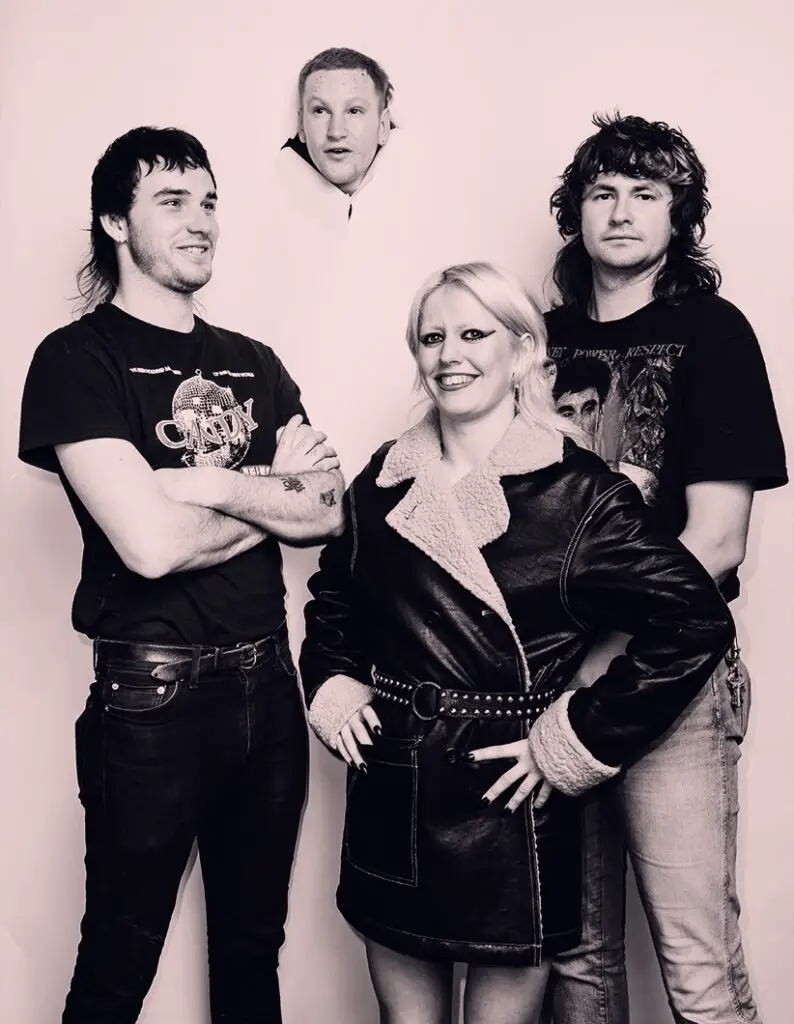 But you don't have to look too hard to see that 'Comfort To Me' is packed with potent messages that are both personal and political, evidently informed by Amy's summer of self-discovery. First, there's the furious, prowling 'Knifey', all about wanting to walk around late at night without fear of male attackers. "It's just crap," says Amy. "Literally every interviewer I've had who is female says 'yeah, I'm scared to walk around late at night too'," she explains, right after I tell her that I've long felt the same way. "There's a 9pm curfew in Melbourne right now [due to lockdown], but curfew for me was already when the sun went down. I get nervous to walk home from the shops at 7pm with a bag of groceries, let alone drunk walking home from the pub at 1am." When Amy debuted the lyrics to the three men in her band, its confession of pure fear and preservation was something of a revelation to them. "They actually got a bit emotional," says Amy. "They've shown it to some of their male friends who play in other bands and they've also gotten a bit emotional. It's been hitting them up and I think that's really dope, because in the end, people aren't mind readers. Just talking about experiences like that, which is just one tiny little sliver of the pie of what it's like to be female, is so important."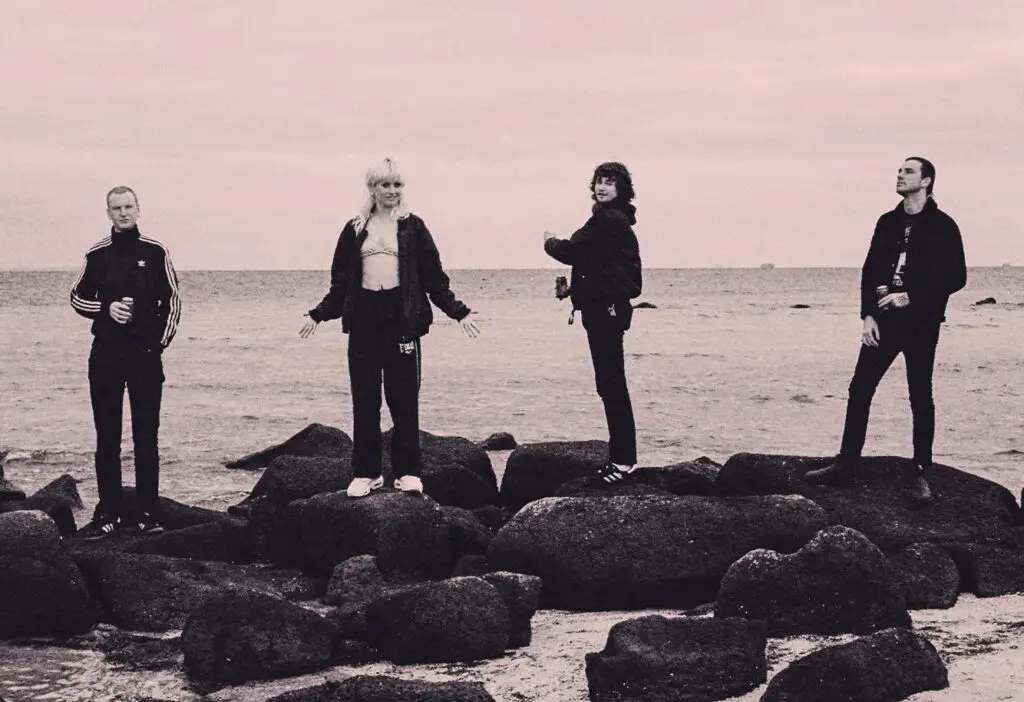 The caustic 'Laughing' sees a no-bullshit Amy standing up for herself – and any woman who's ever wanted to wear revealing clothing without having to deal with leering looks or sneering commentary – further still. "I am still a smart girl if I'm dressing slutty/And I am still a smart girl when I earn my money," she yaps in her distinct phrasing, which draws as much from her love of rap as it does the more hectic fringes of hardcore punk. "A lot of people think I'm one dimensional because of the way I dress and the way I like to look," she explains, breaking down the track's ferocious opening line. "I feel confident when I'm wearing little shorts and a bikini top. It's not because I even feel sexy necessarily, it's because I feel agile and I feel athletic and I feel like me."
---
---
Since kicking her way out of the small town of Mullumbimby, Amy Taylor has spent the past five years becoming one of the most magnetic performers in rock'n'roll. It all started with 2016's 'Giddy Up' EP, written, recorded and released online in the space of just 12 hours and followed by a succession of increasingly rowdy gigs and a fast and firml fanbase. Coming on like a cross between pro partier Andrew WK and the legendary weightlifting 1980s metal queen Wendy O Williams, she's not only bought Amyl and The Sniffers global attention with her gleeful stagecraft, but fronted a Gucci campaign, collaborated with Sleaford Mods ('Nudge It' from their latest album 'Spare Ribs') and Viagra Boys (a frankly terrifying doom and western version of John Prine and Iris DeMent's 'In Spite of Ourselves'). Juliette Lewis proclaims herself to one of the group's biggest fans and can often be found singing their praises on social media, calling Amy "the queen herself, of danger and monsters" and praising their recent single 'Guided By Angels' for its "liberating and soul invigorating lyrics". Not bad for a band named after a bottle of poppers.
Before the group took off Amy worked all manner of jobs to get by, including at a supermarket, a whiskey distillery, a rehearsal studio, a venue booker and as a charity fundraiser. "But I got fired because I couldn't sell any children," she confesses of her time pounding the streets and trying to get people to sponsor kids for humanitarian aid organization World Vision. Rock and roll then, seemed to be the only sensible option. Now a fully-fledged star, Amy knows of at least 10 people who'd had her likeness tattooed on her body as well as someone who's had her face spray-painted across the entire bonnet of their car. But Amyl and The Sniffers' fans aren't all heavily tattooed boy racers. In fact, their crowds are impressively wide-reaching. Go to a show and see for yourself. "We get truck drivers, and we get hipsters and we get punks and we get office workers," says Amy, proudly. "The genders are pretty mixed, it's probably 50/50, but I'd be very happy to see even more females in the pit."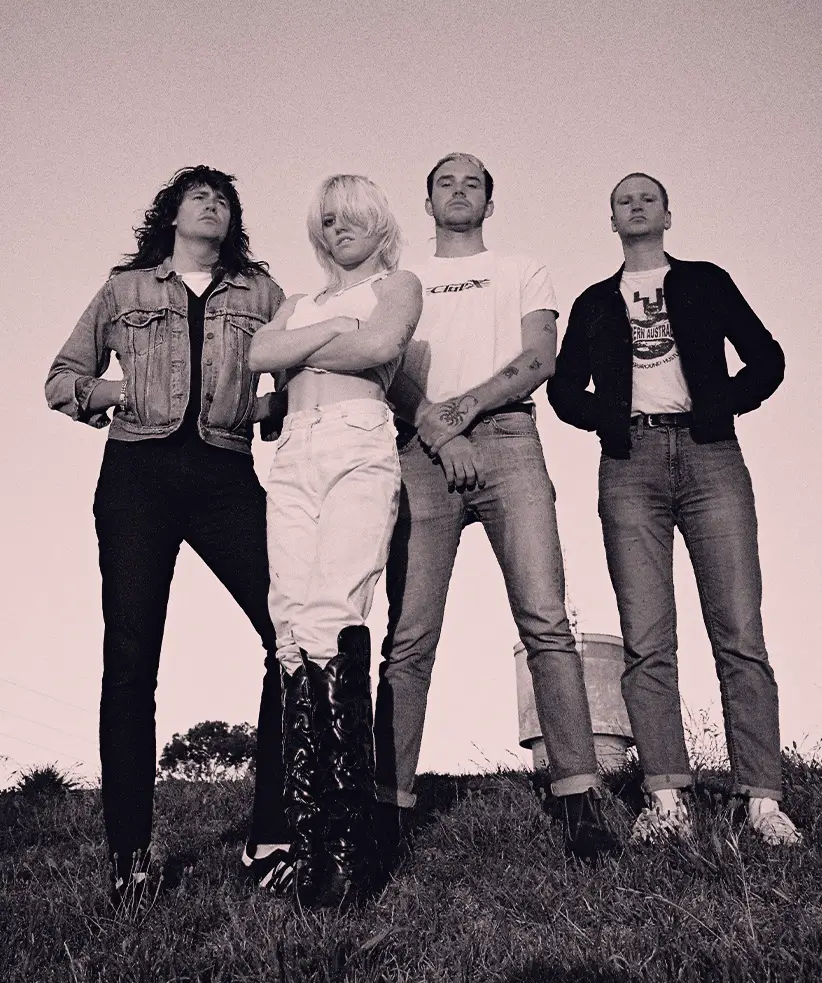 When it comes to fame, Amy's now one of Australia's most recognisable rockers, recently appearing on a panel show back home; the Adam Hills-hosted Spicks and Specks, where she recited all of Cardi B's 'WAP', but substituted the original lyrics for those from a Coca Cola advert. "I fucking love Cardi B heaps," gushes Amy, before running down a hefty list of other current hip hop faves, including Junglepussy, Nottingham-based Bru-C and indigenous Australian rapper Barkaa. Other television appearances have been just as memorable, including Amyl and The Sniffers' debut on Later… With Jools Holland, where Amy wore a pair of black shiny go-go boots which she handmade earlier that day by wrapping gaffa tape around her legs. Amy laughs when we remind her of her first foray into DIY cordwainery. "I really wanted to look nice on the TV and so I spent like weeks looking for boots. I was like, 'I gotta find the perfect pair of boots.' And the day came and I hadn't found them, so I just thought 'we're gonna do this instead'."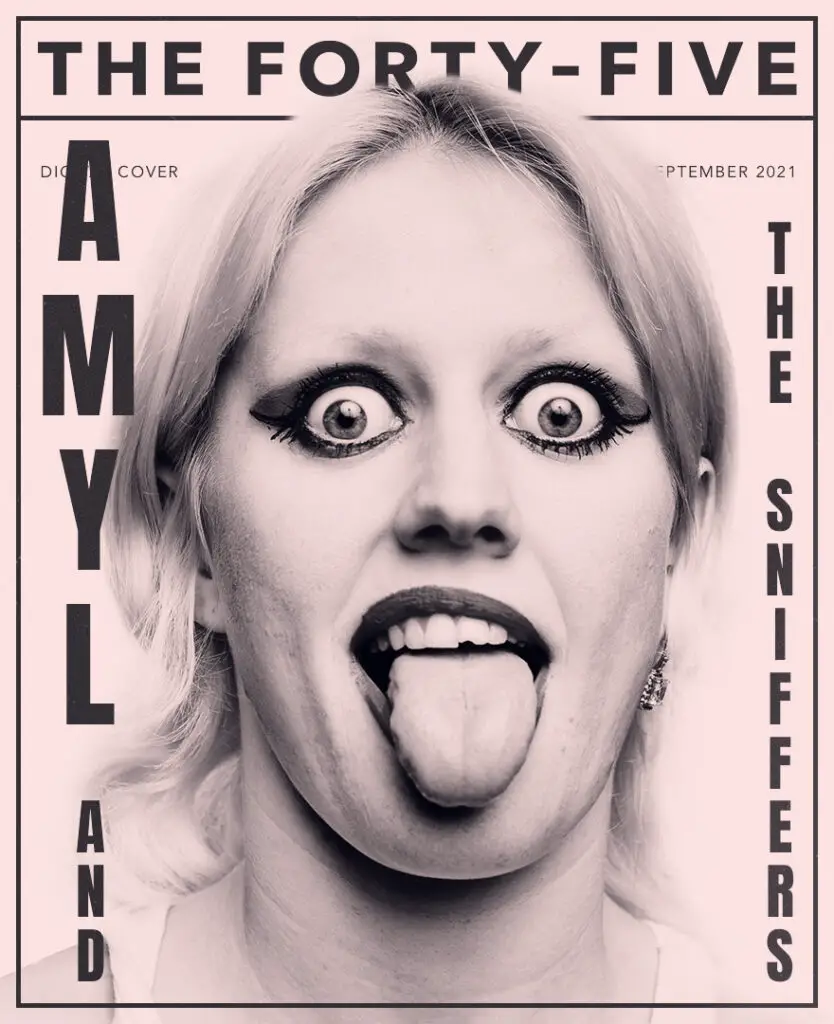 With Melbourne's current lockdown unlikely to end until 70% of residents have had their first vaccination, we ask Amy what's next for Amyl and the Sniffers, and if it's even possible to make plans. "It's hard to know!" she offers. There are ideas for a lavish live streamed album launch show in October and a UK trip in November is also on the cards. "Everything's kind of a big pencil and when it turns into a pen, we'll be happy," says Amy. Whatever it is and wherever it is, we'll be ready and waiting. See you in that pit.
Amyl and the Sniffers second album, 'Comfort To Me' is out now, via Rough Trade.
---
Like what we do? Support The Forty-Five's original editorial with a monthly Patreon subscription. It gets you early access to our Cover Story and lots of other goodies – and crucially, helps fund our writers and photographers.
Become a Patron!