It's been the year of the livestream, and since March we've seen performances blossom from bathroom acoustic performances to full-blown, interactive showcases. This weekend it's the turn of Damon Albarn's Gorillaz for 'Song Machine' Live. Forming in 1998, the band's early shows featured the animated characters on screen with the band performing behind a curtain. With their roots as a virtual band and a decade of practice, surely this is their time to shine?
The first of three streams this weekend, this morning's show (December 12) starts with a camera taking us into the basement of Kong Studios and scanning around the stage. The décor is more akin to a millennial mini-golf venue, with bric-a-brac strewn around and hand-painted cardboard signs. Damon is centre stage, wearing gold, glittery pineapple sunglasses that Elton John would approve of. He kicks things off with the album's opening track, 'Strange Timez'. Picture the Moon from the Mighty Boosh with more lipstick and eyeliner and you're close to how The Cure's Robert Smith looks.
The show blends in-person performances from the band and special guests, with animated characters. A hologram version of Beck is dad dancing in double denim for the trippy rhythms of 'The Valley Of The Pagans', but Albarn seems strangely muted so far.
Leee John arrives in a quilted suit and cravat, all falsetto vocals and sensual dancing as Albarn moves to the piano, in front of an aquatic backdrop for the funky 'The Lost Chord'. Now three songs in, we finally get a proper look at the animated characters Gorillaz are famed for, as 2-D plays on an arcade machine as 'Pac-Man' starts. Damon wanders over to some shelves, peering through it like Leonardo DiCaprio and the infamous fish tank scene from Romeo and Juliet. The songs ends with Noodle waving a plug about. The set is huge and would undoubtedly look impressive in a festival setting, but on HD screens and viewing at home it appears a little lo-fi, the budget seems to have gone on glitter and oversized sunglasses for everyone.
Known for his outspoken political beliefs onstage, Damon barely says a word besides: "Apparently I had something up my nose. I got too close to the camera, sorry about that folks." The lack of conversation is jarring, but maybe he'll warm up. A cartoon Elton John appears for 'The Pink Phantom' and it's one of the best uses of animation so far, with him on the screen behind but also then appearing in the foreground, playing the piano.
The arrival of Georgia and Joy Division's Peter Hook for 'Aries' finally seems to put 50p in Damon, as we suddenly get a lot more from him performance-wise. He grabs the camera, then tries not to laugh as he sings in Peter's face. It an unsurprisingly bass-driven tune as you've got Hook playing, and it's one of the most cohesive. He holds his bass aloft victoriously to a crack of thunder and the sound of rain.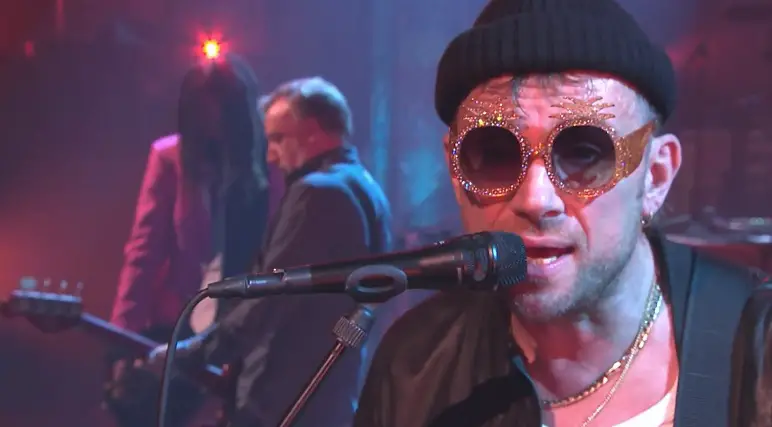 There's an inevitable technical glitch during the summery 'Désolé', as the hologram of Fatoumata Diawara goes out of sync with her vocals. It doesn't ruin one of the most relaxing yet characterful songs from the record though, and her hypnotic dancing makes up for it as Damon's heavily Brit-accented French remains on the right side of endearing. We finally see Murdoch and 2-D in a control room, making jokes about the lack of an afterparty due to COVID restrictions.
Things kick up a gear with the arrival of slowthai and Slaves for 'Momentary Bliss'. Clad in a black hoodie with devil horns, slowthai proceeds to blow everything Damon has done performance-wise so far out of the water, in just over three and a half minutes. There's more energy, more fire, and he just looks happier to be there than Damon. His sheer enthusiasm makes Albarn laugh, and it's easily the standout performance of the show so far. This is the danger of special guests upstaging the bride. It signals the end of the songs from Song Machine, and what a song to end it on.

It's not the end of the show though, as a shadowy figure strolls onstage, lowering a hood to reveal Matt Berry. He delivers a classically hilarious performance of 'Fire Coming Out Of The Monkey's Head' from their 2005 'Demon Days' album. It generates the most excitement on Twitter too from fans, with a breathless: "WHAT THE FUCK FUCKING MATT BERRY" racking up the likes. The original track was narrated by Dennis Hopper, but Berry does a fine job.
Albarn reappears waving a water pistol around and grinning, rolling across the floor to a new area of the stage to play 'Last Living Souls' and 'Dracula'. Maybe it was nerves about playing the new material that got the better of him until now, but he just appears happier, playful and more animated playing these older songs.
The stage clears around Damon, as he turns to the camera and holds up an instrument. "This is my omnichord. When I bought it, I switched it on and this is what came out of it," and plays the opening notes of 'Clint Eastwood', complete with the infamous monkey noises. It soon morphs into the remix version of the track, and he's joined by Sweetie Irie. It's Sweetie who finally invites the audience at home to get involved, urging: "If you're at home livestreaming, get up on your feet right now, it's time to get lively! Go!"
Frankly, it shouldn't have taken an hour and 15 minutes to do the bare minimum of interaction. There are two more shows this weekend, someone get Damon some coffee. Maybe the bar was set too high with them having all of this experience in a virtual setting. Maybe it was Damon's nerves or disinterest but you're left feeling they could have done so much more as Sweetie Irie, Matt Berry and slowthai stole the show.
Gorillaz played:
'Strange Timez'
'The Valley Of The Pagans'
'The Lost Chord'
'Pac-Man'
'MLS'
'The Pink Phantom'
'Opium'
'Aries'
'Dead Butterflies'
'Désolé'
'Momentary Bliss'
'Fire Coming Out Of The Monkey's Head'
'Last Living Souls'
'Dracula'
'Don't Get Lost In Heaven/Demon Days'
'Clint Eastwood'
Like what we do? Support The Forty-Five's original editorial with a monthly Patreon subscription. It gets you early access to our Cover Story and lots of other goodies – and crucially, helps fund our writers and photographers.
Become a Patron!