Though many festivals hoped to see a full return in 2022, the further rise in COVID cases has once more scuppered plans across the board. But this hasn't stopped organisers from getting the music out there someway, somehow; in fact so many have now near-perfected the process of putting together a virtual-only affair. It'll never be the same as being in a sweaty room with a loud, raucous band, but Eurosonic Noorderslag (ESNS) have demonstrated that it can be done extremely well.
The annual European showcase festival could not go ahead in its physical form in 2021 for obvious reasons but the digital festival that was implemented in its place was an impressive and satisfying alternative. Four channels on the ESNS online platform broadcasted live performances, with a fifth channel for highlights. Though we had hoped for a return to Groningen this year to see the best acts in Europe connecting with their fans, industry professionals and tastemakers in person, it wasn't to be. Still, the festival's second virtual edition emphasises exactly why ESNS is so respected worldwide for being a hub for the finest talent across the continent.
The festival's second day begins with a stream of the prestigious Music Moves Europe Awards, which celebrates upcoming European artists, supporting them in developing their international careers. This year's Grand Jury Prize was awarded to Belgian singer-songwriter Meskerem Mees, whose live set for ESNS we catch later in the evening. She sings beautifully, accompanied only by her guitar and a cello; voice pulling you in and captivating in a way that feels utterly magical. 
Stockholm four-piece Melby provide a different type of magic, with their jangly dream-pop offering up an opportunity to dance about your living room (should you desire). 'Reject' and 'Stalker' – two from their 2019 debut album 'None of this makes me worry' – are psych-folk-tinged tracks, the latter in particular adding a melancholic feel to their otherwise sun-kissed sound. 'Old Life', a single from last year, is upbeat and tender, thanks in part to Matilda Wiezell's always gentle yet impactful vocal delivery.
On another channel, Portuguese musician, composer, arranger and producer Bruno Pernadas takes the helm, performing a fun and eclectic set with his live band. The mix of brass, guitars, synth, drums and vocals creates a luscious soundscape that brings together varying genres, from jazz to electronic, all pieced together with an undeniable groove. 'Step Out Of The Light' and recent single 'Lafeta Uti' are both wonderful showcases of exactly what Pernadas is capable of, both as a musician himself and as an arranger.
Jada, who has become fairly well known on the Danish music scene, plays a set that is full of flair and emotion. Her voice seems ethereal at times, as she nails every vocal run with aplomb and complete electro-pop brilliance. She's dressed in striking green, at one point holding out a bright red fan as her similarly dressed backing singers move in sync behind her. 'Nudes' (with its anthem-like chorus of "Boy, I sent you nudes, I don't regret/Boy, you're so rude, left me on read") shows her humour and vulnerability, while 'Lonely' is an up-tempo, wistful number that Jada introduces by describing it as a song about "being afraid to give your heart to someone but doing it anyway".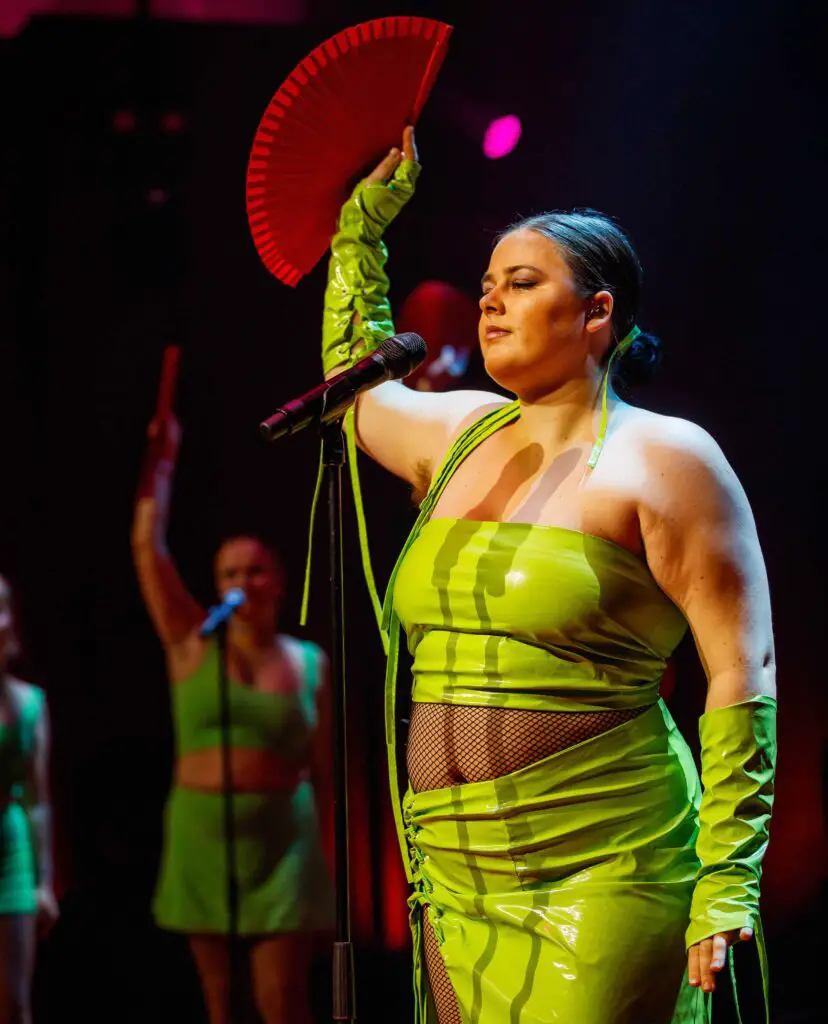 Later in the evening, we're introduced to Rome-based producer, rapper and singer Shunaji, whose mellow and understated set-up only serves to draw greater attention to her immense lyricism. She performs with soulful backing vocals, keys, bass and drums, standing mid-stage with a neon lightning bolt painted on her face. It's maybe a marker of the sheer energy that you can expect from her at all times, regardless of the chilled-out instrumentation that accompanies. The funk-inspired 'Black Girl Blues' is a definite highlight, reminiscent of Noname in its wit and storytelling, as Shunaji raps in both English and Italian.
One of the great benefits of a virtual festival such as this one is the multi-channel set-up which allows you to dip in and out of performances, so you end up watching snippets of almost everyone. Of all the acts seen tonight though, be it full sets or individual songs, Denise Chaila undoubtedly comes out on top. The Irish rapper was one of the five winners of the Music Moves Europe Awards earlier in the evening and as she performs, it's crystal clear why the jury came to such a decision.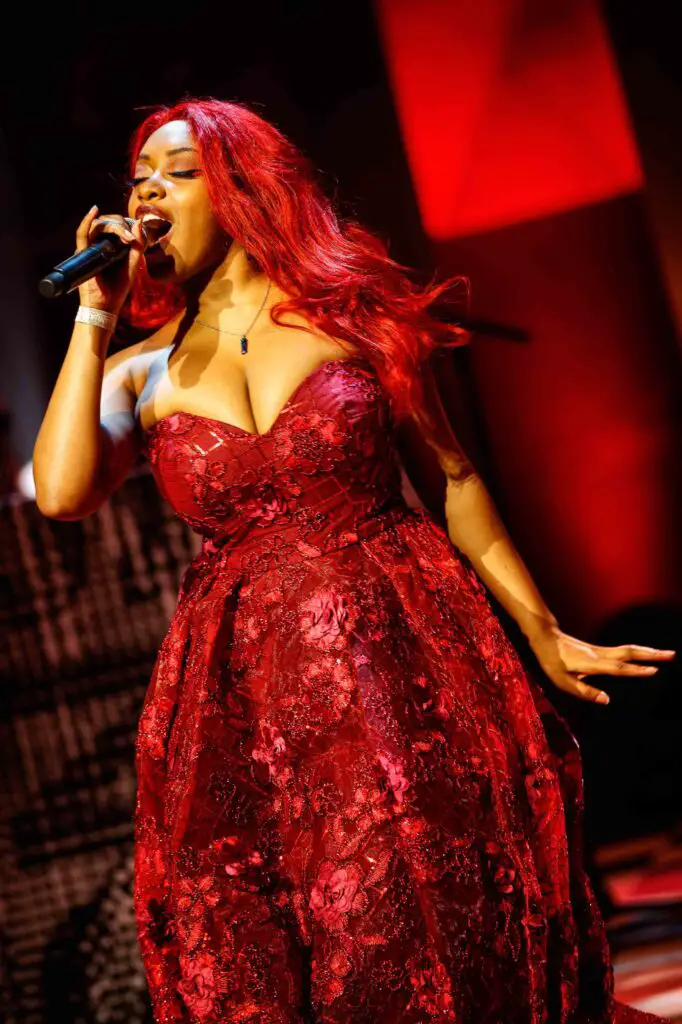 She emerges from the back of the stage in a glorious red ball gown, with flowing red hair to match. Her incredible swagger and poise is evident from the opening beats of her 2020 single 'Chaila', only growing in intensity as she performs the sublime 'Anseo' and last year's fiery and compelling '061'. Chaila closes with 'All That' from 2020's 'Go Bravely' – the first mixtape to win the RTÉ Choice Music Prize Album of the Year. It's a more emotional end to the set but one that places her lyrical dexterity front and centre, along with her innate self-belief.