It's a bold woman who attempts four outfit changes in a time-poor festival set but since gaining viral fame with 2028 novelty bop, 'Moo', Doja Cat has made the most of every single second. Through smart collaborations and even smarter lyrics, the artist – real name Amalaratna Zandile Dlamini – made the leap from internet-famous to bona fide massive pop star in just a few years.
Now, with a Grammy win and a significant bump up the bill since her 2020 Coachella booking, Doja proves she's got her eyes set on a headline slot with an ambitious sci-fi/horror-themed set that is as much metalcore as it is pop-hop.
Arriving on stage to body pile visuals that looked straight out of the depths of hell, Doja is quick to remind us of how many hits she has already racked up. Going straight into 'Woman', it's not long before she's joined on stage by what can only be described as a creepy little goblin monster, crawling around on all fours like an incredibly sinister Bez.
The horror-aesthetic continues, with Doja's first outfit change seeing her return to the stage in a skimy Beetlejuice getup, her dancers, black Demetor-like characters with beady red eyes, who lift her around the stage as if engulfing her.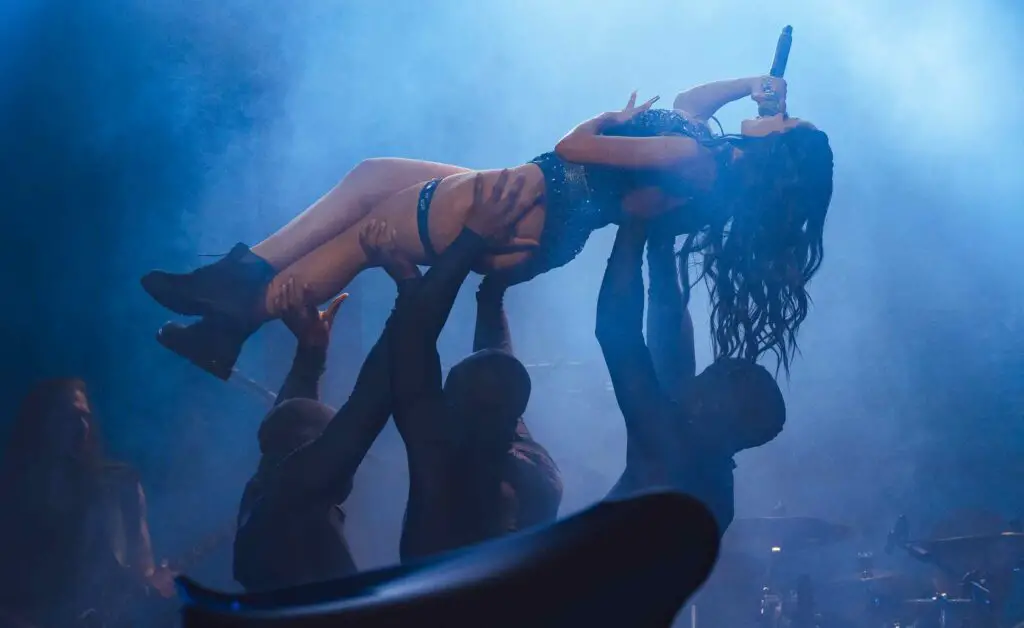 The on-screen visuals flit between X-Files alien hands, clawing at the screen to Matrix-y code, putting us in some sort of horrorcore future, where Doja is queen and the beasts of the underworld, her minions.
She flawlessly traverses in-depth choreography and the hits continue – 'Juicy', for which Tyga joins her, a thrash metal version of 'Say So' which we like better than the original and 'Tia Tamera' with old pal Rico Nasty.
"Last time I was here I was with Rico," Doja tells the crowd, of her first and only previous Coachella performance, "I'm just glad to be able to give you a full set."
Slightly-cringe Taco Bell endorsement aside, this was without a doubt one of the standout shows of the weekend, from an artist who understood the assignment and worked to put on a surprising, exciting and spectacularly accomplished show. If there was any doubt of Doja Cat's credibility as a world-class artist, this set just proved: she'll be topping the bill before you know it.
READ MORE: All the surprise guests at Coachella 2022