With Billie Eilish's career sky-rocketing over the past four years – an ever-growing social media following (a casual 67 million), five Grammy wins, three Billboard awards and what would have been an expansive world arena tour this year – a normal, stripped back Instagram live stream was never going to be on the cards. Last night, Eilish, accompanied by brother FINNEAS and drummer Andrew Marshall, created an immersive, 3D, real-time live event.
It seems as if Eilish has thought of everything: there's some pre-show entertainment, with specially recorded pro-voting messages from Lizzo, Jameela Jamil, Alicia Keys and Steve Carell cleverly sprinkled amongst trivia questions on Eilish; previously unseen footage from her upcoming Apple TV+ documentary, Billie Eilish: The World's A Little Blurry; and a Postmates code for free delivery for fans to "order plant-based like Billie". She also introduces us to members of her crew, whom it seems, in her eyes, are the real reason this performance is happening – fans are encouraged to find out more about Crew Nation, which supports crew members affected by COVID, with and proceeds from selected merch donated to the relief fund.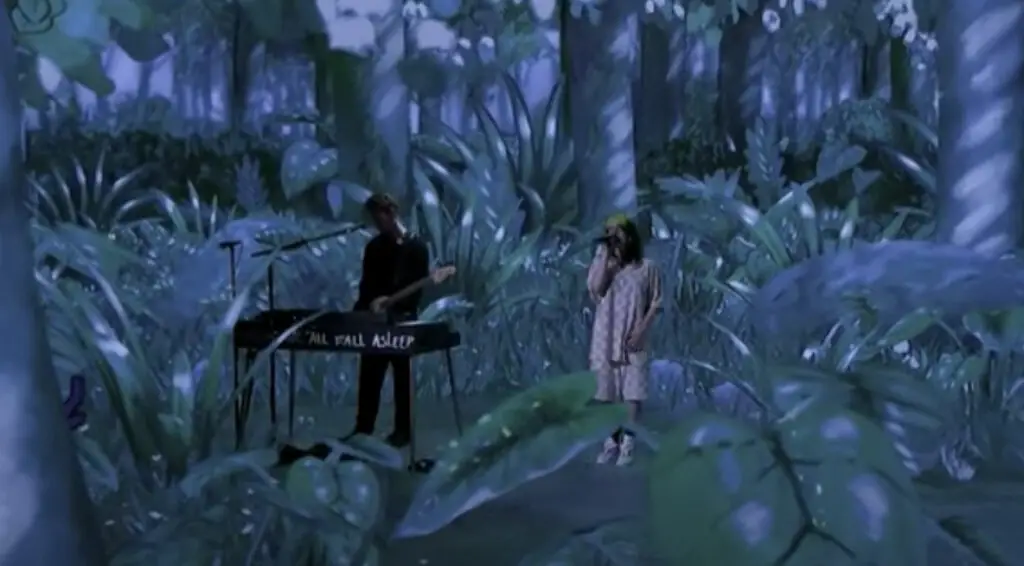 Opening with 'Bury A Friend', the creepy under-the-bed shadows that Eilish sings about provide an eerie backdrop and rather than simply just performing, it's clear from the start that Eilish wants to involve her at-home audience as much as possible, telling us to clap along. After a brief website crash due to an overloaded chat box, she opens the set back up again with 'Ocean Eyes'. The visuals are beautiful – a creative backdrop of waves forming and crashing.
The set takes inspiration from what fans would have seen on her world tour, and visuals from her music videos – during 'Xanny', she sits on a cream coloured park bench. For 'I Love You', her and FINNEAS take centre-stage for the immersive, 3D atmosphere fans were promised, and the stage becomes a tall podium, floating against a night time sky background. The setting for 'Ilomo' is stunning, with Eilish, FINNEAS and Marshall performing in the darkest depths of the ocean, surrounded by coral and sharks with glowing eyes.
READ MORE: It's time to focus less on Billie's body and more on her power to affect this election
Eilish jokes that one advantage of this not being a live show is that at least no one is fainting in the pit before she jumps into a performance of 'When The Party's Over'. There is an audience, however, made up of her crew, who give the night a more natural feel. It's arguably the best performance of the night – the camera directs towards her, her surroundings completely blacked out, and, with no distractions, vocally, it's Eilish at her strongest.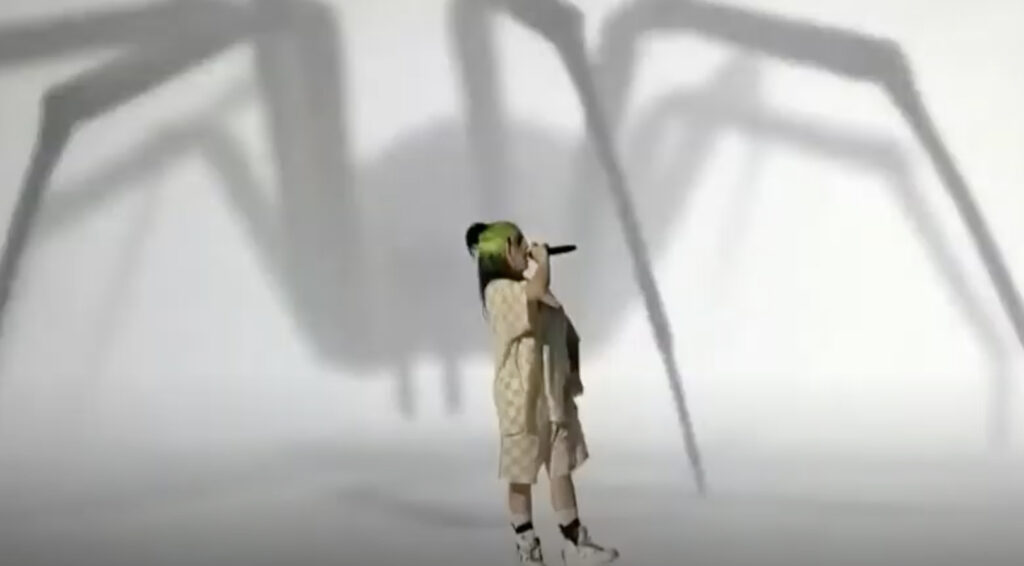 The message "NO MUSIC ON A DEAD PLANET" flashes up at the end of 'All The Good Girls Go To Hell', and visuals of the effects of climate change, including CO2 emissions and melting ice caps, provide the backdrop for her to urge fans to "please vote!" once again, saying "we gotta do something because the world is dying and people are dying and Trump is the WORST".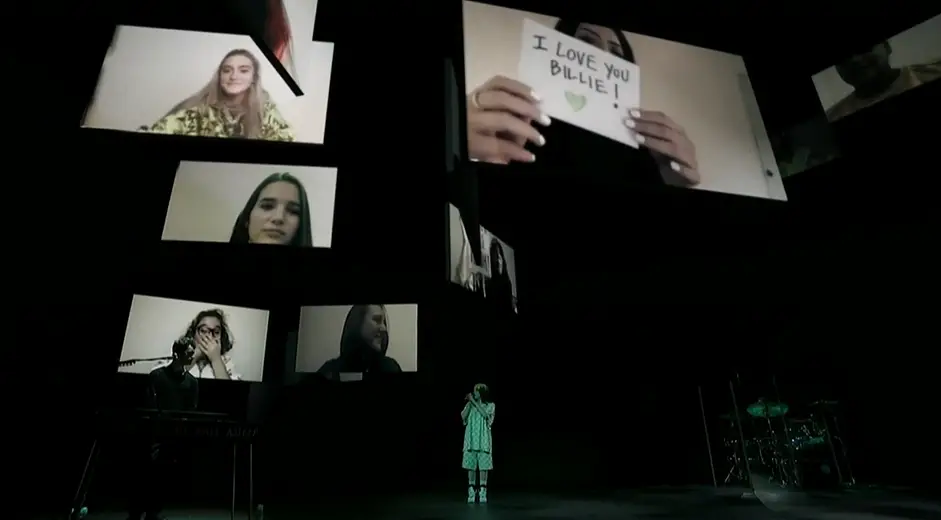 The set ends with 'Bad Guy', complete with a flashing yellow set and Eilish at her happiest. Despite the perks and charitable donations, a $30 (around £23) price tag felt like a hefty charge for a one-hour long livestream, and certainly wasn't helped by some minor leakage of footage online and a website crash on the night itself. Regardless, it was a super positive night, and a live interaction with fans, who became the background for 'Everything I Wanted', saw Eilish finally get the chance to dance with them. It was a really heartening message after the important ones before it – Eilish managed to pack in brilliant performances, strong political messages and support for her fans and crew, and, like all livestreams, whilst it may not have been as exciting as an in-person show, it came pretty close.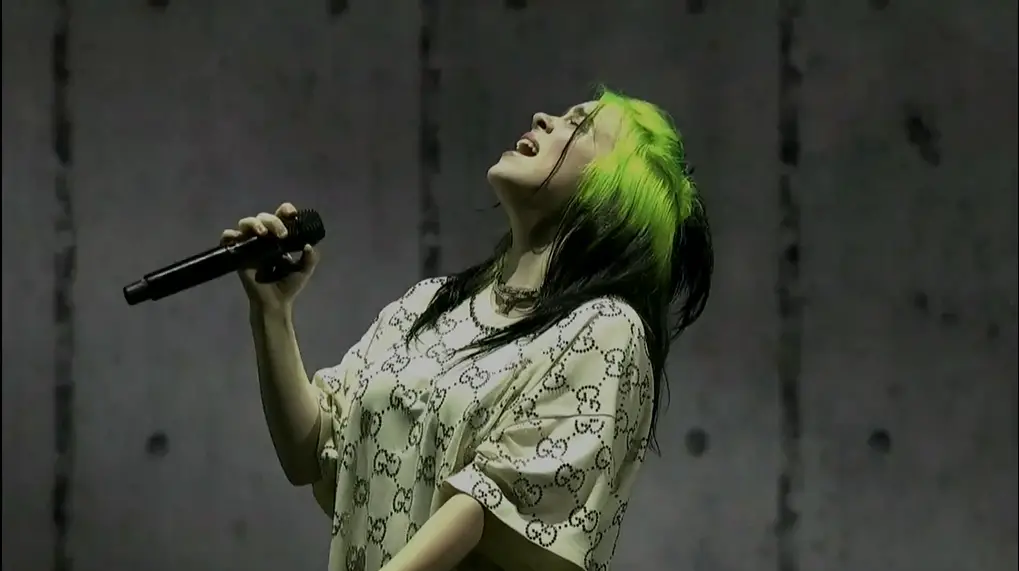 READ MORE: Every Billie Eilish song ranked in order of greatness