When a group has you up at 8 am, light stick in hand, parked in front of your laptop ready to stream their first-ever headline show, you know you've fully caught the K-Pop bug. But aespa aren't just any K-Pop group. Worth conquering any time difference for, Karina, Giselle, Winter and Ningning take on two nights at the Jamsil Arena in Korea as the breakout stars of the pandemic, uniting fans all over the world with their high-concept musical world. Whether in person or virtually, MYs (the official fan name) are finally welcomed into the world of the Hyper Line, ready to experience everything the group have achieved so far. And for nearly two and a half hours, they don't disappoint; a feast of songs old and new, with a touchingly human element of sisterly superheroics.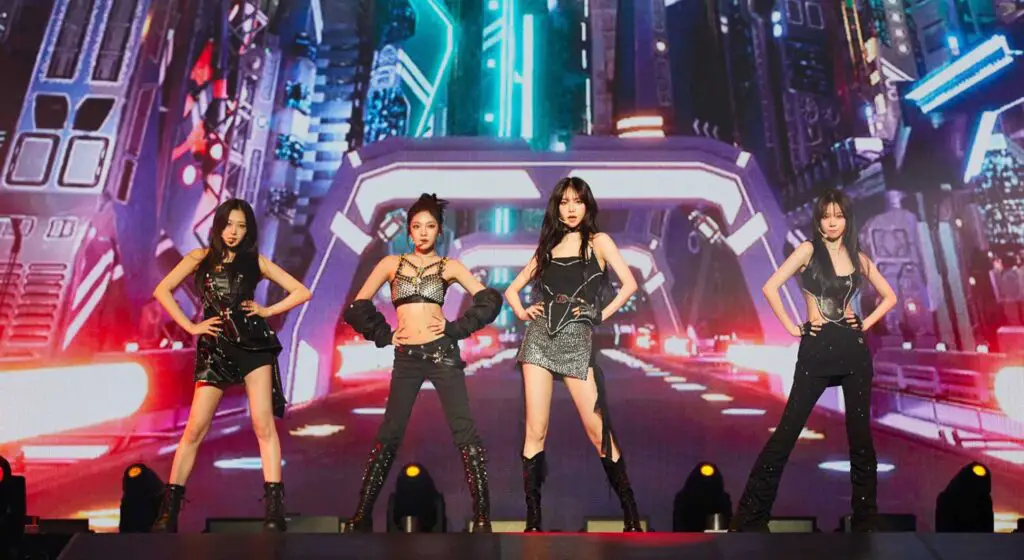 Clad in sparkly white, aespa's debut nervousness shows quite plainly on their faces. But with the formidable opener of 'Girls', things get off to a flying start. Quite literally for Winter, who shreds an electric guitar like a rockstar, suggesting early that this might be a show of some surprises (she'll later reveal to the audience that she was 'practising until her fingers bled'). They put so much into this big opener that they already look a little exhausted for the ironically titled 'ænergy', but they find their feet for 'Savage', writhing amongst dancers whose gloved hands are adorned with snake eyes.
Split into five acts, the show is incredibly well-paced. For every 'Illusion' and 'Next Level', there is a 'Dreams Come True' or 'Life's Too Short', allowing them to dial back the high octane choreo and beat the 'aespa never sing live' rumours (even if only for brief moments). Newspapers and moving stage risers make for a playful rendition of 'Lingo', while the virtual additions of the girls' 'ae' extra members gives the show a real dynamism, multiplying the amount of activity on stage.
Extra VT segments allow for costume-change transitions, introducing some high colour to the dark 'AI Superhero' world that we already know them for so far. Onscreen, each girl wanders listlessly through a deceptively bright home, but there is darkness afoot: lights flicker, flowers wilt, a sand timer runs out as Karina slumped on a sofa. It's not totally obvious what's going on, but she awakes onstage for 'Menagerie', a self-written solo song that sees her unleash the full extent of her dancing talent. With a similar beat to Little Mix's 'Wasabi', she ignites the sidebar comments in many different languages of excitement, cheering her on with her 'Rocket Punch' nickname.
As the show unfolds, each member gets her own solo shot, clueing the audience in on the myriad of influences that shape their sound. Winter's ballad 'Lips' is incredibly sweet, marking her out as a talented 'live vocal' girl. Giselle's '2Hot4U' is a rap triumph with a perfect TikTok kiss-off chorus, bringing in a level of sexy choreo so thoroughly embodied that she blushes when her bandmates gently tease her for it later in the set. As for Ningning, 'Wake Up' is perhaps the most quintessentially aespa song of them all, fusing Hip-Hop, middle eastern and K-trap sounds. It transitions perfectly into 'Salty and Sweet', a group single that they teased on social media earlier in the week. 
It is this lane of sleek, modern alchemy in which aespa make the most sense. If there is anything whatsoever to critique in their show, it is the section that channels slightly dated EDM: a megamix of 'YEPPI YEPPI' and new songs 'Hot Air Balloon', and 'YOLO" flanked by giant inflatable creatures. You might think of it as a Miles Morales moment, ditching the superhero costumes in favour of some good youthful fun. And yet when they unleash more new songs, you realise that there are sounds that feel much more like 'them'; the glacial, Ariana-Grande R&B of 'Thirsty' is an earworm hit in waiting ('sip sip sipping all night, dip dip dipping all night'), while 'I'm Unhappy' is wonderfully intriguing, a misfit rap-ballad with dramatic minor chords. 'Don't Blink' also aims for an international audience, a song about temptation that nods to 00s American girl group sounds. If there are the tracks to take us into a new era, they've got just the right amount of light and shade, typing firmly into their lovable-badass concept.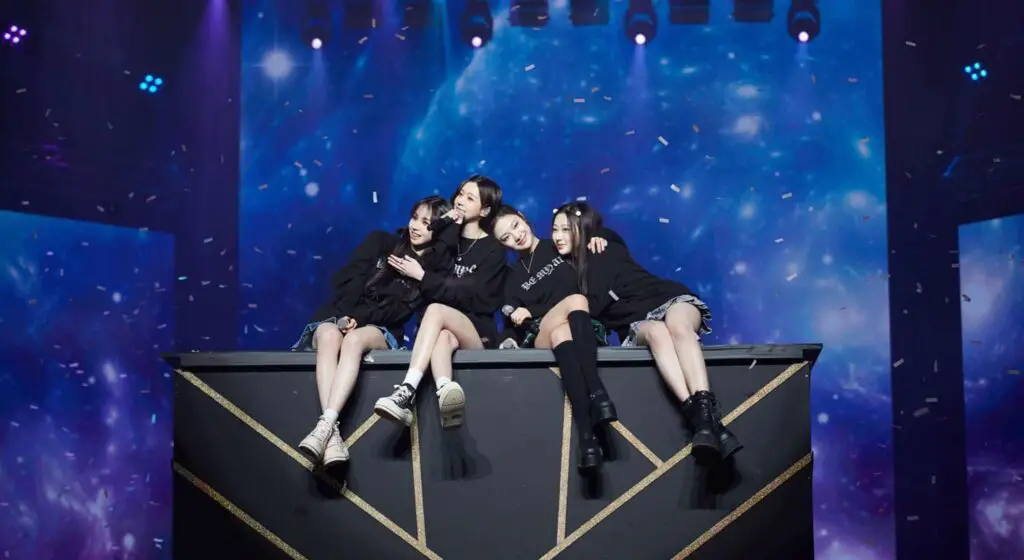 Two hours in and with the death-dropping energy of 'Next Level' and 'Black Mamba' flawlessly executed, it finally seems time to bid adieu. Every K-pop group needs a closing fan service ballad, and 'Till We Meet Again' doesn't disappoint, swoony and dreamy as the band dress down and cuddle in oversized sweaters and cute hair clips. Earlier in the show, they announced the soon-arrival of their own social platform, also named Hyper Line, a fan community where "ae's, MYs and aespa can meet". As the lights fade and signs bearing the slogan "Let's be on each other's side forever" are wielded amongst both the in-person and online crowd, that sense of community is already palpable, quite striking for a band that launched during the isolation of COVID-19.
Clearly emotional, aespa stay onstage for a near half-hour, praising each other's solo performances and thanking the crowd as if truly taking in the biggest night of their lives. It's an unusual approach if you're only used to Westernised gigs, but by the time 'ICU' plays out as the final-final closer (and they talk even longer before rushing back to the closing gates), there can be no denial that aespa gave their MYs everything, from the songs and the looks right down to Winter's adorable closing statement; "get home safe and have a good dinner!" No matter your time zone, genre preference or even favourite member, no aespa fan can say that they have been left unfed.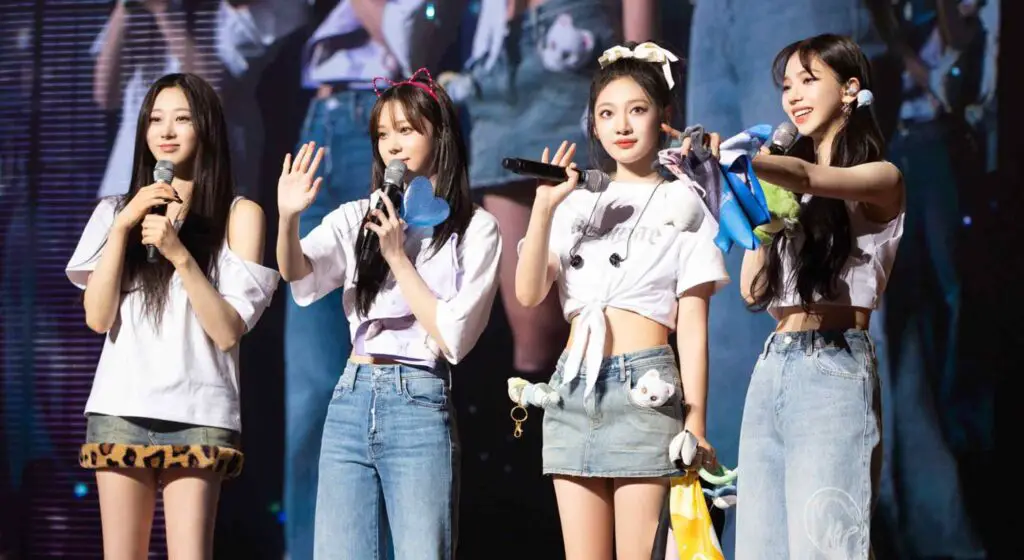 Aespa Played:
Act 1:
Girls
ænergy
I'll Make You Cry
Savage
Act 2:
Menagerie (Karina Solo Performance)
Illusion
Lucid Dream
Thirsty
Dreams Come True
Act 3:
Lips (Winter Solo Performance)
Life's Too Short
I'm Unhappy
Don't Blink
Lingo
Act 4:
2HOT4U (Giselle Solo Performance)
ICONIC
Hot Air Balloon
YEPPI YEPPI
YOLO
Act 5:
Wake Up (NingNing Solo Performance)
Salty & Sweet
Next Level
Black Mamba
'Till We Meet Again
Encore:
Forever (Acapella crowd singalong)
ICU