The last time ABBA released an album, Diana was married to Prince Charles, MTV was exclusively a music video channel, and Anni-Frid was sporting a spiky purple mullet. The Swedish legends' supposed final record, 'The Visitors', is rarely spoken about in the same breath as 'Rumours' when it comes to tumultuous recording sessions, but it was a sombre goodbye in the wake of the band's personal and professional breakups. As one of the first albums in history digitally mixed and recorded, it signalled a sea change in music that ABBA wouldn't get to oversee.
In spite of the band's forty-year hiatus that followed, ABBA have blessedly never truly left our collective imagination thanks to a ubiquitous stage show; a pair of movie musicals that are either the work of God or the Devil, depending on who you ask; and timeless pop tunes that are a mainstay on dancefloors and karaoke bars worldwide. Now, they're back in human (and not-so-human) form, embarking on a new 'Voyage' together.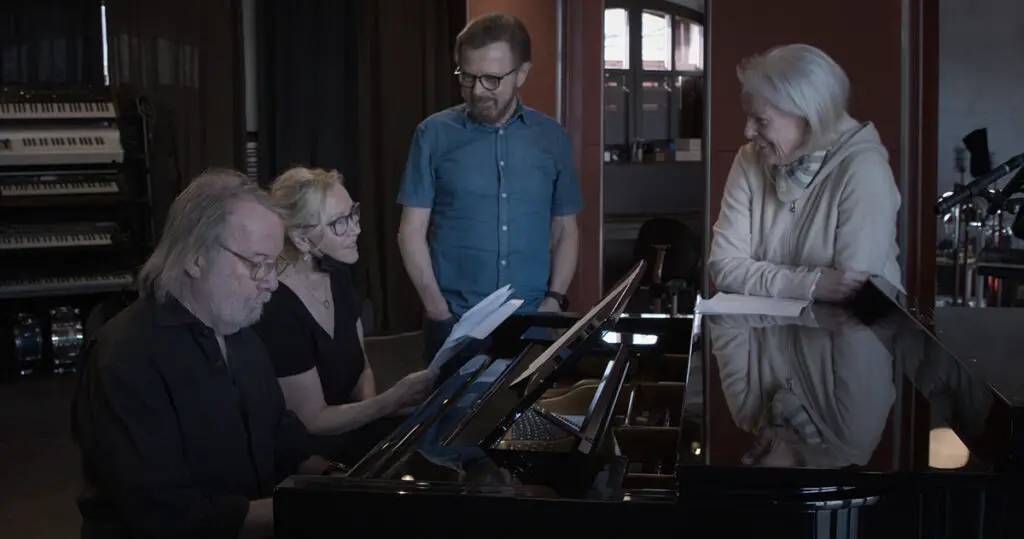 Reunions rarely set out to take bands to uncharted territory and ABBA's 'Voyage' is no different. The band's ninth studio album is nostalgic in the sense that ABBA still sound like ABBA, with infectious melodies and beautifully nonsensical poetry that's truly impervious to the passage of time. But the weight of those forty years hangs in Björn and Benny's songwriting.
There has always been an understated melancholy to ABBA. For all the head tilting choreography and flared satin jumpsuits, the band produced songs that cut straight to the heart – most notably through one of the most exquisite break-up songs of all time, 'The Winner Takes It All'. This is where the first single, 'I Still Have Faith In You', picks up; bittersweet but ultimately triumphant as they reflect on "how inconceivable it is to reach this far". Agnetha and Anni-Frid's voices slip back into easy harmony, as though they never stopped.
It's hard to overstate how much the landscape of pop music and the surrounding critical discourse has changed since the band were last together. ABBA spent most of their career as something of a critical joke, often reduced to a guilty pleasure. 'Voyage' is the homecoming for a band who are now, quite rightly, revered as transformative geniuses.
Those on the hunt for fresh bangers will certainly be satisfied by 'Keep An Eye on Dan' – the space-age, electro anthem about divorced parenting you never knew you needed. The track even ends with an Easter egg in the form of a piano riff from 'SOS'. The same can be said of 'Don't Shut Me Down' and the glorious 'When You Danced With Me'. There's gated reverb on the drums, keys and guitar resembling the splendour of bagpipes, and a yearning for "the good old times when you danced with me"
Not everything on offer is 'ABBA Gold'-worthy, of course. The overly saccharine 'Little Things' feels like a Christmas song from yesteryear, with its music-box piano, talk of Santa and the elves, and even a children's choir straight out of The X Factor. It's undeniably a little naff but it's also ABBA, a band who will always manage to get away with all manner of musical sins.
When news first landed that ABBA would be reuniting in digital 'Abbatar' form in a purpose-built ABBArena it sounded like the premise of a Black Mirror episode, but it's soon to become our 2022 reality. This concert now feels uncanny in a different way and potentially a tonal mismatch. 'Voyage' would be better served by simplicity: just the four in a room with a piano.
Listening to these new songs moves you, especially the stirring first single, and they also move you to return to your favourites from ABBA albums gone by for a heartfelt singalong. It's an unconventional signifier of success but this album is more a reminder of a glorious past than a new beginning; more golden eclipse than sunrise.
'Voyage' is a poignant and thoroughly entertaining swansong that doesn't come close to rivalling 'Arrival' for the best music the band has produced. And yet, legacies are rarely finished and perhaps this musical postscript will become yet another classic once four more decades have passed. "When all is said and done".