In a period littered with music stories that could easily have been fever dreams, none were met with such a heavy air of scepticism as the announcement that ABBA were reuniting after 40 years for a digital concert. They were clear that ABBA Voyage wouldn't be a hologram affair – these were ABBAtars – with the septuagenarians opting for spacey motion capture suits, but the question remained: would it be a game-changer for concerts and a chance for fans to finally cross an iconic band off their live bucket list? Or would it simply resemble drunken karaoke in an overpriced IMAX?
The reality is that ABBA Voyage is something of a marvel; an undeniable blend of bonkers and brilliance that only one band in the world could possibly pull off. It turns out that it's remarkably easy to suspend your disbelief if you want to.
Approaching the purpose-built ABBA Arena in the Queen Elizabeth Olympic Park does feel akin to entering Swedish Disneyland: a clock outside counts down to Voyage's launch and the arena itself resembles an IKEA repurposed as a spaceship, emblazoned with ABBA in suitably rainbow lighting.
Inside, periodic birdsong and a Scandi wintry scene serve as the only support act, yet none of the usual pre-performance anticipation is lost, with fans on the dancefloor chanting long before the show begins. Once 'ABBA' do make their long-awaited arrival – beamed up from below the stage as 'The Visitors' plays – the atmosphere is nothing short of feverish. The ABBAtars are finally here and they're surprisingly not naff. Benny, Björn, Agnetha and Frida have fallen straight out of 1982, just where we left them.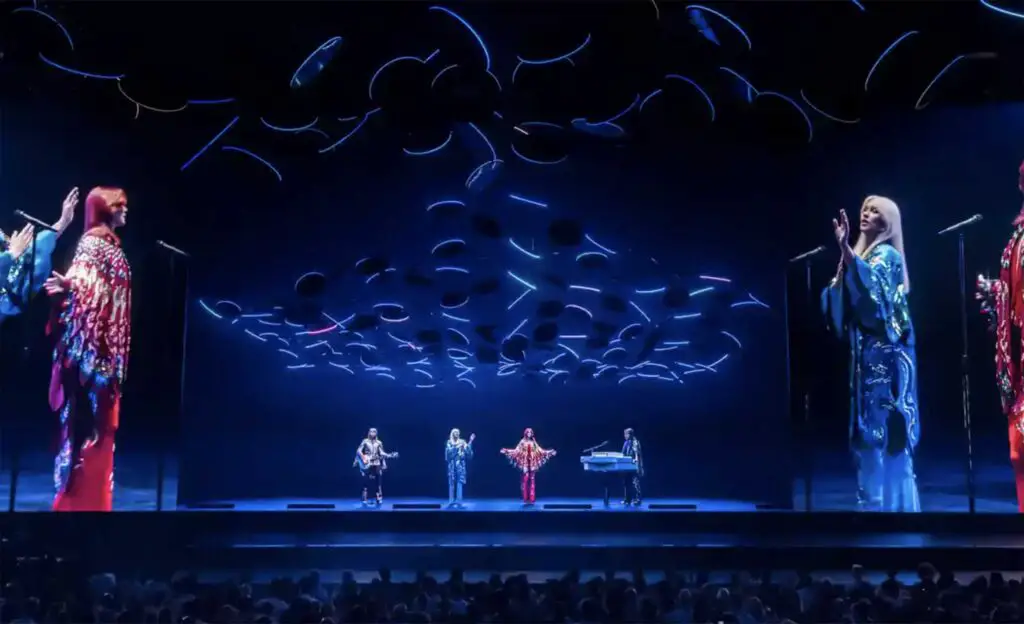 The art of CGI humans has arguably yet to be mastered by any VFX company thanks to a persistent uncanny valley: even when every feature is technically near-identical, there's still something intangible that's missing behind the eyes. ILM's work on the Swedish group is extraordinary but coupled with some ingenious staging, choreography and sensory overload, ABBA Voyage manages to achieve a hitherto unreached level of realism in the absurd.
They often touch and interact as a real, flesh-and-blood band would, and alongside the show's array of digital bells and whistles, it becomes absurdly easy to convince yourself that the world's greatest pop group are indeed performing in front of you. They haven't neglected the charmingly stilted stage banter either: there's some gentle ribbing for the UK's lack of appreciation for ABBA at Eurovision, personalised velour tracksuits, and Benny prefaces 'SOS' with a sprinkle of the Eastenders theme tune.
The digital freedom also allows the band to achieve the impossible emotionally, as the two divorced couples serenade each other with an unprecedented level of candour during 'Knowing Me, Knowing You' and 'The Winner Takes It All'.
Elsewhere, it's not all digitised and in lieu of Christine Baranski reprising her Mamma Mia role, the fantastic live band take over proceedings for 'Does Your Mother Know'. 'Gimme! Gimme! Gimme!' is an unmistakable highlight and all it takes is the opening glissando to 'Dancing Queen' to get the entire arena on its feet. It's not only the classics that make an impact either, as their two comeback singles 'I Still Have Faith In You' and 'Don't Shut Me Down' go down well with the diehards, prompting phone torches to light up across the crowd.
The biggest challenge during the pandemic of digital gigs was how to replicate that alchemy of togetherness. ABBA Voyage presents the best solution yet: what if the technology was so sophisticated, the staging so flawless, and the music so timeless, that you were able to blissfully lie to yourself for an hour and a half?
For all the talk of CGI, lighting and sleight of digital hand, the concert is made during the simple moments: singing along to 'Thank You For The Music' with a 3000-strong audience, asking ever-so-earnestly, 'without a song or a dance, what are we?' Luckily, with innovations like this, we won't have to find that out for a very long time.