There's a conflicting air of gratitude and uncertainty on the last night of Chvrches' North American tour at the Hollywood Palladium. "Let's be honest, it's been pretty fucking crap. It's been bad, and it might be bad again," singer Lauren Mayberry says of the last two years. "But this evening we don't need to think about that until fuckin' 15 songs away." Denial for just one night, she suggests. "I think that's fair?"
This isn't a flippant suggestion by the Scottish frontwoman, who now resides in Los Angeles, but an honest sigh of relief at the band's triumphant end to a tentative tour that could only take things one day at a time. "This is the last night of the tour," Mayberry says. "And the only one we missed was because there was a snowstorm," she adds with a hint of disbelief that at no point did Covid-19 put a halt to the shows, though synth player Iain Cook was temporarily out after a positive test. It's clear that with every show came a wave of appreciation that for just a little while longer, audiences could escape and the show could go on.
So it's no surprise that the group perform for one last time this year in exceptionally high spirits, bursting with pent-up frustration on 'He Said She Said' from new album 'Screen Violence', before a euphoric transition to the dance-synths of 2018 track 'Forever'. It's especially fitting that 'California', a standout track from 'Screen Violence', is given a Hollywood send-off. "No one ever tells ya, you'll die in California," Mayberry sings on the disillusioned track that candidly reflects on the terrifying possibility of failing in Los Angeles. But there's an irony in singing this to a second night of crowds on Sunset Boulevard. Mayberry holds her arms up in the air against lush guitar chords with her eyes closed and chin raised – a moment of contentment and appreciation in a track that draws one of the longest applauses.
Light and shade are carefully balanced, with grungy moments in 'How Not To Drown', followed by set highlight 'Violent Delights' which is almost cinematic in spectacle. But transcendent moments are also found in unlikely live champion 'Science/Visions', which commands an entirely different atmosphere. Mayberry twirls across the stage with childlike abandon during album belter 'Good Girls', while older tracks 'Miracle' and 'Night Sky' offer flashes of hard rock and softer percussions respectively.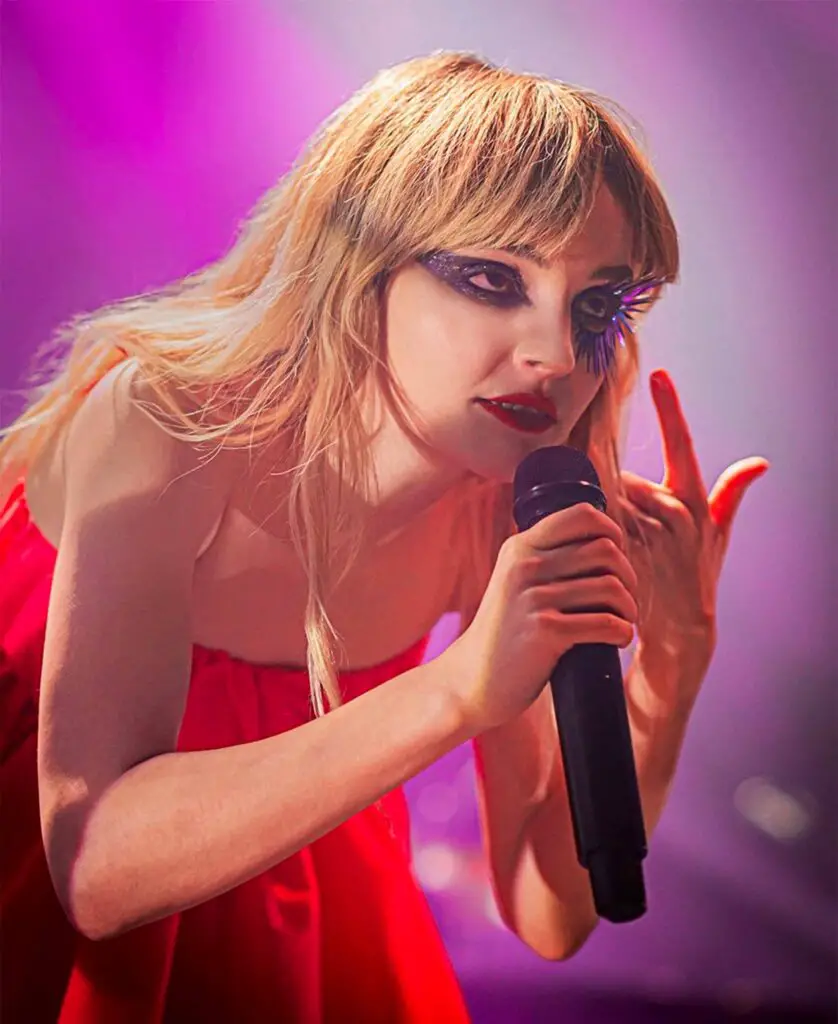 The setlist is concise and production is slick, with the backdrop projecting dynamic television static to match the 'Screen Violence' horror aesthetic. Returning for the encore Mayberry is doused in fake blood for her third costume change of the night. Her hand hangs in the air which is mirrored by the crowd – almost biblical in nature – before wrapping up on an outrageously euphoric high with 'Clearest Blue', sending the crowd into a careless dance frenzy before an abrupt finish. A track or two from the exceptionally superior director's cut of the new album would have been a welcome addition, but the balance of old and new is otherwise well received.
"10 years is a long time to be in a band and we're really grateful that we still get to do it," Mayberry says towards the end of the set. But this tour is unlike anything the Glasgow trio have done before. It's only fitting they got their Hollywood ending for an album that was born out of lockdown and largely created remotely, finally celebrated in the city that the band once thought might swallow up their dreams.