Right now, with IRL music events off the cards for the foreseeable, most of us are getting pretty tired of Zoom concerts, living room acoustic sessions, and replays of old festivals. Understandably, many miss the tangible benefits of going to real life shows: seeing your faves in the flesh, drinking two pint glasses of beer, brushing up against strangers. Sadly, it's all of those things that make concerts dangerous virus hotspots right now. While many of us want to be back pressed against a barrier as soon as possible, there are some people who are less keen to get back into those environments, even with a vaccine.
For those with anxiety disorders, gigs and festivals were already a source of stress, whether due to the social aspect, potential claustrophobia or simply the uncertainty of a new environment. While live events are a write-off for 2020, we have to go back to those spaces eventually, and most of us want to. However, for some, time away makes re-entering those environments more difficult. Joey, aged 25, told me that before lockdown, live music was a big part of their identity. "I had wound down a bit before quarantine due to anxiety, anyway," they say, adding that as they're autistic, they get socially overwhelmed very easily. "I always used to joke at gigs we were playing that I hate live music, which is a joke but not super far from the truth." they add.
READ MORE: SOCIALLY DISTANCED GIGS CAN GET IN THE BIN
Even before the pandemic, many people with more severe mental health difficulties were already struggling to build up the courage to go to events. Zach, 28, said that he has had to develop techniques for regulating his anxiety in public, but even so has found himself battling waves of anxiety at shows and having to leave. He's found the online concerts a great source of comfort and a compromise that he hopes sticks around: "100 gecs' and Porter Robinson's respective online concerts were both absolute delights. Neither made me feel like I was in a crowd despite their attempts to emulate it, which is delightful. I don't show up for the crowd but for all of the things associated with it like the music itself." he says.
For people that have worked hard on treating their anxiety disorders, particularly with CBT and exposure therapy, time in lockdown not having to face their fears will make it even harder to go back. Tilly, 30, used to go to gigs every month. During difficult times she avoids social events generally, but has had her OCD under control for a while. At her last gig before lockdown she felt herself becoming incredibly aware of everyone around her and felt nervous in such a small space: "I think now I would feel quite uncomfortable about going knowing (the little) we do know about the virus, and being in close proximity with everyone else," she adds.
For people with anxiety disorders, it'll take more than new rules to make them feel comfortable going to gigs again. For Tilly, the anxiety comes from not knowing anything about the virus. "I think it's really hard to know the right steps for live music as there's still so much unknown information about the virus, and this is where a lot of the anxiety would come from for me. I think it's the not knowing if I'm doing the right thing by attending or the safety that's put in place. I do hope live music could start again soon though, but as gigs are such a communal event, I imagine they'll look a lot different in the near future."
Zach, who lives in a red state in the US where few people are taking the virus seriously, says that he wouldn't go to a concert again without a vaccine. "The ratio of people wearing masks to uncovered is abysmal. As much as I feel more mentally prepared to get out of the house I'm fearful that the anti-maskers we have now will be anti-COVID-vaxxers once it's available," he says, and he's unaware of when he'll feel comfortable again.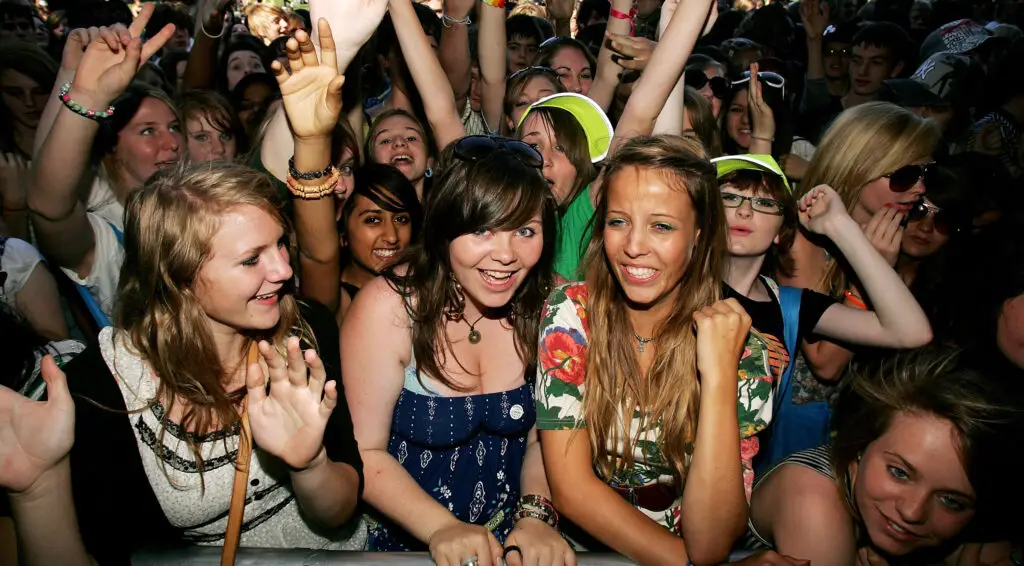 Not everyone with an anxiety disorder has always struggled with gigs, though, for some, it was a lifeline. Hannah, 28, suffers with anxiety and depression, but found that gigs were one place she could feel safe and fulfilled. She used to go to shows at least a few times a month, and found them comfortable. "It was quite rare for me to get anxiety at gigs, they're usually great for my wellbeing and I've really felt the loss of them through the lockdown," says Hannah, adding, "Online gigs just aren't the same for giving me an experience and sense of connection."
It's important for people with anxiety to find a way to re-enter public spaces carefully without either risking their health or giving in to their fears, especially when live music can provide such a source of comfort. Erin Berman, a clinical psychologist at the National Institute of Mental Health, says that it's normal to feel anxiety, and that the best thing to do is plan ahead. "Practice is a good way to get used to reentering public situations. Start small and safe. First, go to places that you are slightly more comfortable with, whatever that may be for you. For example, this could start with walking near more populated areas," she says. By building up experiences and reintroducing yourself slowly, you'll find it easier once you're at a venue.
Most importantly, says Berman, you need to develop portable coping methods, like deep breathing, supportive mantras, and reminding yourself that it will pass. She says that the more times you enter scary situations and events, the easier it will get–you just need to be patient and compassionate with yourself. While we don't yet know when we're going to have to be in crowded places again, understandably, many people won't do so without a vaccine. But a vaccine isn't a cure for anxiety, and exposing yourself to situations that scare you–carefully, while observing guidelines–will make it easier. "When you figure out the event or situation that you want to participate in, take stock of what the CDC recommends in terms of contact. But don't go overboard." says Berman.
Even for those without anxiety disorders, the virus and the lack of clarity surrounding rules and guidance is making it difficult to imagine going back to our lives as we knew them. Without a vaccine, the future of live music hangs in the balance: how will distancing be enforced? How will venues survive on ticket sales slashed in half? Hopefully new government measures to support the arts, announced today, will allow people to return when they're ready and give venues the time they need to avoid rushing back to full-capacity gigs.
But the most important thing is that when you do return to live music spaces, you feel comfortable with any steps you take – it's important to push yourself, but not at the risk of your health. The future is uncertain, but we will experience the euphoria and comfort of live music again, it's just going to take some work to get there, on both public and personal levels.