After some time in the doldrums, it appears the BRIT Awards might be… back? Settling down in front of the telly pre-game, things seemed pretty standard — a sea of black dresses, the usual chat about just being glad to be nominated, the teaser of "things you wouldn't expect." You roll your eyes and expect the usual, but before you know it, you're watching Oli Sykes from Bring Me The Horizon doing screamy bits over an Ed Sheeran song and wondering exactly whose genius idea it was to start things with such chaotic energy. Maybe we really are in for a shake-up after all?
Having been criticised on the grounds of poor diversity, 2022's BRITs made quick work of righting some of its previous wrongs. Mo Gilligan, the first non-white host since 1994, did a solid job of hosting, and women, previously a little side-lined in last year's move away from gender-based categories, took home 10 of the total 15 awards, including a Best Group triumph for Wolf Alice, who immediately announce their intentions to go off and "get battered". Trying to bring back more of a youth market, there were TikTok and Roblox afterparties, and more fan-voted categories than usual, broken down into more specific genres that allowed slightly more left-field acts to get a look in on the longlists. The whole thing moved at a pace that felt a little less overly indulgent, with a heavy focus on performances over speeches to really get to the heart of the action.
Due to the ongoing nature of the pandemic, all performers were British, which turned out to be a welcome opportunity to show that we can definitely hold our own. Holly Humberstone, who told pre-show hosts that she'd never even been to the o2 as a punter before, delivered a stunning performance of 'London Is Lonely' to celebrate her Rising Star win, proving that you can hold attention with even the quietest of songs. Adele, flown in at the last moment after her Vegas shows were postponed, got to deliver a classy performance of 'I Drink Wine', while Anne Marie, the consummate pop professional, delivered an upbeat medley complete an immaculate recovery after a small Madonna-esque trip at the start (in truth, the only thing that really dragged her down was the dreary appearance of collaborator KSI). A clear highlight came from Little Simz, whose fluid transition between 'Introvert' and 'Woman' was nothing short of a masterclass; each line delivered with clarity, aesthetically meticulous, and with in-person narration from actual Emma Corrin to boot. Simz's beam at the end said it all, topped off by an appearance from her pride-filled Mum who came on stage to collect her 'Best new Artist' award with her daughter, taking in the night's most affecting speech.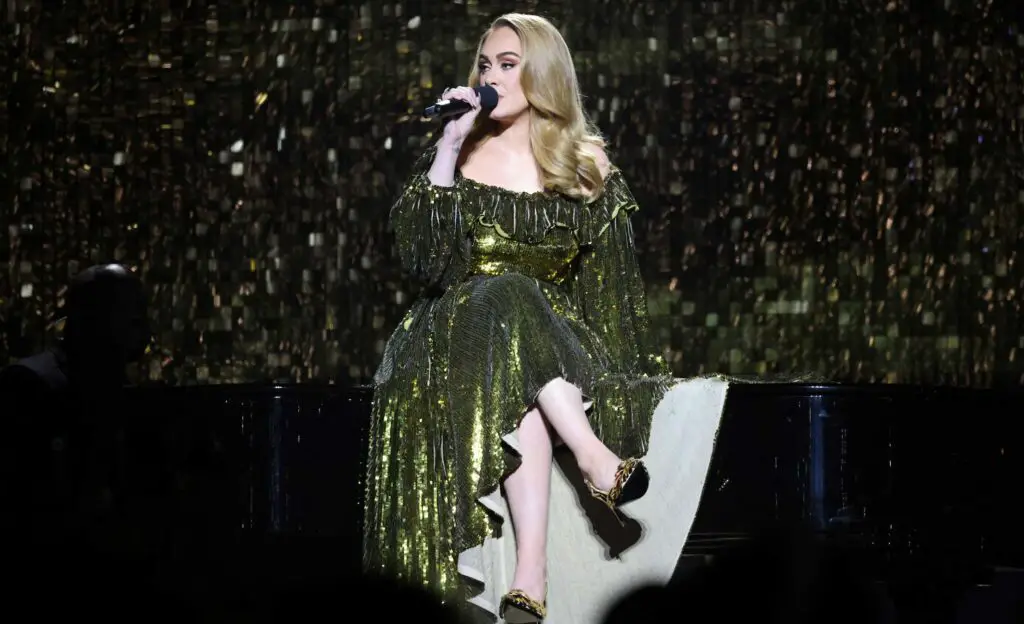 Elsewhere, Sam Fender's live show wasn't quite so heavy on the bells and whistles, but his performance of 'Seventeen Going Under' delivered in heartfelt sincerity, riding off the energy of securing his second BRIT Award for Alternative/Rock Act. As the entirety of Twitter seemed to unanimously discover that he is in fact quite the cutie, his star appears to be ascending rapidly, uniting generations with its (surprisingly rare) depiction of working-class northern life.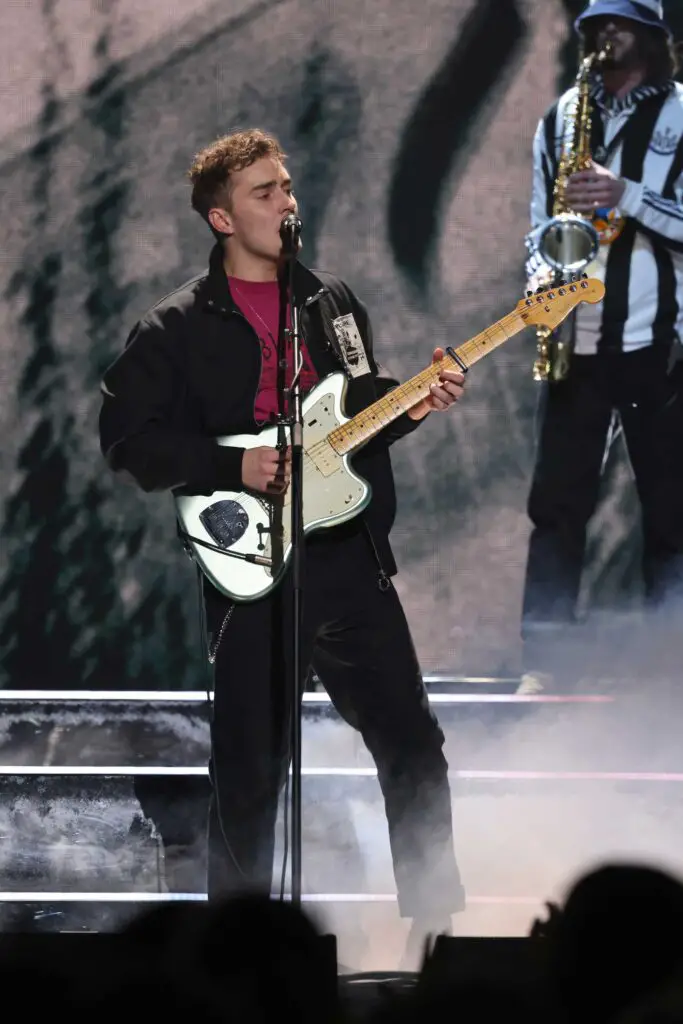 The undisputed hero of the 2020 ceremony, Dave returned to close the show, holding the nation on tenterhooks for the statement he was going to make. Although some people seemed disappointed that he didn't do something 'more political', they clearly weren't listening that closely to the lyrics of 'In The Fire'; a rip-roaring tale about fears of deportation that pulls out guest appearances from Fredo, Ghetts, Meekz, Giggs and a massive gospel choir. A multi-talented Black rapper on stage tearing riffs out of a flame-throwing guitar, proving just how deeply your racial-genre stereotypes belong in the bin? That's plenty political enough for me.
Speaking of people who maybe needed to pay a tad more attention, a small ill-phrasing from Adele did threaten to put a bit of a dampener on the evenings general sense of celebration and camaraderie. Stepping up to accept her prize for '30' for Best Album, she thanks her son and producer Inflo (who also got a gong offscreen for Best Producer), and quite rightfully acknowledges the blood, sweat and personal tears she poured into a record that displays an overwhelming account of sincerity and painful truth. "I'm very proud of myself for sticking to my guns and putting out an album that was so personal to me, because not many people do stuff like that anymore," she says. Her sentiment and self-pride is both understandable and deeply deserved, but with Simz, Sam Fender and Dave looking up at her from the same category, its choice phrasing lingers as a bit of a strangely superior take, not quite understanding the lengths each have gone for their own art. 'Personal' is of course a relative term, but it seems a shame to celebrate oneself by swiping down at others — not something you'd normally expect from an artist known for her down-to-earth warmth.
In conclusion? Awards ceremonies might not yet have gone entirely the way of the dodo, as the BRITs managed to provide just enough twists and turns to buy itself a future. I'd go as far to say the performances were fairly spot-on; the right balance between solid delivery, surprise collabs and "legends" where you don't mind getting up to put the tea on (thankyou Liam Gallagher and his flappy trapper hat). The shopping-trolly set design did leave something to be desired, but if the BRITs has any big shifts to focus on for 2023, it's with the categorisation; exhilarating as her win was, Simz should have been getting her 'Best New Artist' flowers years ago, and the 'Song of The Year' category, in particular, seemed a particularly uninspiring representation of the great state that British music is in. Moving these around will do plenty to let the new faces in; Self Esteem alone is more than enough justification that the 'Breakthrough' category needs to come back, or perhaps even an independent division. Nonetheless, these are tweaks that it is now in a very good position to make. By focusing on homegrown performances, the BRITs retains its crown as a home for global talent. Next time, I want to see Ed Sheeran take on some of those death screams for himself.
The Winners
Artist of the Year: Adele
Group of the Year: Wolf Alice
Song of the Year: Adele – 'Easy on Me'
Best New Artist: Little Simz
Album of the Year: Adele – '30'
Rising Star: Holly Humberstone
Producer of the Year: Inflo
Songwriter of the Year: Ed Sheeran
Genre Awards (as voted by fans)
Alt/rock: Sam Fender
Hip-hop/grime/rap: Dave
Dance: Becky Hill
Pop/R&B: Dua Lipa
International Awards
International Artist of the Year: Billie Eilish
International Group: Silk Sonic (Bruno Mars and Anderson. Paak)
International Song of the Year: Olivia Rodrigo – 'good 4 u'
---
READ MORE: The 45 best albums of 2021
This year's BRIT Awards Official Digital Music Partner, YouTube Shorts, have captured all the best moments from the red carpet, thanks to the Shorts Booth, which saw artists such as Sam Fender, Tom Grennan, Joy Crookes, Holly Humberstone, Tom Daley, Ghetts, Aitch and Mo Farah pass through. Search #BRITsUnseen on YouTube Shorts for more exclusive behind-the-scenes content.