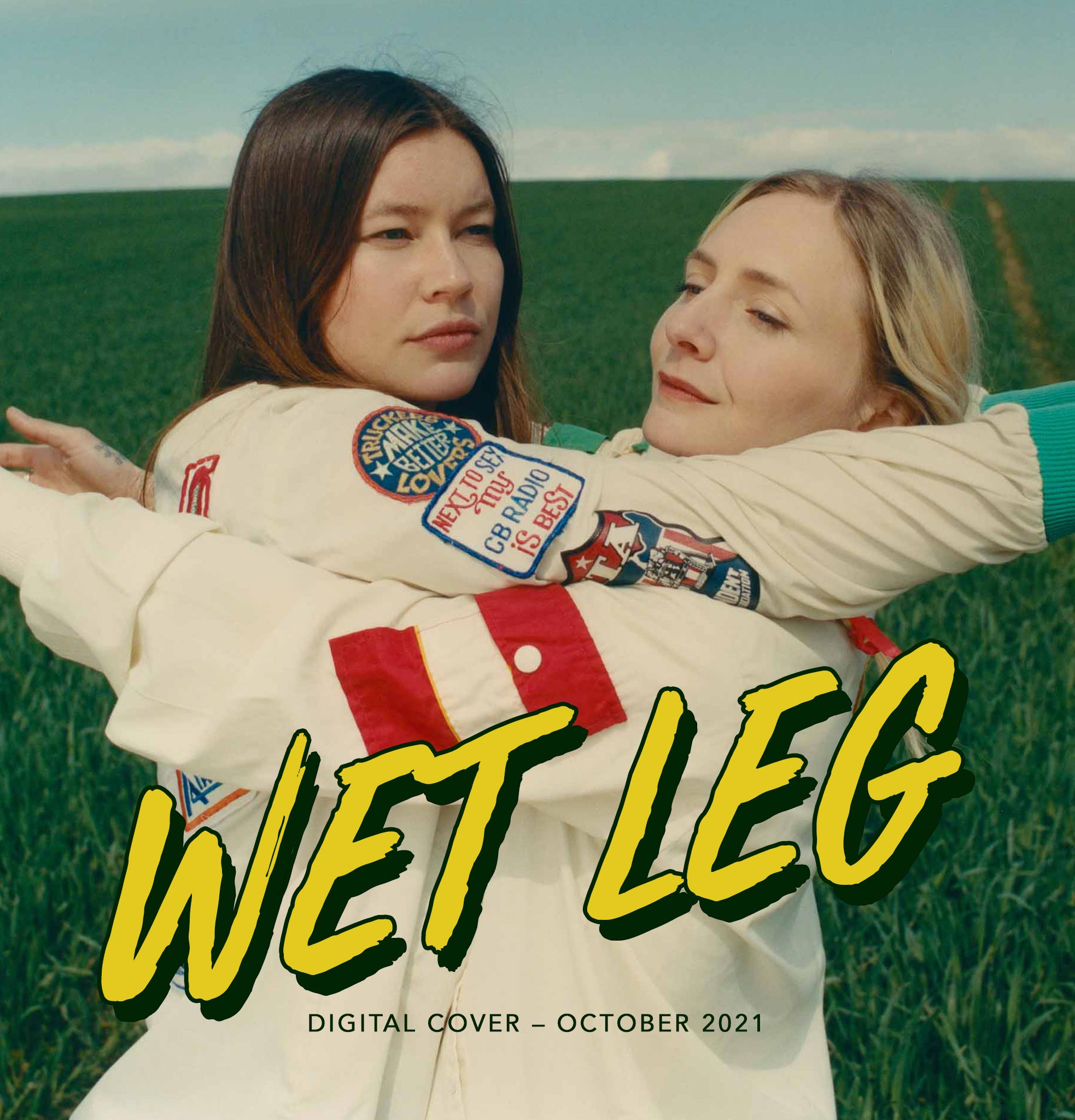 WET LEG: DO BELIEVE THE HYPE
---
With their tongue-in-cheek indie earworms, Wet Leg have dominated the second half of 2021. Charlotte Gunn gets to know the brand-spanking-new Isle of Wight duo behind two of the year's best tracks.
---
Friday afternoon, The Alcove tent at Latitude Festival. One of the smallest stages on site – a space reserved for brand new acts – has a very, very long queue forming outside. Fans are hoping to squeeze in to see the hot ticket of the weekend, a buzz band everyone from 6 Music mainstay, Steve Lamacq, Paramore's Hayley Williams and a certain Mr. Iggy Pop has hailed as the Next Big Thing.
Inside, two women on stage are trying to finish their soundcheck, giving each other wide-eyed, what-the-fuck glances as more and more people pack into the tent to see them. This is their second ever gig.
The band in question are Wet Leg – aka Rhian Teasdale and Hester Chambers – a duo from the Isle of Wight and the most exciting new group in the UK right now. At this moment they have just one song out – the sexy, sassy 'Chaise Longue'. You will have heard it: its infectious riff and innuendo-packed lyrics ("Is your muffin buttered? Would you like us to assign someone to butter your muffin") has been the fodder of indie radio A-lists "all day long" for months – and is quite frankly, one of the best debut singles since 'I Bet You Look Good On The Dancefloor'. The hordes have descended to see if there's more to Wet Leg than one great song.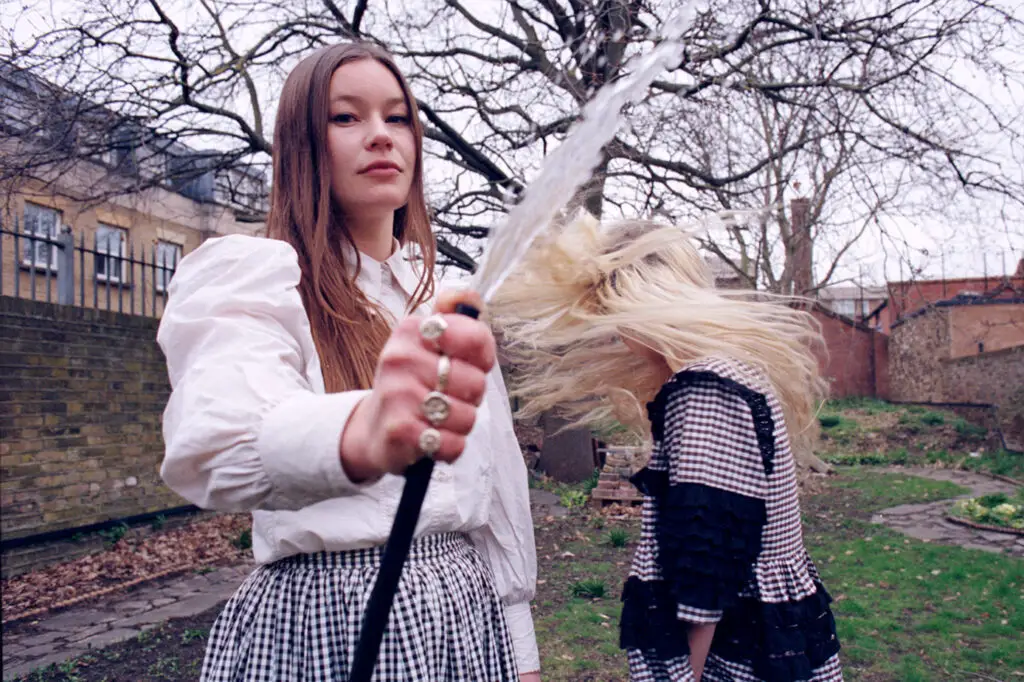 "It was really confusing," says Hester of the show when we catch up some months later. "We were like: 'Wait a second – we're just a baby band! We haven't even done anything yet.'"
"We didn't even know if anyone would turn up," says Rhian, echoing the confusion. "And then it was, like, really full!"
"And everyone was smiling", adds Hester.
---
---
She's right about that. From the opening chords of the first unreleased song, it's clear that Wet Leg are about as far from one-hit-wonders as you can get. Looking around the tent, the crowd are ecstatic, joyful at being out of lockdown and at an actual festival, but even more excited to be witnessing the start of something special. There's a palpable sense of occasion. It's a happy half hour.
"That whole festival was just so surreal," says Rhian, of their first weekender as Wet Leg. "Seeing all the other bands and stuff – it was like, 'Oh, Gosh. I really, really like this!'"
It was a festival experience that lead to Wet Leg's inception. The duo formed atop a Ferris wheel, after watching a particularly rowdy IDLES set at End of the Road festival in 2019 and deciding that being up on stage looked like a pretty good time. But Hester and Rhian weren't new to music, having met at music college on The Isle of Wight, they had both recorded and performed under various guises before forming the band ("it was more folky, but we like to keep it on the DL").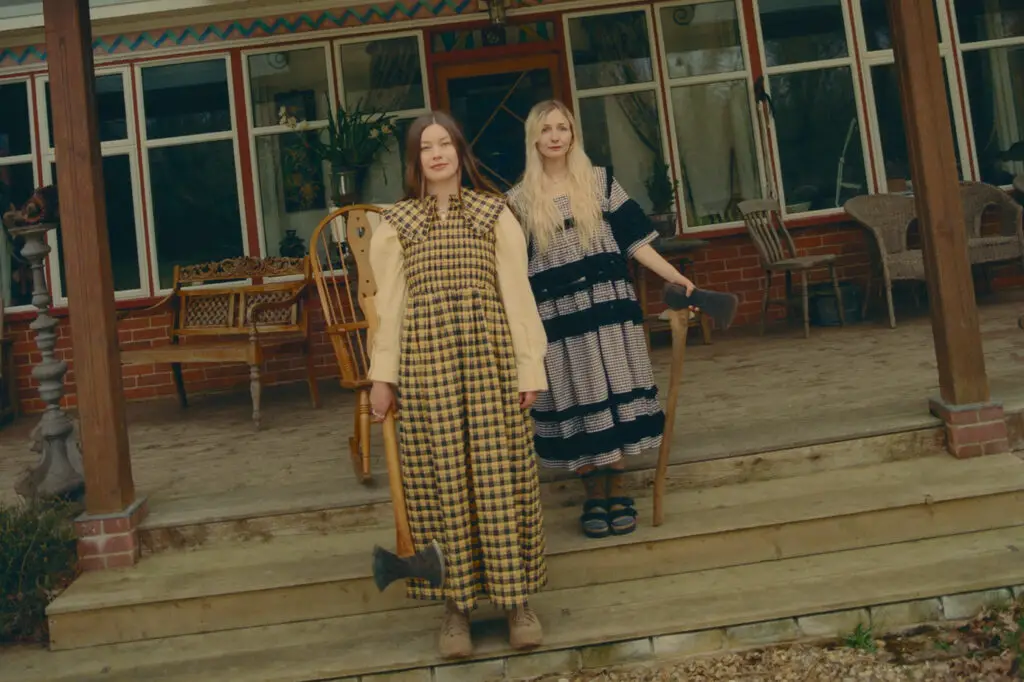 They managed to record 'Chaise Longue' just before lockdown hit and in autumn of 2020, Domino Records (Arctic Monkeys, Cat Power, Georgia) came a-knocking, taking a punt and signing them off the back of not very much at all. The following summer, 'Chaise Longue' was released and everything blew up. The video now boasts 1.3 million views on YouTube and the song has been streamed close to four million times on Spotify. Not bad for a debut track.
By their own admission, Wet Leg are a classic introvert/extrovert pairing, Hester being the quiet one, sweet and softly spoken to frontwoman Rhian's slightly more confident exterior. Their overall vibe – as reflected in their lyrics and oddball videos – is surrealist cottagecore post-punk. Think killer riffs, sassy one-liners, prairie dresses and the occasional giant lobster claw thrown in for good measure. They've been compared to the likes of Karen O, The Breeders and Le Tigre, names that feel weighty but not ill-fitting.
Since Latitude, there's been a much-anticipated follow-up single – 'Wet Dream' – which, like its predecessor, has its tongue firmly in cheek. The track is about an ex who thought it would be cute to tell Rhian he'd had a dream about her. He might just be regretting that now.
"What makes you think you're good enough, to think about me when you're touching yourself" Rhian asks, followed by depictions of said pickle tickler jumping "on the bonnet and licking the windscreen". It's not a flattering tribute.
"There was a bit of a discussion about whether ['Wet Dream'] was a bit raunchy, a bit racy. Oooooh," says Rhian, mockingly. "Our radio plugger was like, 'It is a bop, but… is it OK to talk about being in someone's wet dream?'
"I feel like if it was a guy that segued it in there, nobody would bat an eyelid," she posits "But it's because we're sweet little girls, it's a problem."
They've not been deterred though, sex is a running theme in Wet Leg songs but the stories are told through a slightly Vic and Bob lens. Does Rhian have to channel her Sasha Fierce alter ego when writing about doin' the do?
"Yeah, I can't just be full-on Sexy Goddess. I have to be Sexy Goddess with lobster claws. Lobster Goddess"
Maybe that will come down the line? For album two, you can lose the claws?
"I don't know. I have to take those claws into the bedroom, otherwise I can't be that version of myself. My boyfriend is like 'Please, just for once! Not the claws!" and I'm like "No! I'm a sexual being. They're staying."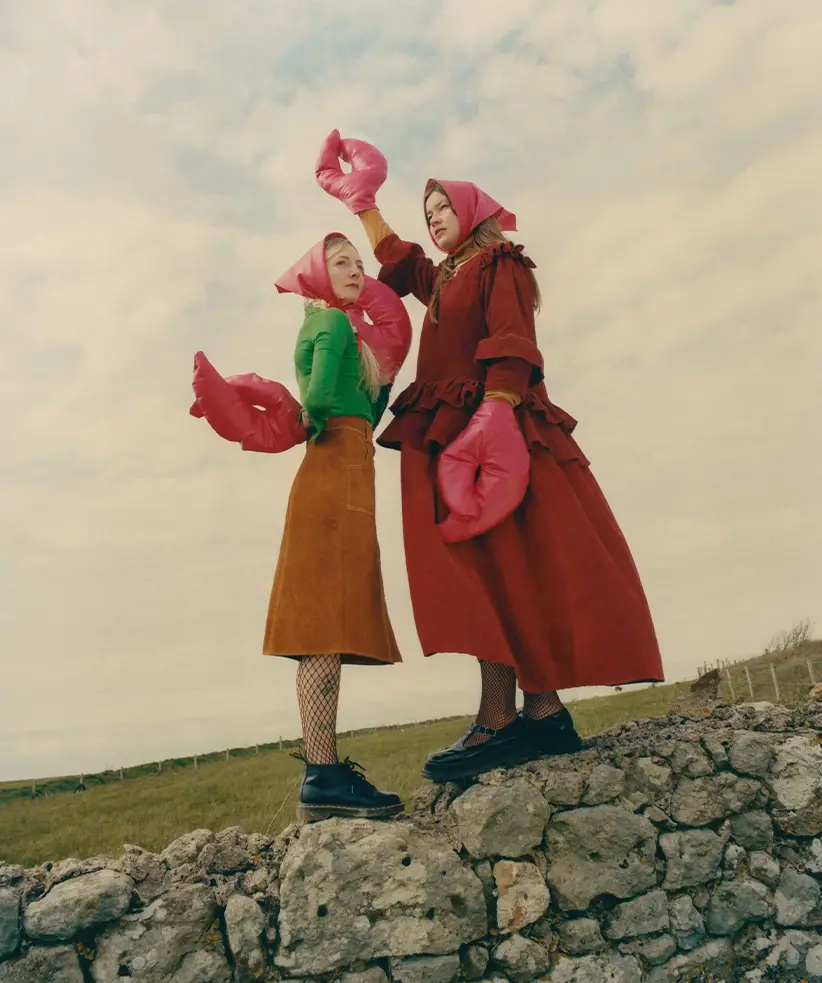 ---
---
Growing up on the Isle of Wight, though remote, was a good base for the band. Their youth was spent getting sloshed on the beach and dabbling in music. And though bands typically missed The Isle off their touring route, there was a burgeoning music scene that required its participants to think a little deeper. "The only gigs that happen [on the Isle of Wight] are pretty DIY, which is quite nice" Rhian explains. "You have to get quite creative with it. There's a festival called Ventnor Fringe Festival. I played one of my first ever [solo] gigs there and back in the day, there would just be pop-up venues. One was a house that was still being built. The floor was all rubble and they put tea lights in the walls. It was a show to only about 20 people but it was great. So while it's a shame you can't easily go and see touring bands because it's so expensive to get over, it's kind of nice because you have this small DIY scene. People make their own fun, I guess."
In music terms, The Isle of Wight is famed for its annual festival which ran from 1968-1970 before being revived in the early noughties. For Wet Leg, it marked the start of the summer. "I know a lot of people who failed their GCSEs because they were the same week as Isle of Wight Festival," says Rhian. "My housemate is 32, and even now is just like: 'Why did I not go to my Maths GCSE?' But the festivals were really good. Really inspiring."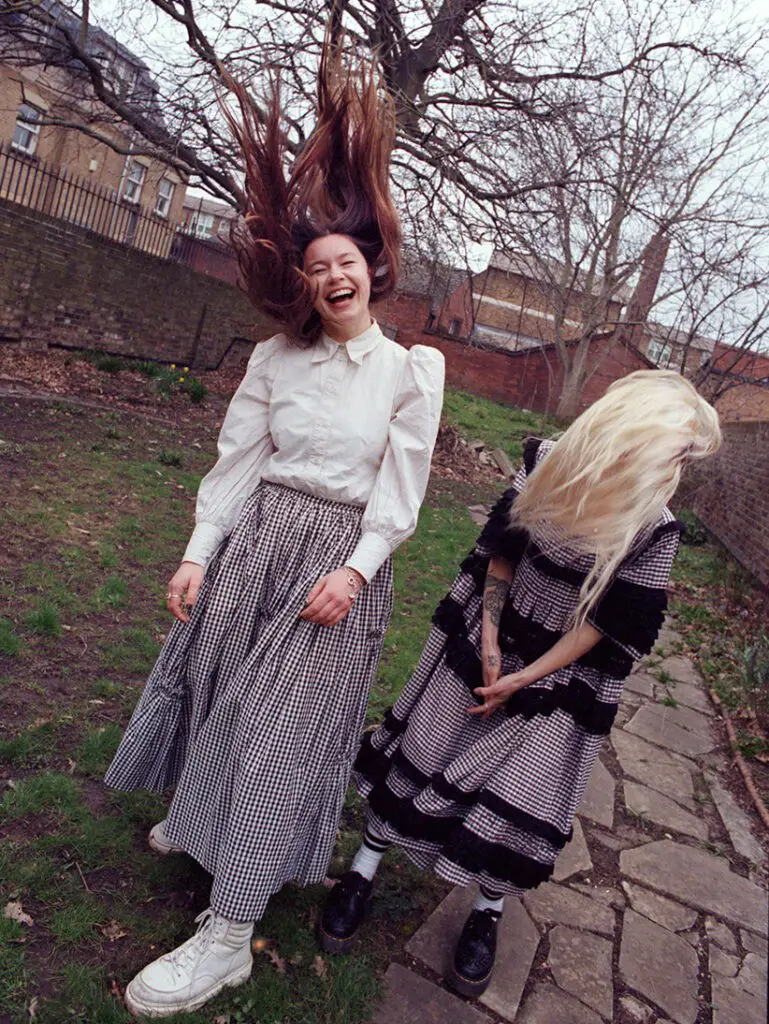 Wet Leg's dreams of life as a touring band are already being realised. With support slots for Declan McKenna and Inhaler, Rhian and Hester are settling into life on the road pretty well.
"Beers are inevitable" says Hester.
Rhian concurs: "Beers are delicious".
"Yesterday was the first day I didn't have a beer and I felt quite accomplished," adds Hester. "But then today I was like: 'Thank goodness today is a new day and I can have a beer later."
Their first headline tour is just kicking off, too – and they're heading Stateside for six December dates in New York, LA and San Francisco. It's quite a lot for a band nobody had heard six months ago.
"We're just waiting for everyone to say 'Oh. Sorry…'" says Rhian, of the trip.
"…'everyone refunded their tickets'," adds Hester.
"'…after the third single,'" Rhian continues, "'We've decided it's best if you just stay home.'"
But there's not much chance of that. With so much momentum and a chaise longue full of good songs, it's no surprise that a debut LP is already in the works.
"We're hoping to release an album next spring or summer," Rhian says, looking somewhat incredulous.
The pair have been working with Speedy Wunderground super-producer Dan Carey (Goat Girl, Fontaines DC, Squid) but as to whether Carey is producing the whole album? "We're not sure if we can divulge that information", Rhian says, squirming in her seat a little.
Read into that, what you will.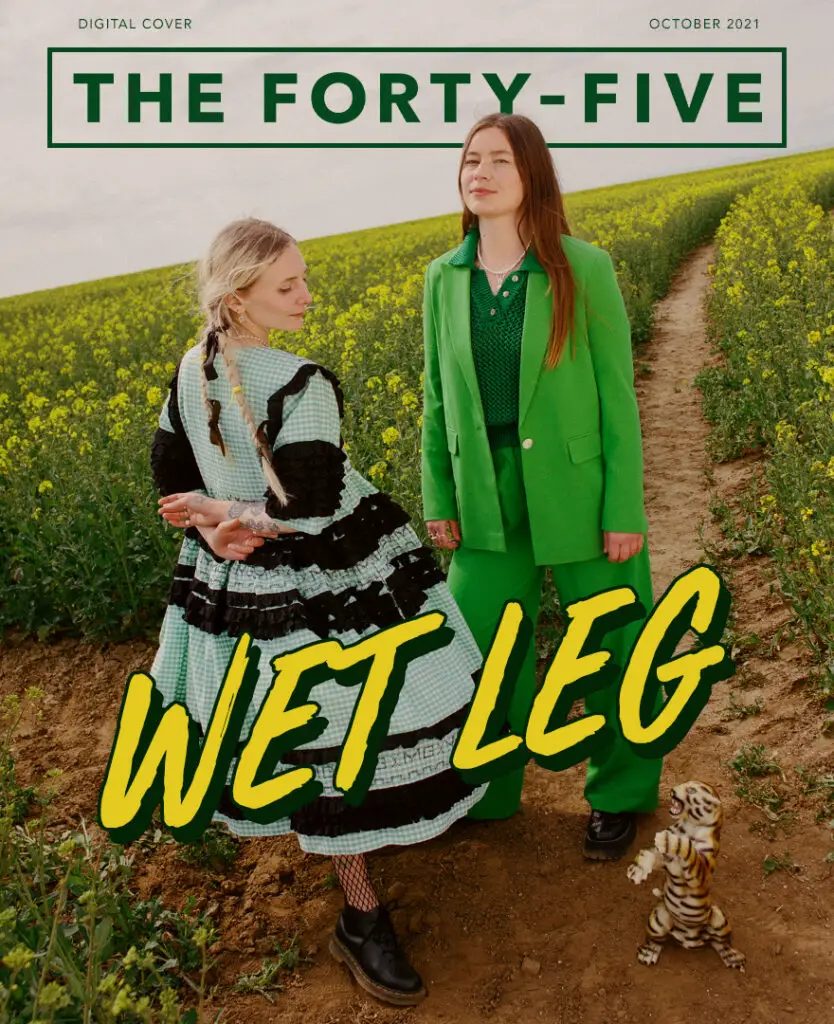 "It's super, super crazy and surreal working with Dan," says Hester.
"He keeps everything so fresh," adds Rhian. "Like a game".
Hester continues: "Yeah, he says: 'Here's a fun game to help you be prepared'. But when we got there, it turned out we weren't prepared at all! We were really worried like, 'Oh my gosh, he's never gonna want to work with us ever again."
Carey's "game" sounds something akin to a frazzled parent asking their child to play Sleeping Lions. "You play the songs from start to finish, like a set, and if you mess up, you have to go back to the beginning," explains Hester. "It doesn't sound that fun when I say it like that. He made it sound really fun…"
"It is fun!" adds Rhian, "Because it keeps everything so fresh. Usually, when you mess up, you do that bit again. But this way… it's like when you say a word over and over again and it completely loses its meaning. And it's the same when you're playing a song – you just don't even know if it's a word anymore, you don't even know if it's a good song."
Fortunately for Wet Leg, the songs are good. With so much ahead of them – including another single before the end of the year – and everything moving at such a pace, it would be easy to get overwhelmed by the hype, but the pair seem determined to not skip too far ahead.
"I'm most excited to play McCool's in Glasgow," says Hester, of all the exciting things in store. "It will be our first headline show and it looks so tiny and fun. We've been playing support slots in such silly venues, it will be nice to play somewhere that feels like where we'd be if the pandemic hadn't happened. Playing the tiniest, stickiest venues we could."
One thing's for sure, they won't be booking sticky back rooms for very long. So if you're one of the lucky ones who manages to sneak in the tent, savour every moment. Because it might well be one for the books.
---
HOLY COWES! ITS WET LEG'S GUIDE TO THE ISLE
We grilled Wet Leg on the most important questions, every islander wants to know.
Wightlink or Red Funnel?
Hester: We hate both of them. They're both dreadful.
Rhian: I would say Red Funnel is better because if you're late or early, you can rock up at the desk and be like 'Hi, I was booked for the ferry three hours ago but my alarm didn't go off and I overslept. Can I get this one?' and they're like, 'Yeah, go on.' but if you do that on Wightlink, they make you park up, get out your car and go and pay the difference on your ticket.
What's the best attraction at [classic IOW theme park] Black Gang Chine?
Rhian: Rumpus Mansion. It's really dark. You go in and look into these rooms and see, like, weird little goblin monsters. First of all, it starts off a bit more lighthearted.
Hester: Yeah, at first there are fairies in the Rumpus Mansion. Sweet fairies. Then it gets more like thunder and lightening and rumbling. And then you press a button.
Rhian: And then the goblin has one of the people tied up by their neck.
Hester: It's like a mythical haunted mansion.
Rhian: You should definitely go, it's very, very weird. And they got new attractions that are just also really dated and weird, even though they were built last year.
East or West coast?
Hester: West. Because Alum Bay.
Rhian: Yeah, there's a chairlift but we haven't been on it. We have to do it.
Hester: It's got the best beach ever
Rhian: And Freshwater Bay is really nice. It's more unspoiled than the East and there's a really good coffee shop there that does the correct oat milk. The grey Oatly oat milk – it's hard to get on the Isle of Wight.
---
Like what we do? Support The Forty-Five's original editorial with a monthly Patreon subscription. It gets you early access to our Cover Story and lots of other goodies – and crucially, helps fund our writers and photographers.