Jazmin Bean believes the freaks shall inherit the earth. Their vision is a kawaii-horror nightmare of Hello Kitty, pink assault rifles and baby doll dresses smattered with entrails. Some may call it creepy-cute, others pastel goth – but for Jazmin Bean, "bitchcore" fits just fine. Their world is a visual and musical collision of the darkest corners of our imagination, drawing in half-a-million disciples on Instagram. "I get messages from fans all the time saying things like, 'I would die to go to your show, but my mum would kill me if she knew. She thinks you're a demon,'" they say with a smile.
Their debut five-act EP, 'Worldwide Torture', released this time last year as an independent artist under their own label, 'aswang birthday cake', was just the beginning – an (excessively) bold statement of what was to come. This year, with the backing of a major label to bring 'Worldwide Torture' to completion, Jazmin Bean is treating us to four entirely new, unheard tracks, bringing the EP to 11 songs in all their guts and glory. As well as bringing us a lung-busting duet with Zheani and their own antidote to Britney's "Slave 4 U", Bean also dares to share with us the scariest thing of all: how they really feel.
Art is an all-you-can-eat buffet for Jazmin Bean – they indulge themselves not only on music, but fashion, make-up and cinematography too. Whatever it is, it's done in excess. "For me, it just started with being an attention-seeker on the internet," they explain. "I mean, that's internet culture, right? How much of an attention-seeker can you be?"
---
---
Crafting their identity as an artist to this extremity was an act of rebellion. Stifled by the uniformity of growing up in the suburbs of London, through the internet, they built a life and a community beyond the school gates. "On the weekends, or after school, I'd go to clubs where I'd perform and sing, rubbing chicken guts all over me," they tell me. "I was very much doing it for myself," they're keen to insist, "But I wanted to know how shocked I could make people. So many artists are like, 'I'm gross. I'm a freak', but not that many live up to it."
Music almost felt incidental for Bean. "To make a film with my music as the soundtrack has always been a dream of mine," they confess, "it's the reason I got into music."
Film had always been their first love. Bean had grown up drinking in the gothic surrealism of Tim Burton – treasuring in particular Burton's book of poetry, 'The Melancholy Death of Oyster Boy & Other Stories'. In it, woven between the gallows humour and couplets telling tales of ill-fated outcasts with nails in their eyes and melons for heads, are curious little illustrations. Their mother used to tell them they looked like one drawing in particular, the 'Staring Girl', with their wide eyes and long blonde hair. "I've actually got one of the characters tattooed on my arm," they say, before adding, "very badly, because I did it myself."
To nurture their devotion to the visual world, Jazmin Bean enrolled at a film school in London. One of their ventures was a short film called My Baby, a "silly school project" with an assignment to create "something that teens will relate to". While others teamed up and made films "about, like, bullying, or something", Bean had set out in earnest, alone, to make one which explored the themes of abortion, sexism and religion. "It didn't even get graded because it was so intense," they say. Bean shared the public link online for only an hour, with 2,000 fans having viewed it before they took it down. "I think school in general, and that type of institution, just wasn't made for me," they shrug.
Undaunted, they retreated with their ideas and saw an opportunity to realise them through music. Mapping out visual narratives in their head to the songs they wrote became the ultimate form of creative control. Being an independent artist under their own label, 'aswang birthday cake', meant that the final word came at the price of a creative budget. "I feel like there's not so much trust, especially when you're looking and sounding like this, competing in the same race as very mainstream people", they believe. "Before I got signed, even if people said something wasn't very good, I would still just release it – because I wanted to."
But every music video, despite that, was executed to the fullest of their ability, building props and sets with a small team of friends. Suddenly, 'Saccharine', a song about the revulsion you feel about catching feelings, is likened to a grisly, blood-drenched scene of invasive dental surgery. "Videos give music such a boost," they say. "If it was my way, I would make a music video for every single song on the new 'Worldwide Torture'. And maybe I could, if I'm, you know… stubborn enough."
---
---
Their track 'Saccharine' has a younger sibling: 'Yandere'. The term is an anime trope, derived from the Japanese words, 'yanderu', meaning insane or sick, and 'deredere', meaning affectionate or loving. It's defined as someone who is, simply put, lovesick, driven to insanity by their obsession, resulting in abnormal behaviour – if not, violence. Bean says of the pairing of songs, "You know when you just have a disgusting crush, and it's, like, killing you? They're both about conflicting emotions… I have a lot of conflicting emotions, actually." It is strangely reminiscent of one of the Tim Burton tales they love, 'Voodoo Girl', which goes like this: 'But she knows she has a curse on her, a curse she cannot win. For if someone gets too close to her, the pins stick farther in.'
While many of their lyrics keep their heart under lock and key, protected by a fortress of don't-fuck-with-me threats, the extended 'Worldwide Torture' EP includes a new song called 'B4 The Flight', by far their most vulnerable track to date. "I literally cannot even listen to that. Every time I try listening to that song, I just start crying," Bean says. "I couldn't finish it for months and months. Every time I tried to record vocals, I would cry so much listening to the songs that my nose would get blocked and I would sound so gross I couldn't record it anymore."
Jazmin Bean was heartbroken, at the time, though they know how feeble that word sounds when it comes to trying to illustrate the feeling. "I just really needed a release," they explain. It came to a point where they could barely get out of bed. "I was in an environment where I couldn't really grow properly. Even though I'm not in that distraught headspace anymore, it still brings back so much emotion."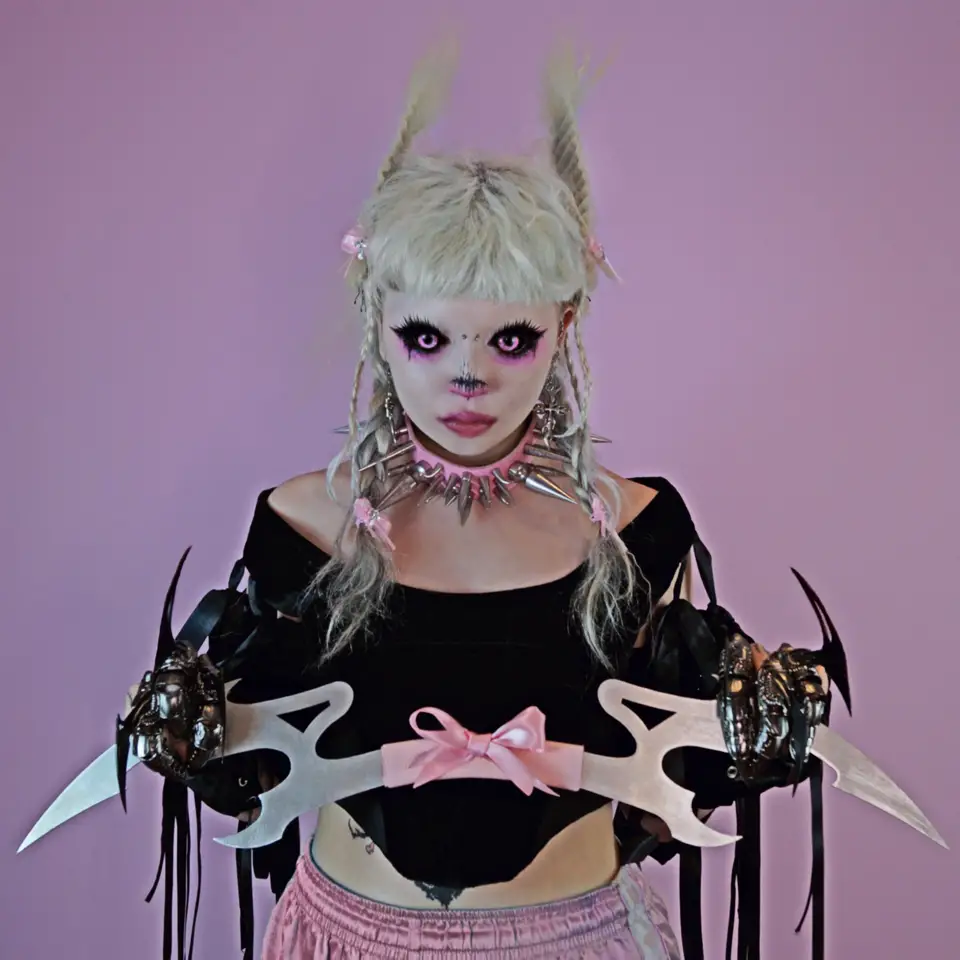 With many artists, there is a distinction between self and persona but for Bean, there is no difference. While "I don't go around killing people and stuff" – a welcome reassurance – they enjoy living their vision. But, they acknowledge, "It's good to have a persona you can channel your own world and character through because you can take that person as far as you want – but for me, the only difference is, 'Would I say that in real life?'"
As far as their clothes go, what you see is what you get. "I'm very into post-humanism, and post-humanist fashion," they say. Bean doesn't subscribe to any particular subgenre of fashion – the word that fits the image inside their heads hasn't even been invented yet. "Sometimes, I do have moments where I'm wearing daytime clothes that I would consider not dressing up, but for anyone else, I suppose they'd still call it extreme. I'm just judging off what my standards are." So no, you won't see them on the tube wearing silky platform shoes that must be a break-neck minimum of 12 inches in height – for Jazmin Bean, her most extreme garments are far more sacred. "They're special", they tell me, with lingering affection at the thought. "When I'm doing a music video, I want to be the most exaggerated version of the vision. Obviously, I'd like it to be way more exaggerated… but I'm working on it."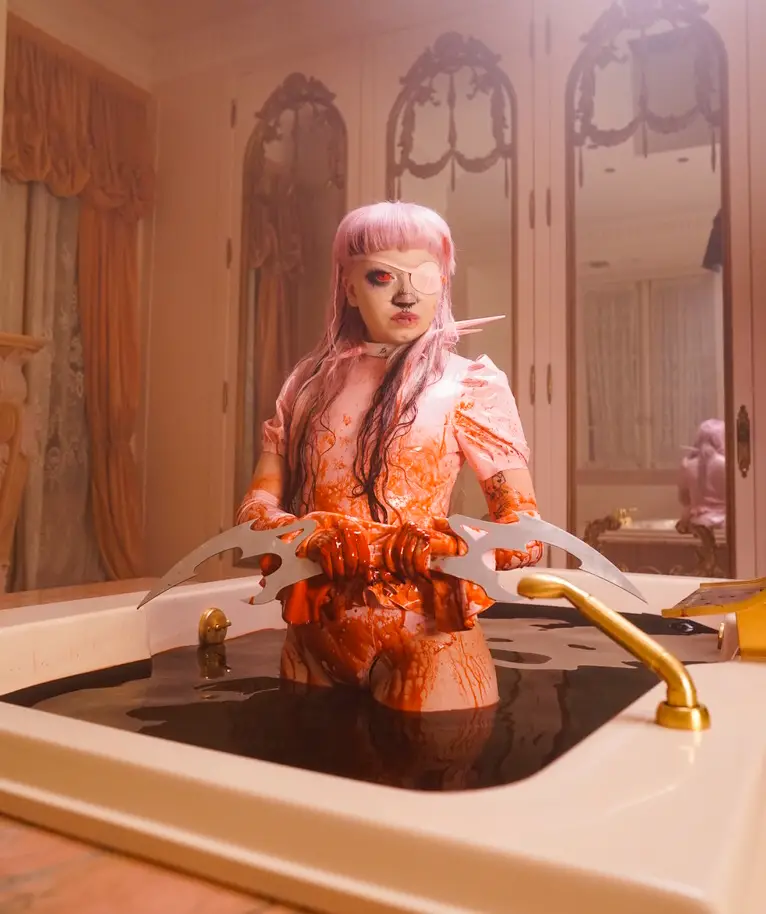 To dare to be different – especially with the ferocity of Jazmin Bean – must take an outrageous level of bravery. "Would it be fair to say, then, that you just don't give a fuck what other people think?"
"I feel like I come across as having a very 'I don't care' attitude that can maybe be a bit too much, sometimes. I actually think every day is a journey to just completely letting go with what people's thoughts are. But for me, as far as the outside world goes, do I care? No, no, no, no. If anything, I'm numb."
---
---
But they are not naïve, and despite their youth and they are already well aware of the risks their individuality carries. "Obviously, keep yourself safe if you're looking extreme," they warn. "Because there are some crazy and violent people out there. My friends and I, we look so extreme that we've had stuff said and done to us in the past. Care for your safety, but when it comes to what people think, don't care unless they're a person you care enough about to take advice from."
The real battleground, Bean insists, is social media. While they owe their career to the empire they've built for themselves on Instagram and YouTube, they are the first to acknowledge its toxicity. "The internet can be a horrible place. I've been trying to warn my really young fans that even if you make a harmless joke, or start a little drama, it will come back to bite you. I wish I could meet up with my past self just to shake them. But it's a place where you can also really flourish… if you're smart with it."
If success was measured in numbers, then with millions of streams racked up in the space of a year, you could say that Jazmin Bean has already made it. But for them, success isn't so easily quantified – it's personal. "I'm not saying I don't care about numbers – like, hello! Everyone gets sucked into that: defining your worth through the likes you get or if your video isn't as big as someone else's in your league." Throughout our conversation, there is a motif, something that they have never lost sight of: their vision. "As long as my vision has been executed to the fullest, then that, for me, is the ultimate success." In true Jazmin Bean spirit, they add, "I just want it to be bigger and better."
---
Like what we do? Support The Forty-Five's original editorial with a monthly Patreon subscription. It gets you early access to our Cover Story and lots of other goodies – and crucially, helps fund our writers and photographers.
Become a Patron!