The sun is shining down on Margate as excited music fans play arcade games or whirl around on waltzers. Sophie Allison, aka Soccer Mommy, is supporting Mitski on the headline stage at Leisure Festival in about an hour. Her new album, 'Sometimes, Forever' has just been released, an atmospheric blend of pop melodies, hazy shoegaze and disquieting synths courtesy of Oneohtrix Point Never's Daniel Lopatin who co-produced the record. Allison's disaffected, breathy vocals articulate the intricacies of doomed love, lost hope and dissociation.
"I love exploring darkness," she says. "Not necessarily being super sad, but exploring ideas that are difficult and hard to deal with." Her punch-in-the-gut lyrics express not just sadness, but the universe of feelings that often come with it – numbness, fear and, finally, clarity. On devastating closing track 'Still', Allison sings, "I cut a piece out of my thigh / and felt my heart go skydiving / it got me high for a little while / I still don't know what I was thinking / but I did it still." It's this heart-shattering honesty that has helped her garner such a dedicated fanbase. Does she hope that singing so honestly about mental illness might help destigmatise it? "It's not a goal, but if it gets us there that's great," she says with a shrug and a smile.
The 25-year-old cites literary romanticism as an influence on her songwriting. She references Sylvia Plath on 'Darkness Forever.' "Plath did write a lot of dark stuff but there was a dark sense of humour there too," Allison says. "It was very intense and heavy, but there's something more than sadness that connects with a lot of young women in her work."
Soccer Mommy's set at Leisure Festival is the first time she'll be playing album tracks to an audience who has heard them before embarking on the 'Sometimes, Forever' tour that will take up a chunk of the rest of the year. We caught up with her to talk about her new album, diversifying festival lineups and her affinity with Sylvia Plath.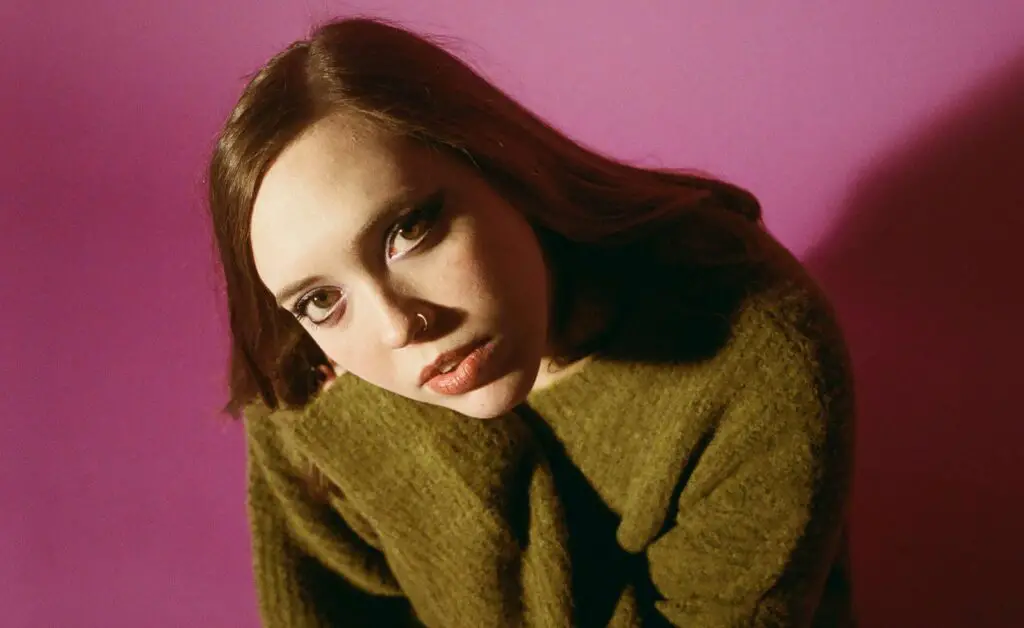 We're at Leisure Festival today which has a predominantly female lineup. Do you hope that more festivals start to prioritise having female and more diverse acts?
Definitely. I think that it's really easy to just book whatever's hyped and get stuck in a cycle of booking all-white male cis bands, but there's so much good music out there made by women and people of colour and non-binary people. It's not hard to look outside the bubble and discover people and help people who don't have identities that are really hot right now. I think being a woman, especially being a white woman, is really cool and trendy right now and everyone wants to book women, but there's so much more beyond that. I do hope more festivals do that. It definitely happens more than it used to. Hopefully, that continues to be a trend until nobody is having to fight to get someone with their identity booked and seen onstage.
The title of your new album is 'Sometimes, Forever.' There's a cultural fascination with forever but life is often marked by impermanence. What does forever mean to you? Is it a scary concept?
Forever is a very vague concept. Whether or not it's scary depends on the situation. There are some things you want forever. There are some things you don't want to last forever. It's more of a broad, gigantic idea than an actual feeling. It's not just life. I do believe in some things beyond that. It's more the feeling of being stuck constantly and not seeing an end. I think the idea of things being impermanent is also hard to grasp whenever you're in a moment. That can be equally as scary. It can feel like everything in life is constantly fleeting and what's the point? If everything fades away, what's the point? I think that both concepts are equally frustrating and difficult to manage.
On this album, you collaborated with Oneohtrix Point Never who has made music for films like Good Time and Uncut Gems. How are cinema and music interlinked for you?
I love the mixture of a great film with a great soundtrack. Music is so often made to tell stories. Being able to put music to a moment and an emotion and getting it to be really potent is very hard and it's very beautiful. The dramatic telling of a story that happens in a great film is very similar to writing a song that has a start and wants to get somewhere in the end. You have to weave together all these pictures and images and moments in time to capture different things and end up with a result. I imagine the theatrics when writing a song.
Were you a big fangirl as a teenager?
Oh yeah. I was a huge K-pop fan. I went to go see 2NE1 in New Jersey once. I was also a Gleek when I was younger. I did all that ridiculous stuff. I was a fangirl. I had my Tumblr.
You reference Sylvia Plath on the album. How has literature informed your songwriting?
Literature has influenced my voice as a writer. I don't always feel like I'm seeing it, but I think that I try to use literary methods. I'm very into romantic writing. Not like romance novels, but romanticism. I think that comes out a lot. There's lots of romanticism and nature-based writing that's very beautiful and filled with longing. I'm really into that kind of stuff. I think that comes across in my lyrics sometimes. 
Because of Plath's death and much of her writing she resides inside this sad girl box in the cultural imagination even though there's also a humour to her work. Often if people write about sad things they get put inside this box. Do you think the romanticisation of the tortured artist can be detrimental to creatives?
Yeah. I don't think it's a great idea or at least the idea that you have to be tortured to be able to write something interesting. Sylvia Plath did write a lot of dark stuff but there was a dark sense of humour there too. It was funny. It was very intense and heavy, but there's something more than sadness that connects with a lot of young women in her work. There's a certain angst and a lostness. It's not just sadness. It's feeling at odds with the world and feeling out of place. I think that there's a lot more to her than sadness. People do put other people in a box a lot that's like, "Oh, that's just sad music." Of course, lots of people want to go through their thoughts when they're feeling sad or lonely so obviously there's a lot of writing about it, but there can be much more depth in emotions than just being sad. Sometimes it can be bittersweet. Sometimes it can be sad but also very poignant and very interesting. There are different levels.
You also talk quite a lot about personhood on this record. In what moments do you feel most human and most alive?
Being around friends and socialising. Enjoying that time and having no pressures of anything else makes me feel very human. But also, the solitude where you just get to explore your interests, even if it's stupid stuff like a TV show you're loving or a book you've really been into or a video game or sitting out on your porch and having tea. Exploring things that make you feel happy and at peace. Those kinds of things make you feel human. For me, that's writing, playing shows, recording. All these things make me feel like I'm using my time in a way that's making me happy.