One musician is a stalwart in the alternative music scene of the last 10 + years and the other is a member of a seventies seminal punk band. On the face of it Sharon Van Etten and founding member of The Raincoats, Gina Birch's music feel like worlds apart. Six albums deep, Sharon lured fans in with her raw, confessional style, exposing the core of life's difficult experiences. Much like the music taken from Gina's debut album 'I Play My Bass Loud' (out now on Rough Trade), The Raincoats music – inspired by The Slits – was loud and in your face. Formed in the hotbed of seventies counter-culture (more on this later), it was impossible not to be. 
But they find themselves here together with a palatable respect for one another. Because despite their music's difference in decibels, they're both confronting and introspective in their own ways. The fundamentals are the same: awakening, deconstructing, rebuilding.
It's apt that the beginning of their relationship was somewhat serendipitous; some might say a prolific entanglement of music industry 'bullshit'. Simply put, Gina's husband worked at Sharon's label Jagjaguwar and presided over her releases and European marketing strategies. He introduced them to each other as Sharon had been a fan of The Raincoats and it gradually morphed into a far from 'bullshit' music industry relationship. 
So today they ponder over moments in their decade-long friendship. Those include dinners over expertly selected wines at Gina's home in London (From personal experience, Gina's husband is an excellent cook, who had a brief but fruitful career as a sommelier in his early 20s), and that the couple were some of the first people to know of Sharon's pregnancy when they met in New York, and how Sharon uses Gina's sage words of advice, as a parent to two, as she navigates first-time parenthood. 
Throughout their conversation, pleasantries are commonly exchanged; it teems with warmth and affability: "I feel lucky enough to call you a friend… it means so much to me" says Sharon. "You're beautiful, funny, lovely and warm," adds Gina. Today is less of an industry interview and more of a heartfelt natter. 
The Forty Five eavesdropped in on their free-flowing conversation covering music, society,  family and other projects outside of music, including their upcoming music-meets-art collaboration. 
Sharon: I have so many questions and I'm trying to figure out how to tie it all in, but since we were just talking about families, how has raising two daughters changed your creative process and what you write about at all?
Gina: It didn't really impinge on my creative work when they were young as I didn't continue on with music. I became a bit like a nursery school teacher, we did lots of storytelling, singing and painting. When my first daughter, Honey, was 10 [now 22] I played a show [in London] and someone had said they'd come from Manchester to see us – I'd totally forgotten we were some 'cult band.'! How has it changed yours?
Sharon: Before I was ever a mum, I wrote about heartbreak and unhealthy relationships. So as I found stability in my life my priorities changed. The idea of mortality becomes deeper or the end of the world or climate change. I was pregnant when Trump was in office, COVID hit and I'd moved to California and I experienced fires and earthquakes in a way I'd never done before. My songwriting has gotten darker in a different way: fear of death; what you leave behind. Hopefully that changes.
Gina: Mine feel very frivolous now! But although I've not integrated a lot of it into my music, I really have a lot of faith in this younger generation. My children are 22 and 20 now and I put my faith in them. I feel a little impotent in terms of political activity now, I do go on marches and sign petitions – I could do more?
Sharon: But you still go there in your art. There's a song on the record you have about feminism (Pussy Riot). I feel like you're still very actively thinking and sharing your ideas and frustrations and your rage about what's happening in the world.
Gina: I remember when I was younger, I remember going to the first Rock Against Racism meeting (though that was all basically white men), and I got more involved in fighting against sexism and homophobia. So definitely. I paint about this stuff, I write about this stuff.  My head is still in a very feisty place.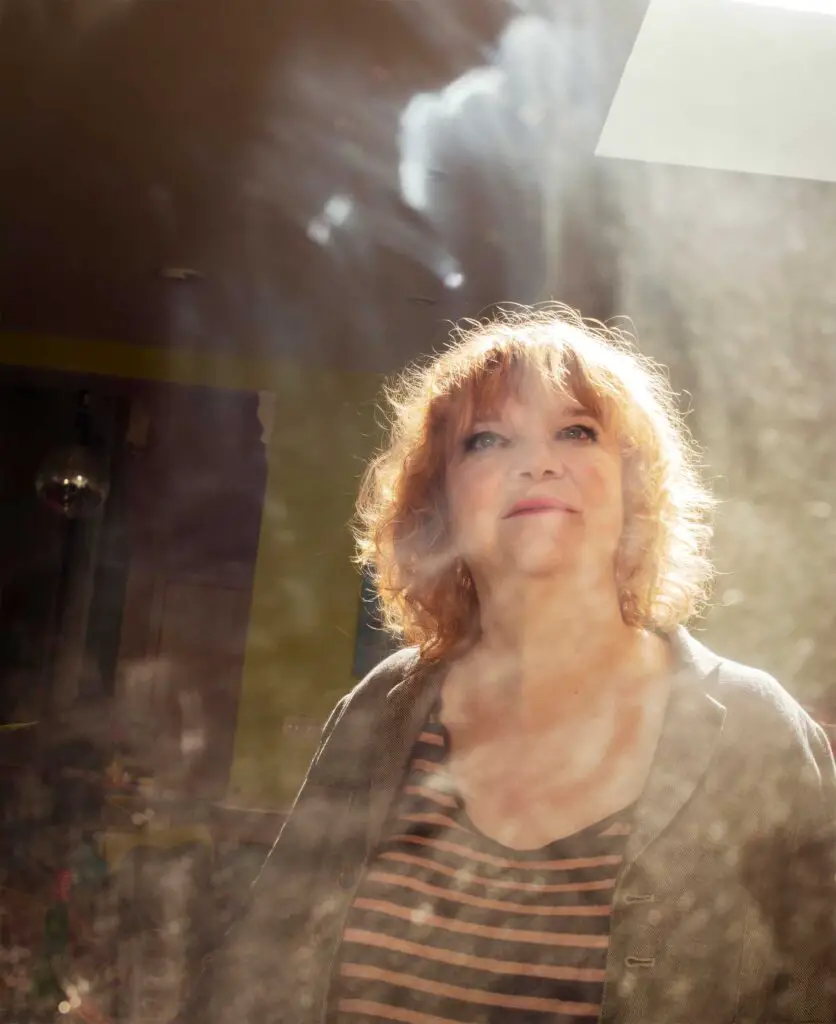 The Forty-Five: Did you see your band is more of a countercultural band rather than a political one? I don't think those things are necessarily the same thing. One is more broadly anti-establishment and the other takes on more specific and overt political issues. 
Gina: Anna, Palmolive and I were much more countercultural, but Vicki, who joined the band later, was much more political. She'd been in political bands. She made us realise that what we were inherently doing was much more political than we'd realised, "you do your own songs, you make your own artwork, you're autonomous – this is a feminist act" she'd tell us. But we weren't a political band, but Vicki was a political person. 
Gina: I think, Sharon, you'll notice this as you get older, I've become more political in one way and less political in another because of my children. They've embraced a different kind of attack on the older generation to deal with language and gender and their definitions. We always said we saw a blurring of gender and sexuality and talked about 'oh how we're all gender fluid' [speaking of punk]. But if you talk to my kids like that, they'd explode. So I appreciate the need to redefine language so it becomes more accurate.
What was your relationship like with your parents?
Sharon: My parents are wonderful people. I grew up thinking my dad was more liberal than my mum because my mum and I fought a lot. But I didn't appreciate until I was older that my mum was a feminist. When I was in sixth grade she'd attained a masters, she trained as a teacher after raising five kids after 15 years. Dad came from a strict Irish Catholic family and mum from a military one. It's only now I'm older that I understand their dynamic more and now we're closer than ever. But both my parents never understood my drive to make music, they wanted to have a backup plan. 
Gina: Like having a nice job as a bank teller or whatever! [both laughs]
Sharon: So I wish I could teleport and see your upcoming shows, I know they'll be incredible. I know it's a big thing to move on and try new things like doing a solo record.
Gina: Coming from a person who's always not doing all sorts of exciting things like acting and going to school!
Sharon: It's good to keep challenging yourself and trying new things.  I'm yet to complete my psychology degree, but yes, I'd applied to Brooklyn College  and got accepted. It was a big deal to tell my band I was pausing touring and going to school – I felt like a bit of a phoney actually. Life got in the way a bit; first acting, then in my second semester was when I found out I was pregnant. But during COVID I did a sociology course and found out about an organisation called A New Way of Life, which helps formerly incarcerated women reconnect, you know, have a place to live, and go to therapy, reconnect with their families, clear their records, and get jobs and reassimilate to society. It's an organisation I'm trying to raise funds for. 
The Forty-Five: Was it important for you to do things outside of music at this stage in your careers?
Gina: I've been doing music things all along really. We played at the Pompidou centre and did a collaboration project with Angel Olsen and played with her at the Islington Assembly Hall in London. [She also directed music videos for a host of artists including the Libertines' 'Time For Heroes'].
But I started painting about 9 years ago and became addicted. All of this attention to my solo music has been a huge surprise and it's sort of getting in the way of my painting than the other way round. (Gina's art has been exhibited in leading galleries in London and Paris – Bobby Gillespie and Thurston Moore are proud owners of some of her work)
The Forty-Five: And you've done a collaboration project with each other, where you pair some of Gina's paintings with Sharon's music?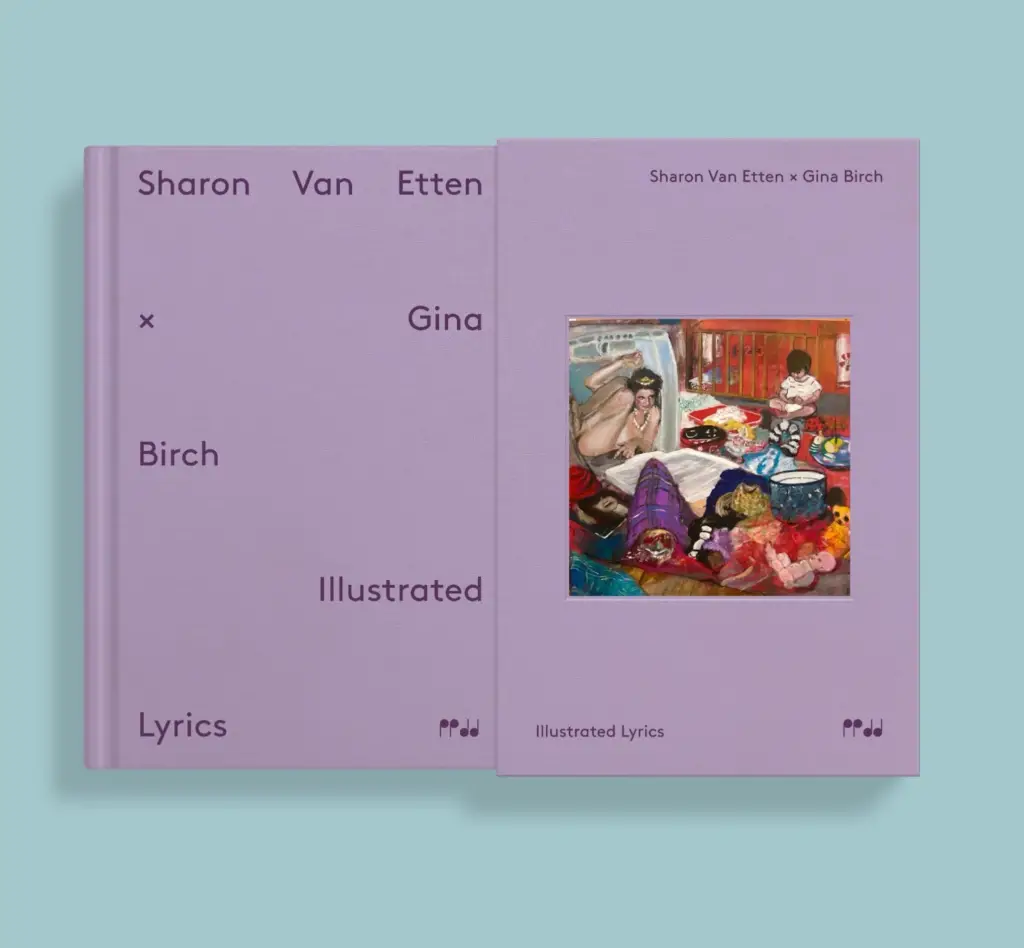 Gina: A woman named Evie Ta has this wonderful idea of pairing lyric artists with visual artists and she was a huge fan of Sharon. So she approached [Sharon] and Sharon mentioned me! I think you'd seen some of my paintings and we talked about doing a painted version of a cover of your record.
Sharon: We had a conversation about it and it almost felt like I had a therapy session. We talked about memory and meaning, as well as images and colours and emotions that came to mind. I didn't know that you'd use it for your own inspiration. After the call I remember hoping you weren't scared of me. The images all turned out so beautiful, I know they're not direct interpretations of my songs, but I think the feels and sentiments are there. I love your choices and I'm excited to see the painting in real life.
Gina: It was so fun to do. Every time I see the original cover of the record I feel like I know every inch.
Sharon: So I feel like I could talk to you forever. I'd planned some questions in case I got nervous so I'm happy the conversation was natural. Thanks for making this happen, I'm so excited for you Gina! 
Gina Birch's album, I Play My Bass Loud is out now via Rough Trade. Sharon and Gina's collaborative book is available for pre-order now.