In a year where in-person fan interactions have been severely limited, only the artists with a strong social media game have truly thrived. Step forward Saweetie: currently boasting 8.1 million Instagram followers, with a wildly successful TikTok challenge to her name, the Bay Area-raised rapper – born Diamonté Harper – kick-started her entire music career over Instagram, sharing short clips of her freestyling over classic beats from the front seat of her car. Her 2017 single 'ICY GRL' blew up not long after, and it's now approaching 110 million views on YouTube.
"Social media is basically an online resumé for creatives," the 26-year-old star smiles today from her home in L.A., making finding viral fame sound as effortlessly simple as buying groceries. The truth is, a resumé is ultimately meaningless without the talent to back it up, and with 'ICY GRL' Saweetie showed she was the real deal, pairing a savvy sample (Khia's cult hit 'My Neck, My Back') with an unflappable flow, via which she cooly asserted her status as future hip hop royalty.
As proved by 2019 single 'My Type' (102 million YouTube views) and June's 'Tap In' (82 million Spotify streams, plus another 25 million for the remix featuring Da Baby, Post Malone, and Jack Harlow), Saweetie's ability to command staggering audiences was no fluke. Even so, it's still taken 'til now for her self-belief to match the bravado she's displayed since the very start.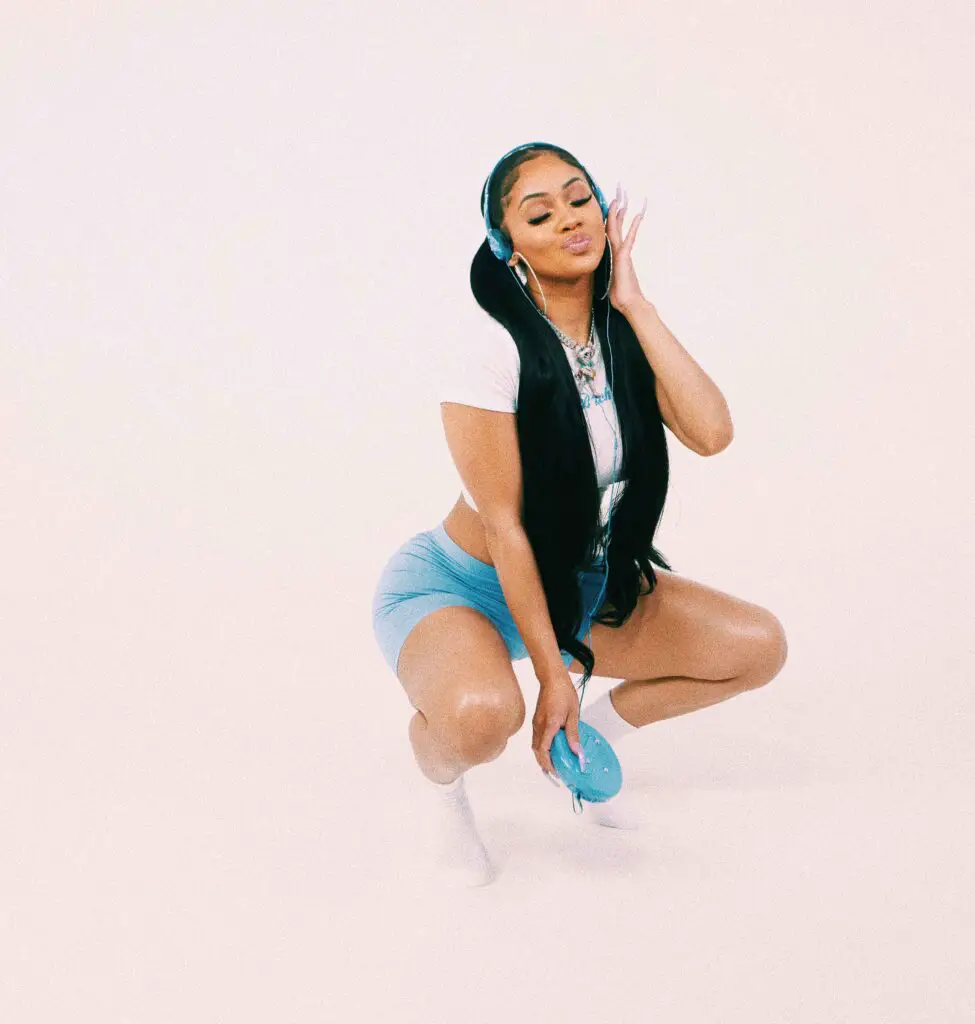 "This year has been a year of self-confidence. Because when you exude confidence that's one thing, but when you actually feel it yourself, that's when it really matters. And I think in quarantine I've had a lot of time to reflect and I feel like I'm just now reaching my ultimate best form as Saweetie."
---
---
By her own admission, Saweetie was shy growing up. Born to an African-American father and Filipino-Chinese mother, she was an only child until the age of 11, and was happiest in her own company, immersing herself in art and design and drawing inspiration from the "cultural melting pot" of her surroundings in Santa Clara. "I had a lot of difficulty expressing myself," she recalls. "So the way that I would express myself was through journaling or through writing poetry, and then once I realised that rap is just poetry over a beat, that was when I was like, 'This is what I want to do.'"
Though her heart was set on a career in rap from the age of 14, Saweetie continued her studies, graduating from the University of Southern California with a Bachelors in Communication and Business while steadily building her public profile on Instagram with her car raps. Then 'ICY GRL' changed everything. "It was like, 'Boom: here's Saweetie,'" she laughs at the memory, though she goes on to admit that the sudden scrutiny took some adjusting to.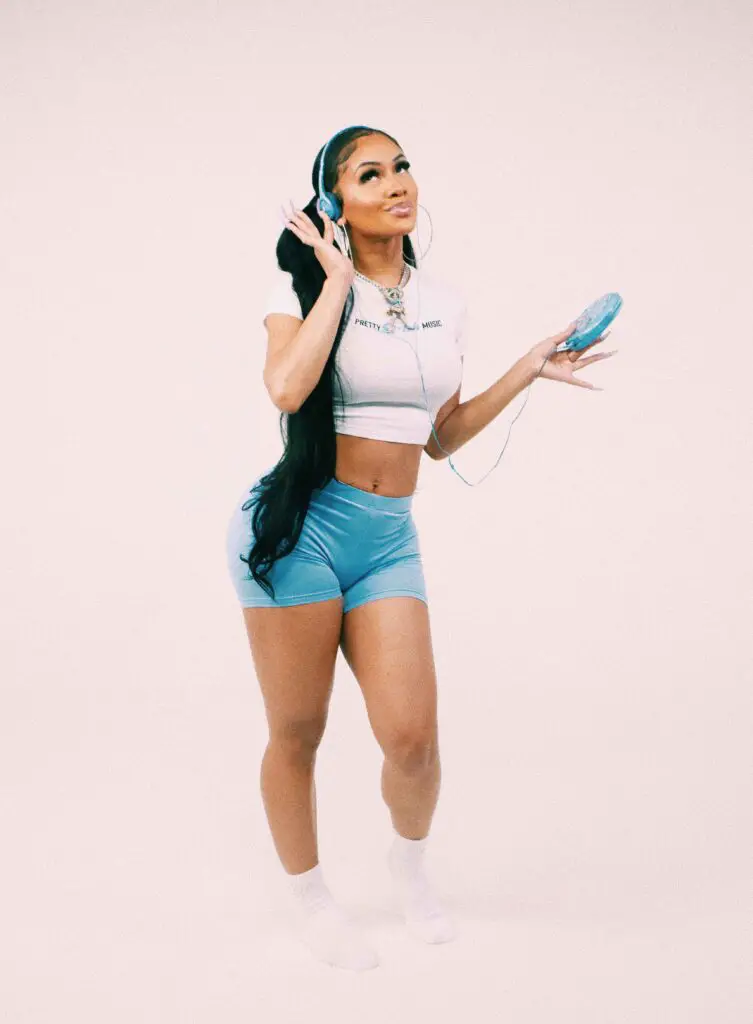 "I mean, I was very grateful for the attention that I was getting but I was like 'Ok, how do I become a bigger, more established and respected artist?' And there were a lot of critics that came with [the fame].
"What people don't understand is, when you're a female artist you're constantly critiqued. You're critiqued for your music, for your body, for your appearance in general, for the people you may be dating – you're just critiqued non-stop. I had to realise that what the critics say is not real life, and that the industry is a playground. I know who I am as a person, and I know what I have to offer and I know what my value is, but it's still hard sometimes. When you're reading comments all day, it's just like, 'Oh my gosh, y'all know I'm a human, right?'"
---
---
There's certainly nothing new about society struggling with the idea of public figures as multifaceted beings, but the backlash Saweetie received for 'YUSO' – her 2018 collaboration with Lil Wayne and Kid Ink – still took her by surprise. "It's a nasty record, but I always told myself if I was gonna talk nasty I would talk nasty like Missy [Elliott], because she would do it in such a creative and fun way… I got a lot of negative criticism because they were calling me the college girl, and educated, and saying why am I speaking like this?" She laughs, "And I was just like, 'Y'all act like college girls don't go home and make babies.'
"I'm more than a college girl. I'm a human being. I'm a young woman. I'm a girlfriend. I'm a sister. I'm a daughter. I'm a cousin. I'm all these things and I say all these things because I'm multifaceted and I have different areas of my life where I feel different emotions. So I think when people hear [my album], they'll be able to understand me as a human being and all the layers that make me me."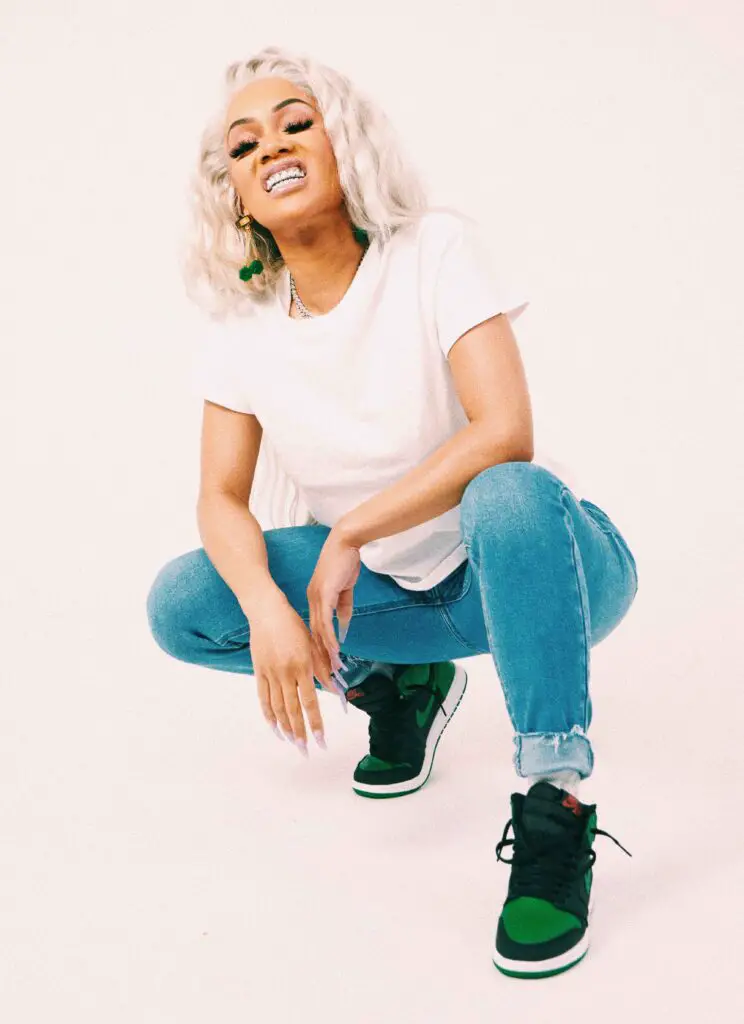 Saweetie remains tight-lipped today about a definite release date for her debut, 'Pretty Bitch Music', but speaks excitedly of how it's "so many levels up" from her two mixtapes so far. The latest single from it is 'Back To The Streets', a brilliantly breezy slice of West Coast hip hop, featuring guest vocals from Jhené Aiko and production from Timbaland. As a lifelong Timbaland, Missy Elliott and Aaliyah fan, working with the legendary producer proved a huge thrill for Saweetie, and yet the collaboration speaks of the league she's already ascended to at this young stage of her career.
"Expect some inspirational music," she grins when asked what lies in store on the rest of the album. "Some boss bitch music. Some ratchet music. Some empowering, 'I'm over you and yo shit' music." She laughs, before continuing, "It's about everything that comes with being a woman. I feel like I touch on a lot of emotion too. I know I make party records, but [the album is] definitely well-rounded."
The album title further feeds into that idea of inspiring others, with Saweetie aiming to reclaim the word 'bitch', transforming it from a slur into a badge of honour. "I love 2Pac and what he did with the phrase 'thug life', and that's what I'm doing with 'bitch.' So 'bitch' stands for boss, independent, tough, creative and the h is hyphy [a Bay-area phrase] which means turn it up and have a good time."
---
---
"All my music is empowering," she continues. "It's only right that I had a title that served some form of empowerment for my listeners, because empowerment is so important. I remember being a little girl listening to Destiny's Child and other songs that empowered me and it can literally change your day. If I can make someone happy or make someone feel motivated then I feel like my job is done."
Considering how committed she is to using her platform to inspire, I wonder how she squares that with social media's propensity to mislead, pushing unattainable ideals and impossible standards on potentially vulnerable audiences. "I feel like there's more pressure for me to get creative, rather than appear perfect," she replies, thoughtfully. "I think the facade of being perfect is out the window, especially because nowadays the fans want to know exactly who they're supporting." The assertion rings true too because, for all the glossy photo shoots, and loved-up pictures of Saweetie with her long-term boyfriend Quavo, there's plenty of humour and unfiltered-candour to be found on her Instagram grid too.
With a beauty line in the works, and a collaborative clothing collection due to be announced imminently – and which she bills with a grin as "furry, icy: some fabulous shit" – Saweetie plans to use music as a base from which to build an empire. "I think it is great that you have women like Rihanna, like Beyoncé, who are doing that," she says, acknowledging her forebears, "Because it shows women of colour that it's possible.
"I'm happy that I have those girls to look up to. And I'm happy that I'm doing what I'm doing, so that girls who may look like me – or that come from the same background – can look up to me and see that you can do whatever you want to do." Head over to Instagram now to see Saweetie leading by example.
Like what we do? Support The Forty-Five's original editorial with a monthly Patreon subscription. It gets you early access to our Cover Story and lots of other goodies – and crucially, helps fund our writers and photographers.
Become a Patron!