Mia Berrin is explaining the concept behind her debut album 'Death Of A Cheerleader', a cinematic coming of age tale, loaded with high school references and wrapped up in a punk blanket. "I think feeling misunderstood is the worst feeling in the world", she says from her Brooklyn apartment, where she's sitting on the sofa wearing her own merchandise, a shirt with the lyrics "My feelings always make a fucking fool of me" scrawled across it.
"Once I brought the record to my bandmates to show them what I'd made, they were all like, 'We have no idea what you're trying to do'. But you know, I'm really proud of how it came out. I feel like, for the first time, it's a true and pure manifestation of what I wanted a record to be."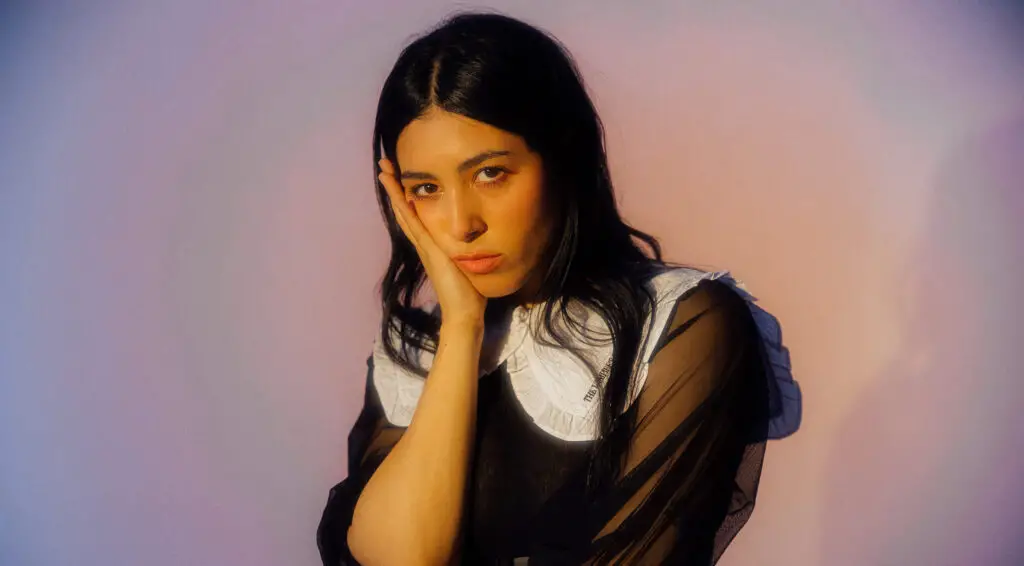 Pom Pom Squad – now a whole band comprising of Berrin on vocals, Shelby Keller on drums, Mari Alé Figeman on bass and Alex Mercuri on guitar – began as Mia alone in her teenage bedroom, playing around with GarageBand and trying to put into music the intense depression she was feeling. But no sooner had she gotten used to creating music in a band setting was she pulled back into isolation at the start of 2020, and with such, began creating 'Death Of A Cheerleader'.
"It's been complicated", Mia says of the past year. "In some ways, it's been a really amazing way to push myself out of my comfort zone creatively. Playing in the band, a lot of the time I had them to lean on, but for the better part of 2020, I couldn't see any of them".
So she got to work bringing to life her vision of Pom Pom Squad's debut album – the ideas for which, she notes, came about long before any of the songs – returning to her roots of working by herself, plugging things into her laptop and putting songs together.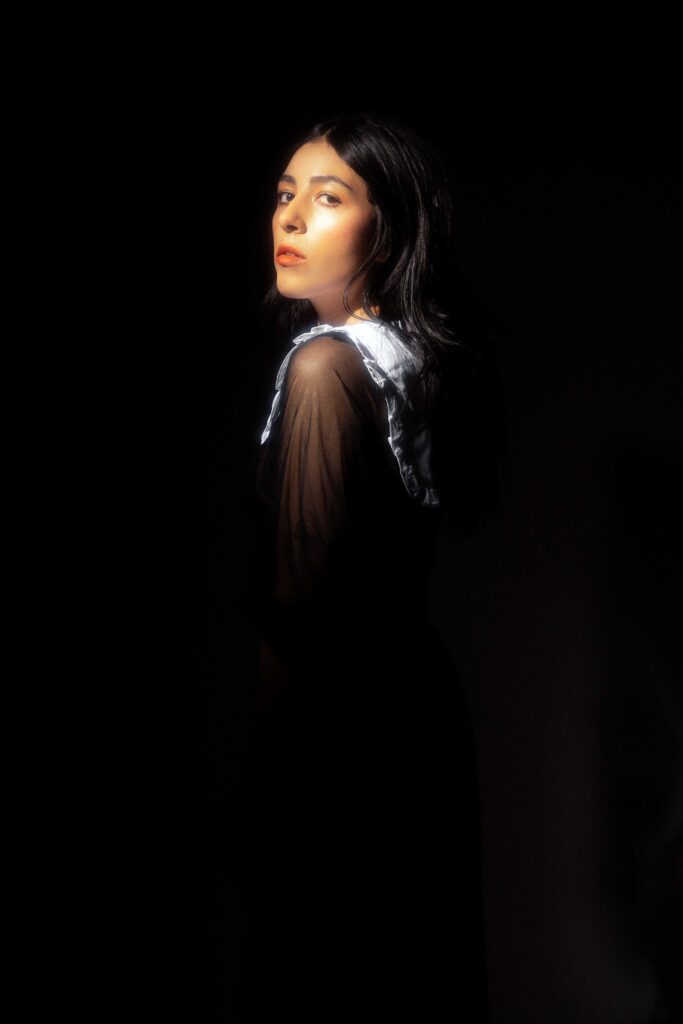 The result is a campy and ethereal take on a punk record, merging Mia's love of riot grrrl with Motown melodies, backed by a storyline detailing queer exploration and dressed up in zany John Waters-esque imagery. A departure from the group's previous EP 'Ow', 'Death Of A Cheerleader' moves on from their angsty, grungy beginnings and onto something slicker and more magical. It douses Mia's lyrics about finding yourself, heartbreak and depression in a fantasy filter without losing any of the vulnerability that gives the record its heart.
Drawing from a wildly varied reference book spanning classic kids' story Willy Wonka and the Chocolate Factory, the work of David Lynch, and 60s girl groups like The Ronettes and The Crystals (see: 'He Hit Me And It Felt Like A Kiss'), the common thread tying these inspirations together is something that appears shiny and perfect but has a dark and disturbing truth lingering beneath the surface. It's eerily represented in 'Death Of A Cheerleader's cover art, which depicts Mia all dolled up, laying six feet under in a graveyard.
"'Death Of A Cheerleader' is about my journey, most recently, with coming to terms with my sexual identity. It's about the kind of complicated internal relationship between your love for yourself and your love for your partner or your crush or whoever you have feelings for. As I was coming into my own as a queer person, specifically the aesthetic and historical background of drag and ballroom really spoke to me, so I've really been inspired by camp, and also this horror movie representation of learning to live as yourself, like this John Waters depiction of suburbia."
---
Mia was raised in Florida and moved to New York when she started University, and always felt more connected to subversive female bands like Hole, Bikini Kill and Perfect Pussy than the usual grimier Brooklyn punk bands. Pom Pom Squad and its dreamy high school world served as a vessel for Mia to escape from her sluggish Floridian hometown and current dingy New York surroundings.
"When I was growing up in Florida, it was kind of like I hated it so much that I just had to convince myself to love it or it would not be a sustainable way of living. I think when I saw Hairspray for the first time, it feels like it's coming from that same place as this hatred or disdain, or embarrassment, or disappointment in this place; turning all the gross and ugly and weird and uncomfortable things into these fun, colourful, exciting things, and I loved talking about feelings as complicated and disturbing as those through that lens. I just wanted to make something that felt a little bit fantastical."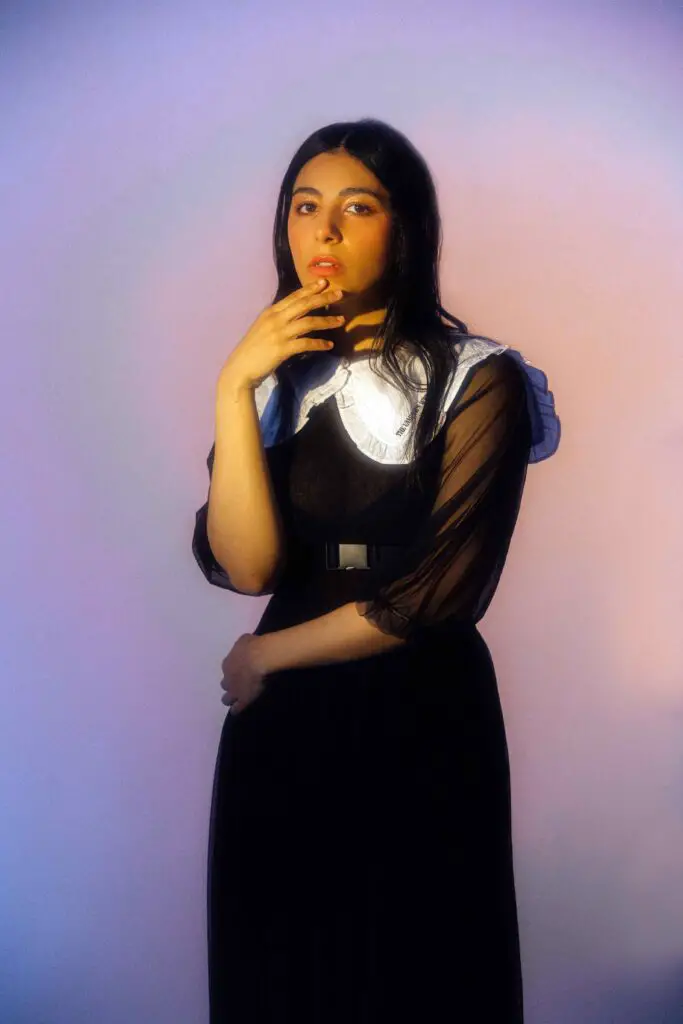 ---
---
Stepping through the wardrobe into 'Death Of A Cheerleader', Mia wanted to re-record a surreal version of high school that she hadn't lived herself, one complete with uniforms, cherry red lockers and prom queens. "I wanted to place myself somewhere in the narrative so that it felt like there was room for me", she says, "Rather than kind of living a life where I just felt like I didn't exist."
Mia's own coming of age happened when she stopped being a teenager. Lead single 'Head Cheerleader' signals the first time she used she/her pronouns in a song for a love interest, and her newfound confidence in her sexuality helped her blossom further. In a very on-brand metaphor, she states coming out feels like starting middle school and earning your bragging rights.
Growing up as a queer woman of colour in Brooklyn's punk scene, Mia never felt truly represented, and still doesn't. For her, it was about finding parts of herself in other musicians and fictional characters she'd pieced together, a process that would later lend itself to Pom Pom Squad's unique sound and aesthetic.
There are obvious nods to Courtney Love and Kathleen Hanna in her music and styling. She felt connected to Ronnie Spector as both a mixed-race woman and as a rock singer. Her life story is similar to Mitski's (so is her songwriting – 'Second That' is Mia at her most Mitski – plus she has a 'Nobody' tattoo), but the first time Mia saw herself in the media was in The Virgin Suicides, the main character of which inspired the single 'Lux'.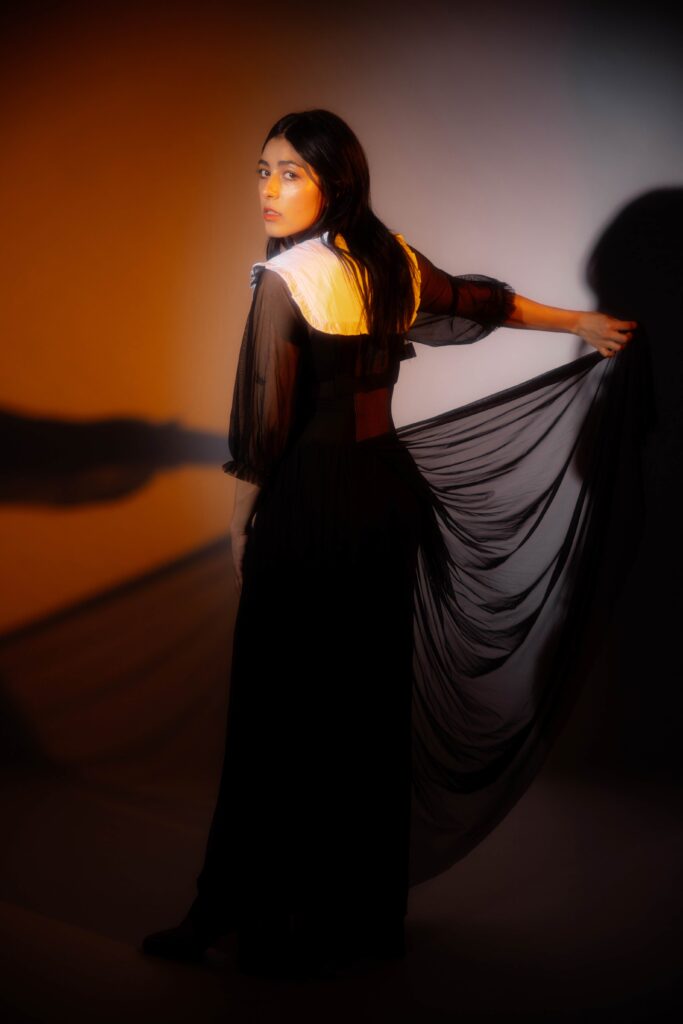 "That character was one of the first I'd seen who dealt with the depth of depression that I related to," she explains. "I grew up dealing with depression, and it all felt like there was clearly something wrong with me and nobody understood me, so seeing her be this young girl, and feeling her imprisonment and stress and anxiety and want to be loved, something about it really stuck to me. On paper, my situation is nothing like Lux's. I didn't grow up in a religious family, I'm not white, I was not really deemed as desirable for most of my life, but just seeing that emotion and understanding it on a fundamental level, that made me feel represented."
'Lux' is one of the oldest songs on the record, dating back to Mia's high school days, while 'Forever' was written as part of a college project, and most of the others were written in quarantine, so it's a credit to Mia how unified the album sounds. Her film obsessions clearly aided in creating a whole narrative for the record; 'Forever' is the villain, explaining a situation where Mia cut and run early on in a relationship, 'Be Good', her favourite track, is the hero and the heart of the album, and 'Head Cheerleader' is the ingénue.
'Death Of A Cheerleader' is as much about fitting in as it is about standing out, and using a high school setting as a place for those feelings to manifest is genius. Right down to the band's name – which came from Mia's admiration of cheerleaders as the scariest, most badass girls in school – her vulnerable stories are protected in the imaginary world she's created.
She says, "I think I've learned many, many times in my life, that I tend to be somebody who wants to be accepted into the crowd, and that want can definitely hold you back. Because if you're going to be accepted, you might as well be accepted for yourself rather than be accepted because you're like, 'Hey guys, notice me!'
"When I started Pom Pom Squad and decided that my thing was going to be going onstage in a cheerleading uniform, it was interesting how many people went in and expected to hate me. They'd tell me, 'Oh, I thought your band was going to suck, but you're actually a real punk girl'. It's like people will see like a young woman who is attractive, or glittery, or wearing a cheerleading uniform, and expect her to be like, the dumb little girl."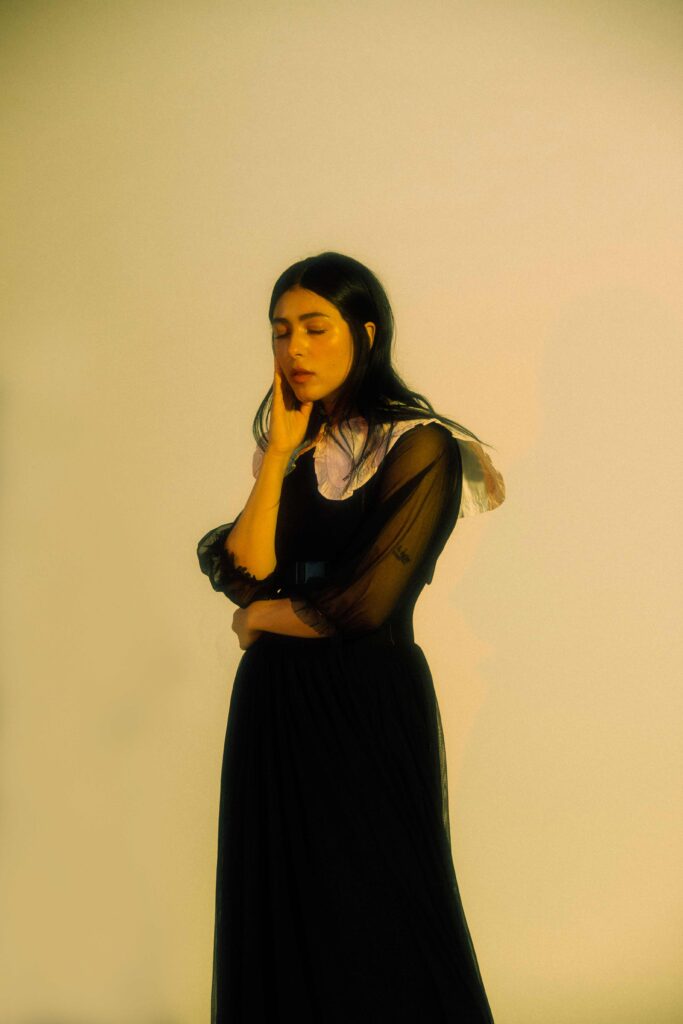 But for all of the times Mia might've questioned her place in the punk scene, she recognises how revolutionary her existence – and this record – could be – an album about growing by confronting uncomfortable truths, owning your identity and killing your idols.
"I think I dissociated myself from punk because like, I wasn't white, I didn't wear black and studs, you know? So it's about piece-mealing and filling in the gaps for yourself and going: 'Well, I don't see anyone else who does this, so I have to try to do it', and I think probably someday, some girl is gonna feel the same way about me."
'Death of a Cheerleader' is out June 25 2021.
---
Like what we do? Support The Forty-Five's original editorial with a monthly Patreon subscription. It gets you early access to our Cover Story and lots of other goodies – and crucially, helps fund our writers and photographers.
Become a Patron!
---
READ MORE: Why Sofia Coppola's movie soundtracks are the perfect lockdown listening