NAYANA IZ wants to redefine what it means to make rap music. While the 20 year-old has always found solace in the keys of a piano, it wasn't until she joined breakout London collective NiNE8 that she began to gain confidence with her singing and rhythmic flows. Last year, she released her debut solo EP 'smoke+fly', which blended Indian instrumental samples, MF DOOM-inspired beats and storytelling lyricism. Now, Nayana IZ (pronounced eye-zee) is continuing to push herself with a soulful new project, and hopes to create a catalogue that is just as diverse as her influences.
"When I first started writing properly, there was a point when I wasn't really saying what I wanted to, out of fear of judgement," she admits on a call from Mexico, where she is shooting music videos for the upcoming EP. "But once I read Tupac's poetry book and started listening to Lupe Fiasco and A Tribe Called Quest religiously, that's when I realised the way that I try to write and express things isn't something to be embarrassed about."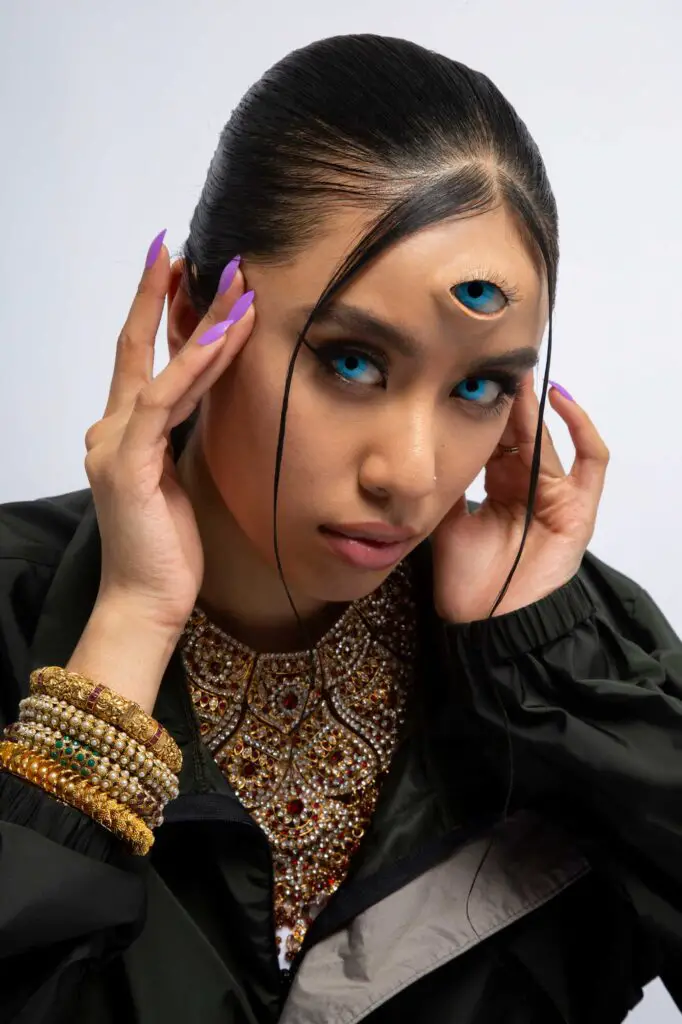 Meeting NiNE8 as a teenager is something Nayana believes she manifested. At a point where she was feeling low, a group of like-minded, ambitious creatives entered her life. Along with them came a rebellious DIY spirit and passion for making the same kind of music as her. Over the last couple of years, the collective have been garnering attention as a group and solo artists, members Lava La Rue and Biig Piig being examples of success stories. For them though, it's about friendship, artistry and supporting one another rather than getting any kind of fame.
"Being a part of NiNE8, it definitely helped with my confidence," she says. "The presence that we have when we're performing together, that energy, there's nothing that compares. I'm just remembering all the shows we've done together and the level of confidence we all have because we've got each other, it's the best feeling."
---
---
"We really don't think about the attention that much," she continues. "Obviously, it's a blessing for all of this stuff to happen but it's easy to get caught up in all of that. Your mind can get swamped by it and you can change due to stress. But I think we're just doing things the way we always do and taking everything as it comes."
What makes the group stand out is their penchant for mirroring the musical movements of their hometown. London's scene is a melting point of different styles, as the collective's 'No Smoke' EPs show, with hip-hop, jazz and psychedelic influences evident throughout both projects. "There was a lot of music circulating that was in a comfort zone and quite similar for a while, but now everyone's really just doing their own thing," she says. "It's not fun making music that isn't you and thinking of everything mechanically. I think people are just enjoying it more and I love seeing that."
This is something that's evident in Nayana's solo material too. For her, it's of paramount importance that every song has a different feel and that she has enough scope to keep things interesting. So while there's Indian instrumentals and nods to 90s hip hop in 'smoke + fly', her recent single 'Partner In Crime' takes a different route and instead incorporates jazz samples. The song exudes pure elation as she recites, "No surprises, live that honeymoon life / Set the mark, now we reaching the heights / Every day like payday, a vacay, my safe space," while horns create a palpably joyous feel.
"My music is a collection of stories told by different characters," she says. "I never wanted to be stuck somewhere, I've always wanted to have openness and be able to do other things if I want to. Imagine if I was just making the same sort of 'Partner In Crime' shit, and then I made some harder shit, people would be like, "oh, she's changing her sound". What I like about myself, is that I'm always switching it up and that's what inspires me to make more."
---
---
Nevertheless, there is one major influence that underpins almost all of the music Nayana makes, her grandmother, who was a Thang Ta dancer in northeast India and a talented vocalist. "When I think about singing, I really approach it in the way that she did," she says. "It needs to be something that you can really feel and that you're pouring your whole heart into it. When it's not like that to me, that's when I lose my confidence because it's inauthentic. Hearing the stories about my grandma and her music, that's what I'm working towards. She's everything that I look up to."
Being in touch with this heritage is something that's inspired Nayana to take up singing lessons with one of her father's favourite Indian classical musicians. There is an obvious sense of excitement as she explains she wants to properly learn the language before going out to India to immerse herself. While the latter isn't possible quite yet, she has been doing what she can from the UK, channelling what she's picked up into her own sound.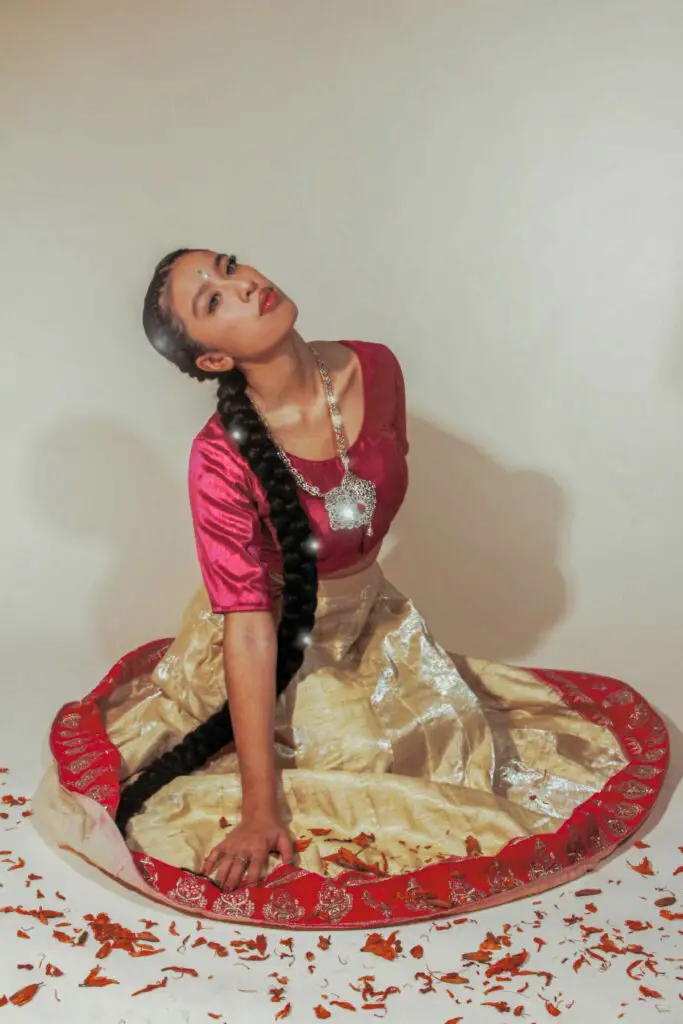 "It's actually been helping me to rap and sing faster with more patterns," she says "It's just crazy, learning all of these different layers and seeing my voice being able to do these things. I've only done a couple of sessions but it's been really interesting. With the beats, there's samples we're gonna get. We've got stuff on the way, I'm not forcing it though, it's coming naturally."
For now at least, Nayana is focused on a more soulful new release. The next single 'Breaking Point' is a poignantly stripped-back reflection of love over the piano, with a delicate build-up of strings and minimalist production. Tentatively she sings, "If I fall, if I fly would stay by my side like you said? / Guess I gotta roll the dice, risk my head not my heart," before launching into hushed rap verses.
"I wrote the melody and the chords for 'Breaking Point' when I was 14 years old, but the lyrics I did this past year," she says. "With NiNE8, it was beats, beats, beats and I forgot about my piano. I think that this is the first time I've gone back to it, and the song has definitely reminded me that this is where I'm my strongest."
"I think 'Breaking Point' is one of my favourite songs, and there's a couple more new ones where I'm proud of my lyricism after a long time," she continues. "With the last project, I was experimenting and was quite nervous about making it, but this one I am so sure of. I just feel confident which is quite rare for me."
Nayana stays in touch with the NiNE8 crew, even if it is just over Zoom for the time being, and is channelling a newfound sense of fearlessness into her writing. The upcoming EP reflects this, along with an ambition to keep evolving her musical identity. "This project is definitely my dark side," she says. "I feel like I've given more power to this one, it's a stronger sound and it makes me feel stronger. If someone can listen to it and feel a fraction of what I feel, then it's good."
---
Like what we do? Support The Forty-Five's original editorial with a monthly Patreon subscription. It gets you early access to our Cover Story and lots of other goodies – and crucially, helps fund our writers and photographers.
Become a Patron!