Margo Price is dashing around outside her Nashville home, trying to find a spot with decent reception for our Zoom call. After trying a variety of locations, she finally settles on the driver's seat of her parked up truck. It'd make for the perfect start to a very topical country and western song, but for her third album, 'That's How Rumours Get Started', Price has ditched her twanging outlaw sound for something harder.
Drawing instead from Stevie Nicks, Tom Petty, Bruce Springsteen and Blondie, it's a little less country and a lot more rock and roll. "I just wanted to not do something completely in the country realm, even though it's going to get classified as country no matter what I say!" she admits with a laugh. And while many of us have been spending lockdown doing not much at all, Price – who also gave birth to a daughter late last year – has been busy getting together the record, hosting an online radio show called Runaway Horses, working on new ideas for her own personal marijuana line and editing her memoir.
We spoke about her support for Black Lives Matter, memories of her good friend John Prine and 'That's How Rumours Get Started' special guest producer…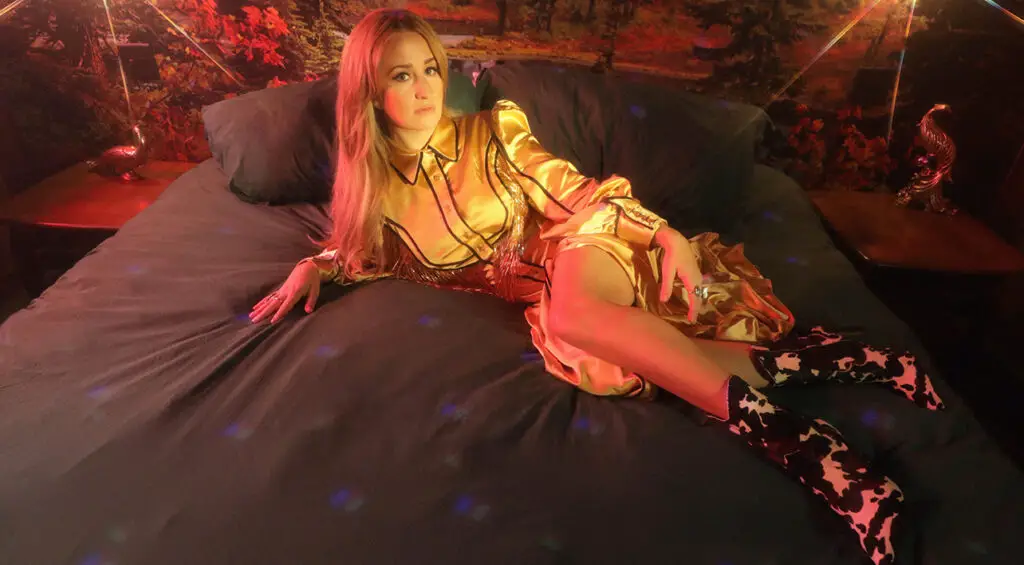 The new album was produced by Grammy winning Nashville resident Sturgill Simpson – how did that come about?
"Sturgill and my husband met probably eight years ago. They were both working at a grocery store together and I think they met smoking weed in the alley out back. Then of course, his music took off. He suggested it for the second album, and I told him no, because I didn't want to ruin our friendship! I was not sure that we were going to be able to agree on everything and I'm very strong willed myself, but he was adamant. He kept being like, 'when are you gonna let me do a record for you, I'll make you sound better than anybody else'. He was so confident and cocky!"
'That's How Rumours Get Started' was recorded in Los Angeles in the same room as The Beach Boys' Pet Sounds. Did the studio feel like a historical, important place?
"I mean, there's definitely a magic there. Dolly Parton also recorded '9 To 5' there. 'California Dreamin'' by The Mamas and The Papas. The room's got ghosts, it's got stories to tell…"
Your last album was outspokenly political. Is there anything akin to that on this record?
"My songs are always gonna have pieces of humanity in them and social commentary, but I don't know if it's as political as calling out the president or blatantly talking about the pay gap and women's rights or sexual orientation and gender like the second album was."
On your social media though you've been very supportive of the Black Lives Matter movement.
"It's just long overdue. I have spoken out about how the country music industry is sexist, but I've also been trying to bring up the point that they're racist and ageist and I feel it's all just coming to a boiling point. I'm definitely more vocal now and I wish I would have been sooner; I have a lot of regrets about that. But it feels like everybody's on board right now and everybody's really hungry for a change."
You asked the gothic blues musician Adia Victoria to take over your social media recently – what inspired you to share your platform with her?
"I saw this thing that my friend was doing 'Share The Mic Now' and I thought it was such a wonderful idea, because I want to say and do more, but I don't really think people need to hear all of my thoughts on what's going on. So I thought what better perspective than my friend Adia who is an incredible writer. She's born and raised in the south and I love her music and what she stands for."
You've got some excellent new shirts out using the 'Sex Is Cool But Have You Ever Fucked The System' slogan. All proceeds go to the Bail Project – who are they?
"I've been working with the Bail Project for a while. I have a line of weed out with Willie Nelson and I didn't want to just have this boutique weed line as a white woman when there's obviously a lot of people incarcerated for marijuana charges still. So a portion of my weed sales go to them. They help people who are innocent but just can't afford bail and are helping a lot of minorities, women and people of colour."
Talking of your weed line, are there any new products in development?
"I want to get more into CBD, especially in Tennessee because weed is not legal here. I use CBD quite a bit for headaches, menstrual cramps, depression… I'm also working with a company in Illinois, which is my home state, and it's legal there now which blows my mind! So I'm going to have some edibles out with them, some honeys and teas and stuff. And with Willie's Reserve, I just launched another strain in Colorado."
What's the deal with your particular strain – what kind of a high do you get from it?
"In California I have a line with Moon Made Farms, and it's pineapple wonder sativa – it's very happy, uplifting, kind of like 'clean your house and get some stuff accomplished' weed."
Your friend John Prine, one of the greatest American songwriters of all time, recently passed away. Why was he so important?
"John was simple yet complex. He had a way with words that was just beyond most people. He had so much respect from so many writers and he remained down to earth his whole life, but he's like a Mark Twain character and there's just not a lot of people like that."
What was it like hanging out with him? He seemed like such a joyful man.
"He really was. He enjoyed great food and he loved to have a couple drinks. My husband and I would go out and double date with him and his wife, Fiona. We'd go to their house and John stayed up late. He wasn't like most old men, he would stay up floating around in his pool watching movies until like four or five in the morning and then he would sleep 'til noon. My husband and I once had a really wild night with them and we had to get on an aeroplane the next day, but it was really worth it."
The video for your new single 'Letting Me Down' was filmed in an abandoned insane asylum – how did you make that happen?
"My friend Kimberly Stuckwisch, who's directed videos for Bob Dylan and Father John Misty, was trying to figure out some kind of treatment that felt a little more timely with what was going on with the pandemic and the chorus being "Everybody's lonely/Oh, babe, just look around." She found this site called Abandoned Nashville – this guy who breaks into old abandoned buildings around Tennessee – and he had been in this mental hospital that's out towards Memphis. So we drove three hours to get there. We hiked through two miles of woods and we trespassed on federal property. It was amazing and very creepy. There's still a lot of stuff in there about people who were committed and I was reading all these charts about people who died there. It was a very corrupt place."
Jim Jarmusch commented underneath your Instagram post of the video saying he loved it. Are you friends?!
"He just found me! I want some work with him, I really want him to do something with me. That's a bucket list thing."
You recently wrote an incredible piece for Vogue about lockdown and your family, which made me think, when's the memoir coming out?
"I actually have a book deal and I already wrote a book! We haven't done an official release about it just because the album's coming, but when I was pregnant, I was not performing as many shows and I was so, so bored. I had to keep myself busy. I'd read Patti Smith's Just Kids so many times and I thought, this takes place over the kind of time when she was struggling. And I thought, well, I better write this now before all of the past 10 years isn't fresh on my mind. So I wrote about my childhood and years of struggling in Nashville, trying to get my foot in the door. I'm editing it now. They suggested that I change a lot of the names so I don't get sued by an ex-boyfriend!"
'That's How Rumours Get Started' by Margo Price will be released on Jul 10 via Loma Vista Recordings.