Following on from a year of cancelled festivals, seeing some of this summer's line-ups might make you want to take another year off. With many boasting the same yawn-inducing male-dominated bills, you'd be forgiven for thinking that COVID had wiped out diversity altogether.
There is still hope though.
A silver lining in the past year has been the push to amplify otherwise dampened voices. As most festival giants take another fallow year, the recent advantage of reduced capacity events is giving grassroots festivals a chance to blossom. The beauty in such events is having the freedom to curate a more progressive line-up in tune with what people really want. As great as losing yourself screaming along to The Strokes can be, some overlooked acts are patiently waiting in the wings to provoke an even stronger reaction.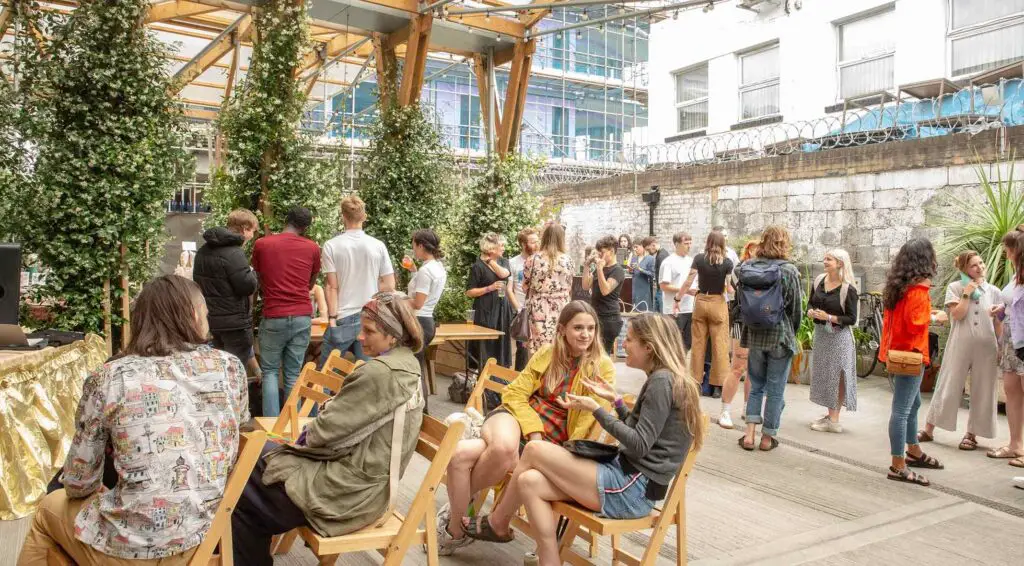 Shut Up and Play Festival is one event to have emerged from the rubble and set up shop for two days in the double railway arches of AMP Studios in Bermondsey, South London. Benefitting from a 100-max capacity in the intimate outdoor and open indoor setting, it's the perfect space for a socially-distanced event. This artist-led festival pulls together new and under the radar womxn and non-binary talent across music, art, food and more. The setup allows the chance to see everything on offer, free of any clashes, which is the usual hazard at many festivals, as well as plenty of time to settle down with a drink and nutritious fare from the food truck.
Fiona Bevan opens the festival, this time performing her own songs, after penning hits for the likes of One Direction, Kylie and Stefflon Don over the years. For many of the artists, this event is their first performance in a hot minute. As quaint and aesthetically pleasing as railway arches are for gigs, in practice the intermittent thunder of trains rolling overhead, proves a difficult contender with Bevan's sweet and mincing vocals. Fiona counteracts the recurring disturbance with an encouraging smile and muses how every time a train passes over, "They say it is good luck, and so we must be very lucky today." – a sentiment kept in mind for the duration of the weekend.
Over in the second railway arch, a brief exhibition of abstract artwork by Kate Burling adorns the walls. Opposite, the display of Maria Bashiru's archival research, Where Are All The Black People?. Bashiru takes you on an informative and sobering journey through the history of Black People in British folk music. The small presentation of text, images and private listening stations culminates in a video reel of performances by Black folk musicians and unsettling footage of popular 70s programmes involving minstrelsy. The research acutely explores identity, racism, cultural appropriation, memories and the significant influence Black people have had on British folk music – a common theme seen across many genres which is often overlooked. Bashiru carries this through to her performance, pulling from the worlds of folk, soul and indie rock. Earnest in the lyrical content, soulful in the vocals and smooth in the melodies, Bashiru is a noteworthy talent to watch for.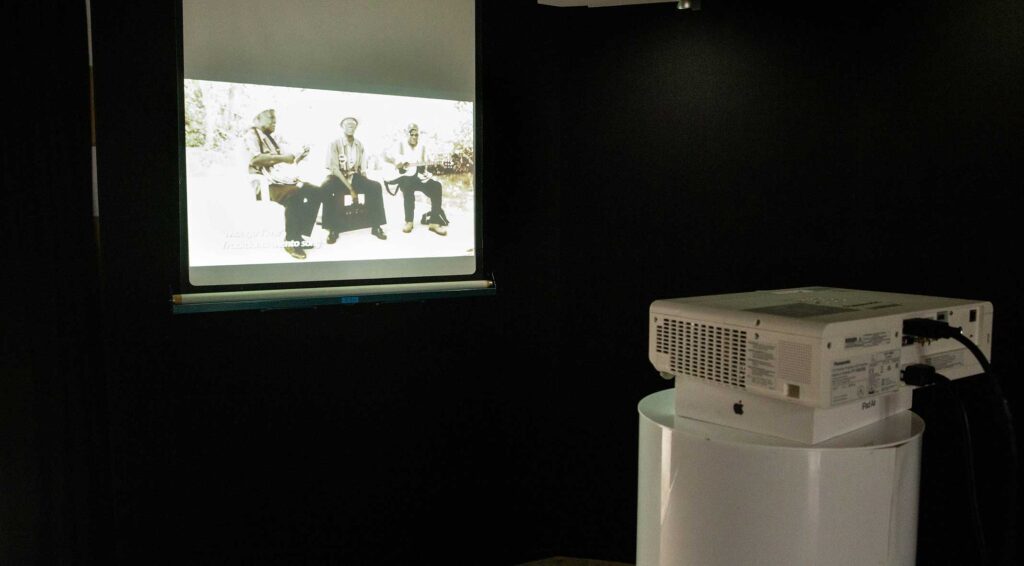 Between sets the Queer House Party DJs rage. It is a somewhat jarring switch between mostly folk-based downtempo live music and thumping disco-fused house, but a welcome change of pace. The undeniably vibey set had some festival-goers up and dancing to Cardi B and Venga Boys during the intermission, but it packs more of a punch as an all-encompassing after-party in the evening. Midori is up next and poised and humorous, delivers a striking array of her own content as well as covers of Ray LaMontagne and John Martyn – an artist whose sound she captures and impressively weaves through her own material. Midori exudes a quiet confidence akin to a classically-trained and meticulously-studied musician. Her attention to detail and unique perspective is evident throughout her work. From the finger-picked cello melodies to the cascading vocal runs and minimalist style of storytelling, Midori is delicately enigmatic and curiously alluring.
With a more settled audience, Abimaro brings warmth to the stage. Her personality is boundless and supplemented by the friendly chemistry between herself and her guitarist. The eclectic combination of folk, neo-soul, indie and jazz serves listeners' palettes a varying range of flavours. She is sophisticated and commanding in her vocal performance. Her lyrical artistry pulls you deeper as you get lost in the elegant melodies. Her presence is a privilege afforded to few tonight and it is one that needs to be enjoyed by many.
Returning to AMP on a certain national day of sporting significance, the atmosphere around the venue is drenched in anticipation for the big match. Attendees seem more engaged in settling nerves with liquid courage and waiting for the football screening than watching the talent at large – peculiar given the purpose of the festival and people it is meant to attract, but not surprising considering the day. Seats at the stage lay largely bare as punters continued to drink and talk over the various performances. So much so it demanded an announcement to tell these people to remove themselves from the stage area. After a slight slap on the wrist, some listened, others remained and the rested started to gather nearer the stage to watch the next few sets.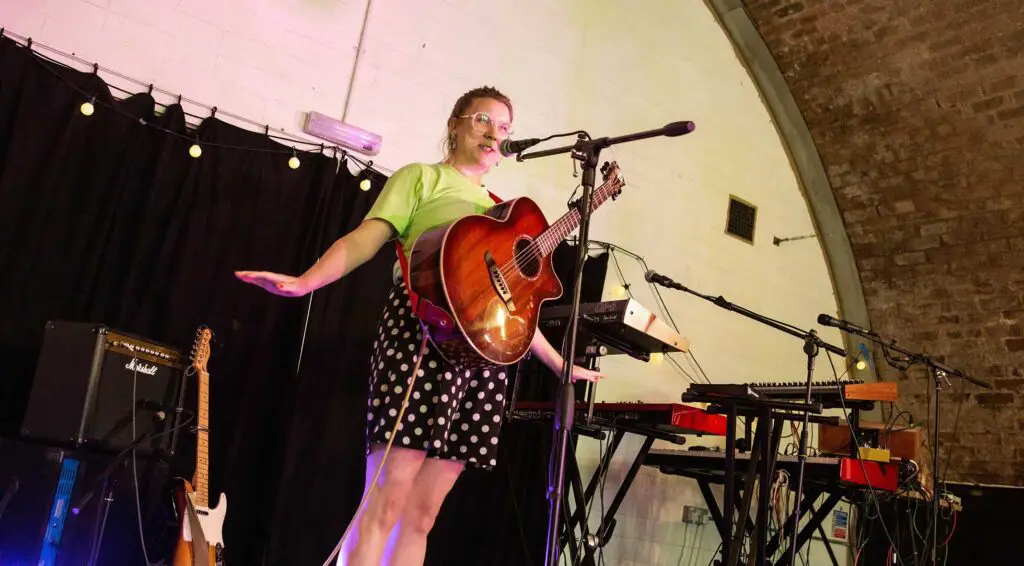 WOOM arise as the big ticket of the day, drawing in the entire crowd before kick-off chaos ensues. The four-piece concept-choir is comprised of members from Babeheaven, Jerkcub, Arlo Day, Hester and Thidius. The supergroup took on the Lord's work as they kept a gradually boisterous audience in check with their beguiling harmonies and enchanting character. WOOM breezed through fan favourites and Frank Ocean and Bjork mashups. Taking audience members to the 'Dark Side of the WOOM', as Lara Laeverenz states, they release some freshly written, unheard gems. With plenty of time to spare, WOOM close the door to their otherworldly folk domain, with a beautiful and fitting rendition of Patsy Cline's 'Leavin' on your Mind'.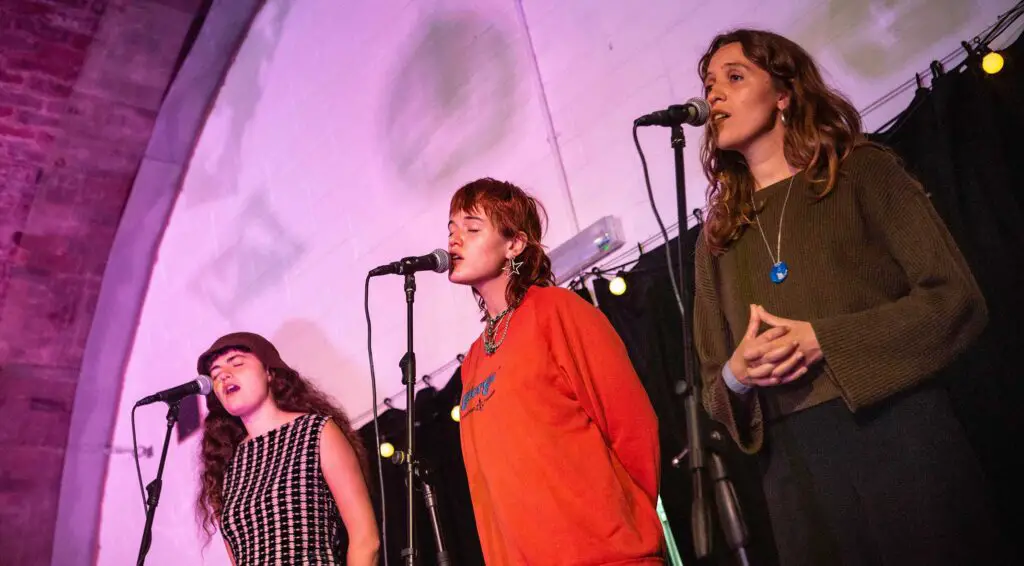 And with that, the weekend was over and we leave with renewed faith in the incredible amount of grassroots talent in London outside of the boys in bands circuit. For a new festival delivered under COVID-restrictions, Shut Up and Play certainly made its mark and we look forward to seeing how they grow next year.
Words: Yasmin Cowan