"Are you from London? … Y'all eat crumpets and stuff?" The queen, bad teeth, rain: British collective Sault have fun playing with the capital's tropes on fifth album 'Nine' – but only after painting a starker truth about the city, including guest verses from Little Simz, who combats cliché with reality: "I know killers in the street, but I ain't really involved / We don't wanna cause any grief / But we get triggered when hearin' the sound of police."
Incredibly, for a group still so anonymous, Sault have released four albums in the last two years. The group tend to ignore standard procedure when it comes to releasing records (dropped without warning), interviews (evaded), and genres (evaded). Producer Inflo and vocalists Cleo Sol and Kid Sister are the only named members. Sault don't so much break the rules as dispense with them altogether, shaking off the noise of an album press cycle to give the music and its message breathing space.
Albums '5' and '7' appeared in 2019, while 'Untitled (Black Is)' and 'Untitled (Rise)' responded to last summer's Black Lives Matter protests. Less incendiary than the latter pair, 'Nine' zooms in from global activism to a local portrait of London, and the experience of growing up there.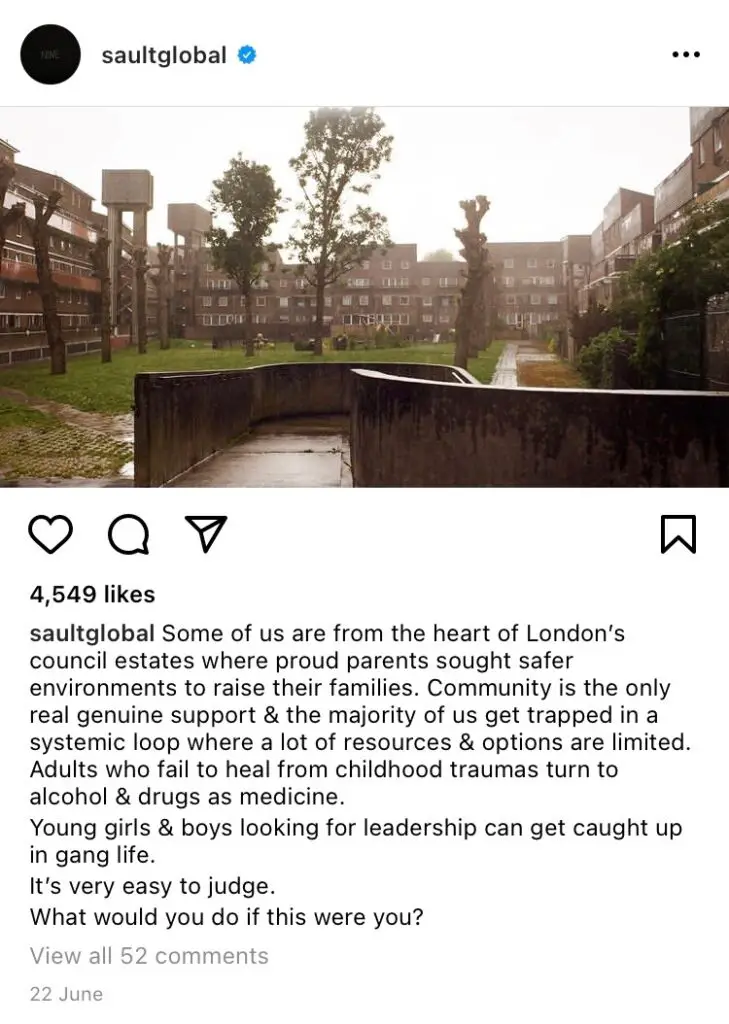 Sault say 'Nine' is only available to buy or stream for 99 days, an act-now imperative easily lost in today's wash of streaming culture and political apathy. The music reflects that sense of urgency – sometimes. Syncopated percussion takes different forms: hopscotch handclaps and children's chants on opener 'Haha', warped bass on 'London Gangs', the jangling 'Trap Life', and 'Fear's chopped-up voices and menacing industrial clatter.
At other times, the record is positively languid, with stripped back production and repeated lines that soothe. Sault inherit from neo-soul, jazz, funk, punk, rap, r'n'b – sounds that span decades and coastlines – but the present moment is too urgent to be distracted by nostalgia. Sharp pangs of storytelling stop 'Nine' from being lounge music – authentic, gritty details that snag the ear.
For example, while the lush strings and raindrop plinks sound anything but bitter on 'Bitter Streets', the story's not so sweet: "I remember when we were young / You made friends with a gun." Even the hazy croon of 'Alcohol' belies reality: self-medication and addiction as direct consequences of social inequality. And nothing masks 'Mike's Story', where Michael Ofo plainly recounts "the day we found out that my dad was murdered, murdered in Dalston".
Still, there's a discernible move towards light and warmth as 'Nine' progresses, if only the flicker of a matchstick. The title track uses gentle, sunny guitar to dispense with assumptions about growing up in gang warfare, while final song 'Light's in Your Hands' starts out as a hopeful piano ballad. An spoken-word snippet about growing up Black in London – "I never really had a childhood, I was constantly on edge … You shouldn't have to have skin as thick as ours" – circles back to the album's opening playground chants, stressing the vicious cycle of social and racial inequality.
But voices begin to harmonise and hum, building back up to a final consoling refrain: "Don't ever lose yourself / You could always start again." A different kind of rallying cry to previous records – healing is as vital as fury – Sault continue to sidestep artistic ego in service of songs and stories that need to be heard.