After releasing the much-lauded 'Run The Jewels 3' in 2016, hip-hop super duo Killer Mike and El-P AKA Run The Jewels, had to consider how they could keep raising the bar.
Their fourth studio album, 'RTJ4', has been in the works for almost two years. After that long in the making and with a seemingly considered roll-out plan (we heard first single 'The Yankee and the Brave' on March 22) it was an unexpected but timely move, then, to drop the record two days before its originally planned release date, eschewing the music industry's usual rule of Friday album launches. In a post on Instagram, the duo explained their reasoning: in a world "infested with bullshit", they hoped it would bring their fans "some joy". They were, of course, referring to protests across America, Canada and the rest of the world in response to the murder of George Floyd by Minneapolis police officers.
On May 30, Killer Mike made an emotional speech standing on a platform given to him by the mayoral office of Atlanta. He urged protestors to "not burn your own house down", but instead to "plot, plan, strategise, organise and mobilise." It was an impassioned plea, but to ask for peace against a backdrop of a system so broken seemed confusing from a rapper, known for speaking out against injustice and channeling rage through his music.
That rage is still everywhere on 'RTJ4', though. Rousing opener 'Yankee And The Brave (Ep. 4)' features a beat that rips through the track, with a mix of lyrics of pride and prickly insults such as "matter of fact, kiss the ass and even the crack". There's a roar of resistance in Killer Mike's fearsome signature vocals as he states, "I can't let the pigs kill me, I got too much pride. And I meant it when I said it, never take me alive".
Juxtapose this with next track 'Ooh La La', which still has that same raw energy but a happier, bouncier sound, as RTJ throw punches at capitalism, to a music video featuring burning piles of cash and a boot full of Champagne bottles.
'RTJ4' is less feature heavy than previous records, and of those features, only a couple come from women. Mavis Staples' incredible gospel vocals on 'Pulling The Pin' follow the powerful poetic lyricism of El-P's opening lines "From a long line of the rancidest swine came the violators/ The cloven foot designers of high crime for the iron ages." The significance of Staples' presence on this album is not without acknowledgement; it is felt in her talent as an artist, and her contributions as a civil rights activist. 'RTJ4' is truly an unapologetically political record.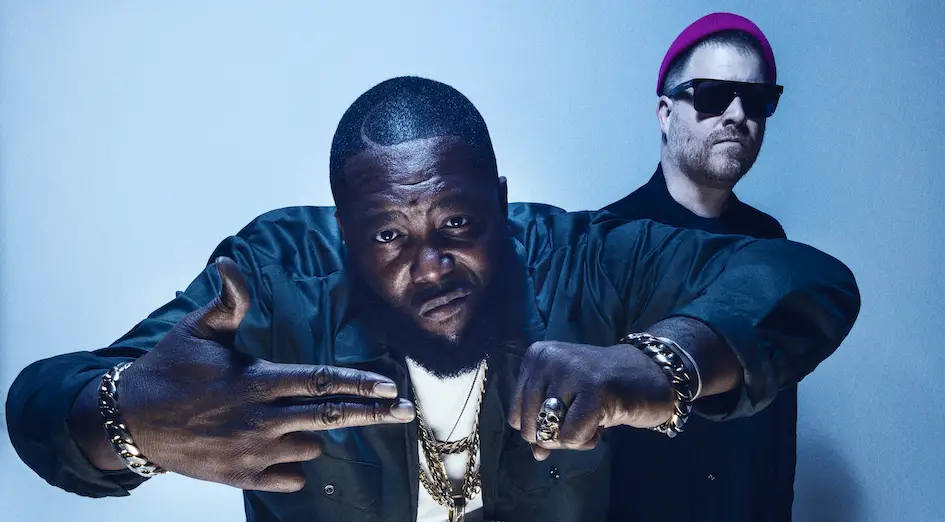 Gangsta Boo is the other female guest, rapping with finesse on 'Walking In The Snow'. Killer Mike's lyrics "And you so numb you watch the cops choke out a man like me/ And 'til my voice goes from a shriek to a whisper, 'I can't breathe'" most likely in reference to Eric Garner, (who was murdered by a police officer on July 17th, 2014, after he was placed in a chokehold during his arrest), hit harder now.
RTJ seamlessly transition between perspectives, formulating criticisms of a racist society by using historical references throughout 'JU$T', (which features the familiar, softer vocals of Pharrell Williams and Zack De La Rocha's unmistakable shriek), calling out propaganda and social media on 'Goonies Vs. E.T.'. Killer Mike and El-P are masters of weaving poetic lyricism with political anger.
A strong, building melody on final track 'A Few Words For The Firing Squad (Radiation)', filled with slightly clashing brass instruments provides a background for El-P's punching lyrics "This is for the never heard/ never even get a motherfucking word". Run The Jewels make music for the world, but it is directed at those of us who are members of marginalised communities – it is a rallying cry for our voices to be heard.
So, is 'RTJ4' a protest album from a hip-hop super duo who, in light of recent events, seem to want a more considered form of action? Well, in some respects, yes. It is a demand for dignity, respect and change. 'RTJ4' is also their best album yet: unwavering, powerful and exactly the standard we expect from the rap duo.
Lyrically, it's full of a burning anguish in response to a system that only works for the people who created it. Melodically, it is a mix of ideas, with pounding percussion at its centre. It won't ease current tensions, but it will give black people a much-needed reflection of our anger.