WEDNESDAY
Kicking things off on Wednesday evening, EFÉ brings her laidback blend of bedroom pop and lush R&B to the WTF Clubbing stage – and what better music to listen to as a week-long heatwave takes hold? Her music evokes languid summer daydreams, but the Dubliner brings a surprising energy to her live set, dancing around the stage to reverb-soaked guitars and beaming with excitement when she sees the crowd singing all the words to 'Table for Two.' 
Later in the Heineken tent, Fontaines D.C. ignite the crowd with frenetic energy at their euphoric beer-drenched set. They put on an incredible show, proving that they're one of the most exciting live bands at the moment. This punchy pace is only matched by their dextrous lyricism that takes on a life of its own in the crowd. Closing track 'I Love You', slows down the tempo before bursting into the heart-shattering political chorus expressing anger and love for Ireland. It's chaotic spoken word you can frantically mosh to. 
Taking to the main stage 20 minutes late, this year's first headline act The Strokes launch into 'Is This It?' – the first time they've played it on this tour. Julian Casablancas then references last month's controversial Roskilde performance which was described as "a historic meltdown." "I'm drunk again sorry," he slurs into the mic. This explains the weird interludes and misplaced attempts at comedy.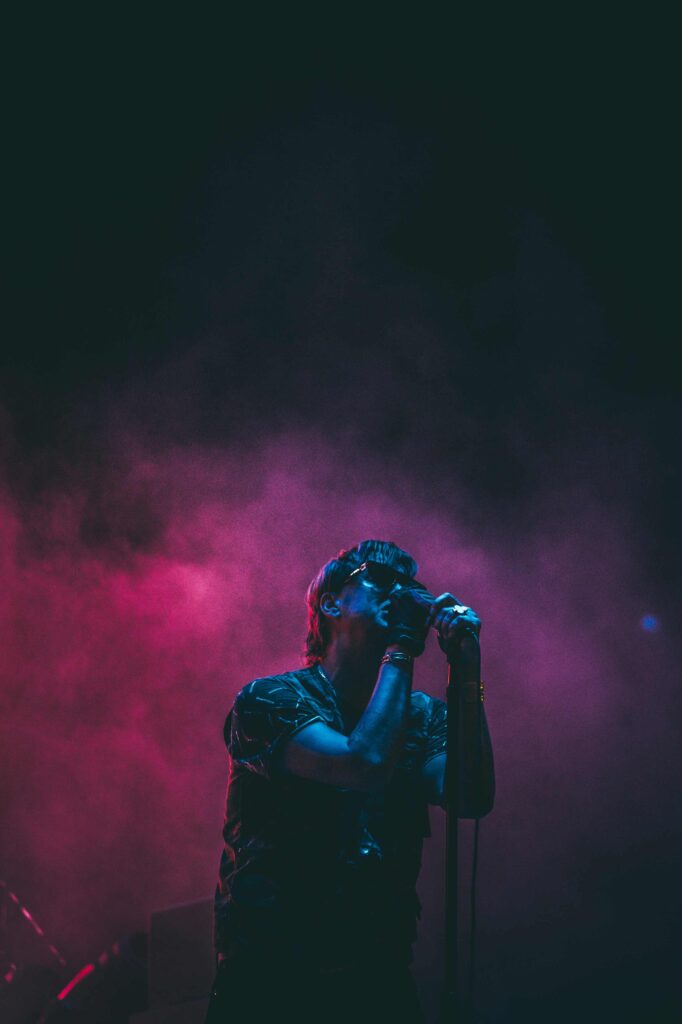 Paying tribute to Clairo, who was forced to cancel her set because of flight cancellations, they cover 'Sofia' using a distorted decoder microphone, but it comes across as more of a senseless parody than anything else. Halfway through the cover transforms into Harry Styles' 'As It Was.' "Everyone's been playing the same song for 20 years," Casablancas moans. Despite these setbacks, there's no denying that their classic bangers still pack a punch – 'New York City Cops', 'Reptilia' and 'Someday' are highlights. In fact, it would have been a satisfyingly nostalgic romp if only they'd played 'Last Nite', but they didn't. 
Stromae closes out the first night of NOS Alive, bringing some much-needed energy with a stylish and visually impressive pop extravaganza. Colourful and dynamic, the upbeat dance tracks from the French artist were lively and joyous. A euphoric end to the first night.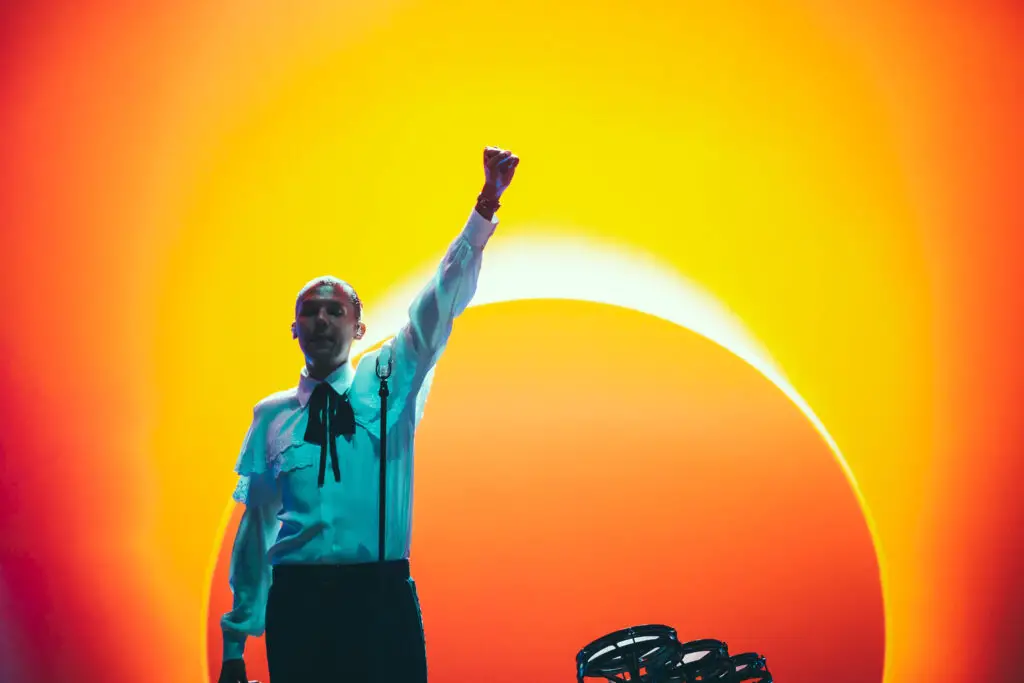 THURSDAY
Beneath the blinding early evening sun, Celeste delivers a soulful goosebump-raising set on the main stage. She commands the space even as she stands still, clutching the microphone with her elegantly gloved hands,  each tiny movement exuding emotion and grace. She soon walks down to the barrier to sing directly to the crowd which she spends a large segment of her set doing, connecting with fans on a more personal level. "I don't like modern radio microphones," she says apologetically as she stretches the mic cord into the middle of the crowd. She seems to have stepped out of another era, while retaining a timeless aura. Celeste performs two new songs, 'Only Time Will Tell' and 'Bad Bad Not Good.' She's having fun and her confidence grows as the set goes on. She sits on the edge of the stage and admits that the last time she was here, she was in a very sad situation. The sadness is still there, but Celeste's set proves that there's power in feeling everything all the time.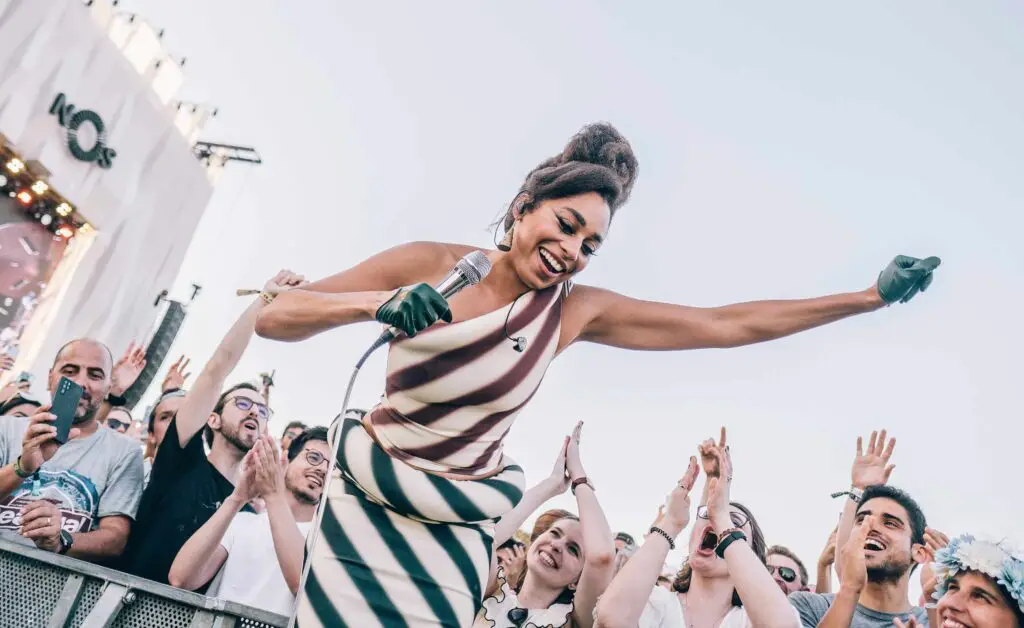 Up next on the main stage, Jorja Smith kicks off her set with a soulful rendition of 'Teenage Fantasy.' She covers Amy Winehouse's 'Stronger Than Me' with her own poignant spin on it, an affecting tribute despite starting the song in the wrong key. Orchids unfold on the screen behind, enriching Smith's glowing, goddess-like stage presence. She has to leave the stage to redo her hair, but it gives the band an opportunity to perform a riotous instrumental solo. Despite a few mishaps, it remains a compelling performance.
Headlining the main stage tonight is Florence + the Machine who enthrals with a mythical and ethereal set of breath-taking proportions. Witchy and regal, the singer runs onstage barefoot swathed in red lace like a fairy out of hell, punching the air to the drumbeat of 'Heaven Is Here.' 'King' swiftly follows, an anthemic festival-tailored track during which Florence paces up and down the stage like a moody young king in his castle. She breathes into the microphone like a dragon, shaking her hurricane of fire-red hair. 
Running through her rich back catalogue, each album is equally represented. 'You've Got The Love' is missing from the setlist but with such a high-energy set bursting to the brim with hits it's hardly missed. 'Never Let Me Go' from 2011's 'Ceremonials' has recently been readded to the live repertoire. "I didn't play this song for a long time because it reminded me of a time when I was very young and very sad and very drunk," Florence says. "If you came here sad and drunk tonight, I hope that now you're just drunk."
The show is a resurrection. During 'My Love', written and released during lockdown, the singer entreats the crowd to get down low before jumping up to be reborn. It's one of the show's many interactive moments that make the experience feel truly collective, almost cultish. Moonlight visuals feed the pagan atmosphere. Closing the show, Florence announces, "You are now part of the cult of Florence + the Machine and now we ask for a few human sacrifices." This translates to as many people as possible getting onto their friends' shoulders to be raised in the air for early Florence hit 'Rabbit Heart (Raise It Up).' If Florence + the Machine is a cult, it's one we join willingly and never want to leave.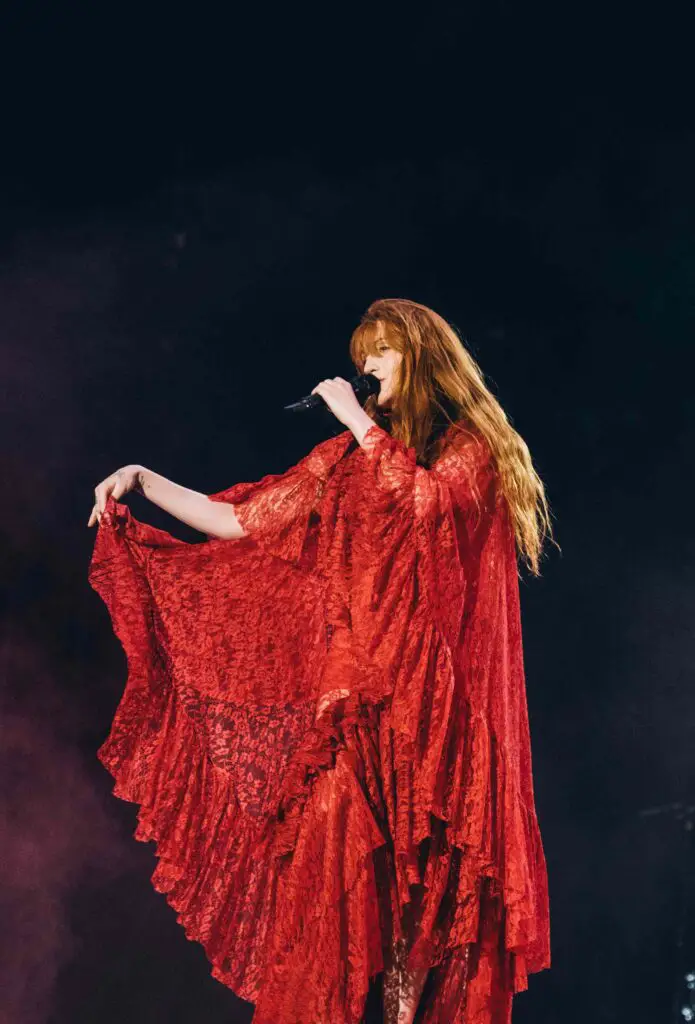 FRIDAY
Sea Girls take to the Heineken stage in the early evening to play a fun-filled indie set to a small but lively crowd. With choruses made for singing along to and nostalgic lyrics about fish and chip shops and shitty hometowns, the band's energy is infectious as they play their first Portugal show. It's not their first time visiting Portugal, however, with vocalist Henry adding that it was here that he had his first kiss and dedicating 'All I Want to Hear You Say' to the girl he shared it with.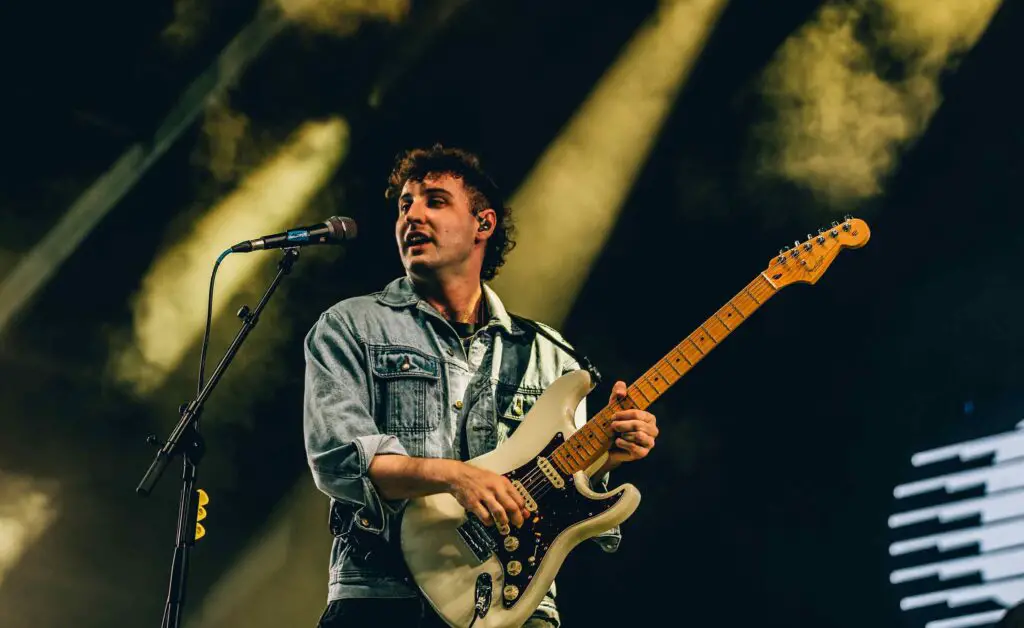 Later on the same stage, St Vincent delivers a studied performance that languishes in her 70s-infused universe blending sensual funk with rock-driven frenzies. It's the last show of her tour and Clark is part vintage pinup and part guitar-wielding rockstar. She sways from side to side gyrating her hips in a tight blonde bob, waving a handkerchief in the air and accepting a drink from a waitress dressed in a 50s diner uniform. This all lends the show a camp sensibility that's a little pantomime-esque  at times. As the tempo builds, fierce electric guitar segments and soul-drenched backing vocals make the set intoxicating to watch. Clark dedicates 'Cheerleader' to the US Supreme Court: "We do know what we deserve and it's basic fucking human rights."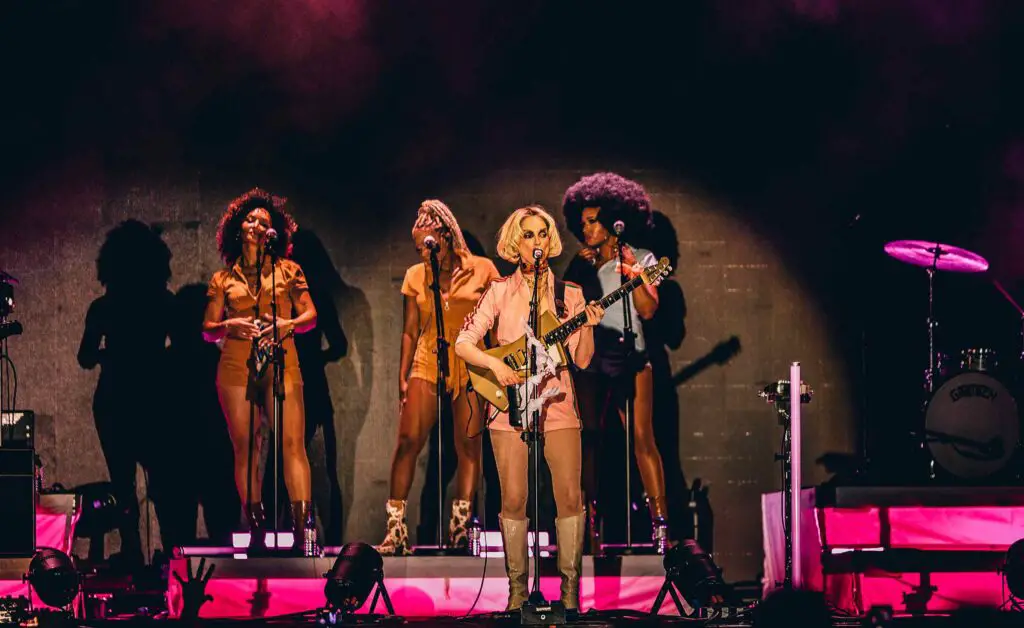 Two hours later, as the mammoth Metallica crowd starts to pour out of the festival, MIA commands the Heineken tent with a punchy, boisterous 1am show that reaches ecstatic levels. She jumps and runs around the stage with an impressive ensemble of high energy dancers while lasers reach out to the crowd. Between songs, she shouts, "RIP Boris Johnson!" and the crowd cheers. Hits 'Bad Girls' and 'Paper Planes' are standout moments worth staying up for.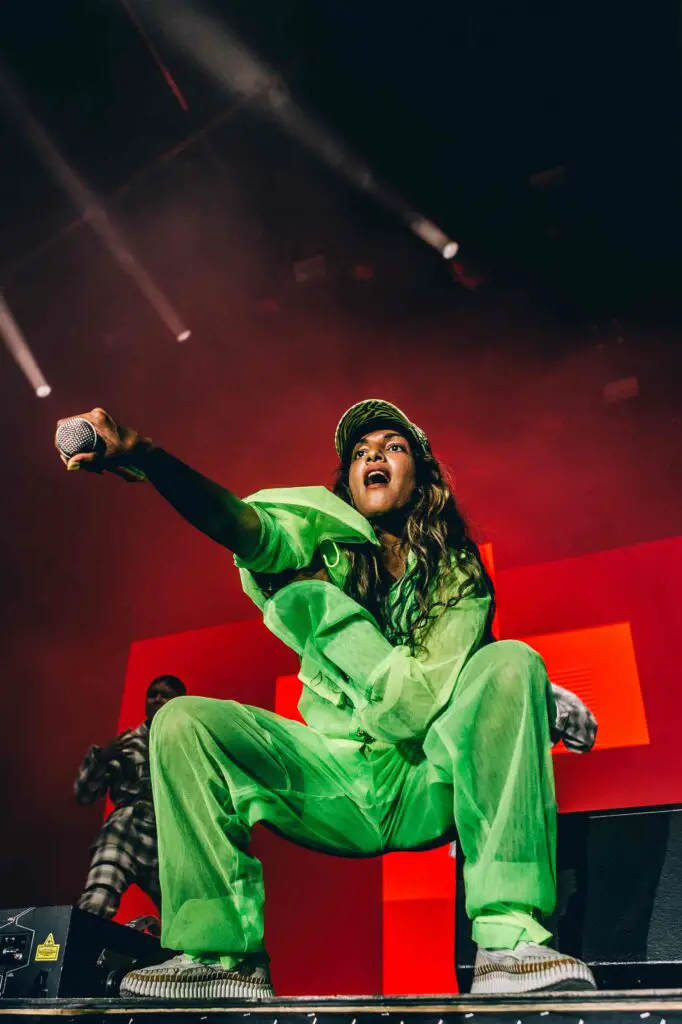 SATURDAY
Canadian rock band Mother Mother play a headbanging foot-stomping set on the mainstage. The raucous performance reaches a crescendo with 'Hayloft II' whipping the crowd into a frenzy. New track 'Life', a song about "being in the moment. The precious moment" also goes down a treat. Screaming solos from vocalist and keyboardist Jasmin Parkin and brother-sister harmonies from Ryan and Molly Guldemond prove their brand of thunderous rock n roll makes for an invigorating live show. 
Next up on the same stage, a bikini top-clad Haim come out one at a time, each singing a different verse of 'Now I'm In It.' Este's skits fill the gaps in between the music, including a phone call from a one-night stand from Mad Cool Festival where they played the day before. At one point she walks down to the crowd to find her next conquest but the man she approaches says that he has "a beautiful fiancee that I love very much." The sisters reply that they "stan an honest man." The humour doesn't distract from their lively musicianship. Saxophonist Henry is introduced and plays an upbeat solo and Danielle's expressive drumming steals the show.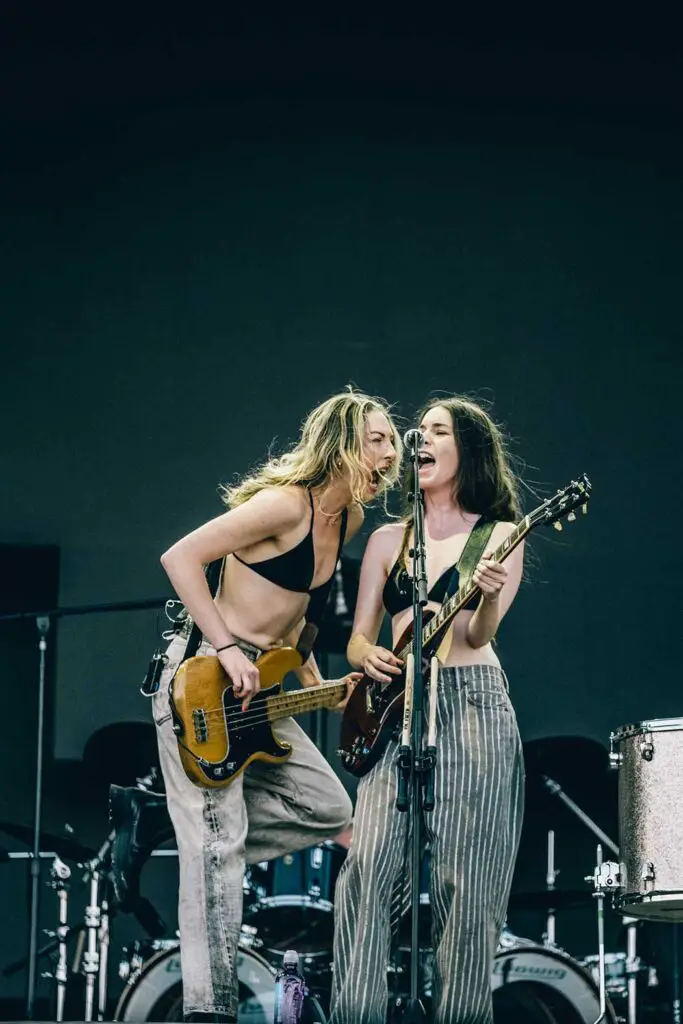 Later over on the Heineken Stage Phoebe Bridgers plays an emotionally-charged set as fans cling to every single word. Chants of "Phoebe Phoebe Phoebe" erupt before she even arrives onstage. Fairy lights twist around microphone stands and ethereal storybook visuals unfold, adding to the surreal atmosphere. Discussing the overturning of abortion rights in the US, the confessional singer says she's experiencing "survivor's guilt" about being in Europe right now instead of in her home country. The crowd is littered with people FaceTiming friends from around the world to show them the performance. Bridgers climbs down to the barrier during 'Scott Street' and fans rush forward – she has to pause the next song to make sure someone gets medical attention in the crowd. By the time Bridgers plays a solo acoustic version of boygenius' 'Me & My Dog', as requested by a fan, there's hardly a dry eye left in the tent. 'I Know The End' closes the set with a therapeutic mass scream-along. It's a letting go, an intense release of emotion and a fitting end to a scorching hot week of live music.
READ MORE: The BIG Glastonbury 2022 review