"Let's take a little trip down Memory Lane, London England!" commands Madonna. It's night three of her Celebration Tour at the O2: a worldwide extravaganza which for the first time, will attempt to traverse her 40 year back catalogue, showcasing her greatest hits (and a few deep cuts) over two unforgettable hours.
The Celebration Tour has been a little late to its own party, the first leg being cancelled after The Queen Of Pop contracted a serious bacterial infection earlier in the summer, but there's no sign of illness or injury tonight, as she dances her way through the last four decades.
Beginning in 80s New York we are introduced to a down and out Madonna, with "$35 and dreams of becoming a star". Some two hours later that same artist is flying high above our heads in a neon cube, raving to Ray of Light. Everything that happens in between is mesmerising, jaw-dropping and at points an utterly baffling display of pop prowess, shunning any naysayers with doubts about her legacy or influence. Here are some of the most memorable moments.
The bit where she shreds on guitar
Recalling her punk days hanging out at iconic New York club, CBGBs, with her band The Breakfast Club, Madonna plays a guitar-heavy version of 'Burning Up' from her 1983 debut album. It's fast and scuzzy, just like her early years and adds yet another string to her bow.
The bit where she does a bit
Before breaking into 'Holiday' there's a rather long bit where Madonna is seen on the steps of a New York club, begging the doorman for entry only to be repeatedly turned away. It's one of a handful of reminders of her humble beginnings as a dancer in New York, dreaming of the big time. Though a little laboured it sets up the narrative arc of the night – taking us on a journey through Madonna's last forty years, a deserving love letter to herself and a celebration of everything she's achieved, against the odds.
The bit where she pays tribute to those lost to AIDS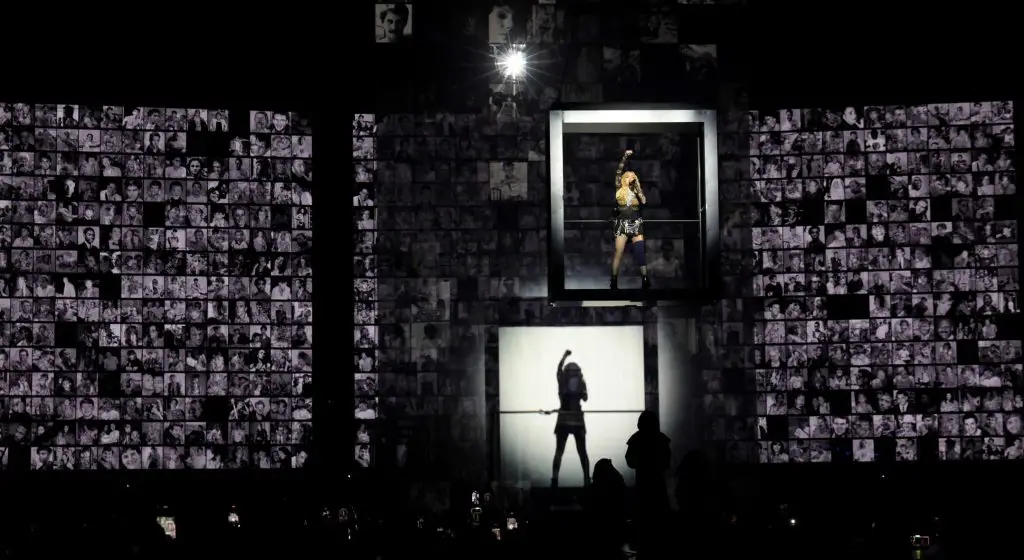 In one of the concert's most moving moments, Madonna sings the emotional 'Live To Tell', in front of huge portraits of friends lost to AIDS, including Robert Maplethorpe, Keith Haring and Christopher Flynn. As the song climaxes thousands more pictures are added to the screen, symbolising the scale of an epidemic that Madonna passionately fought to end stigma around. From including a 'Facts About AIDS' insert in her 'Like A Prayer' album sleeve, to donating reported millions to AIDS organisations, this is a cause that has remained dear to Madonna's heart since she watched her 23-year-old roommate and collaborator, Martin Burgoyne, tragically die of the disease in 1986.
The bit where she reminds us Madonna "taught us how to fuck"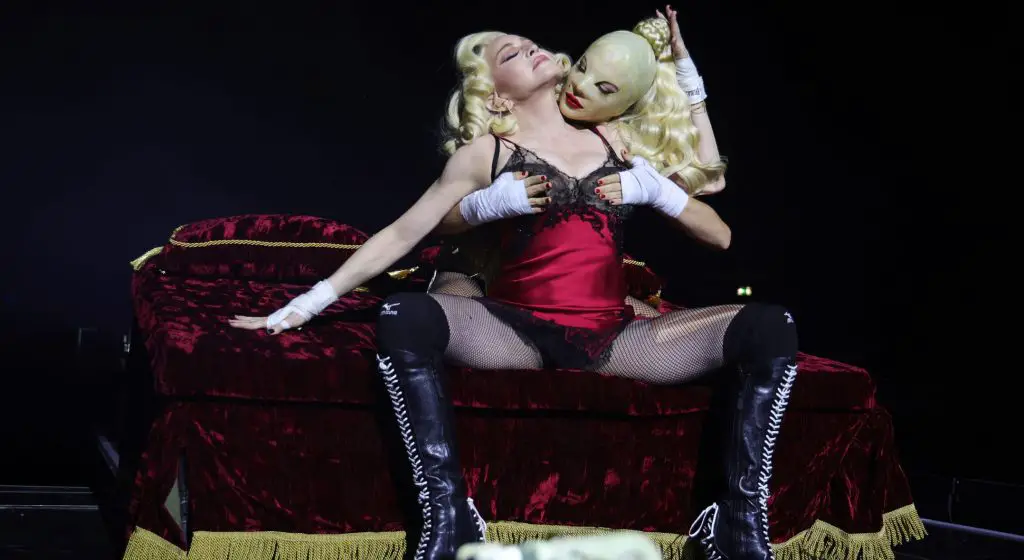 The Erotica section of the show is a rather raunchy reminder of Madonna's boundary-pushing sex positivity. Dancing with one of many masked versions of her younger self, Madge gets rather familiar with her SEX-era doppleganger, simulating masturbation as she sits, legs spread, in a red negligé. In an age when Wet Ass Pussies top the charts, it's less of a pearl-clutching moment as it was in the nineties, but a nod to Madonna's trailblazing past, where she writhed so Cardi could mop.
The bit where she brings out almost all of her kids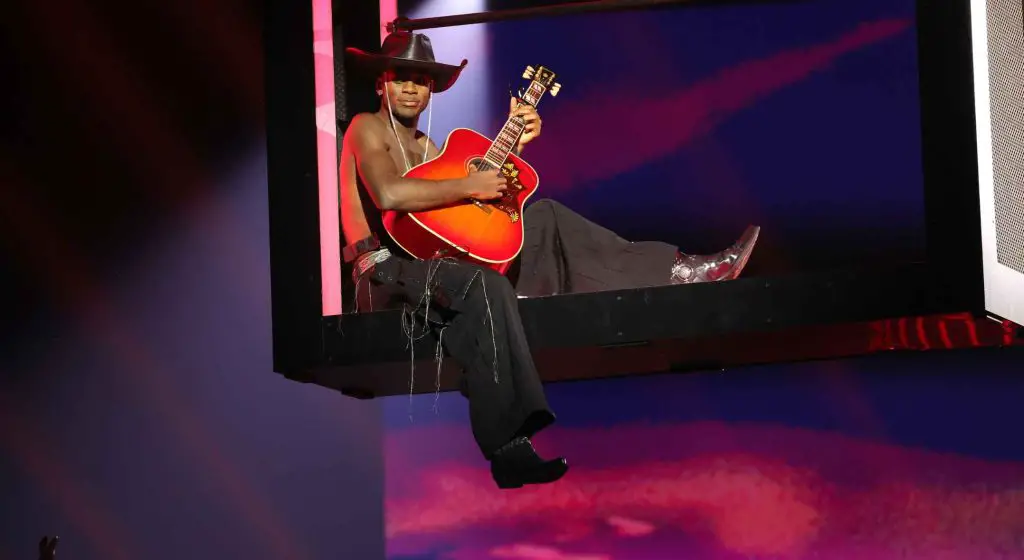 If Blue Ivy can get a nightly applause break there's no way Madonna's kids aren't getting their dues. From Mercy James playing piano to David Banda on guitar and 11-year-old Estere dancing and DJ-ing, this Celebration Tour is a real family affair. Lourdes Leon was present to judge the Voguing contest with her mother on night one (tonight she's replaced with a pink-haired Diplo). During the song 'Mother Daughter', Madonna paid tribute to her own mother who she lost when she was just five years old and David Banda's birth mother, who died when he was a baby.
The bit where she addresses the Israel-Hamas war
Never one to keep quiet, Madonna addresses the horrifying situation in Israel and Palestine. "I turn on social media and I want to vomit. I see children being kidnapped, babies being decapitated, children at peace raids being shot and killed. What the fuck is going on in the world? How can we be so cruel to each other? It's just getting worse and it frightens me and I want to paraphrase James Baldwin who has been a great inspiration to me my whole life and say the children of the world belong to all of us – each and every one of them. I don't care where they're from, what their head-dress is, what the colour of their skin is, the children belong to us. And we are responsible for them."
The bit where she pays tribute to Michael Jackson
Arguably somewhat in conflict with the message of protecting the kids, an, albeit very-well-executed, tribute to Michael Jackson in the form of a mash-up of 'Billie Jean' and 'Like A Virgin' serves as a reminder that Madonna once dated The King of Pop when the pair were at the heights of fame. It would be a flex, if, well, y'know.
The bit where everything gets a bit ravey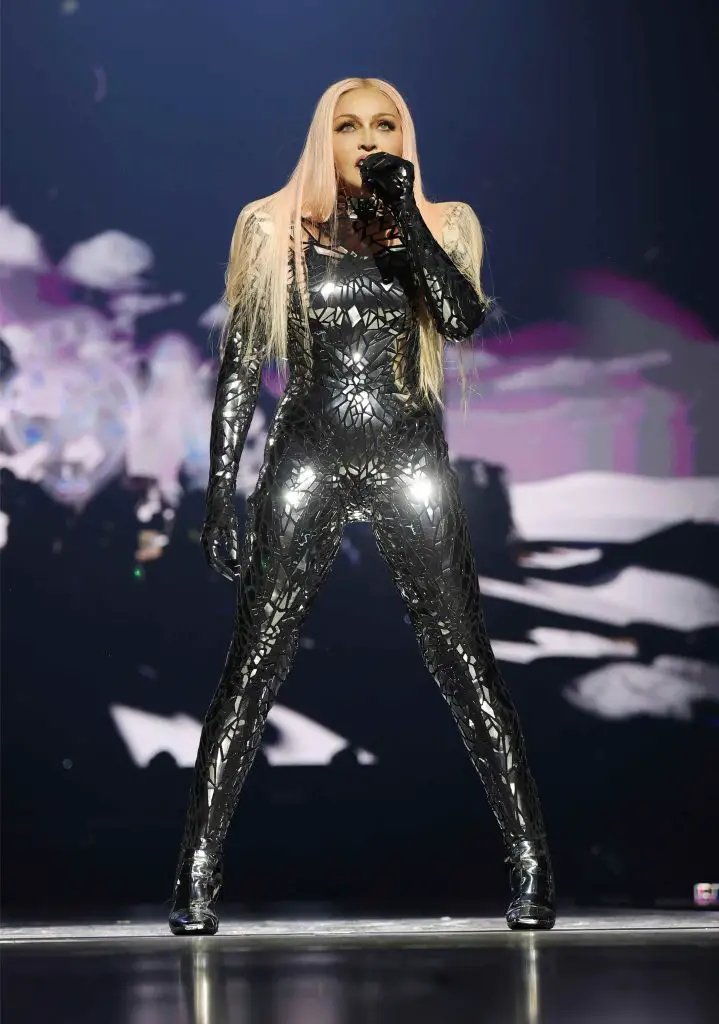 Time your pinger to kick in at 10:45 because that's when things really go off. In a spectacular closing segment that includes 'Ray Of Light', 'Rain', 'Bitch I'm Madonna' and 'Give Me All Your Luvin' there are lasers, trippy computer game visuals of mushrooms and Anime characters as Madonna ascends above us, in a cube of neon lights, head-to-toe in a mirrored snakeskin jumpsuit.
"The most offensive thing I've done is stick around," she proclaims. That alone, is cause for celebration.