Deep indigo lights undulate between blood orange. Behind clouds of saccharine smoke, Kelela's sensuous vocals melt out and tease over Erykah Badu's Dilla ode 'The Healer', eventually pausing to allow Badu's lyrics to echo, "Hip hop is bigger than religion/ Hip hop is bigger than the government/ This one is for Dilla."
The playback cuts. Kelela steps into centre stage solo and commands attention, arms outstretched like a raven reborn. Thunderous applause begins as iPhones flicker overhead from the packed-out balcony of HERE @ Outernet like a sea of stars.
The tone is set. A celebration of Black and queer electronic music, female artistic agency and Kelela's long-awaited six-year return begins.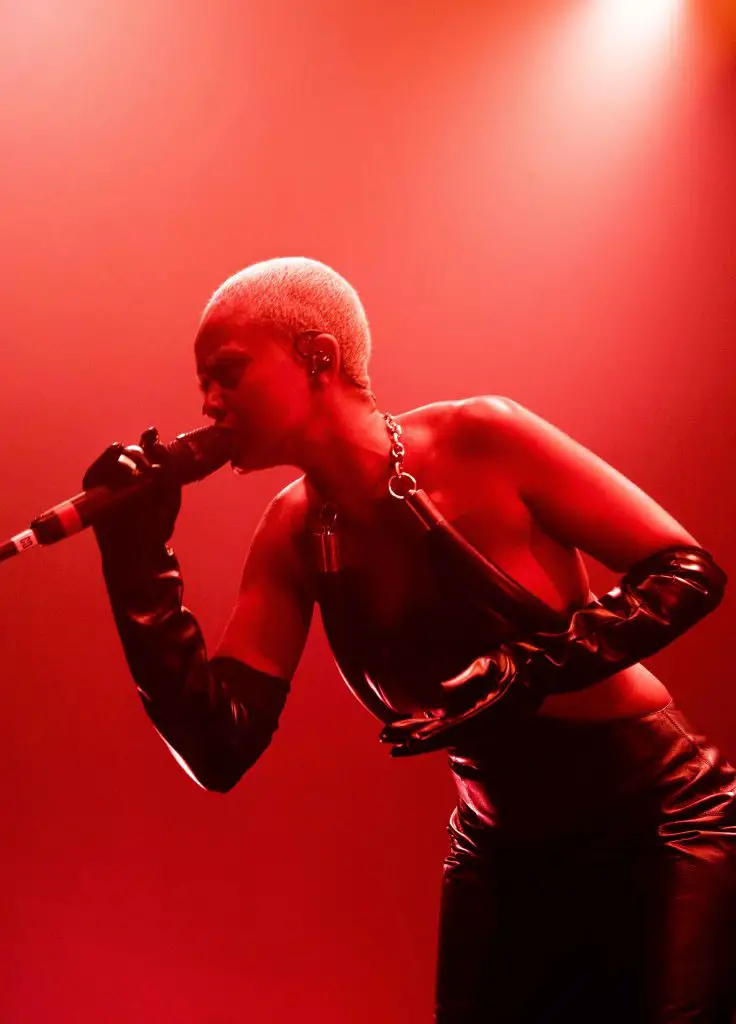 Off the back of her 'Tonight Show' debut with Jimmy Fallon, soaring Times Square billboard, and amid a victory lap of industry praise, fan hype and international headlines, Kelela wastes no time sinking into the opening track 'Washed Away' off her second LP 'Raven' via Warp – already clocked as a front-runner for albums of 2023.
A master of tension and release. Kelela cements her comeback with the dexterity of her skillset by opening with 'Washed Away,' as an ambient heart-check with healing vocal runs over gliding synth before blasting apart into sonic booms and a storm of electrifying red and blue strobes.
The crowd erupts into a groove. Her unique blend of goddess-like vocals infuse the liminal space between dance floor heaters, spine-tingling R&B and a spectrum of Black electronic music ranging from drum and bass, garage, jungle to Baltimore club permeating the collective conscience.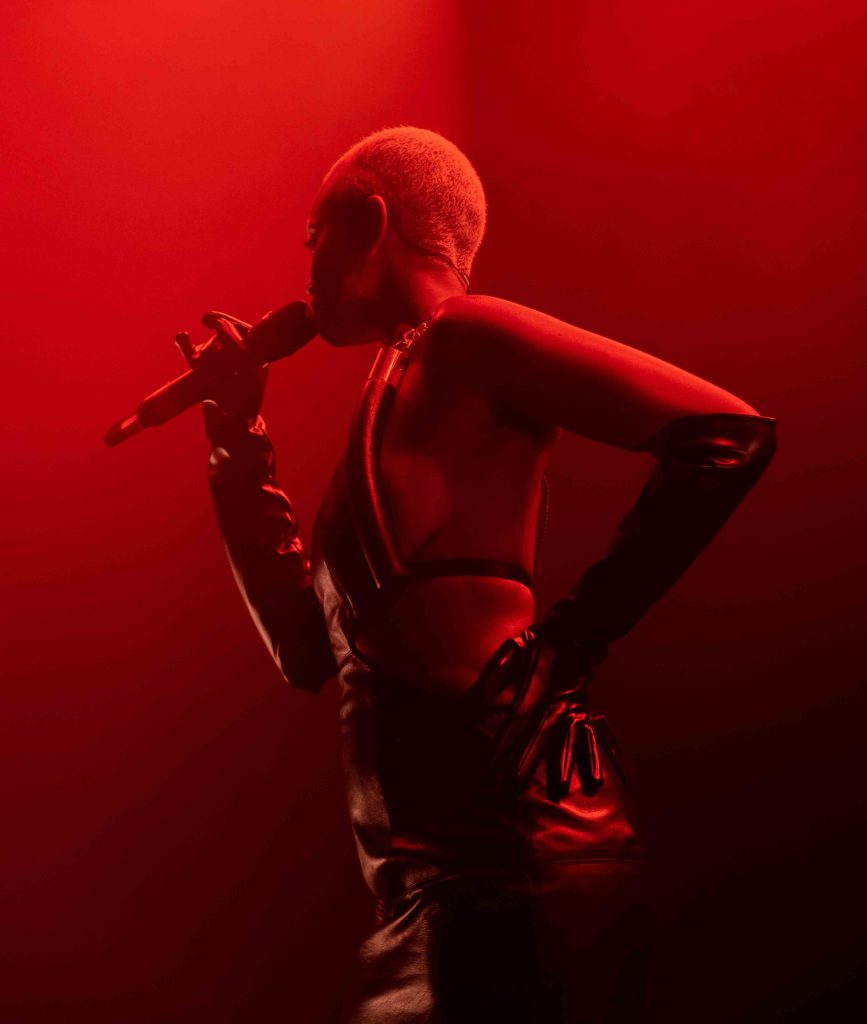 Flanked by gradient orange lights flickering like burning embers she swerves from the sultry single 'Bluff' off her lauded 2017 debut album 'Take Me Apart', into new sonic territory. Working the room to feverish temperatures with percolating synth and seduction on the LSDXOXO and Bambii produced 'Happy Ending', and Kaytranada assisted, Junglepussy written dancehall belter 'On the Run' 'off 'Raven'.
From start to finish, the genre-defying American singer and songwriter flexes her prowess as executive producer at maximal. She performs and curates her live show with the same signature seamless flow of her albums.
Drenched in kaleidoscopic magenta beams Kelela sings 'Contact', her 2023 bass-laden psychedelic elixir capable of intoxicating the global mainstream which tears off into hopscotching breaks. This ignites a b2b revisit of 'Go All Night' and 'Bank Head' off 2013's boundary-pushing 'Night Slugs' and Fade to Mind mixtape 'Cut 4 You' which saw her clock cult fame on the underground. 
If her cosmic 2015 Arca-produced break-up EP 'Hallucinogen' and 'Take Me Apart' were about breaking down, Kelela reminds us tonight in the flesh and with Raven what it means to be put back together.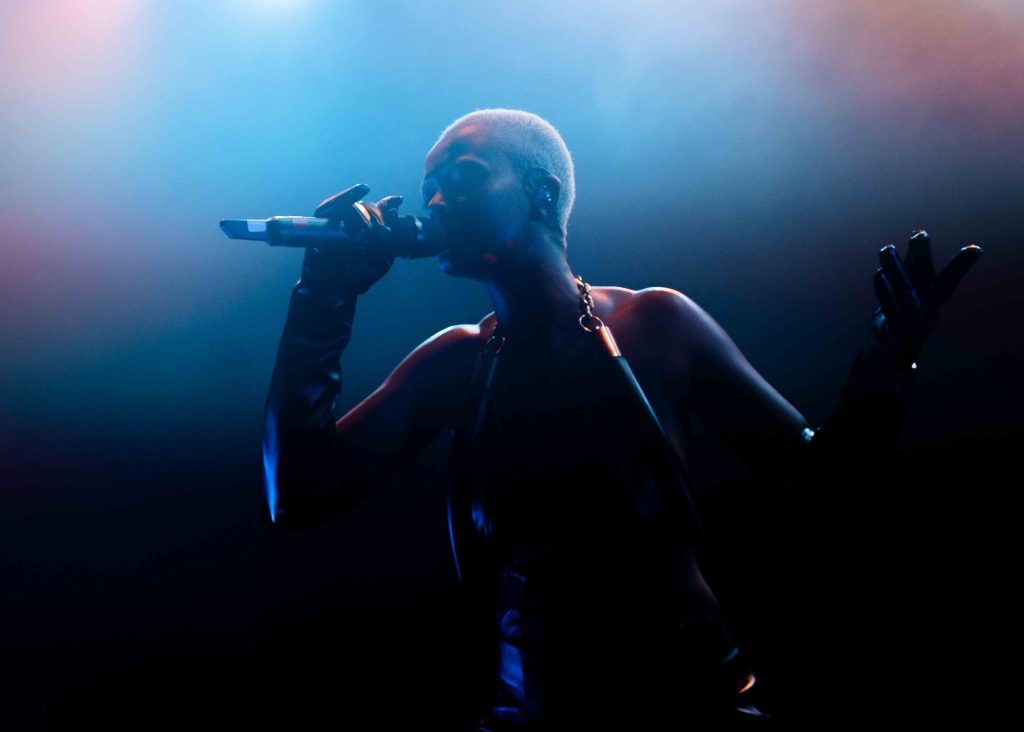 Behind the mic, she speaks for the first time expressing gratitude for her fan's half-a-decade patience and respecting her space to create new music at her own pace. Entirely shifting her focus in the wake of political unrest, the Black Lives Matter movement and 2020 lockdown Kelela stated "I started this process from the feeling of isolation and alienation I've always had as a Black femme in dance music, despite its black origins. 'Raven' (the album and track) is my first breath taken in the dark, an affirmation of Black femme perspective in the midst of systemic erasure and the sound of our vulnerability turned to power.'
She waxes lyrical "I felt like when my shit was changing, yet you all knew that I was doing whatever the fuck it was that I was supposed to be doing so that I could bring you that real shit." Cheers and snaps ensue as Kelela goes on "If I lost my voice, I still would be making art, and I feel like y'all muthafuckers would still be fucking with me. I just wanted to say thank you for that and for expressing that faith in me as a person, as an artist. I really appreciate it, and it's been such a pleasure to witness the community I've created. I want to reciprocate that and send love to ya'll, really, truly. The last thing I want to say is, like I feel like the connection rate at the Kelela show…." She flirts, "I hope you're going somewhere cosy after this, and you have a great night. Thank you so much."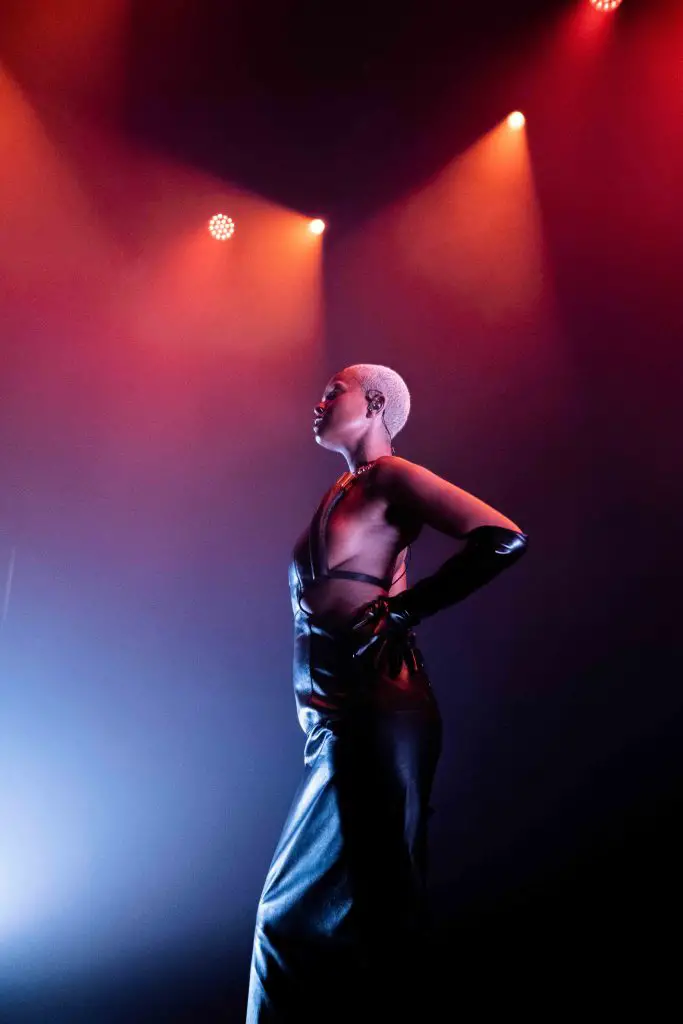 The lights go down and Kelela leaves no opportunity to come up for air as she takes the crowd to a climax.
She works her way up and down her back catalogue. First, pouring her wavey vocals into 'Let It Go' off the water-themed 'Raven' toward rippling octaves of 'Waitin' off her formative 2018 remix project 'Take Me a_Part, the Remixes' transcending into Kaytranada's flip, which propels the audience into vocal moans so loud they threaten to drown her out.
Under celestial white spotlights, she transfixes with a version of 'Raven' mixing heart-throbbing poetry with otherworldly conviction and an obliterating beat breakdown. Followed by erotic, sweat-soaked slow burns 'Bruises,' 'Sorbet' and 'Enough Love' under a dark crimson red light leading to a body-shaking vocal performance of "All the Way Down' that sends the audience into waves of ecstasy.