"Bitch I/ Said What I Said". So goes the opening hook of Doja Cat's fourth album, setting the tone for what might be her overall mantra for the year. Doused in a sticking red hue of knowing controversy, Doja has never exactly been an artist to censor her words, but in light of recent critique for both her social circle and 'satanist' aesthetic, the artists have doubled even more than usual, losing nearly 400,000 Instagram followers after calling her listeners 'creepy' and 'miserable'. Read as ungrateful and rude, endless calls have been made for her to apologise, but if 'Paint The Town Red' and 'Attention' are anything to go by, she's not planning on backing down yet.
In an age of parasocial relationships and impossibly high expectations, Doja may have something of a point, even if it's been harshly made. But to some degree of irony, 'Scarlet' is unlikely to draw her any less attention. In fact, it's about to send her stratospheric, catering to the kind of brash, punky It-girl rap that feels distinctly now.
Intentionally designed to prove that she can go toe-to-toe with any rapper, 'Scarlet' pleasantly subverts some of the more pop-centric hits of Doja's past two records, stuff that she has since describes as "cash grabs". 'Demons', an early standout, feels designed to cause chaos in moshpits and suburban car parks alike, doing doughnuts with its bass-busting, Ashnikko-esque delivery. As she enunciates her barbs with sweetly-spat precision — "I'm a puppet/I'm a sheep/I'm a cash cow" — it's not immediately clear if she's angry about the industry plant rumours or merely throwing back to the viral success of her breakthrough track 'Moo!', laughing it up at how impossibly far she's come. Either way, the perfectly-timed punchline-pause shows that she is totally aware of her perceptions, and willing to mine them in an attempt to prove how unlikely public criticisms are to knock her off her game.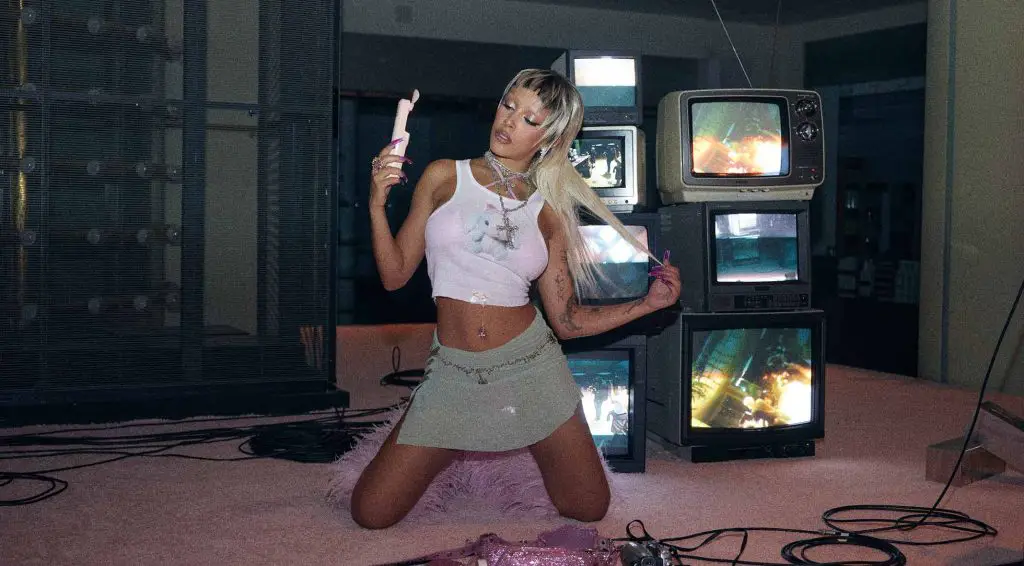 Elsewhere, she's similarly infallible. Whilst it's normally eye-rolling to compare women to male rappers, it would be remiss not to notice the similarities in delivery on '97' to that of Kendrick Lamar at his most playful, a loose jazz rap that allows her to swing between melodies like a prized gymnast, leaving a bloody trail in her wake. The 90s boom-bap of 'Fuck The Girls' feels old school and dirty, espousing the virtues of ditching your local girlgang — "I don't need 'em/ I'm too pretty". 'Shutcho', however, is pure seventies, throwing an inflatable ball of a beat into a sample of 10CC's beachfront dream ballad 'I'm Not In Love'. Like 'Paint The Town Red', it's an intriguing glimpse through musical history, allowing us to get a little closer to the artist by viewing her inspirations.
Of course, even the most confident of artists will have their missteps. At 17 tracks long, there are times when 'Scarlet' feels a touch flabby, relying broadly on a fairly narrow frame of lyrical self-congratulation and interchangeable fuck-the-haters synonyms. 'Wet Vagina' in particular is a little on the nose, and although that seems to be how she wants it — boasting about the skills she brings to both bedroom and boardroom, it embodies the very essence of SoundCloud rap, likely to do bits online. It's fun enough, but next to some of the more imaginative takes on contemporary hip-hop like 'Ouchies' and 'Balut', it's a little obvious, and very similar in vibe to the track that closes the record, the broadly unnecessary 'WYMFreestyle'. Thank god for 'Agora Hills', sung in chip-tune, palette-cleansing vocals, or 'Often', a flirty neo-soul swing which proves how well she can hold her own with the R&B girlies if and when so chooses. The latter track is intriguingly stacked next to 'Love Life', which at first presents like yet another dose of financially superior brag rap, pleased with the material riches that surround her. But as the song unfolds and the intensity builds, Doja gently — temporarily — pulls her guard back, admitting that this impenetrable attitude isn't always easy to maintain. Noting the simple things that thrill her — work flowing in, her mum cooking food, her team cooperating nicely — she speaks directly to her audience, wrestling any last sense of elephant out of the room. "I love it when my fans love change/that's how we change the game."
It's something of an olive branch, but also a reminder that if you're not willing to take it, it's only you who's losing out on one of the more dexterous rappers of our time. For better or worse, Doja Cat's devilish streak is going places, and she isn't waiting around for latecomers to catch up.