"I'm really quiet tonight, I think I have stage fright," Celeste murmurs midway through her second of five nights at London's Union Chapel. "But it's really nice to sing for other people and not just for myself in my bedroom."
Pre-pandemic, the American-British singer was on the kind of roll that seems like it must give you the biggest of confidence boosts – a BRITs Rising Star award, rapturously received shows and tipped across the board as a Next Big Thing. Now, like so many other artists who were gaining similar momentum early last year, she has to find her feet again – including some battles with stage fright.
When she's singing, you can barely tell Celeste is anything other than supremely self-assured. She doesn't move much around the stage, but there's hardly any room for that anyway with her backing band. Her voice is just as soulful and rich as it is on record, and she belts out the dramatic crescendos in her songs beautifully and with the kind of emotional oomph that draws the goosebumps up on your arms and sends tears filling up your eyes.
Opener 'Ideal Woman' is full of quiet strength, the singer accepting she might not be someone's "heaven in your head" but instructs them not to "mistake me/ For somebody who cares". Perhaps thanks to its live arrangement or just the venue's airy domes, 'Father's Son' sounds bigger, more affecting than the studio version, while 'Beloved' finds Celeste dropping her voice to a feathery, almost whispered croon, softly building back up to the power usually associated with her.
With a certain event of national importance unfolding on screens in nearby pubs, you might expect the audience tonight to be a little distracted. That couldn't be further from the truth, though; the socially distanced, seated crowd hanging on every word, note and chord. As each song ends, they uniformly erupt into rousing cheers that could rival the football-watchers across the country.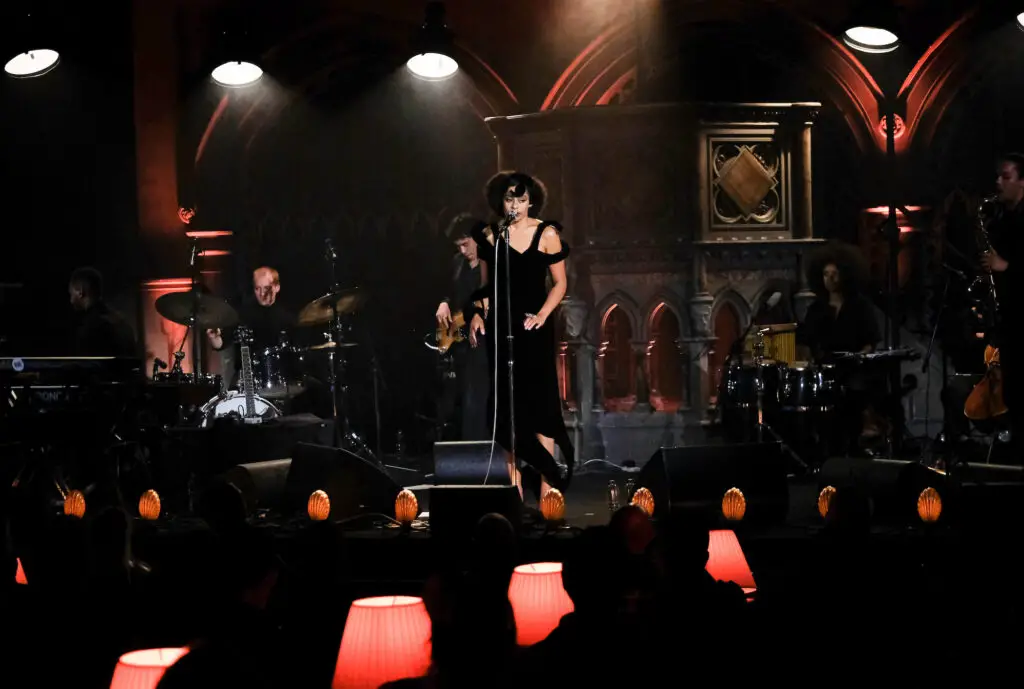 For the most part, Union Chapel is a scene of quiet calm. But when the upbeat, urgent single 'Stop The Flame' appears in the setlist, whole rows stand up and start grooving along to it. "It's nice to see people moving around," Celeste says after, a broad grin on her face. "I wish you could all do that, not just the rebellious ones."
As if to make her wish come true, sections of the audience pop up again and again for the songs that warrant it, like the swaying melody of 'Tell Me Something I Don't Know'. It's heartening to see after so long having to consume our live music through screens, but it's the dynamic between these moments and the hushed clutches of stillness, like the poignant, sparse 'Strange', that make this show special.
After the briefest of encores, Celeste returns to the stage for one more song, the unreleased 'This Is Who I Am'. It's the perfect example of what the star does best – classic, timeless, soulful pop filled with tension and emotion. "No lie, know that/ This is who I am," she sings in its final lines. If these shows are Celeste's reintroduction to the world, it's the perfect ending – one that signals she'll have no trouble picking up right where she left off.
Celeste played:
'Ideal Women'
'Lately'
'Both Sides Of The Moon'
'Father's Son'
'Tonight Tonight'
'Beloved'
'The Promise'
'Stop This Flame'
'Tell Me Something I Don't Know'
'Some Goodbyes Come With Hellos'
'Love Is Back'
'A Kiss'
'Not Your Muse'
'Strange'
'This Is Who I Am'
'Celeste: On With The Show, Live from London' will be available to stream on-demand from Thursday 15 July via LIVENow. Tickets are on sale: www.live-now.com