ARE YOU READY? There's a new Foo Fighters album on the way and we finally have some detail about what we can expect.
What's the new Foo Fighters record called?
Foo Fighters' tenth album will be called 'Medicine at Midnight'.
The album title and first single were revealed on Saturday Night Live, on 7 November 2020, with the band giving second album track (and first single) 'Shame Shame' a debut airing to the public.
What's the release date of 'Medicine At Midnight'
FF10, 'Medicine At Midnight', will be released on February 5 2021. This is almost a year after its intended release date – with COVID putting pause to year's worth of events and releases for Foo Fighters that would have marked their twenty-fifth anniversary as a band.
What songs have we heard from 'Medicine At Midnight'
So far, just the groovy 'Shame Shame' – which marks a change in tack for Foo Fighters. The single is a dancier number than fans of the stadium rock group may have been expecting. Dave Grohl reportedly listened to a lot of Prince and 'Let's Dance' era David Bowie while making the record which has inspired the band's new direction.
"We want to keep doing this for another 25 years," Grohl recently told Radio X of his decision to go down a different path with this new album, stating it's important to keep things interesting.
As for the record as a whole, a number of journalists – this one included – were given an early pre-COVID listen to the record back in March. While our memories are a little hazy of anything pre-COVID, we can certainly say that 'Shame Shame' is a sign of what's to come.
Grohl and drummer Taylor Hawkins, have also reported the use of drum loops on the record – something new for the band, who have been play-your-instrument purists until now.
On Wednesday 11 November, the band dropped the video to 'Shame Shame' which sees Dave bring to life a reoccurring dream he had of a burning coffin atop a hill. With help from dancer, Sofia Boutella, the video is a moodier, darker aesthetic from the often jovial band.
What about The Foo Fighters Van Tour?
As part of their 25th anniversary, Foo Fighters had scheduled a 2020 Van Tour: a drive around the country in their original touring van from 1995, making the same stops as their first tour.
COVID saw the band reschedule the tour from May to October but with COVID still rife around the US, it has now been indefinitely postponed. But we're certain, Foo Fighters will be back touring as soon as it's safe to do so. Watch this space for more info.
For fans missing the energy of a Foo Fighters live show, the band are performing a livestreamed concert from Los Angeles' legendary bar, The Roxy, on Saturday 14 November 2020.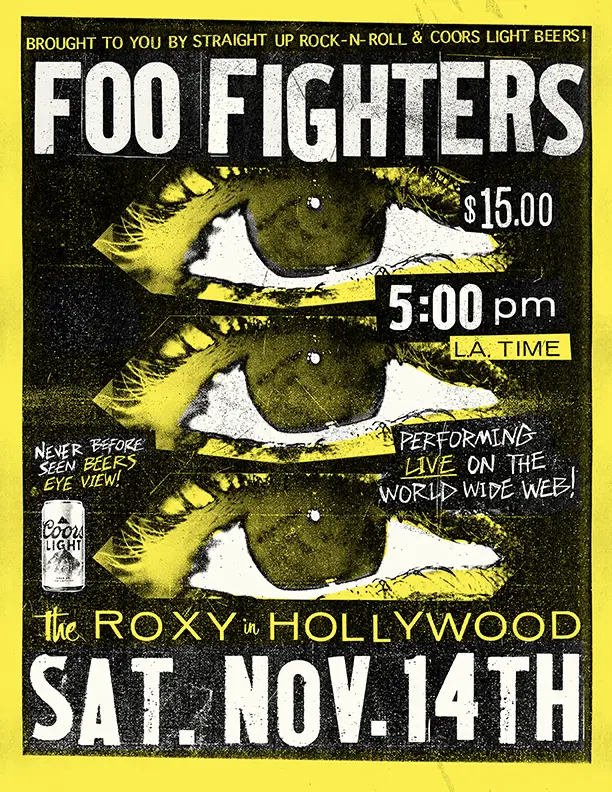 Tickets are on-sale now at $15 and the show is available to watch for 48 hours after its stream time.