A green velvet suit. A collar that could poke your eye out. A blonde bob blinking under kaleidoscopic disco lights. You've not tuned into an old rerun of Top of the Pops on BBC Four; this is St. Vincent's latest music video for 'Pay Your Way In Pain'. She's a Cassavetes anti-heroine with an elaborate and claustrophobic tapestry of funk and glam rock; a Woman Under the Influence of Bowie and Prince and everyone in between.
Only a channel flick away is the retro R&B masterclass, 'Leave The Door Open' from the upcoming record 'An Evening With Silk Sonic'. In everything from the heavenly 7th chords to the studio where the music video was shot, the deliciously smooth first offering from Bruno Mars and Anderson .Paak's collaborative project is pure Hitsville, USA – a lost recording session sandwiched between The Commodores and Marvin Gaye.
Released in the space of two days, these two tracks are the musical equivalent of shag carpets and bell bottoms; so unequivocally 70s that it feels patronising to even point out the likeness. Couple this with the already well-documented disco revival of 2020 that saw the likes of Jessie Ware, Dua Lipa, and Kylie take pilgrimages to Studio 54, and you start to wonder whether there might be a fully-fledged 70s revival brewing.
Disco and funk have been revived plenty of times before, of course. In fact, it's been less than ten years since our last bout: who could forget the heady days of 2013 where it was nigh-on impossible to walk into a club, Topshop or chicken shop without being serenaded by Nile Rodgers' guitar riff on Daft Punk's 'Get Lucky'? For St. Vincent and Silk Sonic, their genre references are so on the nose – more than the odd cowbell or four-on-the-floor drumbeat – that they border on parody; even if it is deeply sophisticated parody borne out of respect.
It goes beyond the musical similarities, too: 'An Evening With Silk Sonic' is a record dressed up as an event, with Parliament-Funkadelic's legendary Bootsy Collins serving as MC and turning the project into pastiche with a co-sign from one of the heroes of the era. When the Silk Sonic duo performed at this year's Grammys, complete with matching flared suits and synchronised Soul Train dance moves, it only brought their brilliantly anachronistic style into even sharper focus. Meanwhile, the 'Pay Your Way In Pain' dance moves – the kind of antics that would make anyone other than the perilously cool Annie Clark look like a drunken uncle at a wedding – are a deliberate wink at the audience. Then there's a literal wink whenever Anderson .Paak turns to break the fourth wall and deliver a line like "I'm sippin' wine (Sip, sip) / in a robe (Drip, drip)" with his megawatt grin. The knowing lyrics of 'Leave The Door Open' hark back to an era of "rose petals in the bathtub," where slow jams were mass seduction rather than cringe. Not many listen to Marvin Gaye's 'Let's Get It On' sincerely in 2021 but when it was released 50 years ago, the song was an anthem for sexual liberation. 
St. Vincent with her sleaze and Silk Sonic with their schmaltz take their campy nostalgia for the 70s far enough that it circles back around to cool again. Even the album's title – 'Daddy's Home' – is absurdly brilliant, steeped in connotations of queerness as well as debauchery: "The title makes me laugh. It sounds fucking pervy as hell," Annie said in our March cover story. There are moments on 'Leave The Door Open', through the purple haze of all this irony, that trigger something suspiciously close to goosebumps; notably, when Bruno sails into the pre-chorus with a clean and bright "every word that I say is coming straight from the heart," vocal harmonies and orchestral strings swelling around him. Everything about the arrangement should be cheesy but the combination of self-awareness and carefully curated nostalgia manages to override that cynicism switch. It's safe to be corny: it's the 70s after all.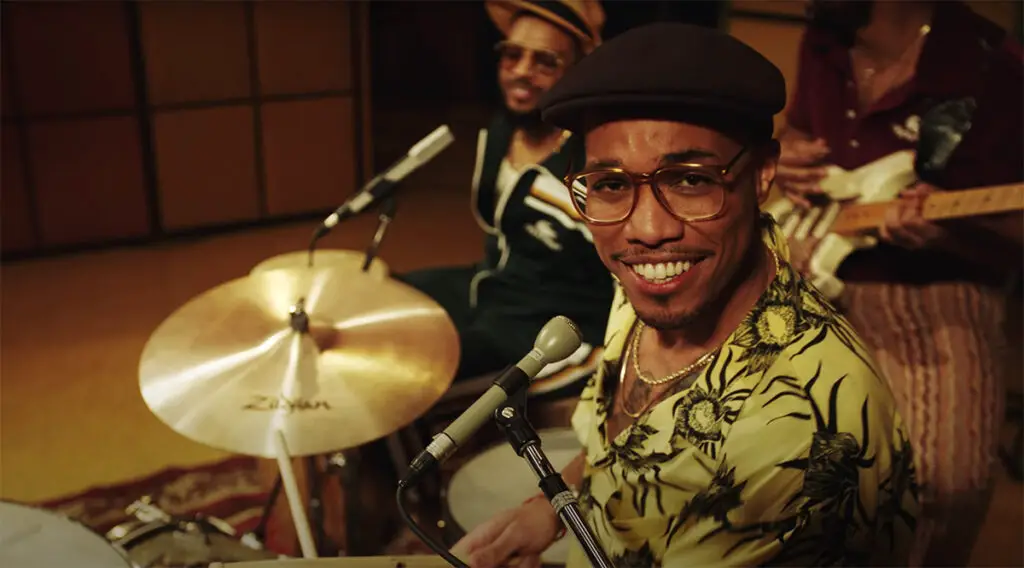 Nostalgia is a memory game even if you're heading back to a time you never lived through. It can be the Motown records your mum would tap her feet along to in the car when you were a kid or the Bowie picture disc your dad would treasure before you'd recognise it as anything other than a knick-knack. The resurgence in disco's popularity last year was universally attributed to our longing for the dance floors of the recent past, but what if it's also down to a yearning for comfort music and family: the unfashionable earnestness of retro-soul or the unbridled joy of a disco tune.
If we are bringing back the 70s in earnest, are we also prepared to reckon with the racism of that time and of this one? The overwhelmingly white music industry profited from Black talent and innovation then and it continues to profit now. Neither Silk Sonic nor St. Vincent have shied away from recognising the Black trailblazers that influenced their sound. During a conversation on The Breakfast Club radio show, Bruno Mars, who has Filipino and Puerto Rican heritage, responded to the "cultural thief" accusations that are sometimes levelled at him: "the only reason why I'm here is because of James Brown, Prince, Michael [Jackson]…this music comes from love. If we as musicians can't learn from the guys who have come before us, why did they do it?" During a Twitter Q&A, St. Vincent claimed Stevie Wonder's classic period of the early 70s was the biggest inspiration for 'Daddy's Home'.
Is it enough for artists to recognise and pay homage? In the case of disco, it's impossible to explore its revival without considering why the genre died in the first place. While the figures of the "disco sucks" backlash claimed it was never driven by racism or homophobia, the notorious Disco Demolition Night in 1979 was a symbolic piece of evidence to the contrary: when the Chicago White Sox offered discounted entry to a baseball game if you brought a disco record for shock jock Steve Dahl to blow up, crowds soon turned up with soul, funk and R&B records as well, as though disco was a dog whistle for 'any music by Black artists'. Despite the likes of Doja Cat making a disco splash with 'Say So', it's telling that the most prominent faces of 2020's disco revival are white. When Victoria Monét, a Black queer woman, dropped her magnificent yet criminally overlooked 'Experience ft. Khalid and SG Lewis' on Juneteenth, she characterised the track as a protest song, designed to "highlight and celebrate Black joy and love". The need for protest and recognition is still as urgent today as it was during the 1970s.
Pop music is caught in a perpetual state of future nostalgia: it eats itself and reinvents itself, and we hope, in vain, that it learns not to repeat the mistakes of its past. It's much too early to declare 2021 "the year of the 70s throwback" but the groundwork is certainly there. The subsequent music won't all be as obviously indebted to the past as Dua Lipa, St. Vincent or Silk Sonic; as clear cut as straight funk, soul, or disco, but our contemporary listening habits seem to be increasingly guided by mood and vibe, rather than arbitrary genre. The biggest song of last year, The Weeknd's 'Blinding Lights', certainly dabbles with a 70s palette but its coke-fuelled aesthetic and driving forces – a Flashdance drumbeat and a synth riff straight out of a-ha's 'Take On Me' – are quintessential 80s. Are the next Pink Floyd waiting in the wings? Is there a seminal folk record like Joni Mitchell's 'Blue' ready to be recorded in quarantine? We'll just have to stay tuned to the retro TV set.