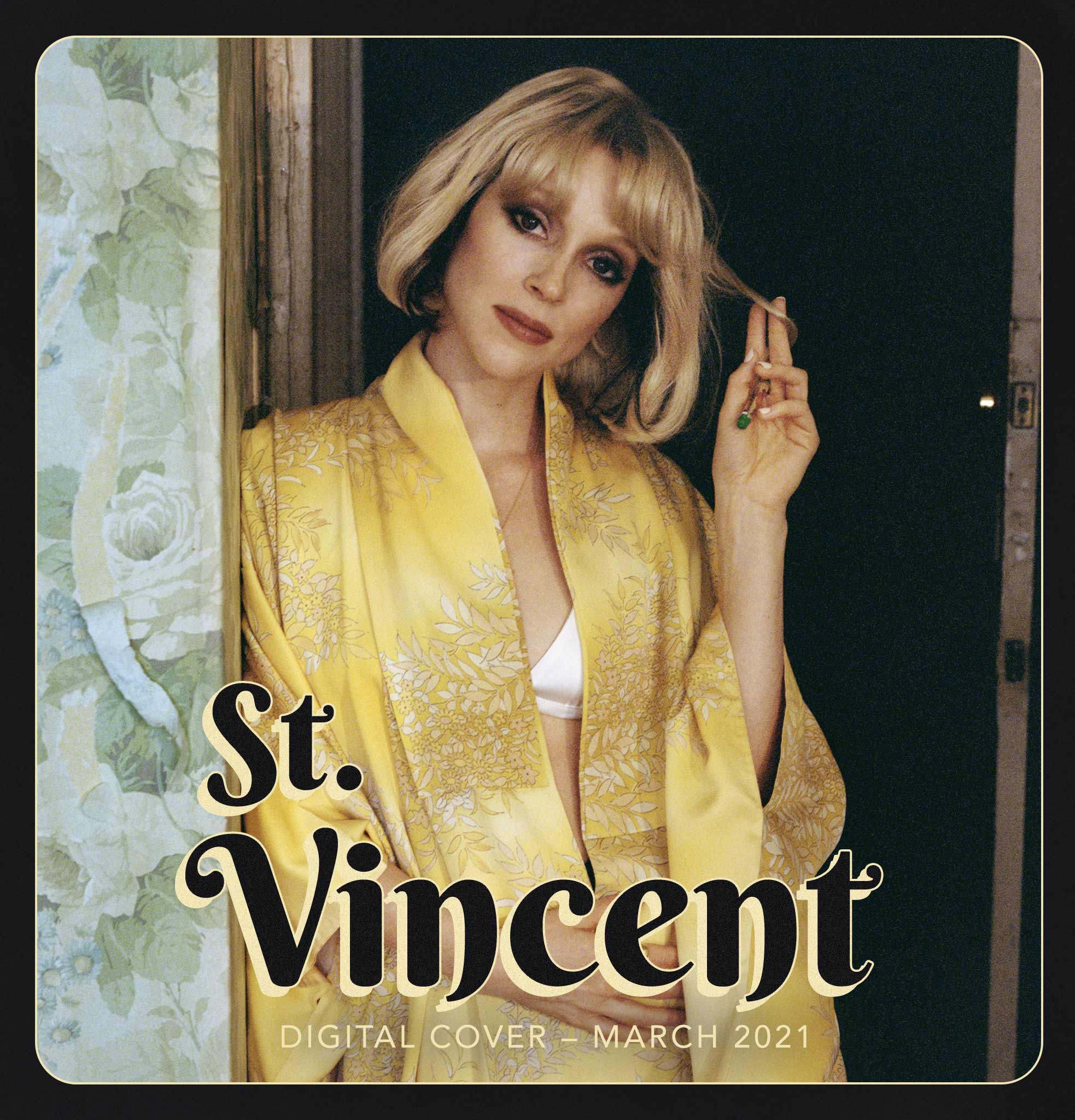 St. Vincent
---
Sleazy, gritty, grimy – these are the words used to describe the latest iteration of St. Vincent, Annie Clark's alter ego. As she teases the release of her upcoming new album, 'Daddy's Home', Eve Barlow finds out who's wearing the trousers now.
Photos: Zackery Michael
---
Yellow may be the colour of gold, the hue of a perfect blonde or the shade of the sun, but when it's too garish, yellow denotes the stain of sickness and the luridness of sleaze. On 'Pay Your Way In Pain' – the first single from St. Vincent's forthcoming sixth album 'Daddy's Home' – Annie Clark basks in the palette of cheap 1970s yellows; a dirty, salacious yellow that even the most prudish of individuals find difficult to avert their gaze from. It's a yellow that recalls the smell of cigarettes on fingers, the tape across tomorrow's crime scene or the dull ache of bad penetration.
The video for the single, which dropped last Thursday, features Clark in a blonde wig and suit, channeling a John Cassavetes anti-heroine (think Gena Rowlands in Gloria) and 'Fame'-era Bowie. She twists in front of too-bright disco lights. She roughs up her voice. She sings about the price we pay for searching for acceptance while being outcast from society. "So I went to the park just to watch the little children/ The mothers saw my heels and they said I wasn't welcome," she coos, and you immediately recognise the scene of a free woman threatening the post-nuclear families aspiring to innocence. Clark is here to pervert them.
She laughs. "That's how I feel!" From her studio in Los Angeles, she begins quoting lyrics from Jimi Hendrix's 'Red House'. "It's a blues song for 2021." LA is a city Clark reluctantly only half calls home, and one that is opposed to her vastly preferred New York. "I don't feel any romantic attachment to Los Angeles," she says of the place she coined the song 'Los Ageless' about on 2017's 'Masseduction' ("The Los Ageless hang out by the bar/ Burn the pages of unwritten memoirs")."The best that could be said of LA is, 'Yeah it's nice.' And it is! LA is easy and pleasant. But if you were a person the last thing you'd want someone to say about you is: 'She's nice!'"
On 'Daddy's Home', Clark writes about a past derelict New York; a place Los Angeles would suffocate in. "The idea of New York, the art that came out of it, and my living there," she says. "I've not given up my card. I don't feel in any way ready to renounce my New York citizenship. I bought an apartment so I didn't have to." Her down-and-out New York is one a true masochist would love, and it's sleazy in excess. Sleaze is usually the thing men flaunt at a woman's expense. In 2021, the proverbial Daddy in the title is Clark. But there's also a literal Daddy. He came home in the winter of 2019.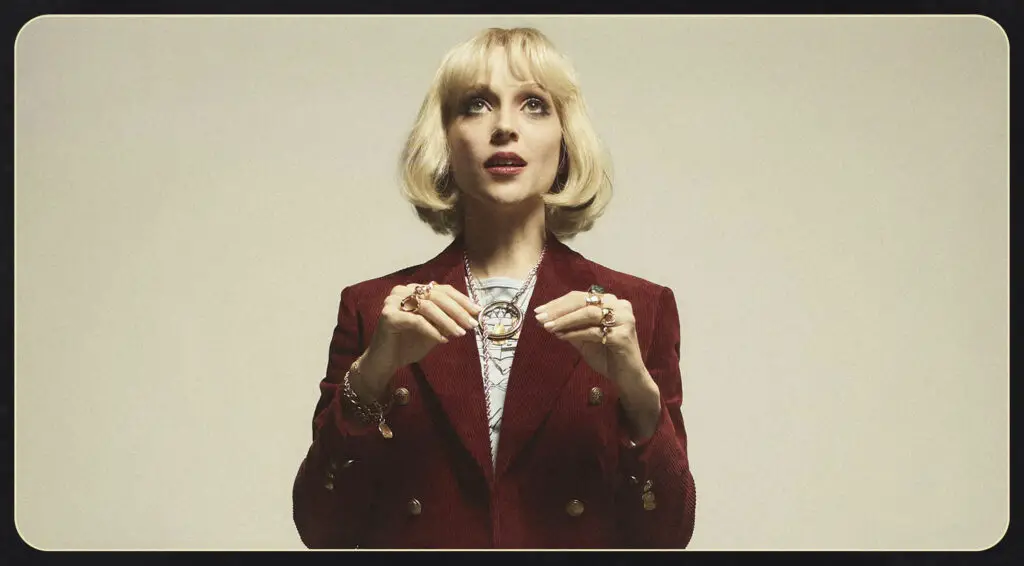 On the title track, Clark sings about "inmate 502": her father. He was sentenced to 12 years in prison for his involvement in a $43m stock fraud scheme. He went away in May 2010. Clark reacted by writing her third breakthrough album 'Strange Mercy' in 2011; inspired not just by her father's imprisonment but the effects it had on her life."I mean it was rough stuff," she says. "It was a fuck show. Absolutely terrible. Gut-wrenching. Like so many times in life, music saved me from all kinds of personal peril. I was angry. I was devastated. There's a sort of dullness to incarceration where you don't have any control. It's like a thud at the basement of your being. So I wrote all about it," she says.
Back then, she was aloof about meaning. In an interview we did that year, she called from a hotel rooftop in Phoenix and was fried from analytical questions. She excused her lack of desire to talk about 'Strange Mercy' as a means of protecting fans who could interpret it at will. Really she was protecting an audience closer to home. It's clear now that the title track is about her father's imprisonment ("Our father in exile/ For God only knows how many years"). Clark's parents divorced when she was a child, and they have eight children in their mixed family, some of whom were very young when 'Strange Mercy' came out. She explains this discretion now as her method of sheltering them.
"I am protective of my family," she says. "It didn't feel safe to me. I disliked the fact that it was taken as malicious obfuscations. No." Clark wanted to deal with the family drama in art but not in press. She managed to remain tight-lipped until she became the subject of a different intrusion. As St. Vincent's star continued to rocket, Clark found herself in a relationship with British model Cara Delevingne from 2014 to 2016, and attracted celebrity tabloid attention. Details of her family's past were exposed. The Daily Mail came knocking on her sister's door in Texas, where Clark is from.
"Luckily I'm super tight with my family and the Daily Mail didn't find anybody who was gonna sell me out," she says. "They were looking for it. Clark girls are a fucking impenetrable force. We will cut a bitch."
---
---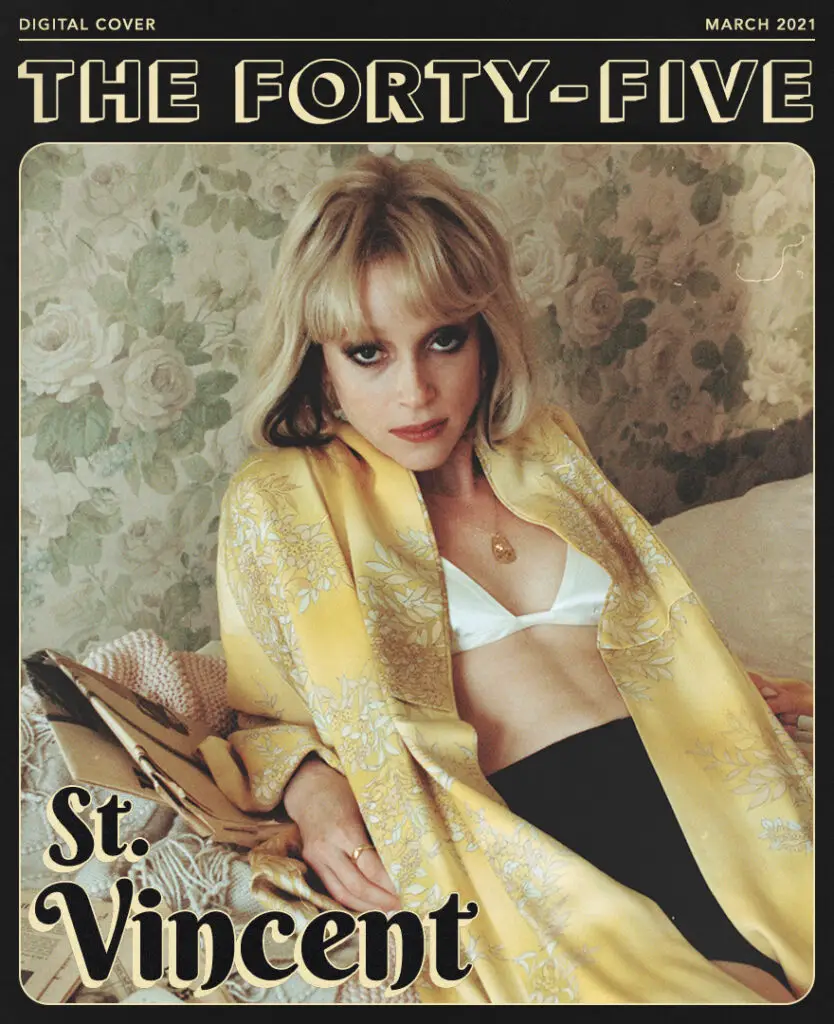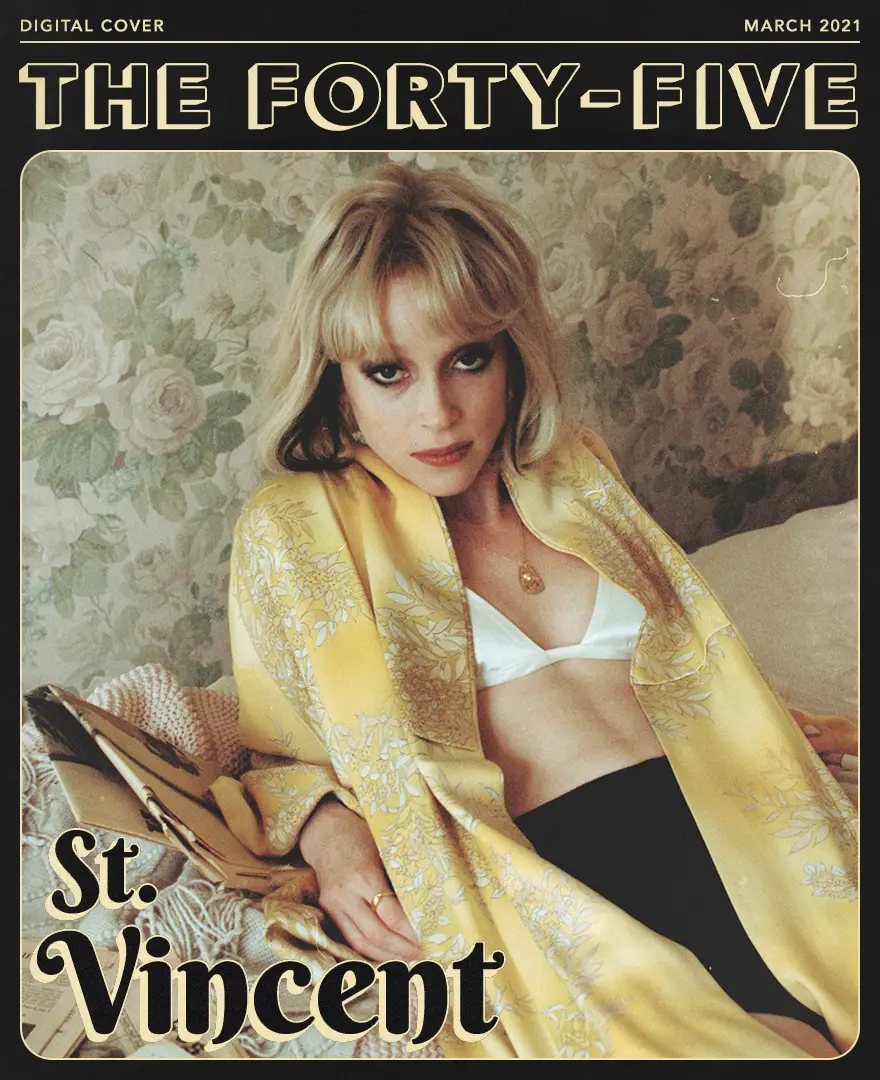 Four years later, Clark gets to own the narrative herself in the medium that's most apt: music. "The story has evolved. I've evolved. People have grown up. I would rather be the one to tell my story," she says, ruminating on the misfortune that this was robbed from her: a story that writes itself. "My father's release from prison is a great starting point, right?" Between tours and whenever she could manage, Clark would go and visit him in prison and would be signing autographs in the visitation room for the inmates, who all followed her success with every album release, press clipping and late night TV spot. She joked to her sisters that she'd become the belle of the ball there. "I don't have to make that up," she says.
There's an ease to Clark's interview manner that hasn't existed before. She seems ready not just to discuss her father's story, but to own certain elements of herself. "Hell where can you run when the outlaw's inside you," she sings on the title track, alluding to her common traits with her father. "I've always had a relationship with my dad and a good one. We're very similar," she says. "The movies we like, the books, he liked fashion. He's really funny, he's a good time." Her father's release gave Clark and her brothers and sisters permission to joke. "The title, 'Daddy's Home' makes me laugh. It sounds fucking pervy as hell. But it's about a real father ten years later. I'm Daddy now!"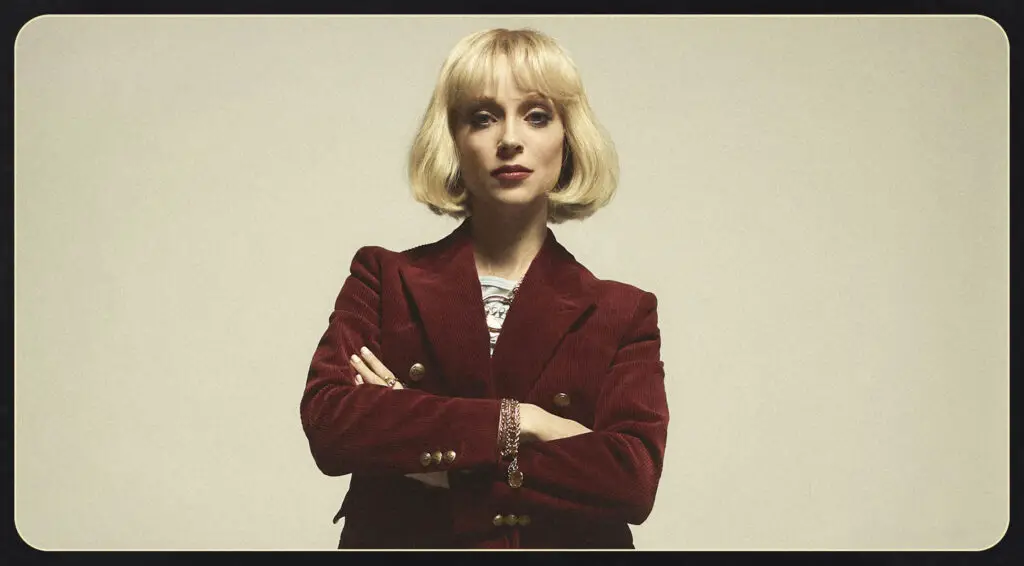 The question of who's fathering who is a serious one, but it's also not serious. Clark wears the idea of Daddy as a costume. She likes to play. She joins today's Zoom in a pair of sunglasses wider than her face and a silk scarf framing her head. The sunglasses come off, and the scarf is a tool for distraction. She ties it above her forehead, attempts a neckerchief, eventually tosses it aside. Clark can only be earnest for so long before she seeks some mischief. She doesn't like to stay in reality for extensive periods. "I like to create a world and then I get to live in it and be somebody new every two or three years," she says. "Who wants to be themselves all the time?"
---
---
'Daddy's Home' began in New York at Electric Lady studios before COVID hit and was finished in her studio in LA. She worked on it with "my friend Jack" [Jack Antonoff, producer for Lana Del Rey, Lorde, Taylor Swift]. Antonoff and Clark worked on 'Masseduction' and found a winning formula, pushing Clark's guitar-orientated electronic universe to its poppiest maximum, without compromising her idiosyncrasies. "We're simpatico. He's a dream," she says. "He played the hell outta instruments on this record. He's crushing it on drums, crushing it on Wurlitzer." The pair let loose. They began with 'The Holiday Party', one of the warmest tracks Clark's ever written. It's as inviting as a winter fireplace, stoked by soulful horns, acoustic guitar and backing singers. "Every time they sang something I'd say, 'Yeah but can you do it sleazier? Make your voice sound like you've been up for three days." Clark speaks of an unspoken understanding with Antonoff as regards the vibe: "Familiar sounds. The opposite of my hands coming out of the speaker to choke you till you like it. This is not submission. Just inviting. I can tell a story in a different way."
The entire record is familiar, giving the listener the satisfaction that they've heard the songs before but can't quite place them. It's a satisfying accompaniment to a pandemic that encouraged nostalgic listening. Clark was nostalgic too. She reverted to records she enjoyed with her father: Stevie Wonder's catalogue from the 1970s ('Songs In The Key Of Life', 'Innervisions', 'Talking Book') and Steely Dan. "Not to be the dude at the record store but it's specifically post-flower child idealism of the '60s," she explains. "It's when it flipped into nihilism, which I much prefer. Pre disco, pre punk. That music is in me in a deep way. It's in my ears."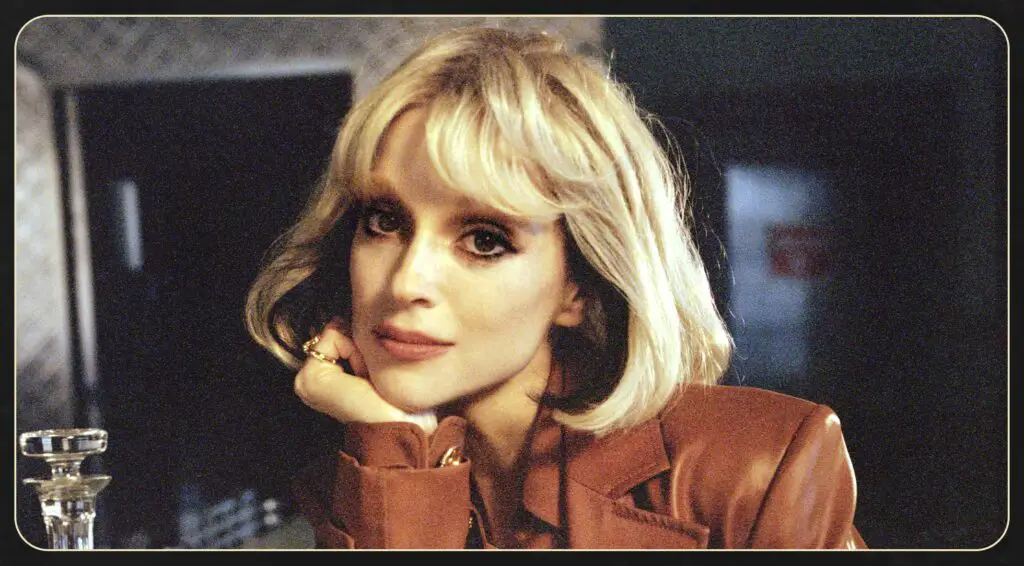 On 'The Melting Of The Sun' she has a delicious time creating a psychedelic Pink Floyd odyssey while exploring the path tread by her heroes Marilyn Monroe, Joni Mitchell, Joan Didion and Nina Simone. It's a series of beautiful vignettes of brilliant women who were met with a hostile environment. Clark considers what they did to overcome that. "I'm thanking all these women for making it easier for me to do it. I hope I didn't totally let them down." Clark is often the only woman sharing a stage with rock luminaries such as Dave Grohl, Damon Albarn and David Byrne, and has appeared to have shattered a male-centric glass ceiling. She's unsure she's doing enough to redress the imbalance. "There are little things I can do and control," she says of hiring women on her team. "God! Now I feel like I should do more. What should I do? It's a big question. You know what I have seen a lot more from when I started to now? Girls playing guitar."
If one woman reinvented the guitar in the past decade, it's Clark. Behind her is a rack of them. The pandemic has taken her out of the wild in which she's accustomed to tantalising audiences at night with her displays of riffing and heel-balancing. Instead, she's chained to her desk. Her obsession with heels in the lyrics of 'Daddy's Home' she reckons may be a reflection of her nights performing 'Masseduction' in thigh highs. "I made sure that nothing I wore was comfortable," she recalls. "Everything was about stricture and structure and latex. I had to train all the time to make sure I could handle it." Is she taking the heels off when live shows return? "Absofuckinglutely not."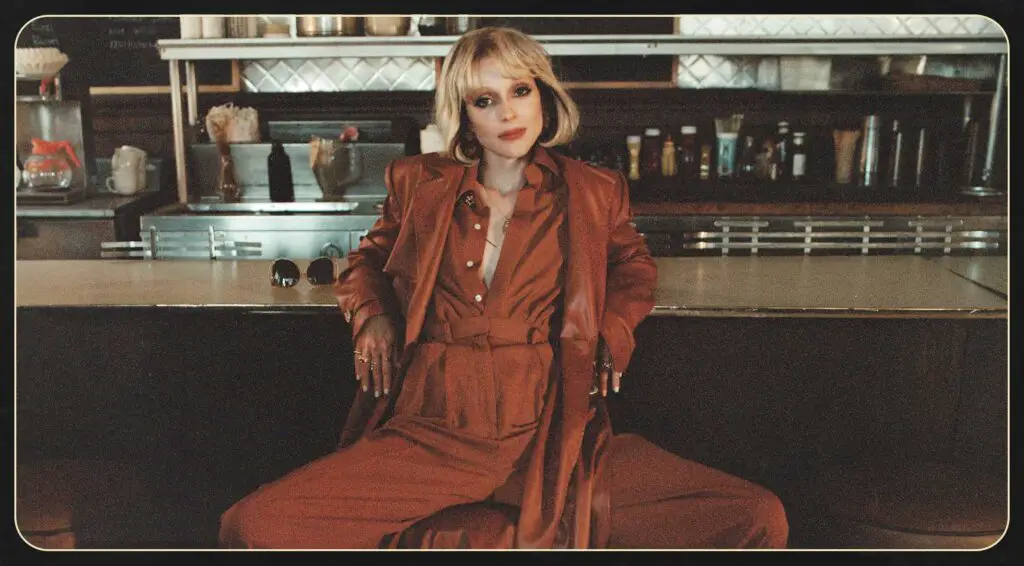 Clark is interested in the new generation. She's recently tweeted about Arlo Parks and has become a big fan of Russian singer-songwriter Kate NV. "I'm obsessed with Russia," she says. In a recent LA Times profile, she professed to a pandemic intellectual fixation on Stalin. "Yeah! I mean right now my computer is propped up on stuff. You are sitting on The Gulag Archipelago, The Best Short Stories Of Dostoyevsky andThe Plays Of Chekhov. I'm kinda in it." The pop world interests Clark, too. She was credited with a co-write on Swift's 2019 album 'Lover'. At last year's Grammys she performed a duet with Dua Lipa. It was one of the queerest performances the Grammys has ever aired. Clark interrupts.
"What about it seemed queer?!"
You know… The lip bite, for one!
"Wait. Did she bite her lip?"
No, you bit your lip.
"I did?!"
Everyone was talking about it. Come on, Annie.
"Serious? I…"
You both waltzed around each other with matching hairdos, making eyes…
"I have no memory of it."
Frustrating as it may be in a world of too much information, Clark's lack of willingness to overanalyse every creative decision she makes or participates in is something to treasure. "I want to be a writer who can write great songs," she says. "I'm so glad I can play guitar and fuck around in the studio to my heart's desire but it's about what you can say. What's a great song? What lyric is gonna rip your guts open. Just make great shit! That's where I was with this record. That's all I wanna do with my life."
More than a decade into St. Vincent, Clark doesn't reflect. She looks strictly forward. "I'm like a horse with blinders," she says. She did make an exception to take stock lately when the phone rang. "I saw a +44 and that gets me excited," she says. "Who could this be?" Well, who was it? "Paul McCartney," she says, in disbelief. "Anything I've done, any mistake I've made, somehow it's forgiven, assuaged. I did something right in my life if a fucking Beatle called me."
Now there's a get out of jail free card if ever she needed one.
Daddy's Home by St. Vincent is out May 14, 2021.
---
Like what we do? Support The Forty-Five's original editorial with a monthly Patreon subscription. It gets you early access to our Cover Story and lots of other goodies – and crucially, helps fund our writers and photographers.
Become a Patron!