Beyoncé has now become the most decorated singer in Grammy history after winning four awards at the 2021 ceremony to bring her total up to 28.
"I wanted to uplift, celebrate and encourage all the beautiful Black queens and kings that continue to inspire me and inspire the whole world," she said upon accepting the award for Best R&B Performance for 'Black Parade. Beyoncé's Grammy success is already being repeated by the next generation, too, as nine-year-old Blue Ivy Carter became the second-youngest Grammy winner ever for her role in the 'Brown Skin Girl' music video.
Music's biggest night, hosted by The Daily Show's Trevor Noah, featured socially-distant performances from Taylor Swift, Dua Lipa, Haim, Cardi B, Doja Cat, and BTS. Harry Styles and Dua Lipa took home their first Grammys, winning Best Pop Performance for 'Watermelon Sugar' and Best Pop Album award for 'Future Nostalgia' respectively.
At her first-ever Grammy ceremony, Megan Thee Stallion went away with three awards: two for the 'Savage' remix featuring Beyoncé and one for the coveted Best New Artist title. The other big awards of the night went to Billie Eilish for 'Everything I Wanted' (Record of the Year) and H.E.R. for the Black Lives Matter protest track 'I Can't Breathe' (Song of the Year).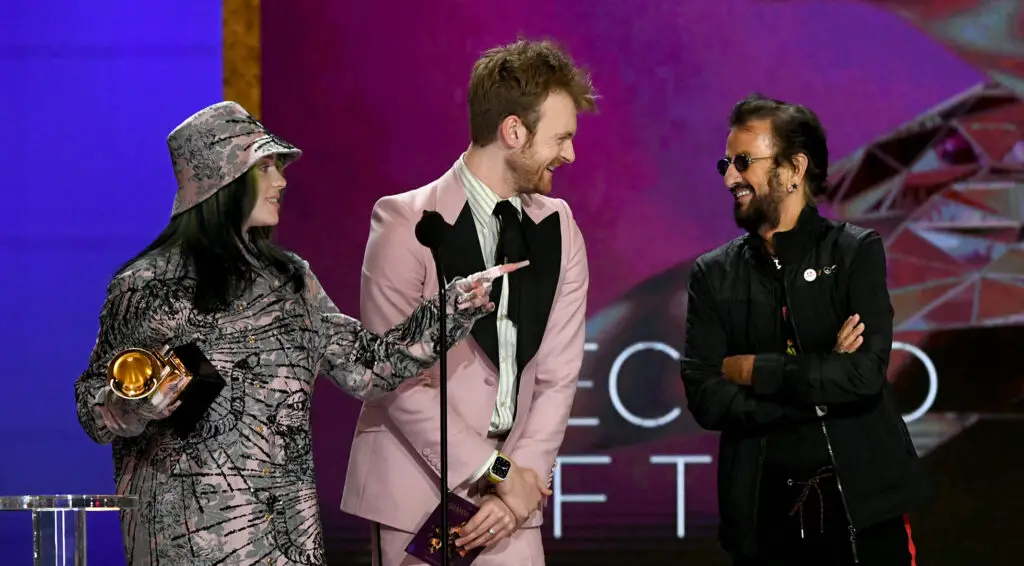 Elsewhere, Taylor Swift became the first female artist ever to win Album of the Year three times, after picking up a trophy for 'folklore'. Swift dedicated the award to her fans: "You guys met us in the imaginary world we created and we can't tell you how honoured we are." Haim, who were up for the same award for 'Women in Music Part III', were later seen celebrating with Swift on the red carpet.
Meanwhile, Elton John must be dusting off his boxing gloves as Phoebe Bridgers, who glammed up her classic skeleton look for the ceremony, went home with nothing to show for her four nominations. While interviewing Bridgers on his Apple Music show Rocket Hour, the 'Saturday Night's Alright for Fighting' legend vowed to "hit someone" if she didn't win at least one Grammy. Someone keep an eye out…
Fiona Apple, who was noticeably absent from the ceremony, picked up two Grammys on the night, with 'Fetch The Bolt Cutters' winning Best Alternative Album over Bridgers' 'Punisher' and 'Shameika' winning for Best Rock Performance. In a video shared on Twitter, Apple explained that she was not skipping the Grammys in protest but rather to preserve her sobriety: "Even though I have problems with the Grammys, it's just really because I don't want to be on national television. I'm just not made for that kind of stuff anymore. I want to stay sober, and I can't do that sober."
Grammy winners 2021
Record of the Year: Billie Eilish – 'everything i wanted'
Album of the Year: Taylor Swift – 'folklore'
Song of the Year: H.E.R – 'I Can't Breathe'
Best New Artist: Megan Thee Stallion
Best Pop Vocal Album: Dua Lipa – 'Future Nostalgia'
Best Pop Solo Performance: Harry Styles – 'Watermelon Sugar'
Best Pop Duo/Group Performance: Lady Gaga, Ariana Grande – 'Rain on Me'
Best Alternative Music Album: Fiona Apple – 'Fetch The Bolt Cutters'
Best Rock Album: The Strokes – 'The New Abnormal'
Best Rock Song: Brittany Howard – 'Stay High'
Best Rock Performance: Fiona Apple – 'Shameika'
Best R&B Song: Robert Glasper – 'Better Than I Imagined feat. H.E.R. & Meshell Ndegeocello'
Best R&B Performance: Beyoncé – 'Black Parade'
Best Progressive R&B Album: Thundercat – 'It Is What It Is'
Best Rap Performance: Megan Thee Stallion – 'Savage ft. Beyoncé'
Best Rap Song: Megan Thee Stallion – 'Savage ft. Beyoncé'
Best Dance/Electronic Album: Kaytranda – 'Bubba'
Best Music Video: 'Brown Skin Girl' – Beyoncé, Saint Jhn & Wizkid featuring Blue Ivy Carter