Despite a huge Grammy snub earlier this year, it was indisputably The Weeknd's night at the 2021 Billboard Music Awards with the singer sweeping ten categories including Top R&B Album, Top Hot 100 Artist and Top Artist. The Canadian is now the fifth most decorated artist in Billboard Music Award history, behind Drake (29), Taylor Swift (25), Justin Bieber (21) and Garth Brooks (20).
The 31st Billboard Music Awards ceremony, hosted by Nick Jonas, took place in the L.A. Live complex in Los Angeles on Sunday (May 23). As well as being the biggest winner on the night, The Weeknd also pulled off yet another elaborate live performance, following his Super Bowl halftime show and stormy display at this year's BRIT awards. His performance of 'Save Your Tears' transformed a simple car park into a Busby Berkeley-esque spectacle with choreographed sport cars and lorries dancing around him.
"I'd like to thank God that I don't have to wear that red suit anymore," he joked during a later acceptance speech. "The 'After Hours' are done, and the dawn is coming."
Elsewhere in live performances, K-Pop giants BTS debuted their new single 'Butter', complete with the group's distinctive slick choreography. BTS didn't go home empty-handed either, picking up four awards for Top Duo/Group, Top Song Sales Artist, Top Social Artist and Top Selling Song ('Dynamite').
Billboard's prestigious Artist of the Decade accolade was given to Drake, who accepted the award with three-year-old son Adonis in tow. During his acceptance speech, Drake touched on his insecurities and expressed disbelief that he'd ever made it this far: "For anyone who's watching this that's wondering how this happened, you know that's really the answer. It's being so unsure of how you're getting it done that you just kind of keep going in the hopes of figuring out the formula."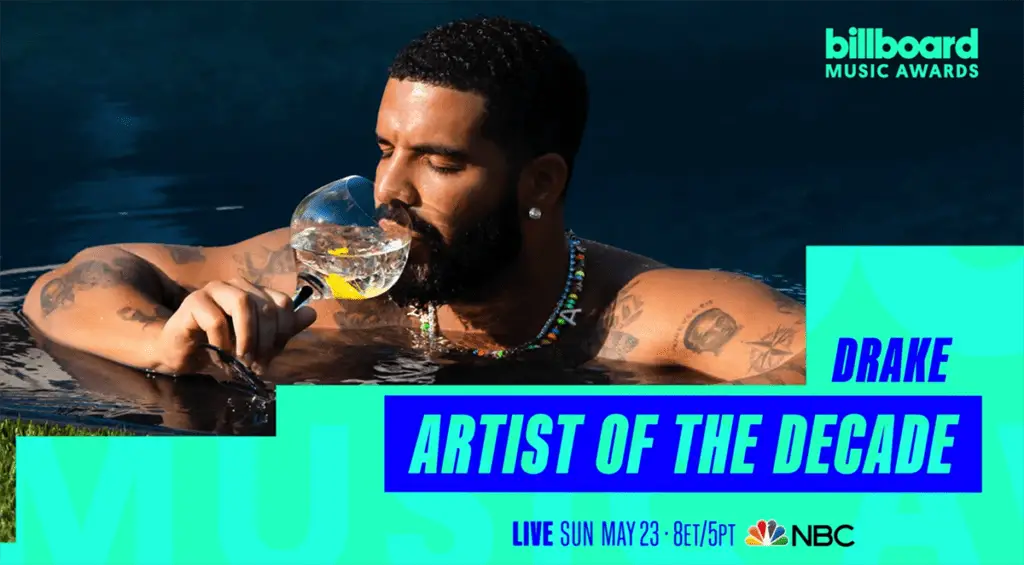 Taylor Swift, who wasn't in attendance, picked up two awards on the night for Top Female Artist and Top Billboard 200 Artist, after a twelve-month stretch that saw her release three albums: 'folklore', 'evermore' and 'Fearless (Taylor's Version)'.
Highlighted List of Winners
Icon Award: Pink
Artist of the Decade: Drake
Top Artist: The Weeknd
Top New Artist: Pop Smoke
Top Male Artist: The Weeknd
Top Female Artist: Taylor Swift
Top Duo/Group: BTS
Top Billboard 200 Artist: Taylor Swift
Top Hot 100 Artist: The Weeknd
Top Streaming Songs Artist: Drake
Top Song Sales Artist: BTS
Top Radio Songs Artist: The Weeknd
Top Social Artist (fan voted): BTS
Top R&B Artist: The Weeknd
Top Rap Artist: Pop Smoke
Top Latin Artist: Bad Bunny
Top Dance/Electronic Artist: Lady Gaga
Top Billboard 200 Album: Pop Smoke – 'Shoot for the Stars, Aim for the Moon'
Top Hot 100 Song: The Weeknd – 'Blinding Lights'
Top Streaming Song: DaBaby ft. Roddy Ricch – 'ROCKSTAR'
Top Selling Song: BTS – 'Dynamite'