WARPAINT: THROUGH THICK AND THIN
---
After a lengthy break and some major life changes, Warpaint are back – eighteen years in and with a new album, new outlook and a renewed commitment to their band. Charlotte Gunn meets the quartet in downtown LA.
---
"It's not even possible that we'd be sick of the sight of each other – we're each other's best friends," says Warpaint's Emily Kokal emphatically.
We are sitting outside a café in Arts District Los Angeles, with Warpaint. They are – for the first time since pre-pandemic – all in one place, rehearsing for an upcoming Joshua Tree show in a studio round the corner. They arrive one by one, lamenting the lack of downtown parking, looking effortless, but still achingly cool.
It's been five-and-a-half years since the release of their last album, 2016's 'Heads Up', a record that moved ever-so-slightly away from the moody downtempo music of their earlier years into something more melodic and dancey, lead single 'New Song' being the closest thing we'd had to a Warpaint pop banger. But then things went quiet. The obvious global quiet played a factor but after time rolled on, fans were left wondering when – and if – we'd get a new Warpaint album.
After 10 years of relentless touring, the band had been vocal about needing a break. "I lost the joy and connection to making music and playing with my friends," singer-guitarist Theresa Wayman told us last year. But right now, huddled together, coffees in hand, during a rare Los Angeles cold spell, their bond is undeniable. "It's been up and down over the years, but now we are actually closer than ever," says Theresa of their friendship. It's clear a split was never on the cards.
"It would be unanimously the end if any of us were sick of the sight of each other," adds drummer Stella Mozgawa. "I feel like even in our 'rest periods' we were pretty productive."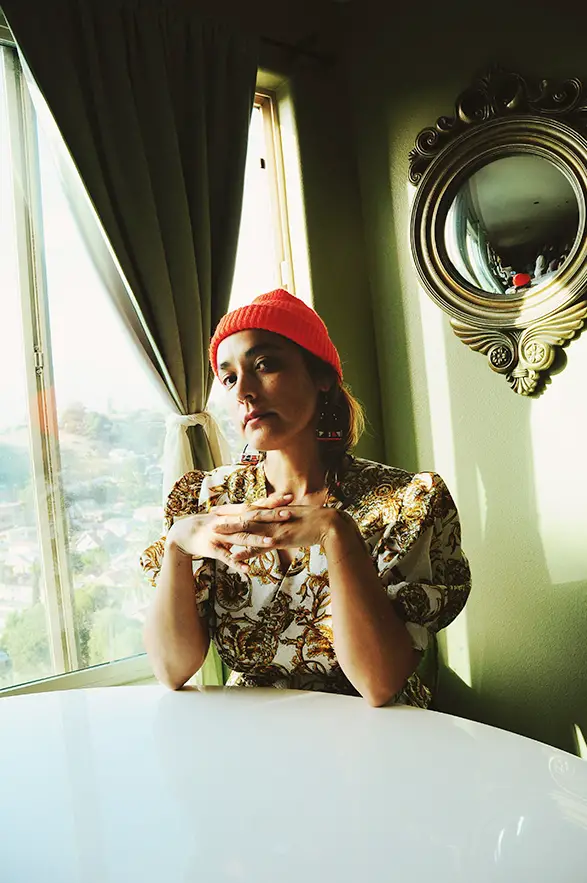 ---
---
Productive is about right. In the time since 'Heads Up', Theresa Wayman has released a solo album, 2018's 'LoveLaws' and started an underwear line with her mother and sister. Bassist Jenny Lee Lindberg has exhibited her first art show, recorded a second solo record, 'Heart Tax', for this year's Record Store Day and collaborated with Phoebe Bridgers, Depeche Mode's Dave Gahan and Deap Vally. Stella Mozgawa moved back to her native Australia, where she stayed throughout the pandemic, working on projects with Courtney Barnett, Cate Le Bon and Sharon Van Etten. And, singer-guitarist Emily Kokal became a parent for the first time, giving birth to her daughter the day before the first US COVID lockdown.
Collectively, the band were productive too. They scored the soundtrack to Gimlet podcast, Motherhacker and an episode of HBO series, Made For Love, and slowly, since 2018, had been working away at a new Warpaint album, titled 'Radiate Like This,' out next month.
"It wasn't like 'OK, we're all in our own little bubbles now' so there's no communication or we're taking a break," Stella continues. "There's always a group text on the go. You wake up to 230 messages and in it somewhere is one question that somebody asked, but you have to mine for it!"
As so many musicians have discovered over the last few years, you don't have to be in the same room as someone to collaborate – it just helps. So when lockdown hit and physical distance put a wedge between the band, the group who previously were all about the jam session and figuring things out in the room, needed to find new ways to work. "There was a lot of bouncing stems," Theresa says. "My mum would be asking me to help her with something and I'd say 'Hang on, I've just got to bounce these stems'. She'd be like, 'What does that even mean?'"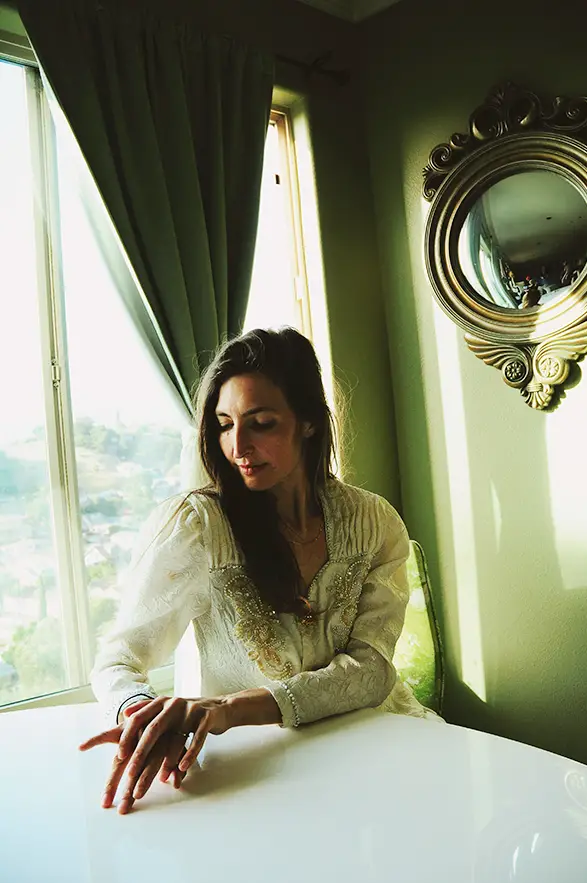 Some of the work for 'Radiate Like This' had begun pre-pandemic. Initially, the band had a 2020 deadline for turning in the album and were feeling the pressure.
"It was two things: label and labour," Jenny Lee Lindberg, explains of the stress. "We got as much done as we could when we were all together, before Emily was due, and then the pandemic happened."
"I was stoked," confesses Emily, "Because it extended my deadline."
Siloed in their own makeshift home studios, and struggling a little with technology, parenting and the headfuck that was a global pandemic, the band did, however, gain the time to work on their own parts, pull together ideas for unwritten songs and finish the album. Their individual endeavours over the years had meant that the writing process had already begun to shift, favouring each bringing partially-formed demos to the table as opposed to it being entirely collaborative. Dare I say the old way sounded a little less efficient?
"Definitely! It was like some Malcolm Gladwell shit, says Emily. "The reason why Warpaint is the way we are is because when we were really young, we would get together to play so much that we just decided to live together.
"So, then you live together and have this garage that you just go and play music in all the time, so that's how you're gonna write a song because you have the luxury of time to just go sit in there and vibe it out."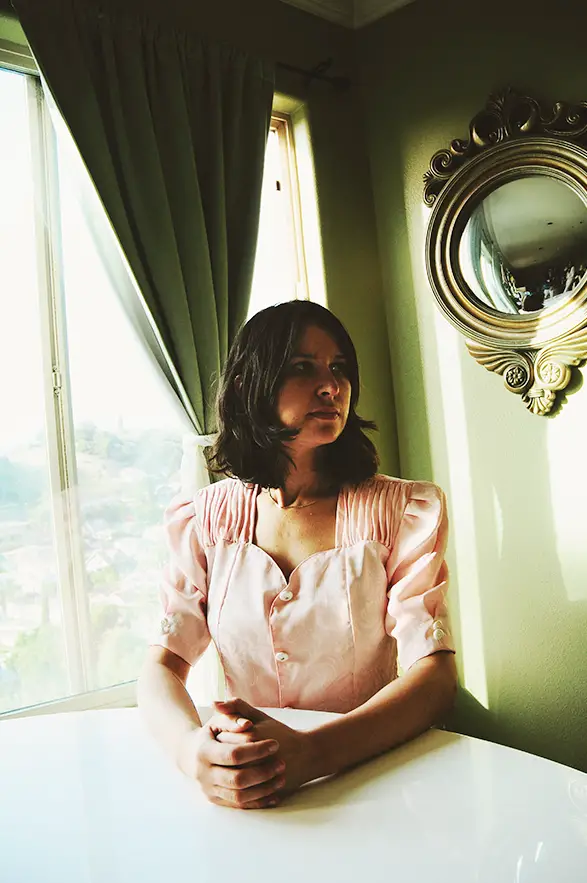 Their early beguiling music reflected this way of working. Formed back in 2004, by childhood friends Emily and Theresa, Jenny Lee and her sister Shannyn Sossamon on drums, the band released their debut EP, 'Exquisite Corpse' in 2007. After Sossamon left the band, it took four more drummers before Theresa met Stella at a party, and the call came to come and help them out. In 2010, came critically-acclaimed debut album 'The Fool'. In those six years, the band had been making serious waves with their trippy live show, much being said of their on-stage chemistry and tendency to descend into free-form, jam-like sprawls. As NME aptly described at the time, "​​The live heartbeat of Warpaint's sound is so intimate that it feels as though we're peeking through cracks in the garage door, spying on them at work and longing to enter their hallowed coven."
Even when the time came for them to no-longer co-habit, the band remained neighbours in East LA, regularly getting together at a practice base in hipster enclave, Echo Park, where they would rehearse and write. "When Stella joined the band, we'd go to the studio and play for hours and hours every day," says Emily. "It really solidified the way we work."
In 2014 came their self-titled second album and two years later 'Heads Up'. Throughout that time, the band barely stopped touring. You can see why they needed a rest.
"I think a lot of bands probably have these kinds of origin stories, " posits Emily of the early days. "People's first album is a collection of their entire life to that moment, and their sophomore album is like, eight months, or whatever. So now, as we evolve, and we're older, and we now live in different states and stuff, the whole process just keeps changing. If we all lived in the same town, and we lived within the same few blocks, we'd probably go back to writing in that way. And it would probably be really nice because that's a really enjoyable, four way conversation."
"Yeah, that doesn't require emails or text explanations," Stella chimes in, her Antipodean time zone making her situation all the more frustrating for collaboration. "We had Blackberrys back then."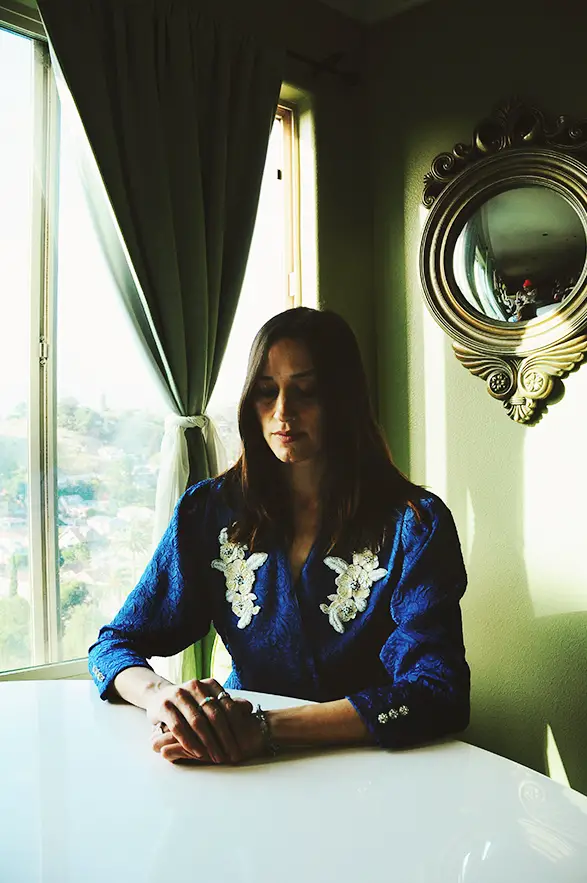 Despite the obstacles and distance, 'Radiate Like This,' is cohesive in theme and sound. Building on the more poppier, though still distinctly Warpaint, mood of 'Heads Up', the album does indeed radiate a certain positivity. There is a lot of love on this record, though not necessarily all the romantic kind.
"It's about coming out of something and into something more positive," says Stella. "Even though some of it's maybe prophetic, we've all come out of different changes and challenges over the last few years and we've all come out of it pretty happy?" she says, looking to her bandmates, to check they're in agreement.
---
---
There are some slow nods, before Emily jumps in. "It's about embodying love, which is a nice mantra to have. Though I used to hate it when bands made a happy record."
Artists do seem to get a hard time about that, we agree, referencing Lorde's recent flutter with the good life and the subsequent backlash from fans.
"It's really easy to build community around anguish and sadness," says Stella, "Which makes a lot of sense. You need someone else to be like, 'Hey, you're not alone'. And I think sometimes when people lose that, because that person moves on and falls in love, or has a kid or understands something about themselves and progresses into a happier, more calm person, even for that one album, for that one moment in time, you can feel kind of betrayed."
But fans of OG Warpaint can relax – unlike Lorde, 'Radiate Like This' hasn't been influenced by the 00s pop of Len and Robbie Williams, instead it was the movies of Terence Malick and the Poltergeist soundtrack. In other words, it's still moody as hell.
To date, fans have heard three tracks. The first, 'Champion,' set the tone of the record, with Stella's hypnotic beats leading the charge. Follow-up 'Stevie' is a love song, plain and simple, Emily's vocals declaring "'I'm your moon and stars through any kind of weather/ You're the sun, I feel you forever," over beautifully languid guitar.
"This record is kind of maternal," adds Emily, particularly of recent release, 'Hips' which imagines her daughter as a twelve-year-old superhero, and the yet-to-be-dropped 'Alter', which Theresa penned. "We are both moms now," she says of herself and Theresa, who has a teenage son. "That's different, so it's inevitably in there. But I think it translates to the care that people need right now, to rock them back to reality – this new reality."
With tour dates looming for the first time in a very long time, it's fair to wonder how they're feeling about life back on the road.
"Nervous," says Jenny Lee, without hesitation. With everyone on great terms, some trepidation about a return to the environments that made things less than harmonious is natural.
"We're going to try and be more organised with our setlist, to avoid stress," she says, of rules and boundaries they're putting in place this time. "Organised is a good word."
"And we're bringing a two-year-old with us this time. So that will change the vibe!" adds Emily. "No more 5am Korn on the bus. I am nervous about it because she doesn't sleep as it is, but she's close with Theresa already and she's getting closer with these guys. I actually think she's obsessed with them. When I go out the house to see them, she signs all their names."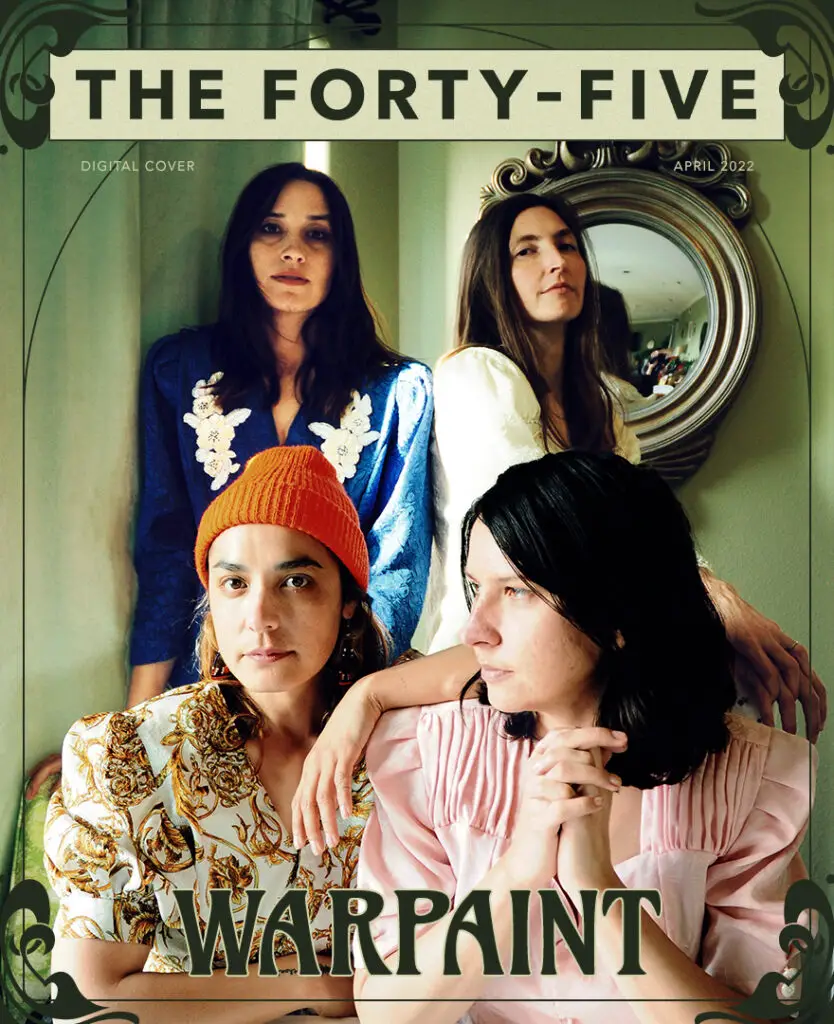 Now in or approaching their forties, these women have been in Warpaint for almost half their lives and will soon have released four collective albums. They've always taken the long road, meaning their art is meticulous, every unhurried moment, lulling the listener into a meditative, heady state: one in which you can dance or cry or temporarily zone out from the world.
"Our lives are taking different paths in these dramatic ways but our ways of communicating are so much better," says Theresa of the progress they've all made. "We're able to put ourselves in each other's shoes a lot more easily. When you're younger, you think your needs are the most important thing and that no one else is feeling the way you feel. We all have those things that make us uncomfortable or that we need other people to work around or consider. And so yeah, it seems so simple. But for some reason, that's really hard for humans to do. Like, see through someone else's eyes."
As author, Zadie Smith once wrote, "It's easy to be friends when you're 18. It gets harder the older you get, as you make different life choices." But as Warpaint have proved time and again, with commitment, perseverance and love, best friends who play together, stay together.
'Radiate Like This' is out May 6.
---
Like what we do? Support The Forty-Five's original editorial with a monthly Patreon subscription. It gets you early access to our Cover Story and lots of other goodies – and crucially, helps fund our writers and photographers.
Become a Patron!