2022 proved to be a pivotal year for indie duo Tommy Lefroy. Between TikTok virality and a support slot for Sigrid on her recent UK tour, the project has seen more success than the pair were ever expecting, so early on.
Comprising of Tessa Mouzourakis and Wynter Bethel, the songwriters-turned-performers bonded over a love of literature and a common goal: pivoting from being the heartbroken to becoming the heartbreakers. Meeting in Nashville in 2017, Tommy Lefroy was formed with their debut EP 'Flight Risk' arriving in 2018.
For our Future Five series, we spoke to the pair about their touring experiences thus far, the "sad girl" music trope, barriers they face as women in the indie scene and more.
What were your earliest connections to music?
Wynter: We both grew up listening to classic "dad" rock. My earliest memories of listening to a record would be Fleetwood Mac's 'Rumours', and I listened to a lot of Tom Petty and James Taylor.
Tessa: My mom was a big Montreal feminist, so I grew up around a lot of female storytellers like Alanis Morissette and Joni Mitchell. Big storytellers were something we both grew up with.
When did you know you wanted to pursue music professionally?
Tessa: I remember being really young, making up songs and being obsessed with the idea of performing and watching performers, and feeling this incredible jealousy of them putting on these shows. We've both been writing for as long as we can remember.
Wynter: We consider ourselves writers before musicians, but as soon as I transitioned into writing music it became a thing for me.
You guys got together after Tessa posted a boygenius cover online. What was it about their music that resonated with you?
Wynter: We saw them live on the same tour. For me it was a pivotal moment because I grew up playing in bands with boys. No one outright told me that I was less entitled to making rock music as a woman, but there was always this subversive feeling that it would be harder because there were more barriers to entry. Seeing boygenius solidified this idea of women not only making raw and emotional rock music, but also being individual songwriters with awesome things going on in their own rights coming together to make this supergroup. We were both writing for other artists at the time, so we wanted to have this project that was a culmination of that whilst continuing to be individual writers and producers.
Tessa: It was also an emblem of friendship in the industry. They came together as friends and that was a huge part of their story that I found inspiring.
What do you guys think of the "sad girl" trope? Do you find it reductive at all?
Wynter: I love the sad girl trope, but I can see how it might be reductive, especially since we both struggle with our mental health. We don't want to diminish it by playing into a reductive stereotype, but it's been an interesting era of music. Those key artists in the genre have opened a lot of doors for us to make the kind of music we make. 
Tessa: There's a special community there as well, of people finding company in that sadness. If you do too much of anything it feels overdone, but it's integral to our experience so it feels true to us.
Wnyter: From my experience, it's often up to women to start conversations. Our generation is moving towards having open conversations about mental health, and the sad girl trope is just women leading the conversation as they usually would.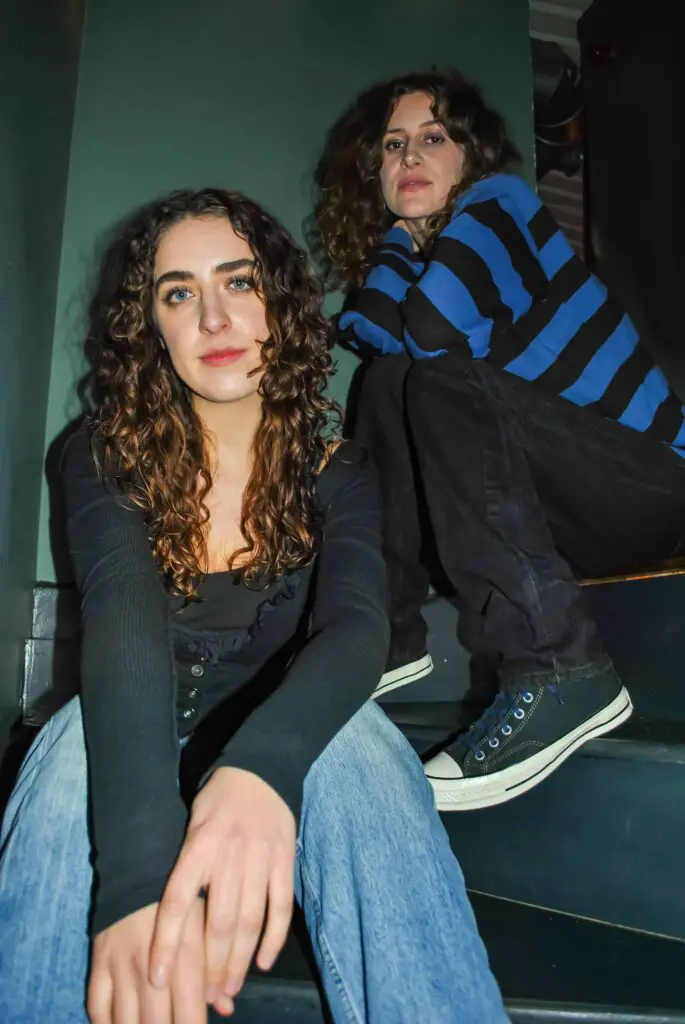 You've written a lot about ex-partners. Have you had any awkward encounters playing shows at all because of it?
Wynter: We haven't played a lot of North American shows, which is partly why it's been so easy!
Tessa: We've had encounters, but the types of people we're writing about aren't the kind to take ownership of the songs. 
Wynter: They might suspect…
Tessa: But they'd never admit it! I've had moments where the whole time in my brain I'm going, "oh my God, I wrote 'Mortals' about you," but besides it being a bit awkward that was about it.
You just opened for Sigrid. How was it playing arenas? Did you guys hang out at all on tour?
Wynter: She was so kind. We never imagined that we would've been able to play such big rooms so quickly, it's really expanded the vision for this project. We love playing intimate shows where everyone is singing, and it's sweaty and crowded, but it was a cool experience playing for big groups of people. When you can get a palpable energy in that big of a room, there's nothing else like it. It's not always easy, especially as a support act, but it was an amazing opportunity.
Tessa: She came out to our headline show in London which was really special. We feel so lucky that our first big support tour was with someone as incredible and welcoming as Sigrid.
Speaking of tour, let's talk about the book swap you've introduced. What inspired it?
Tessa: It started on a practical level. We've been living out of suitcases, and we have all these books we didn't know what to do with. We thought it'd be a special way to share what we've been reading and get rid of the books we've been collecting. The general theme of Tommy Lefroy is ingrained in literature and the arts, so it's been cool to see what everyone else is reading. It's like the in-person version of Goodreads in a lot of ways.
Tell me about the Jane Austen link to Tommy Lefroy.
Tessa: So, Thomas Lefroy was the alleged heartbreaker muse of Jane Austen. We thought with the project, it was a nod to Jane as a female writer and to us taking back the narrative and embodying that boyish courage of the heartbreaker that Thomas Lefroy maybe was.
What sort of challenges did creating 'Flight Risk' remotely because of COVID restrictions bring?
Wynter: It was difficult. It was the first project either of us had self-produced, and we were very much learning how to produce as we went, recording in our rooms with limited gear and instruments. It was a challenge, but also a labour of love.
Tessa: It was a life-saving project. We were both living where we're not from, we couldn't go home, and we didn't know what was happening. It was nice to log on and see a friend, write a song, have this thing that was mine that I knew I could control.
Do you think being able to work in person now has had much of an effect on your writing process?
Wynter: Sonically, we've gained more confidence from what we've seen happen with 'Flight Risk', which was a tentative entry into making music and finding our voices. We've been in the thick of it, and with what a whirlwind it's been, it's informed the chaos of the newer music.
Tessa: We've also been able to perform those songs live now, so we can bring that experience into the writing room and envision the live set as we go. We're leaning towards more songs we can rage about and have fun with on stage. It's evolved, but a lot of the process has stayed true to how we started.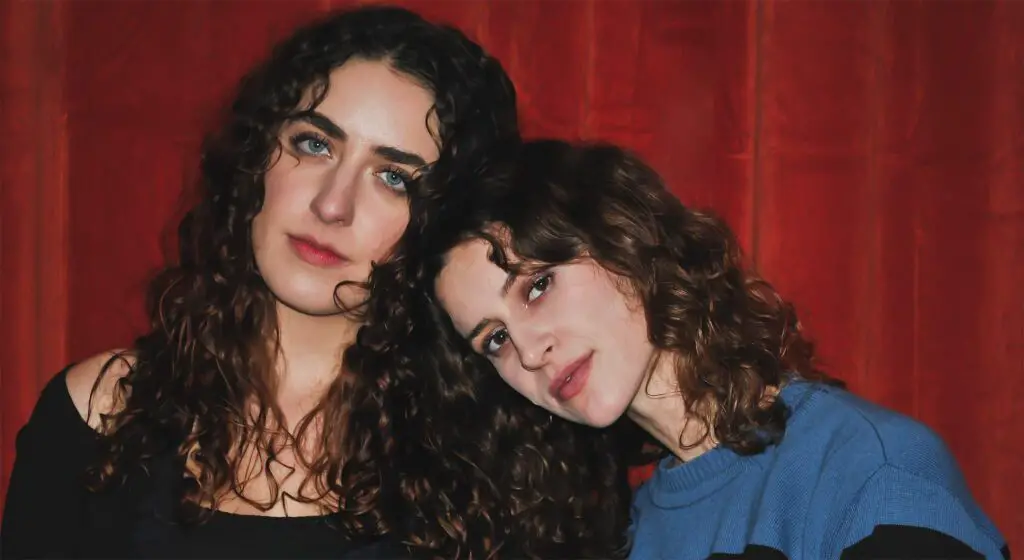 There's a lack of female producers in the industry in general. Do you have any advice for women starting out that might lack confidence because of how male-dominated it is?
Wynter: Don't be afraid to start. Growing up, all my guy friends were audio nerds and I had this subversive feeling it was something for them and not for me. I was hesitant to start because I felt like I had to do it well. But you have to start, because you have to be a bad producer before you can be a good producer. One of the hardest things about making this project was that we'd spend days pouring over these songs and they'd still sound like shit, but we just had to keep going. Some of the best advice I was given was that "your skillset might not always align with your tastes, so you have to work up to it". Have patience with yourself throughout the journey.
Christian Lee Hutson reached out to you after hearing some of your music. What did that validation mean to you?
Wynter: He posted the second song we released on his Instagram story, and when I saw it, I thought it was a prank – it was so crazy! Since then, we've written and hung out with him, and he's an artist we admire so it's been really cool.
Where do you see Tommy Lefroy's place in the pop landscape, and what are your goals for 2023?
Tessa: For next year we're hoping to play more shows in the States. We're doing a support tour for Samia, who we're huge fans of, so that's a real full-circle moment. Hopefully writing more songs and releasing more music too.
Wynter: It's funny, we never intended Tommy to feel like a pop project. It's fun to be friends with and collaborate with pop artists whilst staying on the fringes of it. We want to exist in the indie landscape because we love the community so much. People are cooler and more lowkey – we can meet a fan and have a real conversation because there's not hype in the same way.
Tessa: We've found an amazing community with the music so far. Everyone we've been meeting after shows have been so thoughtful and kind. It's been one of my favourite parts of the tour.
Before we finish, if you had to introduce someone to Tommy Lefroy with one song, which one would you choose?
Tessa: 'The Cause', maybe. 
Wynter: I agree. 'The Cause' was one of the first songs that, when we finished it, we thought "OK, there's something here". We were worried that people wouldn't get it, that they'd think it was too abstract or vague or didn't mean anything. But people latched onto it in a way that surprised us, and that was a definitive moment in the Tommy world. 
READ MORE: Samia Cover Story: "I've always valued community above everything else"