You may not have met Tayla Parx yet, but you'll certainly know plenty of tracks that have been #taylamade. An outrageously accomplished singer, songwriter and actress, her hand has been involved in the creation of such wide-reaching pop gems as 'Thank U Next', 'High Hopes' and more recently, several cuts from HAIM's Grammy-nominated 'Women In Music III'. Does she ever sleep? Presumably not. Dialling in on a rare break from the studio, we caught up with Tayla to talk about girl groups, managing burnout and the art of dancing your way through a breakup on her latest solo project, 'Coping Mechanisms'.
Tayla, the list of things we could talk to you about today is endless, but for those who don't know you, let's dial it all the way back to when you were just tiny Tayla in Texas, dreaming of a music career. How did this all begin?
Man! Well, growing up, I was really lucky because I had parents with great taste in music. It was a lot of R&B growing up, but a really big thing that they did for me was to encourage me to be a student of whatever I was interested in. So when it came to music, they were like, "Yo okay, well learn country as well, dive in to rock, try out all of these other things, and so that whatever you're interested in, you're at least becoming aware of its history".
You can definitely see that in your writing – going from working with Janelle Monae and BTS to Panic! At The Disco is a pretty eclectic mix. Did you always set out to have such an eclectic portfolio of work?
I think it was something that came naturally for me, but I definitely pushed even harder for it once I realised that it was tough for me to get into the rooms that I was inspired by, even if I had great knowledge as a fan. People would be like 'You can't really write rock, you can't really write country". But I think that when you know that you've done your research and you have something to add, you can just walk into those rooms and be like, "well, here I am."
Over time, you have these little wins that build your confidence – meeting BabyFace [legendary American producer], or being at that same studio as Miley Cyrus, so many years ago that she probably wouldn't remember, where she walked past the room but had to come back and peek her head in at what we were doing. Those little wins that don't always mean much in that moment, but you can see how they added to the thought process of thinking, "Okay, I belong here".
Do you know right away if you're writing a song for yourself or someone else? What does the process of getting stuck into somebody else's world look like?
I'm a very empathetic person, and I try and go off every little vibe in that room. Imagine like a Dragonball-Z character loading up – emotions are my thing! At the beginning of my songwriting career, I was doing two or three sessions a day, writing over 200 songs with all different people. I very much have the type of personality where I'll lose interest if it's more than like a consecutive day or two working with the same people. But I do think that there are certain artists where you do have to lock in and really make it a personal experience. And that's the exciting thing about being a songwriter; it's kind of like hitting a bullseye on a dartboard. There's all these emotions and levels that you can go for but when you hit the right one, where you've really worked at it and it's a great song than an artist relates to, where they're speaking in the way that they would want to express it and the world gets it the way that you mean it – that is a bullseye. And that's a rare thing; records are going in and out of the top 10 faster than ever before. You can write a song a million ways, you know, but when you know that it's genuinely coming from a place that it's real for you, and then all of these other people relate to it? That's where the magic is.
Of all the people you have worked with, who would you say that you've found that magic with the quickest?
Recently I think Haim, all three of 'em! There was a different thing that I enjoyed about each sister because they all have their different interests, but from bonding over documentaries to being a fan of music, and a fan of each other, that was when I was like, "Yo, I would hang out with these girls as friends". Little Mix were amazing too, it just felt dope. I think when you have all of these different personalities, it's a great challenge to create something that each girl can feel some type of emotional attachment to. And so with 'Not A Pop Song' and 'Rendevouz' and all the other songs that we did together, it really is just like, "OK, well, let's dive into it and find that bullseye, but four different times over".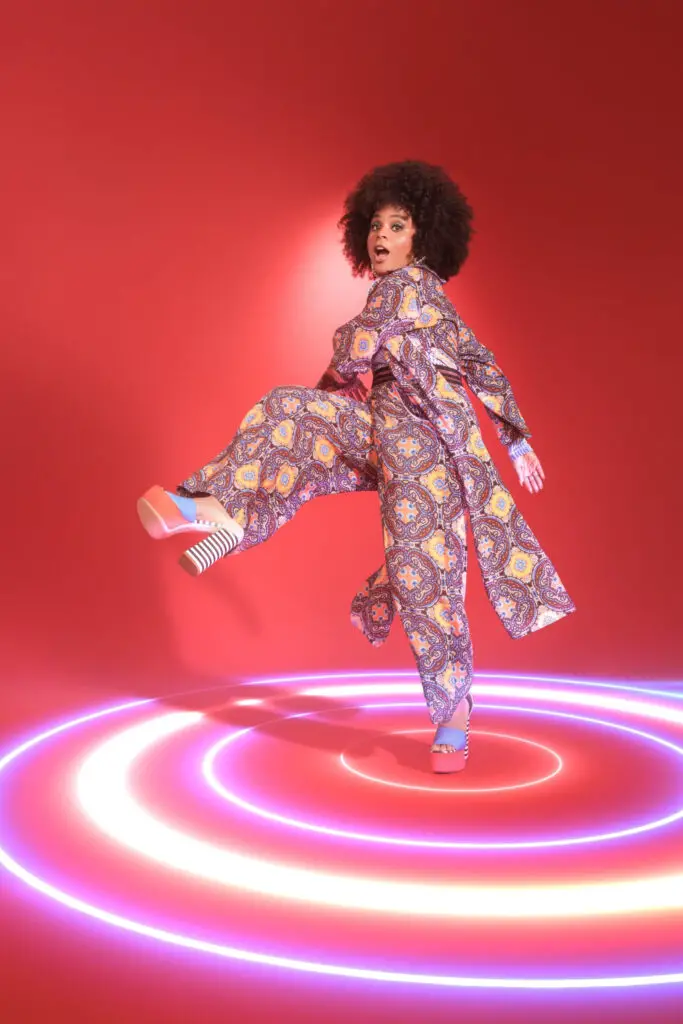 Do you think you would ever fancy being in a group?
Man, I don't think that I could – that takes a lot of energy! I prefer being a songwriter and being collaborative that way, and then being able to do my own thing as an artist. That's my little sanctuary, and I enjoy the balance of doing that and then being behind the scenes too. When I was on tour with Anderson Paak it was playing arenas, but then sometimes I'm doing an intimate show or I'm in the audience as a fan hearing my songs being sung. It's just nice to have the balance, to stay humble and be able to play a smaller part of somebody else's success.
It must feel incredible when a session leads to the recognition of something like a Grammy nomination. You're up for two this year – how're you feeling about it all?
Man, it's been so crazy. I think this is like my ninth Grammy nomination! The first one I got when I was 12, for being part of the Hairspray soundtrack. It's not a category that people in my world now really pay attention to, so it's been interesting over the years jumping through the different categories and nominations. This year feels really special because it's two artists that are newly Taylamade, and with both John Legend and Haim, I've really enjoyed working in that space of instruments and musicianship.
Have you heard anything this year that's given you serious songwriter envy?
You know, what, I literally have a Spotify playlist called 'Songs I Wish I'd Written'. They're not from this year, but three off the top of my head would be Luther Vandross 'If This World Were Mine', 'Your Song' by Elton John and 'Boyfriend' by Marika Hackman. With Marika Hackman, I just wasn't expecting it to go where it went lyrically; it was like, whoa, what am I diving into? Then I just got into her whole catalogue, and the visuals too are also incredible. You know, that's probably another artist that I would love to work with, but I've never attempted to. I'm gonna slide into her DMs later…
Make that magic happen! Let's talk about your latest album as a performing artist, 'Coping Mechanisms', which somehow manages to be hugely uplifting despite being a record about a break-up. How do you about balancing those heavy emotions with such danceable energy?
I just always think that people already have more than enough sad songs to cry to – that a whole separate playlist of mine. But I also love the juxtaposition of crying your heart out to a dance song. Even if you feel like you're at your lowest moment, I still want to make you bop a little bit – that's progress!
You've spoken also about the power of checking in with yourself creatively, which you do with Burnout Camp, a kind of group art therapy that you're set up for professional musicians. How has this space helped you personally?
I just noticed that a lot of my peers, along with myself, were just hamsters on a wheel, just writing and writing all the time for fear of being replaced. Sometimes when you are creating this stuff and you feel like you know all the tricks behind making the hit song it takes first of all the fun out of it, but also the rawness of what actually makes that work. People can tell when you're overthinking it, and they don't like it! So I'm like, if we can take care of our creatives and add to their mental health and self-security, that adds to better music, which adds to better artists, and a happier world where we can all enjoy that great work.
With the camp specifically, we just play in the beginning, and create after. We did colour therapy, Tai chi, it was just a great experience. We can really do our creatives justice just by saying: "Look, we care about you". As much as I am out there, I'm also a very private person, but I'm trying to open up a little bit. That said, if you're being an honest artist, you hear it in the music. Everything that people need to know is right there in the words that you say.
What do you think this record in particular says to the world about you?
This record says that I'm not afraid to get back up again after being hurt. The last record was saying, I'm not afraid to fall in love and to see what happens. And you know, it was good until it wasn't anymore. But I definitely see that as being the big takeaway from this; people being inspired by how I've moved past that. At that moment, it was the hardest thing in my life – now I've turned it into something positive.
Tayla Parx's 'Coping Mechanisms' is out now.
Like what we do? Support The Forty-Five's original editorial with a monthly Patreon subscription. It gets you early access to our Cover Story and lots of other goodies – and crucially, helps fund our writers and photographers.
Become a Patron!