The summer months are an exciting period in the life of every music lover, as festival season comes around, giving us the chance to see our next favourite bands in the flesh. This year's festivals hold slightly more weight for most due to the forced break brought about by the pandemic. But with line-ups and bills around the country featuring a whole host of up-and-coming acts and rising talent from all corners, there's genuinely so much to look forward to.
Edinburgh four-piece Swim School are gearing up for their biggest festival season to date after a promising start on the Scottish music scene has catapulted them to new heights. Aside from recently getting signed, the band will be heading out to play shows at festivals both locally and further afield, including Standon Calling, down in Hertfordshire.
Ahead of their busy summer, we speak to frontwoman Alice Johnson about how the band really found its stride over lockdown and why the future looks bright (and heavy) for the four pals from Edinburgh.
Hi Alice, great to speak to you! I know that Swim School came together as a unit officially in 2021. What is it that brought the four of you together?
Me, Lewis and Matt all met in college. Lewis was actually the first person to talk to me on the music course that we did. I was the only girl in the guitar class so I was very shy and very nervous! Lewis also knew Matt from school. Then we got Billy involved in the middle of 2020, just as the pandemic was getting really bad. I think that officially started the new chapter of Swim School. We all just get on well, we're all mates and we all love music. I think it makes a difference when you're mates with the people that you're supposed to be doing this job with for the rest of your life!
How would you say your sound has progressed since your very early days from tracks like 'Sway' to now? Aside from the addition of Billy, what has changed for you musically that has fed into your sound?
It's funny, I feel like 'Sway' haunts us in a way, as it was probably the first song we wrote. I don't think any of us knew how popular it was going to be, even now. This is no disrespect to anyone but it's always the mums that love it. My mum loves 'Sway', Lewis' mum loves 'Sway' – they absolutely love it because it's a very upbeat and happy tune. But you can hear in the first four songs that we released, it does get a wee bit more heavy over time. And then over the pandemic, that's when we had room to experiment, which is where Billy came in. He's a loud drummer and a really good drummer too. So we all had to crank up our amps and then that brought out the heavier side and the darker side of Swim School. But I love it, it's like you can properly go for it on stage and the audience love a bit of the heavy stuff to mosh to.
I think we've also just matured as people as well. We started the band in 2019 and we had a pretty rapid start in terms of the first shows we did and the first tours we did. But then we actually had time to breathe during lockdown and we were like, let's actually think about this: how can we improve?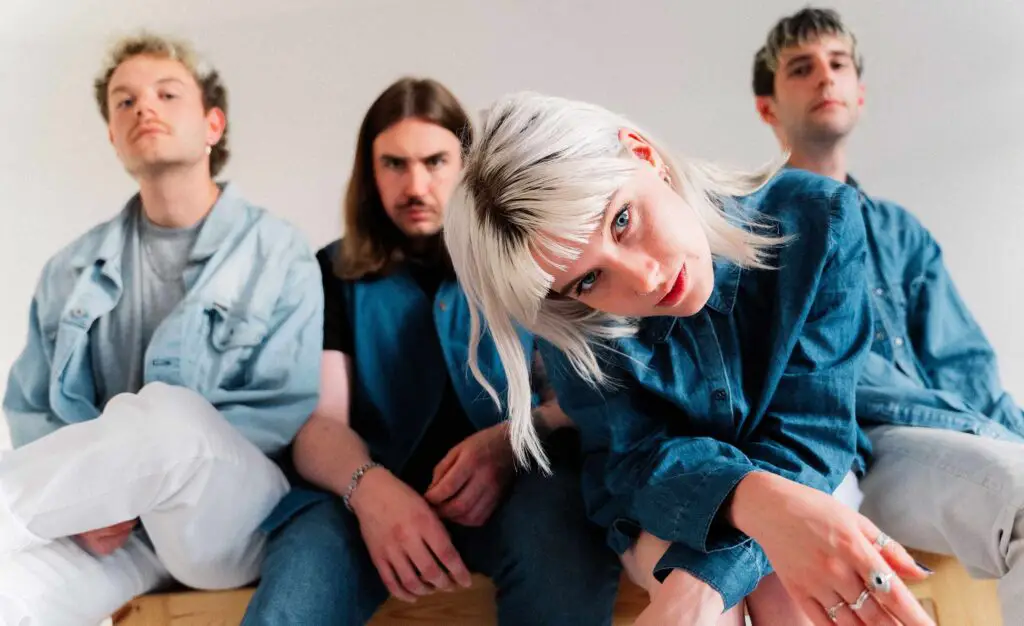 Now that you've reached this new phase of Swim School, how would you describe your sound to people unfamiliar with the band?
It's such a hard question because I don't even know what our sound or our genre is! The songs are often based on discussions of mental health but that doesn't mean that they're necessarily sad. When we were writing the last EP, it was during the pandemic, so mental health was very much the topic of every conversation. We've got some happy tunes and some upbeat tunes but we've also got some slow, sad ones. We're not a rock band but we're kind of a mix of everything we love.
You've been really open in general about mental health when speaking about the EP. Why has this been important to you?
I think looking back, one thing that stood out to me during the last two years or so, was seeing a rise in adverts on TV for mental health. I remember thinking, I've actually never seen an advert on TV trying to explain mental health. Of course, everybody's mental health took a toll in 2020 and many are still affected by it now. But seeing those kinds of adverts for the first time got me thinking about being back at school and how we never got educated on mental health in primary or high school.
Music was the first thing to introduce me to mental health as a way to escape. It did a lot for me and then I wanted to give back. So that's what I wrote. I think with music, you have to be honest because if you're writing about something that isn't real, it shows within the music, the recording and also when you're playing it live. I just wanted to write an EP on something that would hopefully help either one person or 10 people and I still hope it does.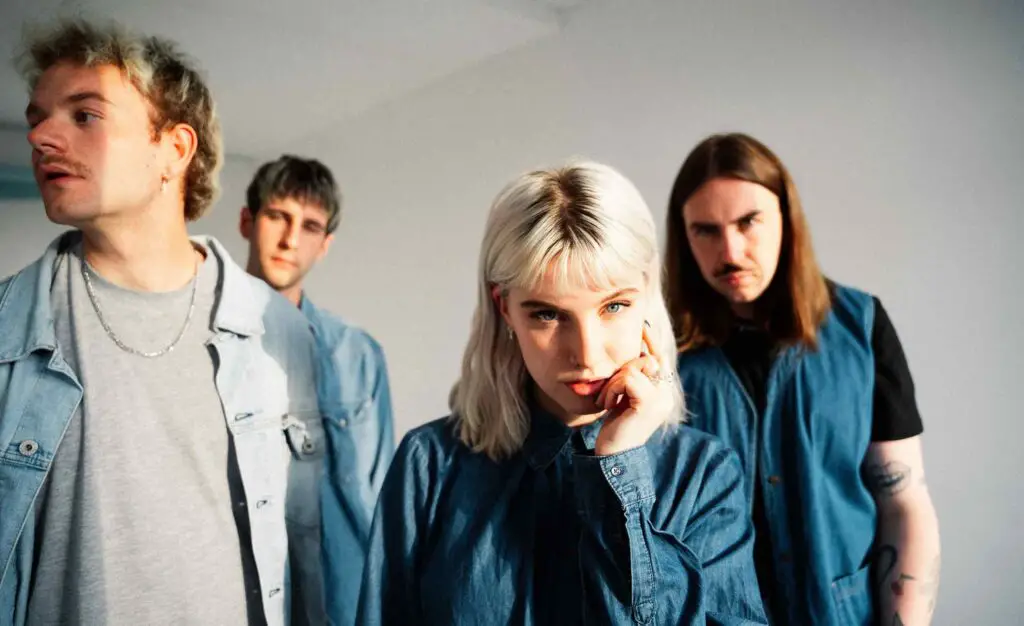 Can you tell me a little more about the EP in question? What was the band's mission statement with 'Making Sense of It All'?
One aspect of the EP was that we wanted it to be a bit heavier than what we were used to. We wrote all the instrumental parts and then I wrote the lyrics and what I came up with was always based around mental health. We wanted a mixture of songs. We've got 'Let Me Inside Your Head' and 'See Red' which are the heavy ones. We've got 'Outside' and 'Anyway', which are slightly more upbeat. And then there's 'Everything You Wanted' which is our slow, heavy one. And then when we were thinking of the EP title, I was flicking through my lyric book and came across a song lyric that was like "trying to make sense of it all". That worked well in terms of the EP's themes of mental health and trying to make sense of everything that was going on. So it stuck.
You recently announced that you had signed to LAB Records. How did this come about? Was it a goal?
I think every band dreams of the day they get signed. LAB had been following us from the start and then they came to see us in Liverpool when we supported Coach Party. We got on really well with them but we didn't really hear much after that. And then one day, our manager said 'LAB really want to work with you' and they sent the deal through. We only signed the contract a couple of days before we posted about it online. But yeah, it was exciting to finally announce it and everyone was so supportive as well. This deal is allowing us to go down to London to record and that has always been a goal of ours. 
Speaking of goals, you sold out your headline gig at Sneaky Pete's in 24 hours earlier this year. What did that feel like? Will that go down as a particular band highlight?
Oh yeah, 100%. Our first-ever headline was February 2020. It took us two months or so to sell out and then we played the Mash House at the end of 2021 and we sold that out too and that just felt incredible. We're all from Edinburgh so going to these venues that you've seen so many bands play when you sell out yourself, is just amazing. 
At the start of the year, we didn't have a run of shows planned for a while because we were busy writing and then our manager told us Sneaky Pete's wanted us for Independent Venue Week. So then we put it on sale and 24 hours later it was sold out, which none of us expected. Returning to that venue with fans that absolutely love the music, who had bought tickets that weren't just friends and family was really special. It brings a whole other vibe and atmosphere. So that was definitely one of our favourite headlines.
You had your first ever festival slot last year at Latitude and you have plenty of slots coming up this summer. How do you feel about playing festivals like Standon Calling and being on bills with bands you respect?
Yeah, it's amazing. Latitude 2021 was actually our first show back after the pandemic and it was the most surreal thing ever. I think nothing beats a festival; it's a completely different environment to a gig. They both have their own unique good parts but we love playing festivals. I'm really excited for Standon in particular because there are so many amazing acts and artists playing. Festivals are such a good way to get music lovers to discover new music and we're very excited for Standon for that reason. I think we've got something like 15 festivals this summer; it's going to be so good but so tiring! We're all here for it though.
For people that might be seeing you at festivals for the first time, what can they expect from your live shows?
Expect us to force you guys into a mosh pit – we love a mosh pit! We did Birmingham two weeks ago and we had our first circle pit which was amazing. Honestly, we just love playing live – it's one of our favourite things to do and we want to make it memorable so everyone can enjoy it. If you're coming to see us, please don't be scared to move about and have a good time!
Once your busy festival season comes to a close, what will be next for Swim School? And how are you feeling about the future in general?
So the next thing we've got coming up that isn't live is an EP. We're currently writing that and we've got a good couple of tunes already but we'd like to have loads of options. Like I said, we're going to record that in London and then we're not too sure when we'll release it yet. It's very early days. It's mad to think that we're going down to London to record an EP. I mean, we never thought we'd ever do that and I think it's like a bucket list thing for us. So we're excited for that alongside all the live festivals and shows we're doing too.
Aside from that, I'm manifesting a big tour support by the end of the year. I don't know what it is yet but I'm manifesting it! I want to go on tour for like a month straight and just have the best time ever. I've got a note on my phone and it's literally where I just write all the things I'm manifesting. And half of it comes true and then I say to the others, 'see boys, this works!'
READ MORE: The UK festivals you need to be at this summer