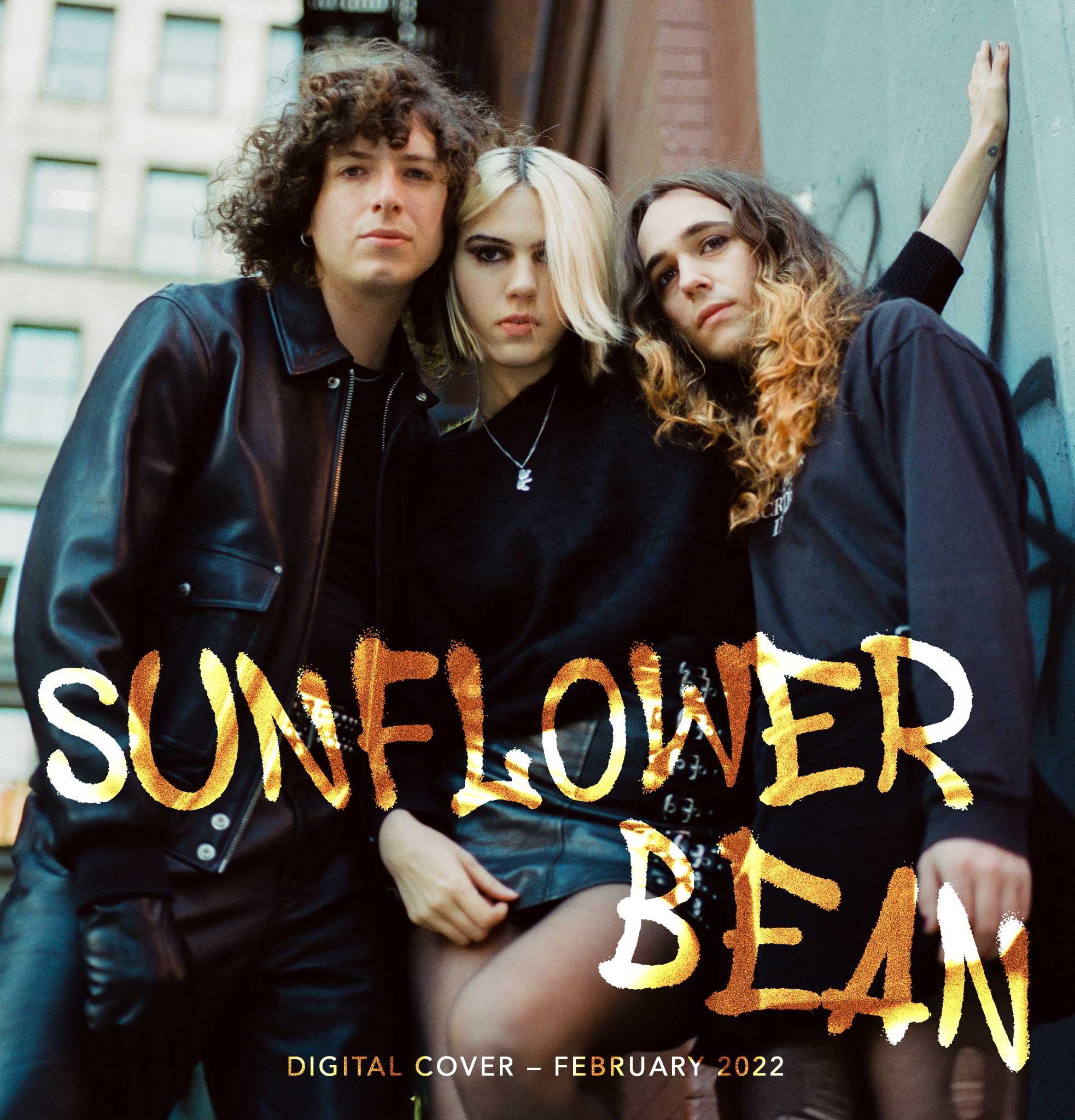 A New York Night Out With Sunflower Bean
---
As they prepare to release their third album, 'Headful of Sugar', New York's Sunflower Bean take Rhian Daly on an NYC night out to talk about the city and the times that informed their transformative new era. PHOTOS: Josefine Cardoni
---
"There are so many weird New York institutions that exist somewhere between amazingly cool and super annoying," ponders Julia Cumming, between sips of red wine. She puts down her drink and flashes a big smile across the table: "At least we get to experience them together tonight."
Few bands in New York are better poised to show you a good time than Sunflower Bean. The city is part of the trio's lifeblood and has been their playground since they first started the band as teenagers, Manhattan born-and-raised singer and bassist Julia convening on Brooklyn DIY venues with her bandmates from Long Island, guitarist and singer Nick Kivlen and drummer Olive Faber.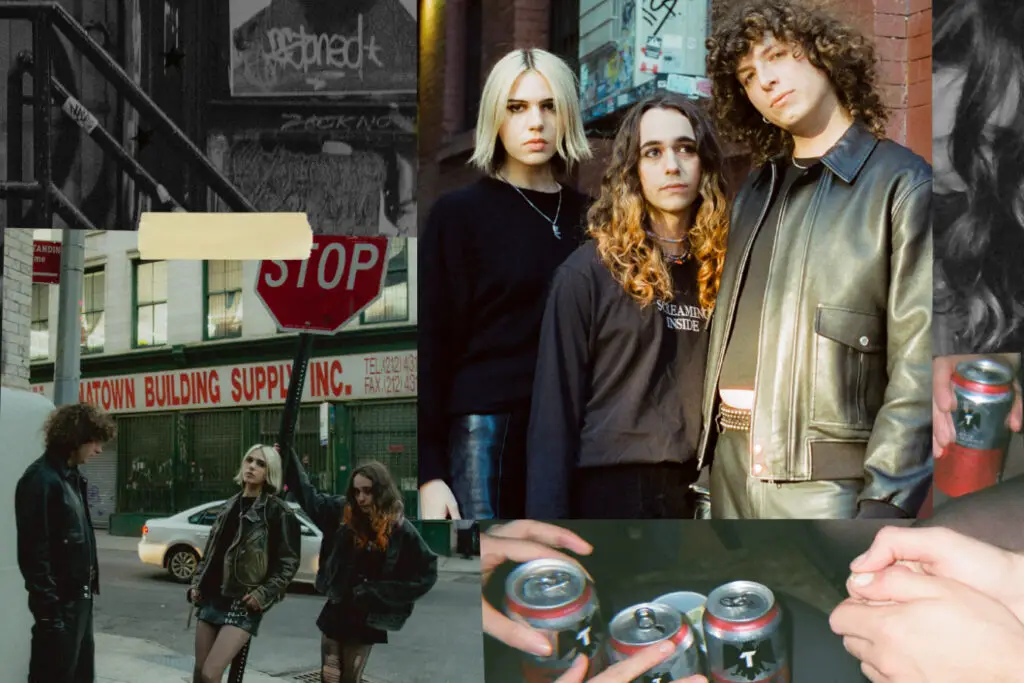 Tonight – an icy cold Monday a few days before the city's transplants clear out for Thanksgiving – the band are ready to prove this. We're being taken on a BNO (Bean Night Out) to celebrate – and get the lowdown on – the trio's upcoming third album, 'Headful Of Sugar', which will be released in May. Nick explains later that the record's title refers to society's problem of being "constantly entertained but never fulfilled" and the idea that real contentment "comes from the relationships you cultivate with other people". As we make our way across Manhattan's East Village and Lower East Side over the next few hours, the latter has never been more apparent, the joys of the night coming from the friendship the band – and those we run into – share.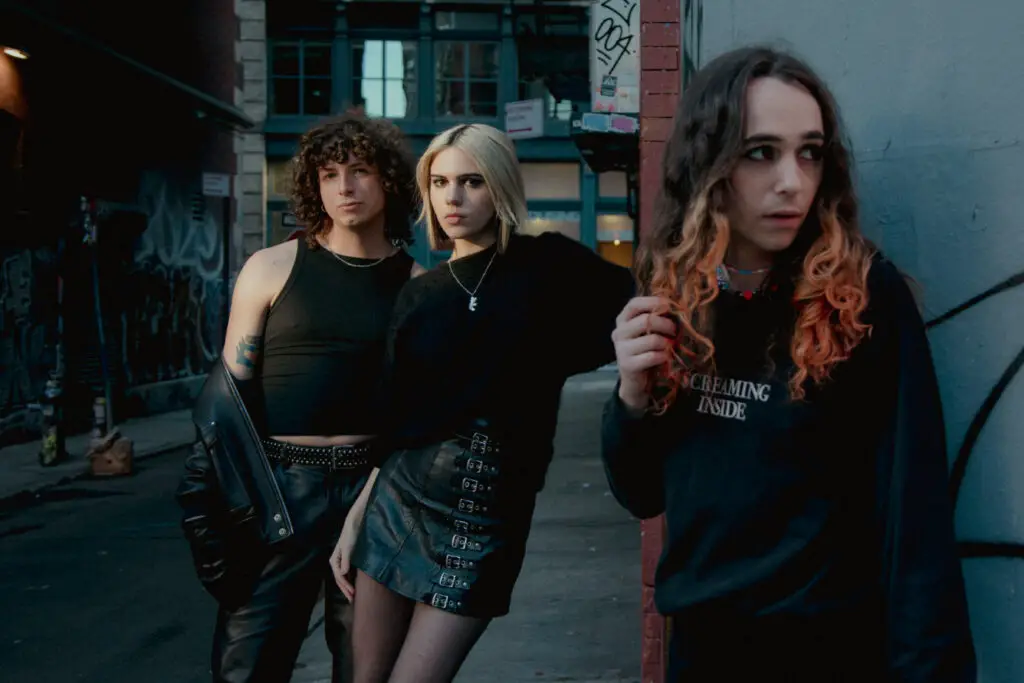 Before we can think about taking Manhattan, though, it's time to fuel up at 1st Avenue's old-school Italian joint Lil' Frankie's. Sunflower Bean arrive bundled up in big coats and hoodies and whisk The Forty-Five into the warmth. It might be a Monday, but it seems like the rest of the neighbourhood has had the same idea and the restaurant is buzzing before the holiday lull. After we've put our orders in for some of Frankie's most famous dishes (spaghetti limone and heavenly whole fire-roasted eggplant), the band grow concerned that our carefully-concocted plan to record an interview while also having A Nice Time might not exactly be foolproof. "You want to go to a not-cool spot – this place is too trendy," Nick jokes, raising his voice over the din.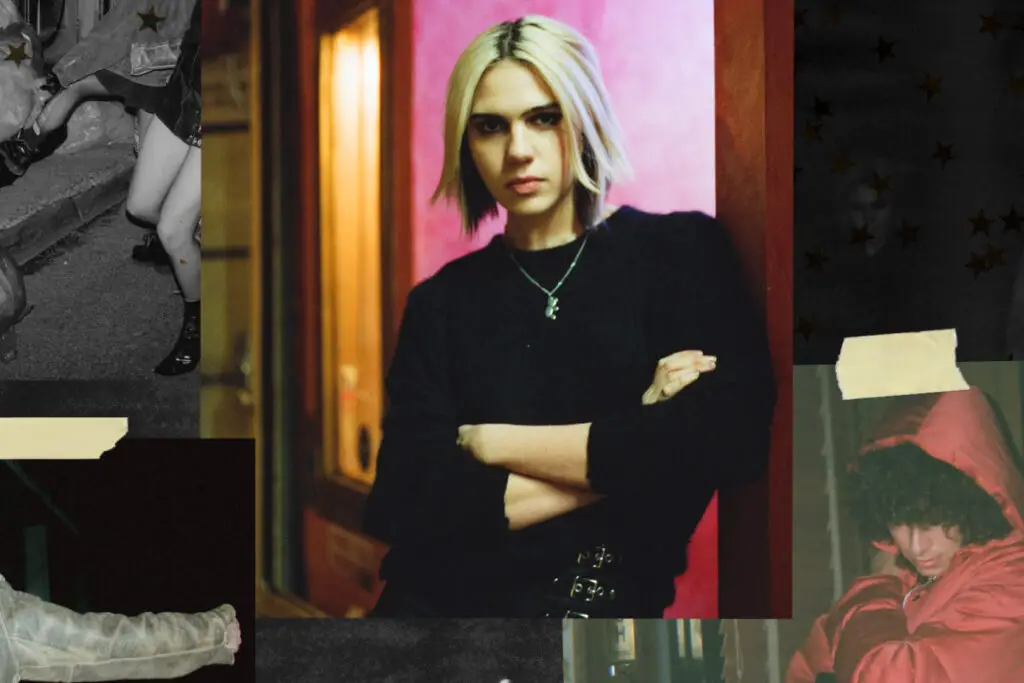 "I was just briefly eavesdropping on that table over there," Julia points to the now-vacant table behind us where a man was just seconds ago yelling excitedly about LCD Soundsystem's residency at Brooklyn Steel. "They are playing 20 shows – they are," she shrugs, acknowledging the thrill of seeing a band that could sell out Madison Square Garden in a 1,800-capacity venue. But our now-departed neighbour's overzealous shouts have tickled her and she launches into a good-natured but dead-on impression of him, her voice looping wildly up and down in pitch as if it's a cart hurtling around Coney Island's rickety Cyclone rollercoaster as she comically repeats the band's name.
Tonight's frivolous mood is somewhat different to the one that filled the world when Sunflower Bean first began work on 'Headful Of Sugar'. Although they had a few songs together before the pandemic hit – including new single 'Who Put You Up To This?' – the record didn't really take shape until we'd all been spun into uncertain chaos.
One experience that straddled the before-times and the early days of coronavirus would go on to be a "big catalyst" for the album – their last show before everything slammed to a halt, which happened to be performing at Bernie Sanders' New Hampshire rally. "It felt like this giant monumental night where the American left was united," Nick recalls of that night in February 2020. "We were all organising and campaigning for Bernie. Less than five weeks later, he was pretty much out of the race, and the pandemic had started, and we were all locked down. It was just like, 'Alright, we're in the wild west now, and it feels like maybe the end of something'."
"For me, that was the end of all hope in any institution," Olive says from the end of the table. "It was like no hope in the world." Julia nods sombrely: "That was the last good night."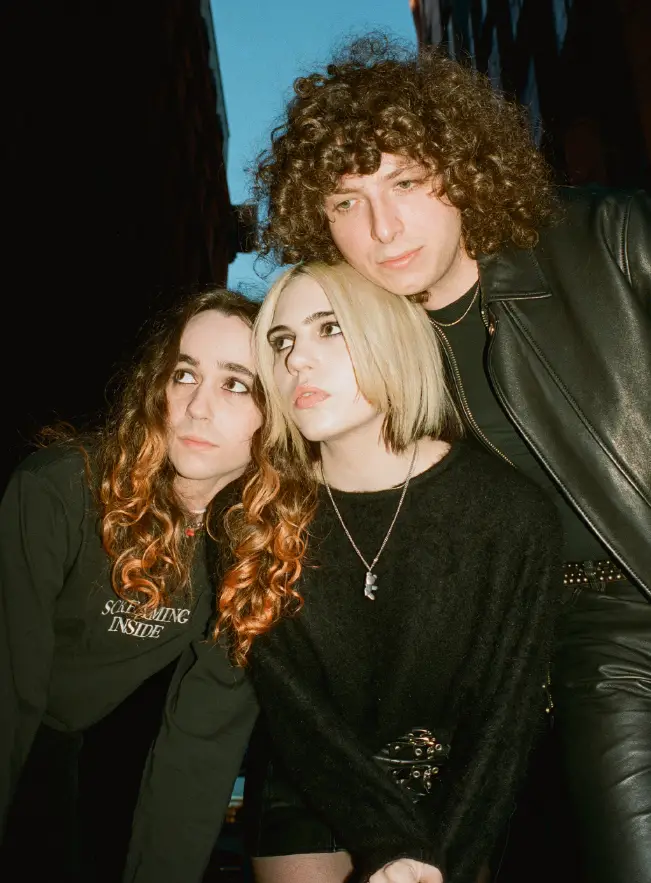 Visions of a President Sanders dashed and the city suddenly the epicentre of the world for COVID cases, the trio first retreated to their homes before decamping to a friend's house upstate, where they spent around six months diving headfirst into making the album. With nothing else to do, they immersed themselves in their songwriting more than they ever had before, racking up 20 songs, then 30, then 50, finishing on close to 80 tracks.
"Jacob Portrait [producer] was like, 'Keep going, keep pushing yourselves, keep seeing what's there – don't stop until you need to stop'," Julia tells us. "That could be very painful, but it was also very cool."
"I feel like everything in the world was up in the air, our record was up in the air, and our lives were up in the air," Nick adds. "We were just going with it and sending whatever we made at the end of the day to Jacob."
Sunflower Bean have always, first and foremost, been a live band – there aren't many acts who tour quite as hard as they do. Gigs being completely off the table posed a problem for them – how to make money when your number one way of earning is impossible – but it also brought them a "weird silver lining". "We were able to develop as songwriters a lot because we had nothing else that we wanted to do," Julia shrugs. "I think maybe there was something that we didn't understand as much about making records, and I think we really gave ourselves the chance to try."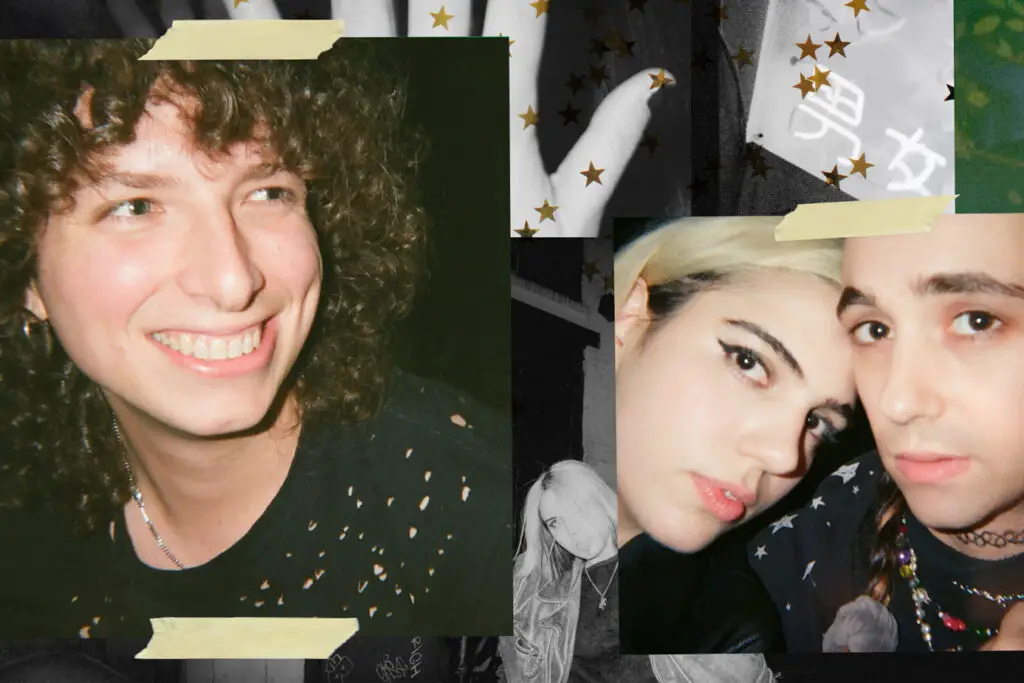 The results are, the bassist declares, something that sits at odds with "the world around us" – a 35-minute record that doesn't waste a second on filler. "Everything is there, serving its exact purpose – nothing more, nothing less," she says assuredly. "That's what we're really interested in right now, as far as what we're listening to and what we want to be putting forward. How do we do something really explosive and powerful, and not something that just plays in the background?"
"I think we transformed in so many ways," Olive begins before Nick picks up their thought and finishes it: "We went from being this young band where we were playing so many shows and always gigging and going out, to just becoming this recording entity together."
The by-products of this evolution find the band in their best – and most honest – form yet. Lyrically, the tracks showcase a new maturity and confidence, laying out their thoughts, feelings and experiences in a way that says, "This is who we are, and this is how things are – take it or leave it". Or, as Julia sings on 'Who Put You Up To This?', "I'm good enough for the main course / Even if I'm the one who's paying for it."
"With this record, the point was to stand firmly rather than try to explain it to anybody," she nods. "It's not about age anymore, it's not about trying to prove all this and that. This is what it is."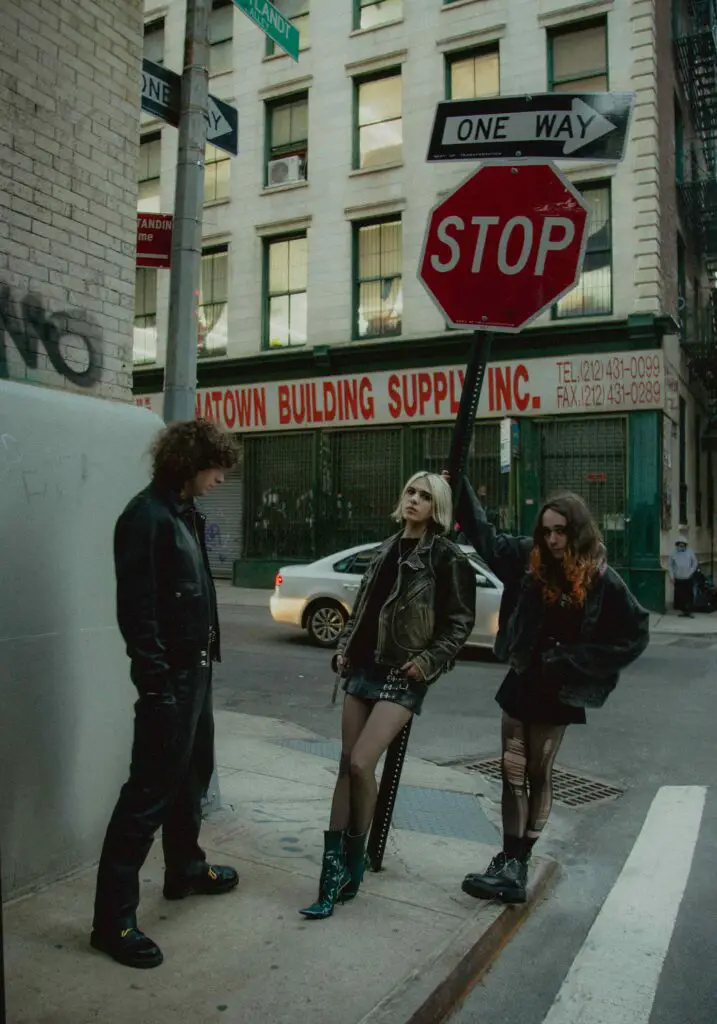 On 'Headful Of Sugar', the group attempted to "strip back the ego" and the tactics songwriters often deploy as a way to "protect yourself from being perceived". "You have this want to be understood, and then you have this fear of being understood," she explains of the contradictory nature of sharing your stories with the world through song. "There's a lot of times where I think about the record coming out, and I'm scared cos I'm like, 'What is it gonna be like to be heard in this way?' But that's how I should be feeling – that means I'm on the right path."
As our food arrives at the table, Nick offers up what he views as the record's mantra. "We're not trying to act like we have a secret knowledge," he suggests. "We're not icons – we're just people living our lives. I keep making the analogy of the album being inspired by Jim Jarmusch or one of those directors that tell a profound story through everyday experiences."
"It's supposed to be everyday casual, like a pair of jeans," chips in Julia. "The situations are casual, but the experience is intense."
---
---
Learning to let go and to accept that nothing is guaranteed in this life are key to this record, and it highlights the gambles that we make on the daily. The lurching sludge of 'Roll The Dice' takes that idea almost literally, hurtling through the "win, win, win, lose" nature of the world. "Nothing in this life is really free," Julia and Nick sing in unison – a reminder that every action has a consequence – before the ominous riffs fade away for a minute and the pair are left whispering: "He's the deceiver / He tells you what you want and then he leaves / You're the believer."
"The deceiver is a lot of things, but it's definitely Donald Trump, in a way," Nick explains. "A lot of people said that people who voted for Trump were just desperate and wanted anything to disrupt what was happening in our lives. At the end of the day, it was just a bunch of fucking lies – he was promising people to drain the swamp, but it was just completely opportunistic."
The track also took inspiration from the decline of the American Dream, an idea that once promised a better life through hard work but now seems like an impossible concept for many in the US. "People in their twenties are realising that the only way they're going to become rich is through buying Bitcoin or Gamestop stock," the guitarist adds.
---
---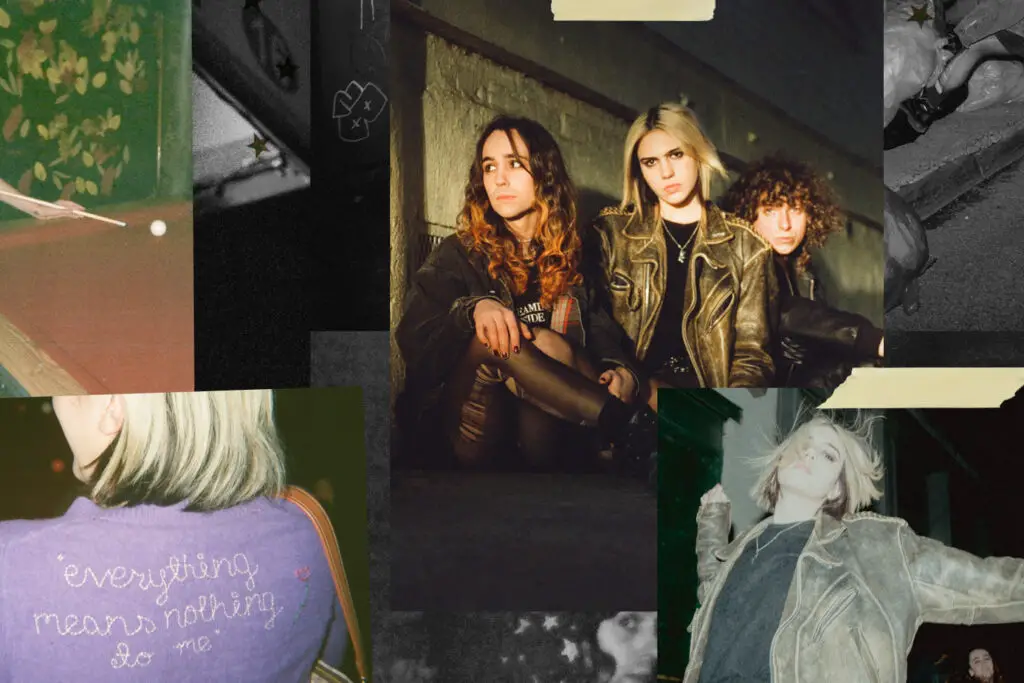 "We're not gonna own homes," Julia sighs. "The gamble that we're going to take is a big theme within the record. At a certain point, it's your only choice, and I think that highlights the powerlessness of just being a human being."
The gamble pops up again in 'Stand By Me', a song Julia wrote about not following the path traditionally expected of women. On it, she asks a partner: "Are you man enough to stand by my side? / Are you strong enough to ride my ride?" There's strength in her decision to take the risk of posing that question – a refusal to compromise on how she wants her life to be, even if that means losing love. Even so, later in the track, she admits she doesn't always want to have to be so resolute.
"I think that's a big question within modern felinity and modern womanhood where it's like, 'Are you willing to be on this ride with me? Because it is my ride'," she reasons. "My life is my ride, I'm in the driver's seat. I would like a man, but you got to know what you're signing up for."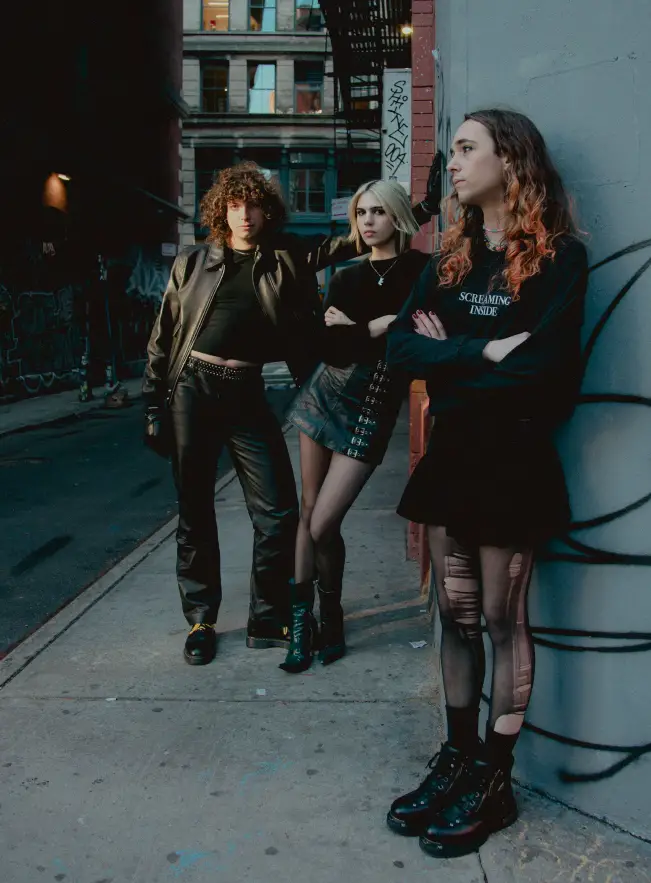 On the wistful 'In Flight', meanwhile, Nick reckons with the place he found himself when Sunflower Bean came off tour in 2019 and he was back home at his parents' place in Long Island. "Nothing ever changes in this town / The people die or they move out," he sings in its opening lines. "Everyone but me." It taps into a feeling of stagnating in suburbia or being cut adrift while everyone else gets on with their lives.
"I had this routine of going to the gym in my neighbourhood, and I'd only see senior citizens," he says. "It felt like I was this 20-year-old in this world that didn't have a lot of people my age around." The gamble crops up here again in the song's realisation that "life is short – you have to take risks because you don't know what's gonna happen". Nick has since moved out and says he's in "a totally different place in my life".
Sonically, 'Headful Of Sugar' presents another evolution from the Bean. If debut album 'Human Ceremony' was their swirling, fuzzy psych record and 2018's 'Twentytwo In Blue' delved into dreamy Fleetwood Mac-style pop and stomping punk, then their third album moves into sweeter, stickier pop territory while keeping hold of those past sounds. 'Post Love' sounds like an LCD Soundsystem track topped with a gleaming pop vocal from Julia ("That guy would love it!" she laughs of the long-gone loud-talker), while 2021 single 'Baby Don't Cry' is a fizzing piece of radio-rock with an addictive hook.
Olive learned how to engineer on this record – a skill that allowed the band to be self-sufficient in a time when they couldn't always get into a traditional recording studio. She cites producer Mike Dean, who's worked with Kanye West, Travis Scott, Gorillaz and The Weeknd, as a big inspiration on the album's sound. "He's always made guitars just sound fucking cool," she notes. And, early on, I wanted it to sound like we were sampling ourselves a lot – a lot of the beginnings of the songs were just loops of things, but of us playing live and not really caring about pristine fidelity or anything. All these samples that you hear on songs you love are fucked up and shit, so that was a big inspiration for me."
"There was a definite influence of punk and hip-hop on this record," Nick adds. "Things that are immediate and very bold and confident in what they're going for, and there isn't a lot of clutter or things getting in the way of what they're trying to communicate."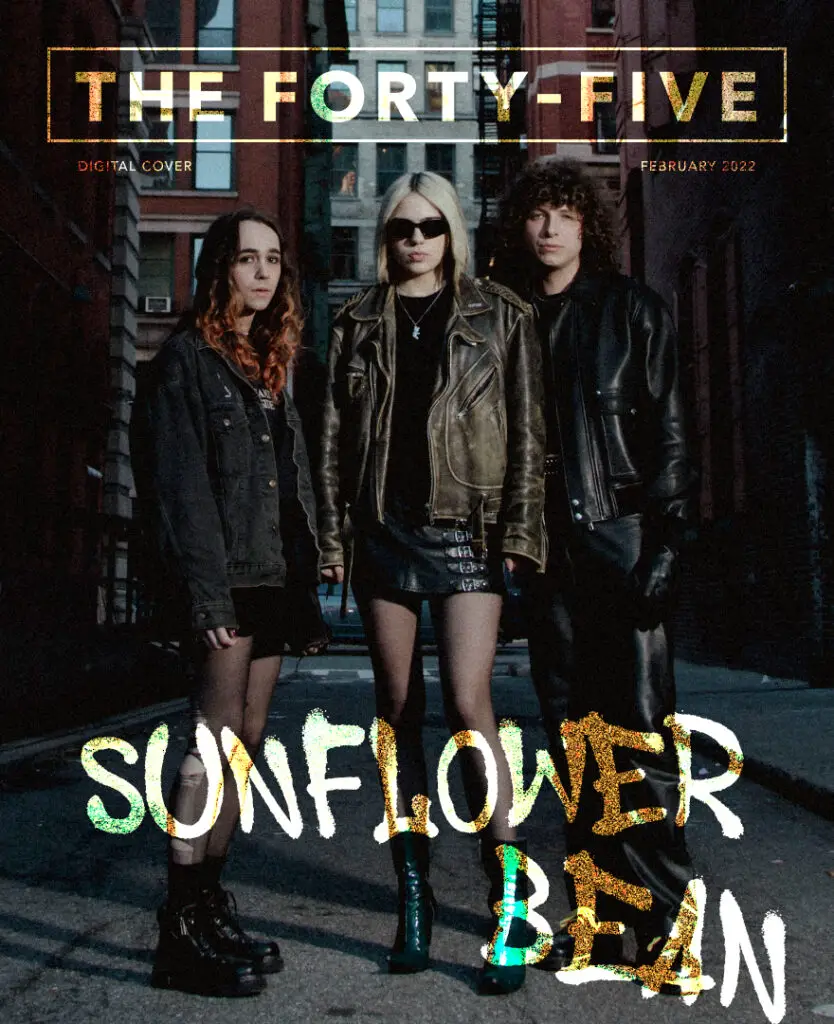 ---
---
By now, Lil' Frankie's has grown a lot quieter, our bottle of wine emptied and the food devoured. It's time to brave the cold again and move to our next stop a few blocks over – Ray's, the hottest bar on the Lower East Side right now, thanks to Succession actor and its part-owner Nicholas Braun's rising popularity. As we walk, Olive and the band's manager Crista Simiriglia snap photos on a disposable camera, and plans are made to text Wolf Alice's Ellie Rowsell and Joel Amey, who are in town after finishing their US tour, once we're settled again.
Ray's is commonly mentioned on Instagram gossip blog Deuxmoi thanks to celebs including Zoe Kravitz and Justin Theroux hanging out there. As we walk up to the door, Julia recalls seeing Woody Harrelson here once, but there's no Hollywood royalty awaiting our visit tonight. Instead, we stumble across another of the city's indie luminaries in The Lemon Twigs' Brian D'Addario, who sat in the bar's most secluded booth, hidden behind a beaded curtain.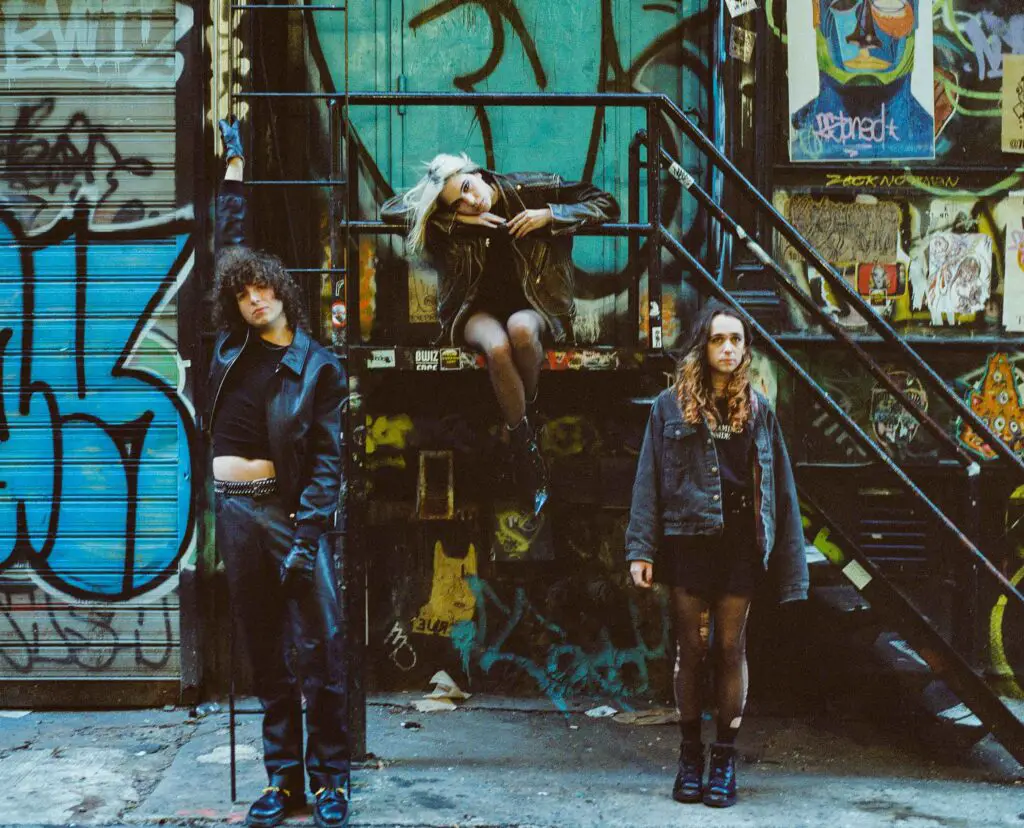 After a quick catch up and a round of vodka sodas are procured, Julia whips out her phone and holds it up to Brian's face, nudging him for a quote on their new album, which he's already heard. "I would say 10 out of 10," he says emphatically but, showing all the signs of a promising journalist, she pushes him for more: "That's all you have to say?"
"Well, I wouldn't wanna butcher any opinions or whatever," he replies coolly. "You guys are my good friends and I'm excited to see you play this stuff on stage." Quote secured, Brian heads off into the night and the focus returns to Sunflower Bean's own thoughts. "Serious time again," quips Nick.
Like many people over the last couple of years, each of the three band members have gone on their own journeys of personal growth and change since their last record – most notably Olive, who came out as transgender and non-binary last year. "It felt like something was creeping up once I stopped drinking on the Beck and Cage The Elephant tour in summer 2019," she explains. "That's when I guess I finally stopped running from things."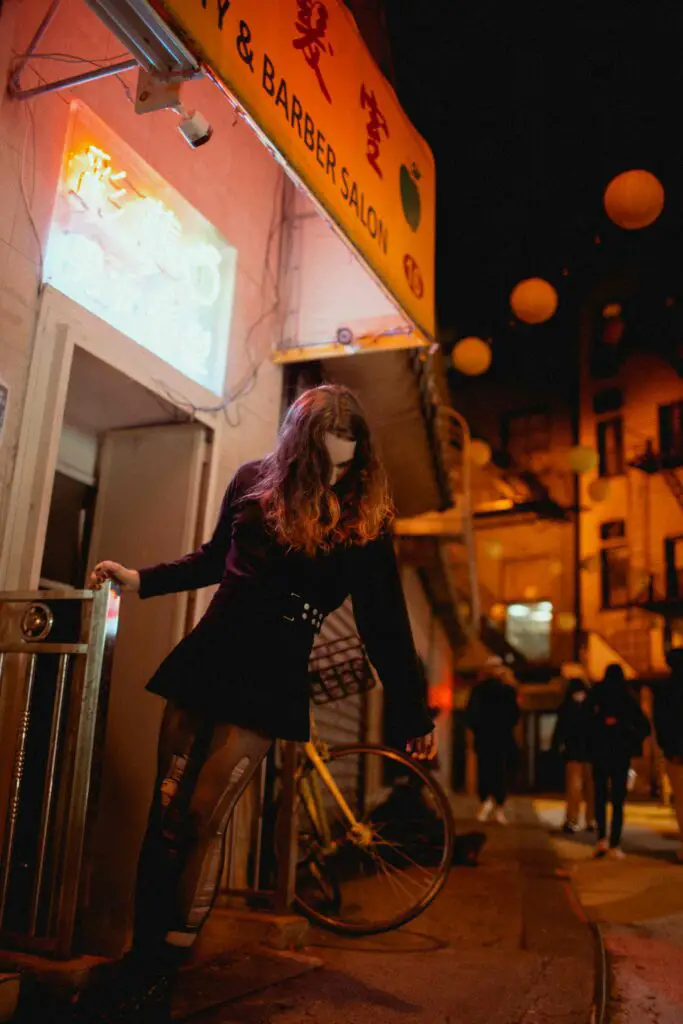 With more trans people in media and the public eye, she realised that she was identifying with them and began to question why that was. "It's really hard to let yourself even think those thoughts after suppressing it for so long," she says. "But it also leads to so much happiness and these euphoric moments of actually feeling like myself in my own skin for the first time ever." The drummer has been on hormones since July 2021 and says they've been able to shed the "confusion" they used to feel about themselves.
"I'm starting to learn how to love myself and I'm excited for the future," she smiles, before returning to a point she made earlier in the night. "When I said there's no hope anymore, you live so much and there are these things you wanna put hope and meaning into, but then when you still feel hollow and empty, it's like, 'What's up?' I haven't actually discovered myself at all and I need to do that."
---
---
"It's been really cool to learn so much more about a friend that I've had for so many years," Julia adds, before picking up on a point Olive made. "The pandemic really made it so all this stuff that we tried to bulldoze past couldn't exist anymore because we had to sit with ourselves in this completely different way."
Despite transformation being a big theme of their lives and their new album, there are still some things that never change. It's been nine years since the Bean first got together and, looking back, Nick says they never realised quite how tightly they would be bonded together. "The number one thing I would reflect on is just how much the four of us are a family," he says, including Crista in that unit, "and how maybe we didn't realise when we were 17, 18, we'd be the most constant people in each other's lives."
He glances at his bandmates and adds with a grin: "I've seen these motherfuckers every day for the past 10,000 days. But it feels really good – I've got my mum, my dad and my sister, and then I've got Julia, Olive and Crista. It's so nice to know that those relationships can be so permanent."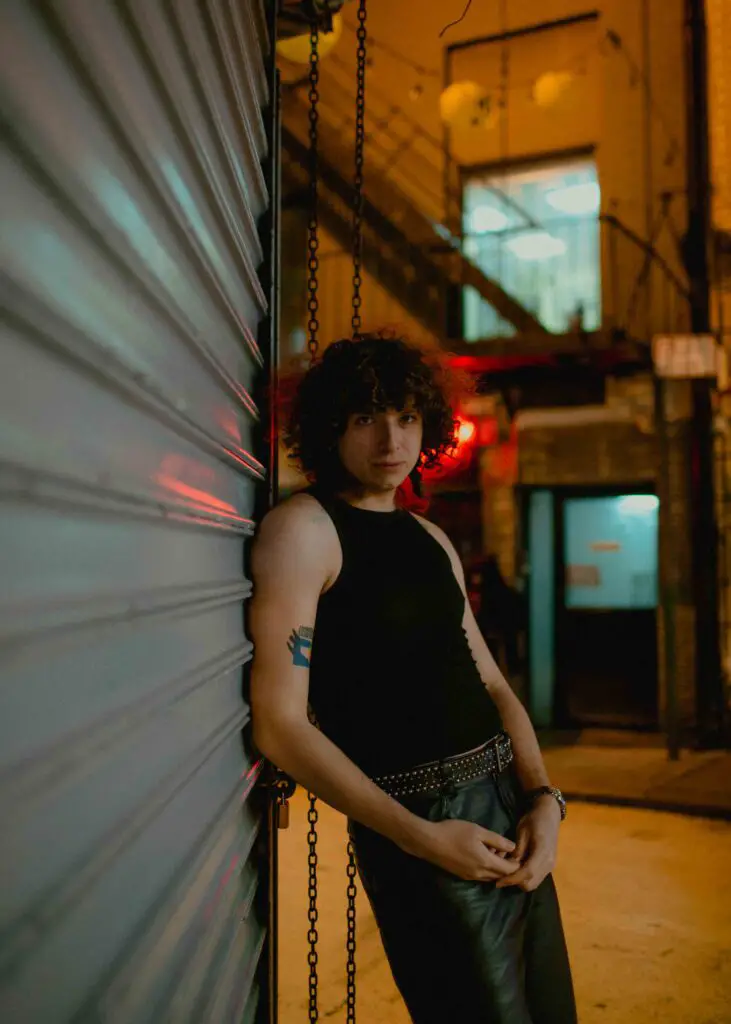 The guitarist's comments prompt some nostalgic thinking in our private booth, Nick taking everyone back to one year at SXSW where the four of them all slept in a single queen bed. "I remember that same SXSW we tried to have a party," Julia recalls. "We couldn't get anyone to come to the party but we bought a pack of like 90 pizza rolls for a party that no one ever came to." She grins fondly at the memory, before turning her attention back to the present: "It's been a beautiful adventure, a beautiful ride that we don't want to get off. Why should we?"
Another constant that's held true is Sunflower Bean's ties to New York City. During the peak of the pandemic, the city was often written off in sensationalist headlines and on social media as being "dead", thanks to a ton of its residents getting out when COVID hit, and the crushing impact of lockdown restrictions on businesses here. But, as nights like tonight prove, that's far from the case – there's still plenty of excitement to be found.
"The best thing about being in New York is the adventure," Julia nods. "I love that you can go to an old-school Italian restaurant then go to Ray's and see Brian, and then we might see Wolf Alice while we're here. There's always action and I've definitely missed that for sure."
---
---
'Headful Of Sugar', she continues, is a snapshot of life, just like the increasingly chaotic disposable pics we've been snapping on our adventures tonight. "It's about living within the constraints of the modern world as seen through extremely mundane real-life dramas and heartbreak, and Sunflower Bean is a New York City band seen through the extremely mundane suburban world of Long Island," she declares.
While the trio are an important part of the city's music scene, there are so many more exciting artists thriving in the neighbourhoods of all five boroughs – and beyond. Olive cites Pretty Sick, Hello Mary and Frost Children as their favourite new bands in New York right now, while Julia adds Momma and Steele FC to the list. Nick, meanwhile, tells us to check out The Feels, the new project of the Bean's touring member Danny Ayala. "He's such a special human being," he says. "He's a curator of culture and a curator of people, and all the people that I've met from Hicksville [the Long Island hometown of Danny and The Lemon Twigs] are the most talented people."
As the noise of the busy bar on the other side of our beaded curtain gets louder and louder, it's time to wrap up our work for the night and focus on fun. Julia calls Wolf Alice's drummer Joel and tells them to come and meet us, before she runs to the bar to fetch Tecates and tequilas. Ellie and Joel arrive to add to the merriment, squeezing into the booth as the drinks keep flowing and conversation moves erratically from Harry Styles to which Sex And The City character we are and onwards, until Ray's calls time on our night out.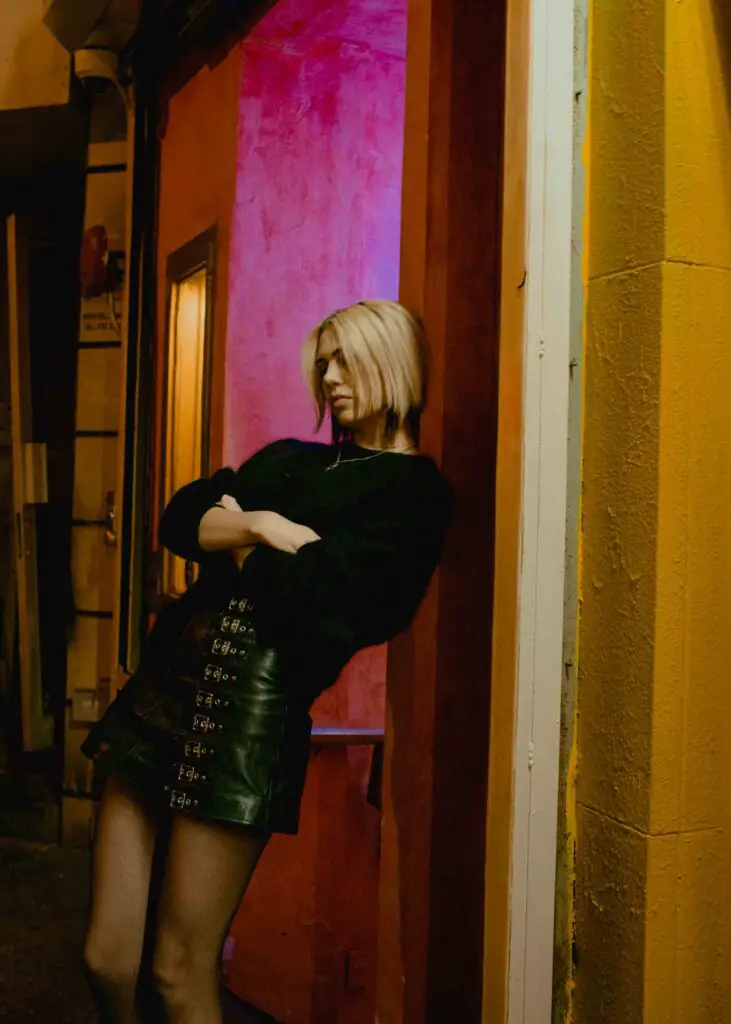 Two-and-a-half months later, Sunflower Bean are sat in their rehearsal room, where the only liquid spilling today is Julia's coffee. The band have just announced 'Headful Of Sugar' to the world days earlier and shared 'Who Put You Up To This?', and now they're soaking up the reaction. "I feel relieved," admits Olive. "It's nice to get it out of the vacuum of your own perspective."
"It's really exciting and it's definitely surreal," Julia agrees. "I spent a lot of days wondering what it would feel like on the day that we announced it. We're just trying to get back into what it's like to be a releasing band coming out of this forced retirement that nobody wanted to go into."
The confidence the band found in making 'Headful Of Sugar' has continued to grow as they've been planning its other aspects, like the video for their new single, which Nick wrote and finds the trio embarking on a life of crime. "In previous videos, we might have worried more about how we look and this was more about what was being done," she notes. "I think that's the right kind of development, really."
Alongside the album and single, the trio have also confirmed a raft of tour dates that look like the kind of schedule they'd keep in the pre-pandemic years. Among them is a "dream show" at Manhattan's Webster Hall – another integral part of their New York youth. "I grew up in the East Village and I've always walked by Webster Hall a million times," Julia says.
Despite that, Sunflower Bean have only played there once before and they say getting to headline there is on a similar scale to one of the other city's famed venues, Bowery Ballroom. "That was emotionally a really big deal to be able to do that," the bassist and singer says of their past gigs there. "I think Webster is going to be similar and it's definitely a show that I've been thinking about and dreaming about since it got booked."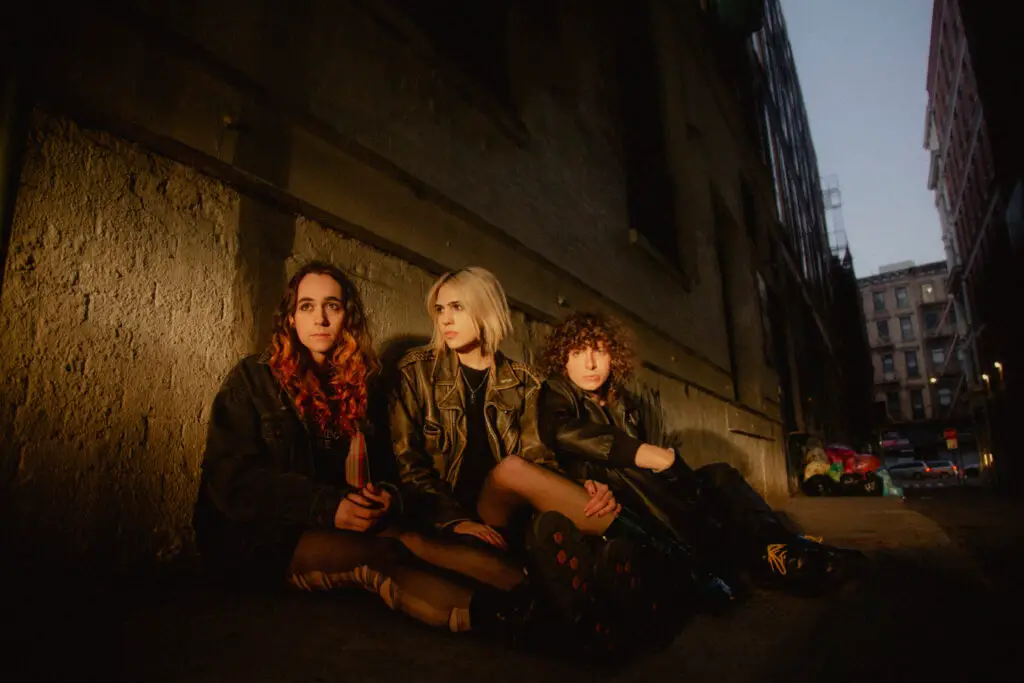 As life – and the buzz of the city – continue to get back to something resembling normal, the trio reflect on just why New York is so consistent at creating great art. "I think it's the street culture," Nick muses. "People run into each other on the subway or walking down the street and it forms this cool community of musicians and artists, because you're not isolated in the car."
"You're inadvertently in the thick of it and the mix of it all the time," Julia nods, before throwing in her own perspective. "New York is like a bitch mother who will kick you when you're down, but then when you're at rock bottom will come to you with a hug," she explains colourfully. "The difficulty and the extremity of the weather and the ability to survive here create a desperation that creates art." Like Sunflower Bean's relationship with the city, that doesn't look like it will change any time soon, ensuring us more great records from the trio and the bands they share the streets with, for years to come.
---
Like what we do? Support The Forty-Five's original editorial with a monthly Patreon subscription from just £2 a month. It gets you early access to our Cover Story and lots of other goodies – and crucially, helps fund our writers and photographers.