Over her two EPs so far, spill tab – aka LA-based musician Claire Chicha – has invited us into her world, slowly revealing more about herself with each song. She sings in English and French (a nod to one part of her French-Korean-American heritage) and writes mini anthems that encapsulate the peaks and troughs of life in your twenties.
On the 'Bonnie' EP, released last December, Chicha leaned into the hints of experimentation on her 2020 debut 'Oatmilk', layering simple acoustic songs with rich textures ('Anybody Else') or playing with her vocals to create an ever-evolving mood ('Pistolwhip'). While her lyrics are pulled from her personal experiences, that latter track showcases her ability to craft a compelling storyline, twisting her situation into a gripping revenge fantasy.
Below, spill tab tells us about working with Metronomy, becoming a tattoo artist and how her heritage has influenced her music.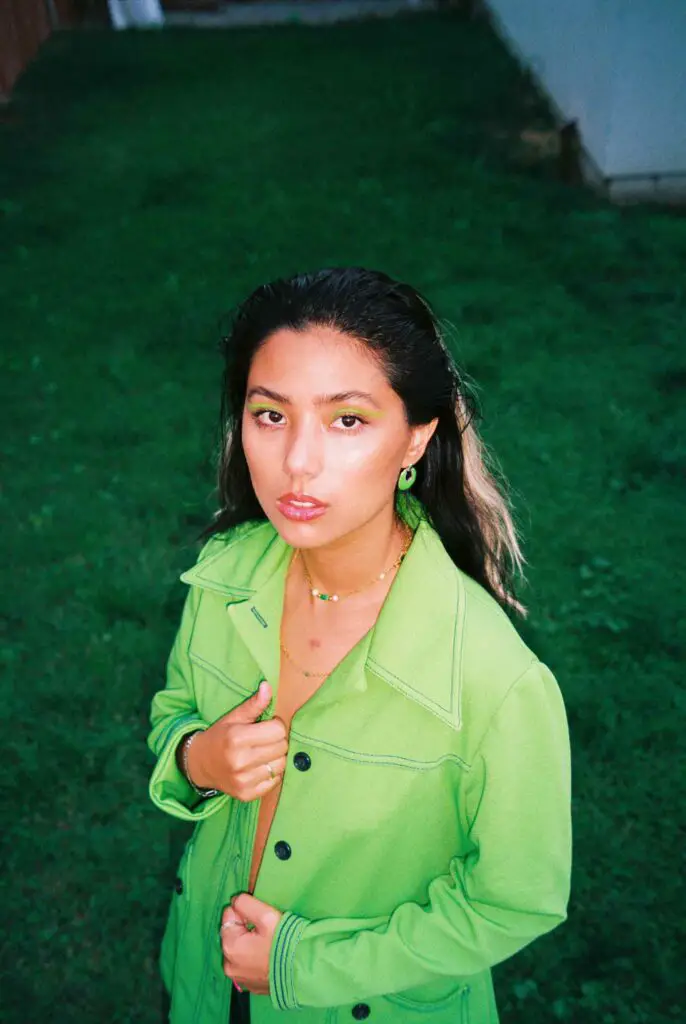 Hi spill tab! You're in our Future Five for 2022. What are you most looking forward to this year?
I'm so excited to do some more touring and to get back on the road and actually meet and talk to people that have been supporting and listening to the music – whether they've been listening for years or they're new to my stuff!
Tell us how you started making music.
When I was 12/13 years old I started covering songs and posting them on YouTube, I think one of my first ones was 'Yellow' by Coldplay and I recorded it in Macbook Photobooth and the entire audio is clipping so hard the whole time… those were the good days… But doing that helped me get into writing songs of my own, it also got me into the habit of working on my vocals, learning new instruments, etc.
Your parents are both very musical people and you've said that growing up the jazz and classical music they're into has had a big impact on how you appreciate music now. In what way?
I don't know if I'd be into the same type of music now if my parents weren't listening to that stuff when I was growing up – maybe I would, but yeah I do lean towards jazz-influenced music, and I do listen to classical music every now and then.
You've had quite a global upbringing in terms of your heritage and living in Bangkok, the US and France. How do you think that's affected your worldview and, in turn, your music?
For starters it gave me such an appreciation of food and its importance in building community and relationships, and how much a country's cultural mindset affects how food exists there. And it opened up my mind 100 per cent, it gave me the chance to understand different cultures and to respect them and appreciate them. And with music, it's just given me so much to latch onto. In a general sense, it's made me want to experiment more.
You released your second EP 'Bonnie' last year, which features collaborations with Tommy Genesis, Jawny and Gus Dapperton. How did bringing in other people change your perspective of those songs? Did having other artists involved open up new sides to the tracks you hadn't thought about before?
The sickest part for me about bringing someone new in is less about my perspective changing and more about expanding and adding to the perspective that's there. I'm so in love with how Gus, Jawny, and Tommy created their own versions of the song when writing their parts. And for sure, having them on the tracks definitely opened them up and gave the songs new life.
'Pistolwhip' is full of vengeful lyrics. How much does songwriting offer you a space to exorcise feelings that you might not necessarily be able to fully act on in real life?
It's a pure fantasy world honestly, it's a space where you can be simultaneously very truthful while writing absolute fiction.
While working on 'Bonnie' you got to do sessions in Paris for the first time. How did working in a place that's a big part of your heritage feed into the recordings?
Just to be able to travel to France for music purposes was incredibly fun, and I got to go with [songwriter and producer] Marinelli, the person that I started this journey with, so we just had a blast. Ate a bunch of French food and got to work with Myd and a bunch of other sick producers. I really enjoyed having French musicians take part in the creative process, that alone was a huge direct influence on the sound of the song 'en quatre'.
Last year you also got to work with Metronomy on their song 'Uneasy'. What did working with them mean to you and what did you learn about songwriting from that collab?
That experience was purely over the internet, so very on-brand for this COVID era. But I'm really grateful for that song 'cause it really pushed me to take a step into the production world. I wanted to make sure every decision was mindful, so I decided to start with chopping up just a drum loop I really liked from an instrumental that Metronomy sent over. Then I built out the chords from there by adding a bass line, then melody and lyrics and background vocals. Once I sent everything back, Joe (Metronomy) brought everything together, created different sections with new chords and added a lot of beautiful touches to make it a full, actual tune.
What have you been working on lately? How does it move on from the sounds and themes of 'Bonnie'?
I've just been in the mindset of experimenting, trying new things, playing around with new gear. I don't have my mind set on what I want exactly, I'm just excited about finding new sounds.
Outside of music, your bio says you're a part-time tattoo artist. How'd you get into that?
I picked up stick and poking during quarantine 'cause I simply did not want to pay $150 for a simple tattoo I wanted, but eventually I got really really into it and started doodling and sketching different designs, then I started stick and poking my friends. I think I've tattooed around 20 people at this point, which is sick.
What artists do you think people should be keeping an ear out for this year and why?
Oklou has been my go-to for drives lately, I think she's only gonna get better and the music's already so good.
Any resolutions – musical or otherwise – for 2022?
This year I'm completely abandoning the resolutions concept. I am just living.
---
See who we tipped as part of last year's Future Five and get the rest of our 2022 list