Nao's speaking voice is like her singing voice. Entirely unique, it is gentle and kind yet emanates wisdom and soulfulness. Every word sounds like she is smiling while saying it. 
Speaking from her home studio, a safe anchoring space where she has recorded almost all of her music to date, that voice explains all the whirlwind ways the musician's life has changed in the last few years. Last year, Nao became a mother to a newborn daughter. Before that, she toured the world and played to the hectic fanfare of Mercury Prize and Grammys nominations for 'Saturn', her critically acclaimed 2018 album. Somewhere in between all that, she recorded her third album 'And Then Life Was Beautiful' – due for release this week (September 24) – during lockdown. After a transformative few years, it's a record that looks forward to a place of hope. 
"When I first sat down to start writing, I was exhausted," Nao says. "I had a real creative block from non-stop travelling and performing over the last few years." Burn-out hit, accompanied by the fatigue of maintaining an artistry built upon evading genres and breaking the mould. "On my first album, 'For All We Know', I was going against the grain. People kept saying I was an R&B artist, yet I had a soulful voice, and I was making electronic music. I carved out this experimental space for myself and was playing in it on purpose, as I didn't want to be defined. On this album, I've left some of that playfulness out. I wanted to just let the music be."
A desire for a more organic sound steered Nao back to basics. Inspired by the simplicity of Solange's 'A Seat at the Table', she focused on more natural instrumentation and pared back the highly stylised electronic production that has come to define her distinctive "wonky funk" sound. From this place of simplicity came 'Wait', a simple and heartrending plea to a lover or a loved one to stay, slow down, and come home, featuring just her voice, the piano, and a few strings. "I went through many versions of 'Wait' that were more electronic, but it always came back to this stripped-down version. I didn't want to go against the grain with it. That's just not where I'm at in my life."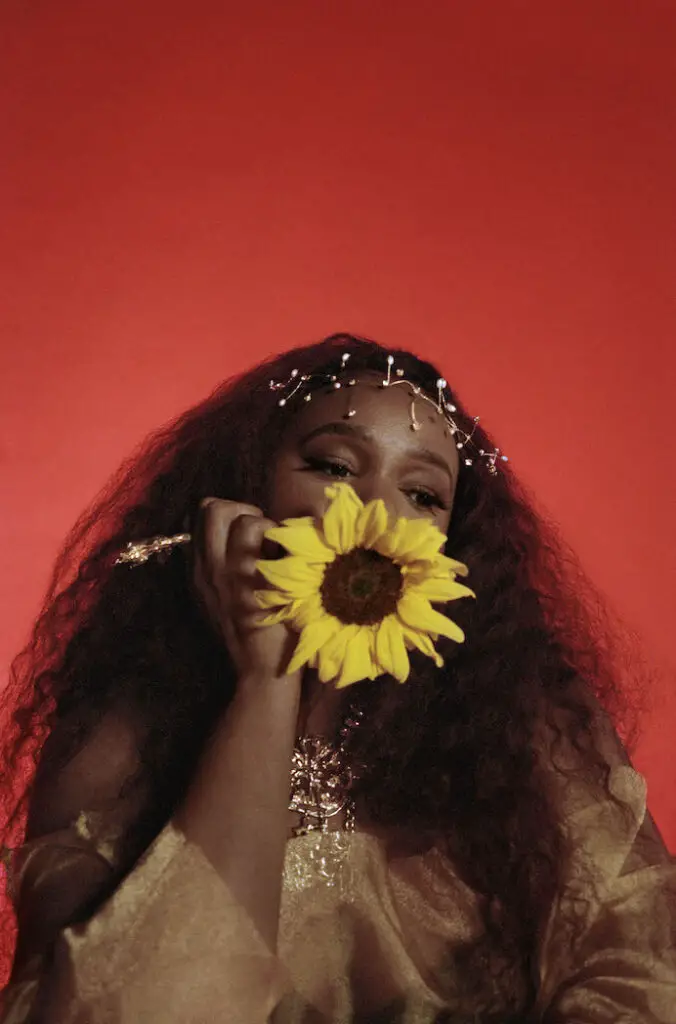 A more grounded sound was just the starting point, which Nao built into the rich, colourful world of 'And Then Life Was Beautiful'. The music swells with the sound of rich reds and resplendent yellows; listening to it feels like swimming through shades of orange, gold and royal purple. Vibrant and joyful collaborations with Lianne La Havas, Adekunle Gold and serpentwithfeet are dotted throughout the album, and Nao invites us to take part in its luscious and ethereal celebration of life and all of the trials that constitute it. "Struggle, failure, sadness, heartbreak… all of that is part of life itself," she shares earnestly. "These songs are about realising that we'll be OK after all."
Interspersed throughout the songs are spoken word interludes performed by Sophia Thakur, one of Nao's long-time favourite poets. "I've always loved interludes. I love the way they're used by artists like Lauryn Hill, Jill Scott and Musiq Soulchild to pull the story of the music together in such a special way," she explains. The interludes, sermon-like in their spiritual and edifying quality, heal and cradle you. Listening to their narrations, nestled amongst the glimmering, celestial soundscape of Nao's design, feels like being wrapped in prayer.
This wisdom not to fight the ugly, complex parts of life, but to accept them and grow from them, is a crucial lesson on Nao's personal journey of crossing from her twenties into her thirties. "This album documents that transition," she shares. "I know what a fascinating, chaotic and critical time of life your twenties are. Through them, I learned that bad things will happen, and struggle will happen, but that it brings so much opportunity to grow and love yourself better."
Then came the most significant transition of all. Last year, Nao gave birth to a baby daughter and turned to music to find herself again within her new identity as a mother. "I started making this the record when I was pregnant, and I finished it after my daughter was born. I found the transition into motherhood really hard, as it didn't come naturally. Making this music made me feel like myself and reminded me of who I was. I got back into it really quickly. I needed it." As her daughter slept, she slipped away to her home studio, compelled to write and record. Being pregnant had been healing in its own way, too – it helped to release repressed feelings Nao didn't know she had and to relieve the creative block that had set in. "When you're pregnant, you are just so emotional all the time. We would run out of butter, and I would just sit in the kitchen, sobbing. Everything was coming up to the surface." 
As she began work on the album,  Nao started collaborating with US producer Dayyon Alexander, and ended up writing most of the album with him. They wrote 'Wait' on the first day they met, "and from that moment on, it was like an unlocking. I finally got into a creative rhythm, and then we went into lockdown."
For Nao, working from home was always the way she made her best work. "I recorded most of the album at home, which is where I've recorded all my albums. I do it in my bedroom, which is where I feel most comfortable and safe. I know that going into a studio with sound engineers and that red 'Recording' light will get you a great quality track, but I know that the way I feel affects how my voice sounds. I sang most of this record in my daughter's empty room before was born." In the case of 'Woman', her warm and tropical duet with Lianne La Havas, she recorded her vocals with her newborn daughter strapped to her chest as she sang.  
"My albums have evolved alongside me as I've grown up," Nao thinks aloud, reflecting on how the personal changes she's gone through have intertwined with what she creates. Who is the Nao that presents herself on this album?  "It's me, but as a grown woman now," she assesses. "I'm a mother. I have hope. I need to protect that." 
'And Then Life Was Beautiful' will be released on September 24 via Little Tokyo Recordings