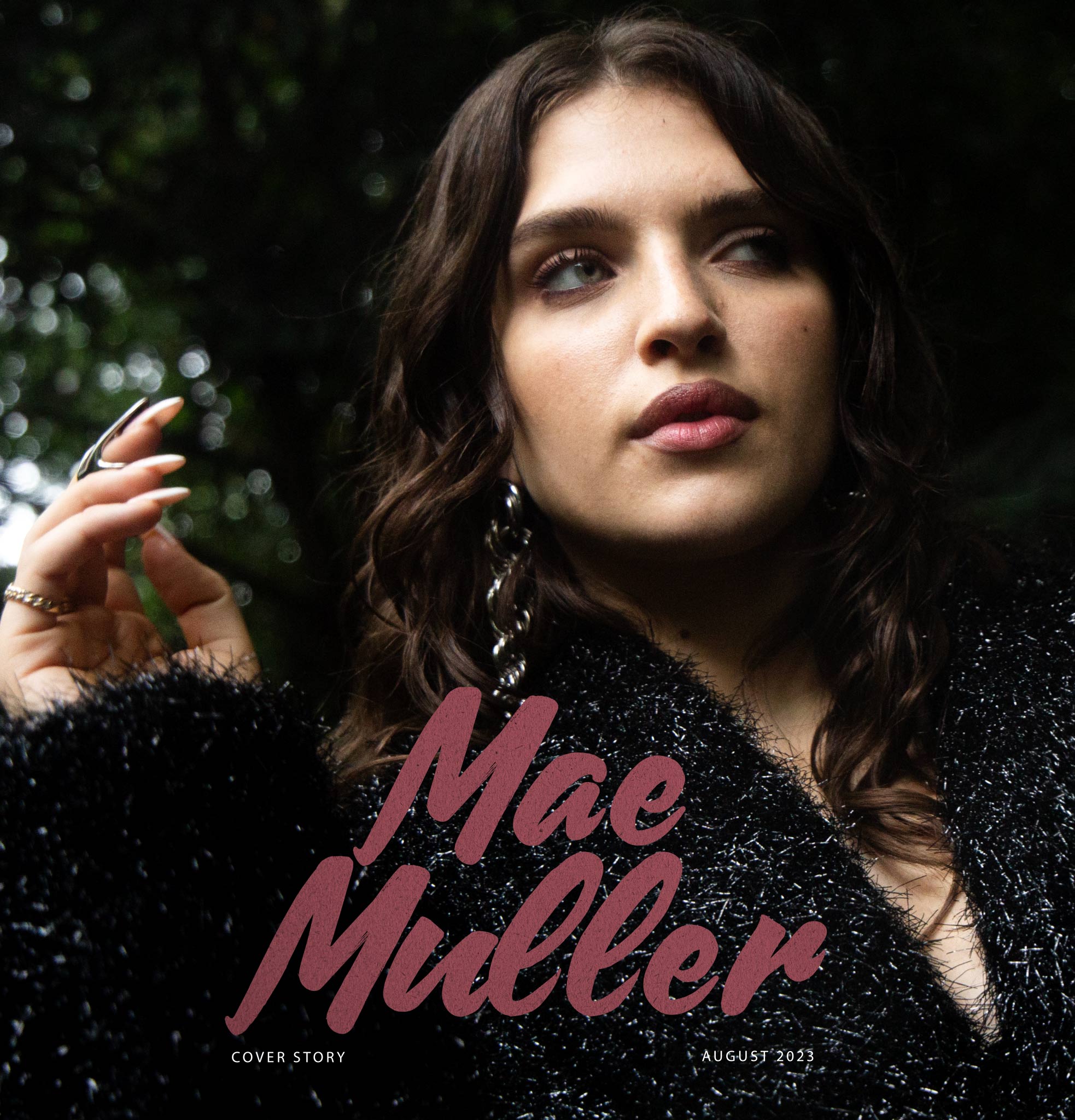 Mae Muller
---
Mae Muller isn't going to let a little thing like Eurovision get in the way of her Main Pop Girl ambitions. Hannah Mylrea meets Mae in her local boozer, to talk upcoming debut album, 'Sorry I'm Late'.
PHOTOS: Louise Mason
---
"Hampstead Heath is where I grew up. I spent all my weekends there when I was younger, doing naughty things…" Mae Muller says with a grin. Sat in a charming pub ten minutes from the Heath, Muller is reminiscing about her childhood in the area. "Down here there's a community centre, it's been knocked down now, but I used to do trapeze classes there," she explains. "My primary school is literally down the road…[this area] feels very rich in memories and what made me who I am."
It's been a day spent strolling down memory lane: Muller's fresh from her The Forty-Five cover shoot over on Heath itself, the rain holding off as she posed for pictures like a pro. Now out of her glamorous shoot 'fits and nursing a hot chocolate, she's chatting warmly about the local area and her history here.
Even the pub we're sitting in holds core memories in her history – it's the place a gaggle of her nearest and dearest came to watch the Eurovision final that she competed in earlier this year. "Everyone was in this pub, they had a projector up. Apparently it was packed, and they all came and watched it. Which makes me feel kind of sad, I don't know why," she reveals honestly with a slight laugh.
This signature candour is something that permeates Muller's anticipated debut album 'Sorry I'm Late', which drops next month. From the album artwork – which features multiple versions of the artist herself, each one representing a different song – to her confident, pithy lyricism, everything about the project is distinctly Mae Muller.
"I just want it to be honest and to show that we can be multifaceted human beings," she considers of what she wants the project to say about Mae Muller, the artist. "There's power in being vulnerable. I can tell a story, I can crack a joke, but I can also go to a deep place, which I feel like I have been scared to do before, but I'm not anymore."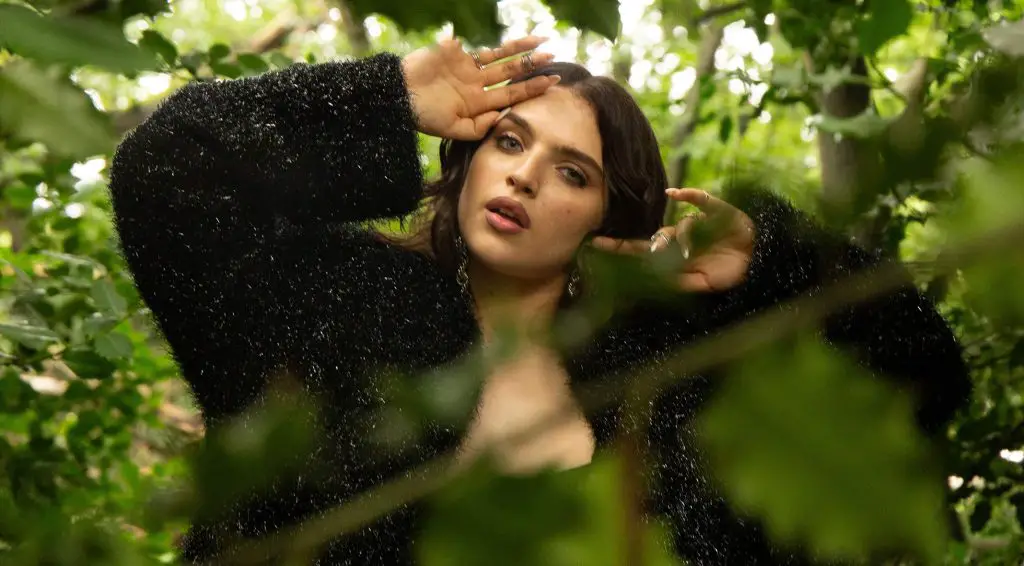 Muller grew up in North London, dining on a wide-ranging musical buffet courtesy of her parents' listening habits. Her father – a "proper live music head" – provided Bowie, Prince and AC/DC, her mother Simon & Garfunkel and The Chicks, as well as introducing her to Lily Allen's 2006 debut album 'Alright, Still', a formative record for a young Muller.
Writing songs in her diary and performing at school, her first proper foray into the music industry came when she appeared in glam-pop artist Mika's music video for his smash-hit 'Grace Kelly'. Directed by Muller's aunt, music video director Sophie Muller, she wowed at her audition for the role. "I sang 'LDN' by Lily Allen," Muller confesses. "It's quite rude and not what an 8 or 9-year-old should be singing."
"I remember I sang that and they were all sat there watching me like: 'Oh, my god, who is this little freak!'" Naturally, Muller bagged the role.
Muller knew from this early age what she wanted to be in this world. As a teenager she worked on music video shoots as a runner – "I'd just go and make tea, and make myself useful. I loved being around that atmosphere" – and in 2018 she released her first song 'Close', a "slow, R&B, sexy song which is so different to what I do now". After a year of juggling working at a pub and releasing music, she penned a deal with Capitol Records UK (which has since merged with EMI), and pursued music full time. From there things began to snowball: a handful of EPs, collaborations with the likes of Ms Banks, Neiked and Polo G, and a slot supporting pop titans Little Mix on tour.
During this time, Muller also split from her first manager. It's something she speaks diplomatically about today, carefully choosing her words. "I feel like I just wasn't in control, and I wasn't being represented in the way I would represent myself," she muses, when asked what happened to get to the point that they went their separate ways. "With managers it's all about representation. You have to be able to trust someone when you're not in the room, they have to speak for you. They're representing you, and I didn't really have that."
"That was the hardest breakup ever," she opens up of the split, likening it to a toxic relationship, before adding: "But in doing that, I was like: 'Wow I've just done something fucking hard, that I never imagined I could do… that really showed me 'Girl, you're a strong-arse bitch!'"
"That's the thing in this industry, you have to make difficult decisions; but I'm happy that I did it. I definitely became a stronger person for it."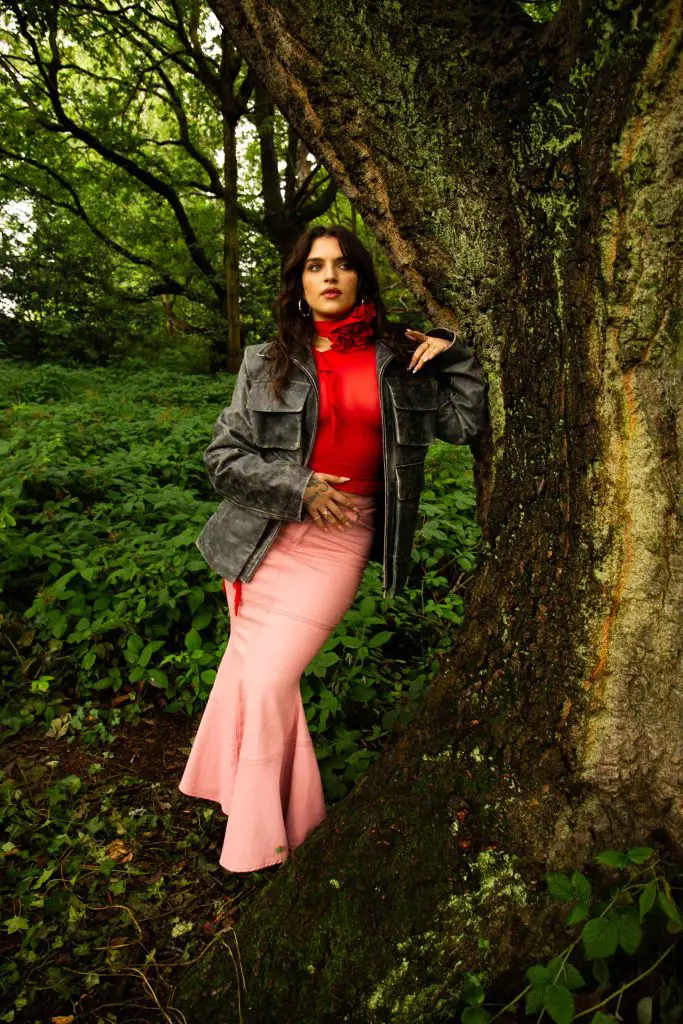 Muller's debut album has been a long time coming, this anticipation leading to the record's irreverent title 'Sorry I'm Late'. The delay came as it had never felt like the right time to drop it before, but going into 2023 the winds changed. "I was like: 'I know what I want to say as an artist. I feel like I'm ready and I've done enough of the groundwork, I've done enough of the singles, this is the time now'". In fact, there had initially been plans to release 'Sorry I'm Late' earlier in the year, but then came the small matter of Eurovision.
When Muller's manager called her one day and asked to go for a coffee around the corner from where she was recording, Eurovision wasn't what she expected to be discussing. "I was so surprised, I never really imagined myself in that world", she says. But the more they spoke about it, the more she was drawn to the idea, and the ability to have her music connect with that audience. Two months after this initial chat, the gig was confirmed. "When I got the call it did feel right, and it felt fun, and I was scared, but it felt like an exciting thing and it felt like a new beginning. Everything was possible again."
With breakout acts like Sam Ryder and Måneskin, Eurovision's reputation had been changing for the better and with Ryder's glorious win for the UK in 2022, British fans had hoped that the years of "nil points" were firmly in the collective rearview mirror. "You always can think of the worst case scenario, and 'what if this happens' and 'it could do this'", Muller says, when asked if she had any concerns that the song contest could be a poisoned chalice. "There are some risks that aren't worth taking, and some risks that are".
She'd serendipitously already written the perfect Eurovision banger in the form of slinky earworm 'I m Wrote a Song'. A fizzing nugget of dance-pop with a belter of a sing-a-long post-chorus of: "Da-da-da-da-da-di", it was beyond perfect for the contest; but when it came to the show, things didn't go Muller's way. On the night of the final in Liverpool, the UK placed second to last. "It was so extreme, that I didn't really know how to process it," she reflects of the disappointment. "I'd never expected to win, but I wasn't expecting that either."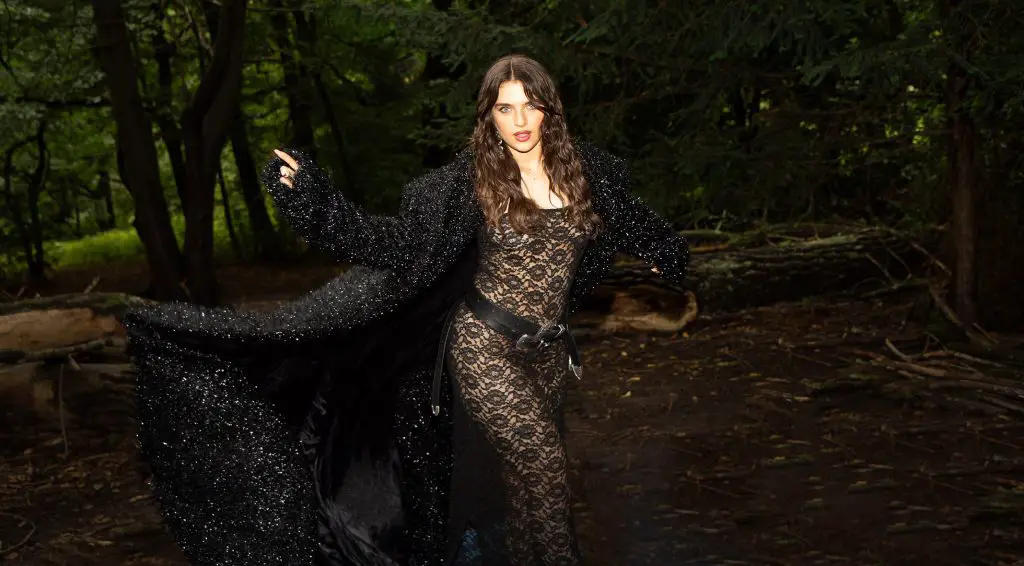 Once she arrived back home in London, she gave herself a day. A day to be upset, to grieve it and to "mourn the process, and what I thought was going to happen." After that day though, she bounced back. "I was like: 'get up, and you need to control this narrative' basically," she says of her next move, realising that the situation was now what she made of it.
For Muller, this meant dealing with the upset with her signature wit and humour. Posting a video on social media that addressed her final ranking on the show, she immediately reclaimed the narrative: "I decided I wasn't going to let it define me."
"In the moment, it was the worst moment of my life; but coming out of it I'm so happy I did it. Even now I'm doing festivals I can really see the difference, and people are really singing along, and that's all I wanted."
Muller quickly moved onto readying her debut for release. She's not worried about the impact her Eurovision appearance could have on its reception, as "every nasty thing that people could say about me, they've already said it." Instead, she's confident about the body of work she's created. "I know it's good, and that's all that matters. Obviously, I want people to enjoy it; but I think they will and I'm trying not to think of that side too much because I could be consumed in worry."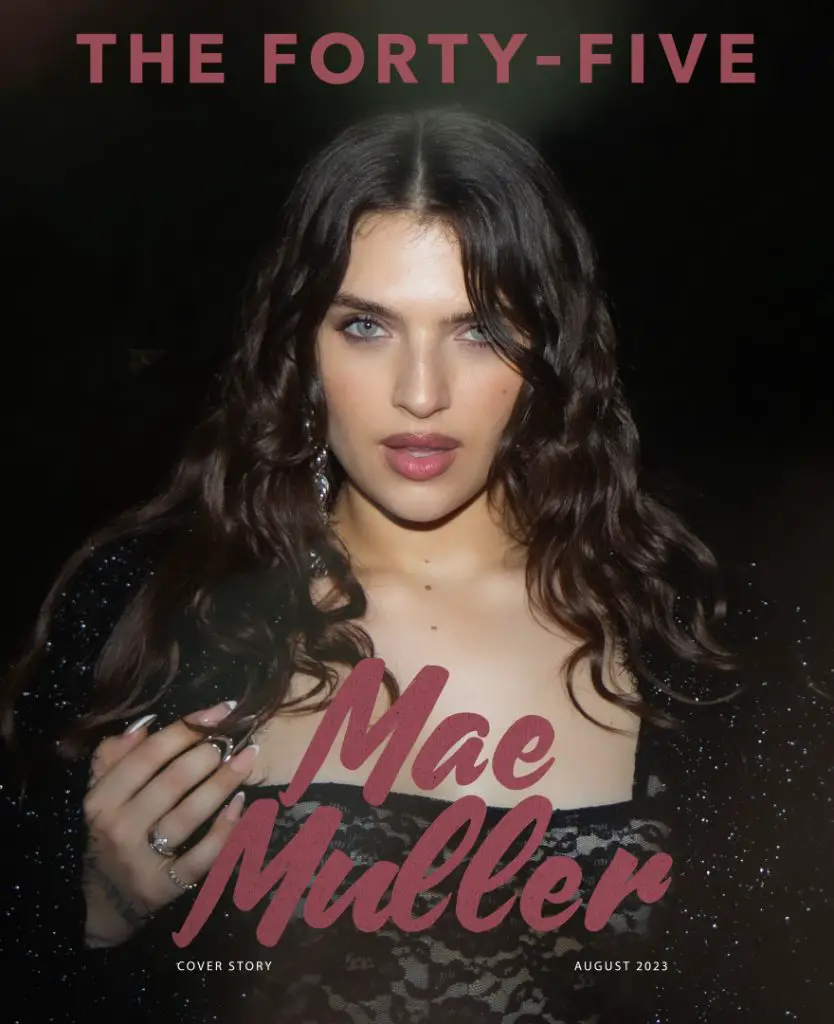 'Sorry I'm Late' itself is a sleek LP of personality-fuelled pop. Inspired by All Saints, '80s synth-pop, The Weeknd's electro-pop smash 'Blinding Lights', and beyond, Muller runs these influences through the prism of her distinctive, country music-style songwriting. It's this songwriting she particularly wants to be known for as an artist, "I'm not bothered about being like the greatest singer of all time. It's the storytelling for me, and it's connecting through those words."
Her lyricism, which is sometimes painfully honest, shines throughout. The shimmering 'Miss America', a dissection of the pressure society places upon women, sees her ask, "Have I passed my prime".
"Age is such a scary thing," Mae admits. "Especially in music. You do sort of feel like there's a ticking time bomb and past 25, you're an old maiden! I wanted to highlight the ridiculousness of it. Like, 'Girlie, you're 25! How could you be [past your prime]?' Especially when you have people like Caroline Polachek, Ashe and Rina Sawayama who are all in their absolute prime and they're in their mid-thirties."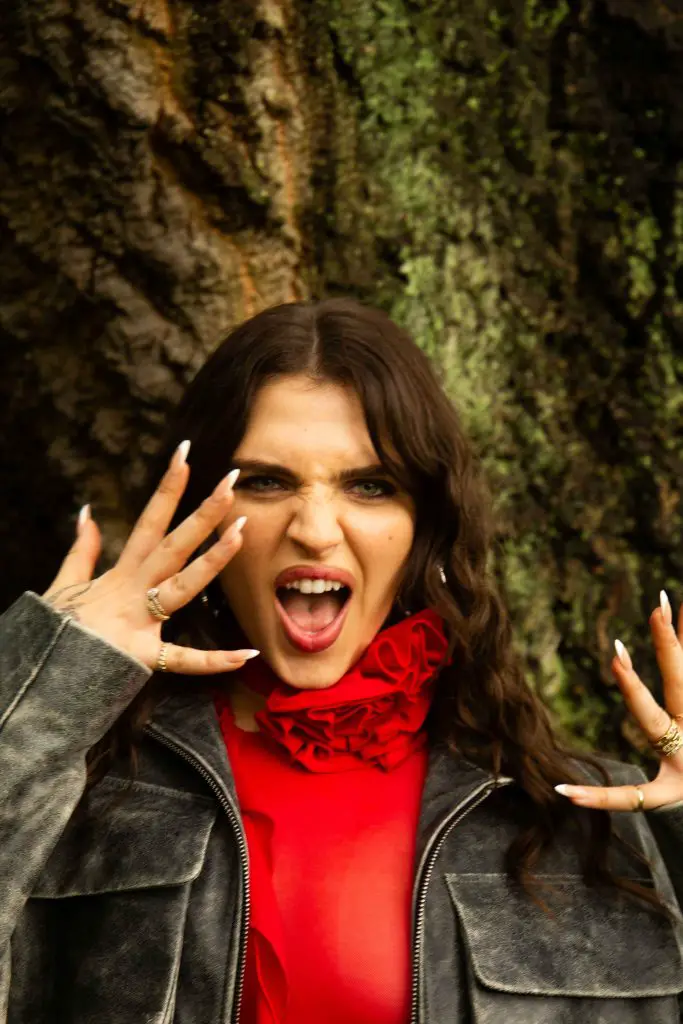 Another album track, 'Porn Lied to Us' is a stripped-back moment that sees her reflect on intimacy and the struggle to be in the moment, instead of being preoccupied with how your partner is perceiving you. In the chorus Muller sings: "I think porn lied to us / No, we don't have to scream every time we touch" over lilting, acoustic guitars.
It's openness like this that's already won Muller a swathe of fans building a genuine connection with audience. "I've never wanted to be this far away, unattainable mystery. I know some artists do the mystery thing really well and I love it; but for me I want to feel that close proximity with people."
Instead, Muller is the new people's princess of pop. Splicing intense vulnerability next to her (self-described) "bad bitch energy", and dealing with setbacks tongue firmly in cheek, her candid lyrics act as a buoy to listeners living through similarly unsettling situations. For Muller, though, that's a two-way street. "A lot of time with artists [making music], it's like: 'I want to make people feel less alone', which is true, but I feel less alone by doing it. When I play live I just want it to feel like it's me and a bunch of my mates in the front room, going through life together."
'Sorry I'm Late' by Mae Muller is out 15 September 2023