At 13, Madison Beer was discovered by Justin Bieber and his manager Scooter Braun on YouTube, singing Etta James covers. It should have been a fairytale story for the social media age; gaining hundreds of thousands of followers, walking in Milan Fashion Week, signing with a label, writing an album.
But eight years on, with "hundreds of therapy sessions" and one scrapped album under her belt, Beer is only now preparing to release a debut album – acknowledging that for years she had been handed a "false narrative." Managed by Braun (perhaps most famous for his ongoing feud with Taylor Swift,) Beer collaborated with the likes of Cody Simpson, and Bieber himself would promote her across his social channels. But her music career stalled, and she found herself in an abusive relationship.
In 2017, audio recording leaked of Madison and then boyfriend Jack Gilinsky arguing, with Jack calling her a "fucking slut"; he later apologised for his actions. Suddenly, her teenage years had become "toxic," and a young girl who should have been on top of the world was "deeply insecure and depressed." Now Beer is outspoken, unafraid to share her truth. But she pauses when asked how those years with Braun shaped her understanding of the industry.
"It's something I've only just lately been thinking about a lot – it was such a false narrative," she admits of her time with the manager.
Regardless of whose side you are on, Braun, 39, has in recent years become the media villain in a story of female empowerment and overcoming misogyny in a male-dominated industry.
Swift, 31, has accused him of "incessant, manipulative bullying" and, after he purchased her back catalogue in 2019, of "controlling a woman who didn't want to be associated with" him; Selena Gomez, Halsey, and Iggy Azalea were among those to speak out in support of Swift.
Beer says her own years with Braun were of the "Oh you don't have a say, you don't know what you're talking about, little girl" variety, but she hasn't let that attitude break her.
"I hold value and if you can't see it and don't want me to have a voice, I am out," says Beer. "There are times where I haven't felt heard, and I think 'I won't back down,' I don't care how big and scary you are, if you're the head of a label, or a president.. I will not be demeaned."
And despite the pause and the apprehension to start talking, once she gets going, you can't stop her.
"Sometimes I think it comes across that I am this strong boss bitch, and I set boundaries… and that's true but it's also taken me years of abuse and trauma and being bullied and told I wasn't good enough for my entire life to get to this place.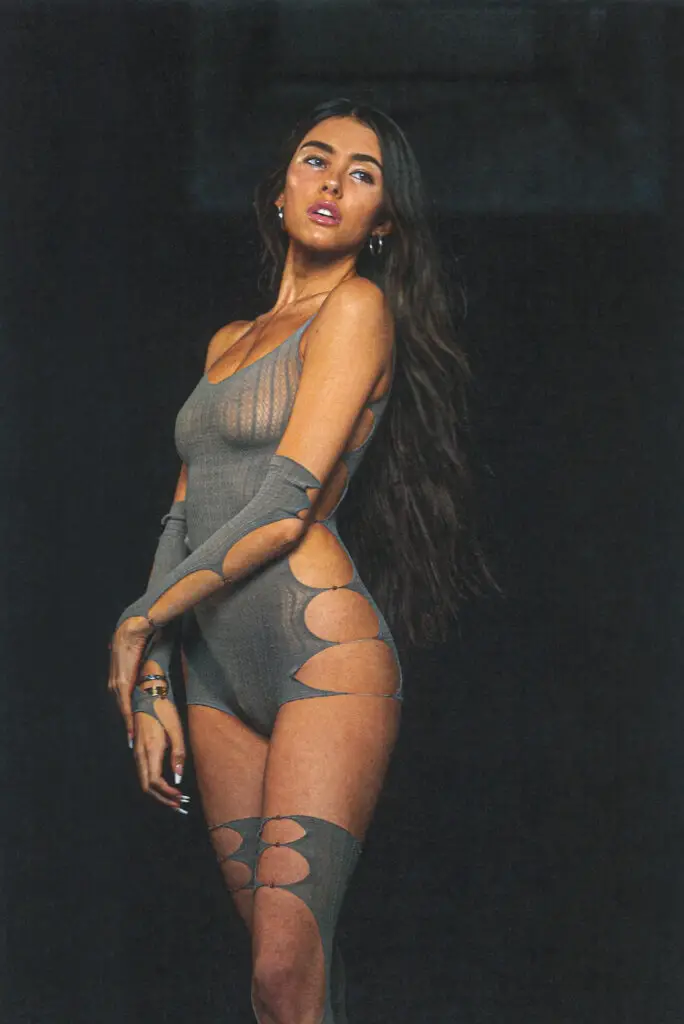 "I want to make sure any young women or people who feel 'Oh, Madison is like this, I want to be like this,' you need to understand it may take 10 years to get to that place and feel confident in a room."
That confidence and attitude is one she brings to the album 'Life Support', originally set for release in January 2020 before being pushed to March, and then pushed another 11 months due to the coronavirus pandemic.
Tracks tell stories of broken hearts, mental health battles, and moving forward with hope, but Beer confides that she sees the album as a "period piece" with an expiration date that is slowly creeping up on her.
"I want it out as I am starting to depart from how I felt then," she says, "I want it out so I can have those moments be relative to me today – if we had waited another six months I probably would have just wanted to drop it."
Beer now sees those additional months as a "blessing in disguise," as she edited every single song, even going as far as to add five new tracks.
"'Emotional Bruises' is the one we went super in on with production, changed a load of vibes," reveals Beer. "I was in my room listening and thinking 'there are so many tweaks we can do!' and my producer was like, 'We can do them!'. Every single song has been mastered and mixed and then I listened and needed to make 10 more edits… they've all been through the ringer!"
Don't expect any of her older songs on the album though; "I don't hate my old songs," she insists before laughing and adding: "I mean, I do, but I see it as – that was me trying to figure myself out at that time and now I am at this place and I know who I am and it feels good."
Beer now has over 22 million Instagram followers, three million Twitter followers, and 13.8 million TikTok fans. Her every move is scrutinised and criticised and interpreted.
But even the best intentions can lead to savage social media criticism, and in 2020 alone, Beer faced shocking online backlash after she was accused of staging pictures during Black Lives Matter protests, and romanticising the novel Lolita.
A photographer shot a series of pictures of Beer at the protests, and he later alleged that it was "planned." Beer shared their DMs in which he seemingly confirmed that he was "being sarcastic," and she posted a statement which read, in part: "I am out here for one reason only. I will not allow it to be spun into something it never was."
"A lot of the time, the pedestal people put me on feels like a chopping block, and to this day I'm still trying to find a good balance," she admits.
To be honest, it's no wonder Beer has considered giving it all up – although her exhaustion was never with the music.
"A lot of kids, their goal is to be famous, and I am like, 'No, fame is the consequence that comes with being an artist, fame is the downside!'" she says, admitting that she has often considered making music under an alias, similar to Sia.
"They think it's glitz and glamour but trust me, it never turns off – on your worst day when you feel like shit there will be 100 people telling you you are shit."
Studies have consistently proven that in teenagers especially, three or more hours a day on social media can lead to poor mental health including depression or anxiety. Now, Beer calls the social media folder on her phone "hell on earth," and gives herself 30 minutes to browse comments before she has to put it down.
She tries not to credit social media with her mental health, good or bad, but acknowledges that taking eight years to get to this point was probably for the best, and that 13 was "too young to be doing what I was doing."
"I now look back and am grateful it has taken so long for people to pay attention and respect me as an artist. I would not have been able to do it, I would have gone crazy if I had all that recognition when I was 15. I didn't know how to value what was on the inside which is sad as I have a lot to offer as a human being.
"Now I know how to internally validate myself and don't need others – I feel like I have been taking back the power."
Madison Beer's album, 'Life Support' is out on Friday 26 February 2021
READ MORE: The 45 best songs of 2020