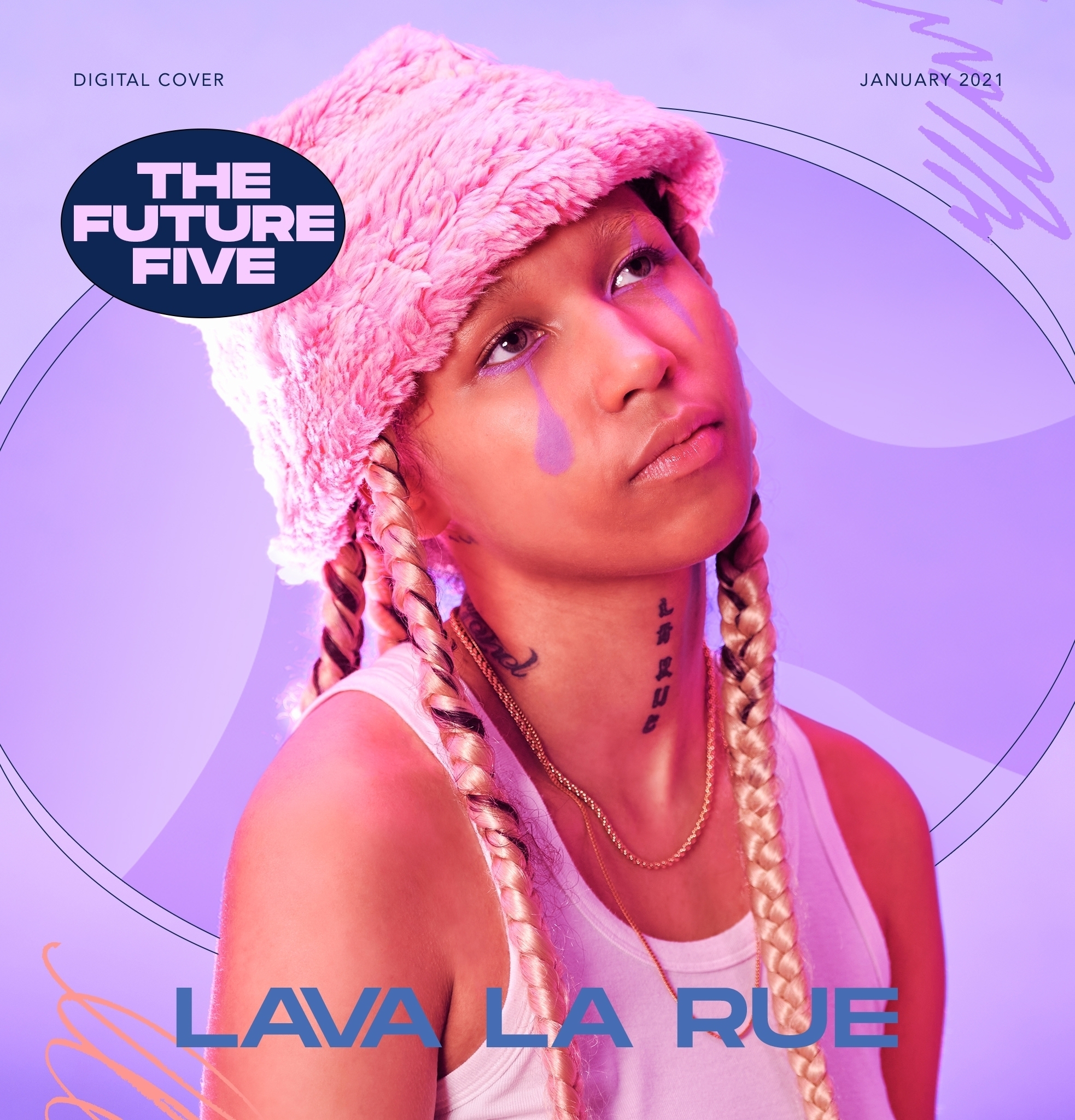 LAVA LA RUE
---
As a founding member of NiNE8, the inclusive London creative collective, and as a solo artist in her own right, Lava La Rue is one of the five musicians you can't afford to miss in 2021. Get to know her and the rest of The Future Five.
Words: Gemma Samways | Photos: Sarah Louise Bennett | Creative Direction: Emily Barker | Styling: Helga Burrill | Make-up: Emma Regan. Created in association with Clarks Originals.
Lava La Rue is no stranger to acclaim. Unanimously praised for both for her solo output and her work with alt-hip hop collective NiNE8, you could forgive the 22-year-old musician/visual artist for feeling intimidated by the weight of expectation currently on her shoulders as she prepares for the most important year of her career so far. That she isn't, is testament not just to how single-minded her creative vision is but to the sheer quality of forthcoming collection 'Butter-Fly'.
"I'm just so proud of this music," she enthuses over Zoom, speaking from the sofa of her Ladbroke Grove council flat. "I've felt a massive change of growth over the past year, and a massive change in my sound. Before, I was always trying things out and never really quite fit into one space. And then I realised that not fitting in is completely my thing. Because with me, what you see is what you get."
Certainly, there's nobody quite like Lava. A singular, multi-hyphenate talent, she's as at home making documentaries for the Tate Modern and designing clothing lines for the British Fashion Council as she is rapping, singing or producing, and her laid-back productions are as palpably influenced by psych-rock, punk, and soundsystem culture as they are hip hop, neo-soul, and trap.
Just as remarkable is the sheer bloody minded determination she's displayed in reaching her current position. Born in the exact same area of West London as she now resides, Lava was raised by her Jamaican grandmother until the age of 12, and spent a large portion of her teenage years navigating foster care. Without the money or connections enjoyed by so many of her more privileged peers, she forged her own path in the industry with no safety net, honing her flow at cyphers and establishing a tight-knit community of like-minded creatives in DIY arts collective NiNE8 (which features her college pals Biig Piig and Mac Wetha.)
Reflecting on her journey to this point, she's typically frank and insightful. "I think when you do grow up as a city kid – left to figure shit out by yourself – you just learn to constantly adapt and become a bit militant with how you're rolling. I've still managed to keep a lot of love in my heart and for people around me, but I think it's almost just been about survival, especially when you are a bit different and weird. When you're a young kid and you're like, 'Oh my god, I'm defo gay, and I defo don't fit into society's beauty standards, and I defo don't come from a really nice background so I'm going to have to do this all by myself,' you're already defying expectations just by existing."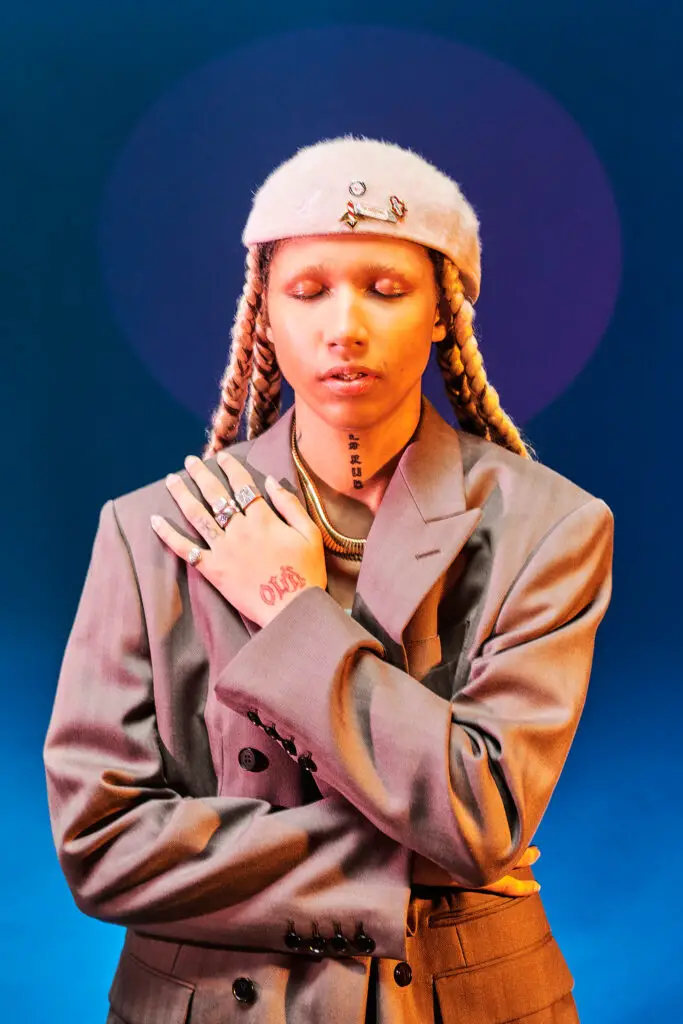 ---
---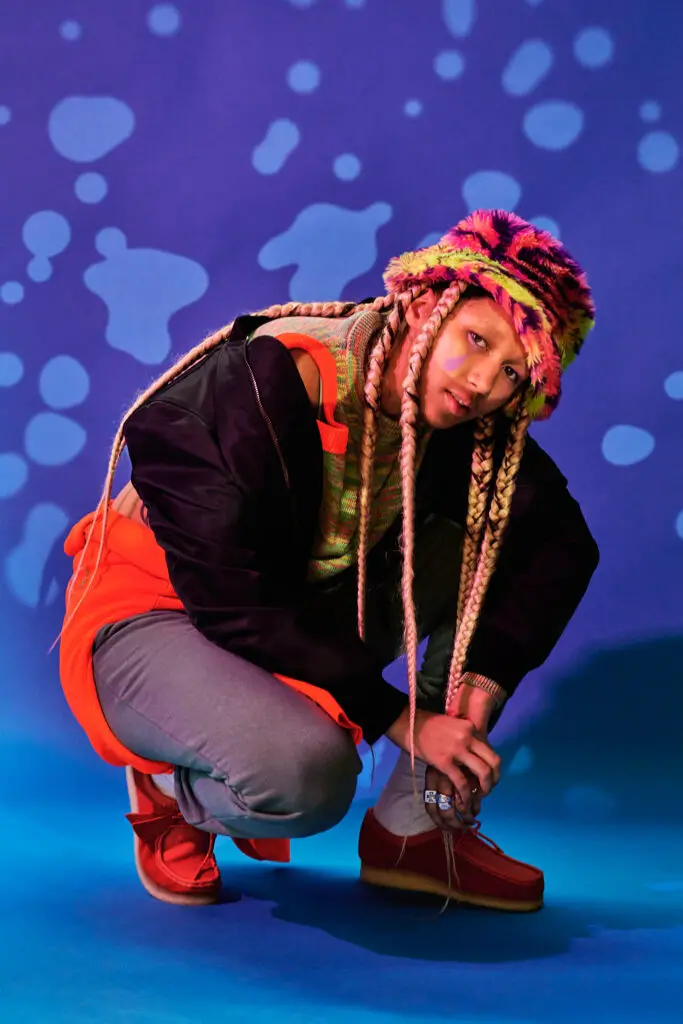 Free from the major label scrutiny and A&R interference that many young artists endure, Lava has never needed to dilute any aspect of herself. For the purest example of this unfiltered authenticity, head to any one of her music videos. "I've never casted models," she reveals. "The people in the videos are the people that have been around me at the time of writing the songs because visually I've always found it really important to represent where I'm coming from. It's about contextualising the music rather than just doing stuff that looks cool."
Listen to her catalogue chronologically and you can clearly trace her evolution as an artist, from the jazz-influenced, neo-soul sounds of 2018's 'Letra' EP to the taut, club-focused beats and supple R&B production on 2019's 'Stitches' mixtape. With 'Butter-Fly' there's been a shift towards more psychedelic textures, a breakthrough which Lava credits to a newfound clarity in her personal life.
"It's about surrounding yourself both mentally and physically, internally and externally, in places that bring out the best in you. And it can take a really long time to find that, or to weed out the things in your life that you realise aren't good for you. Creatively, that can really bring you to a place where you feel liberated because you're not looking left, you're not looking right, you just have this tunnel vision, creatively."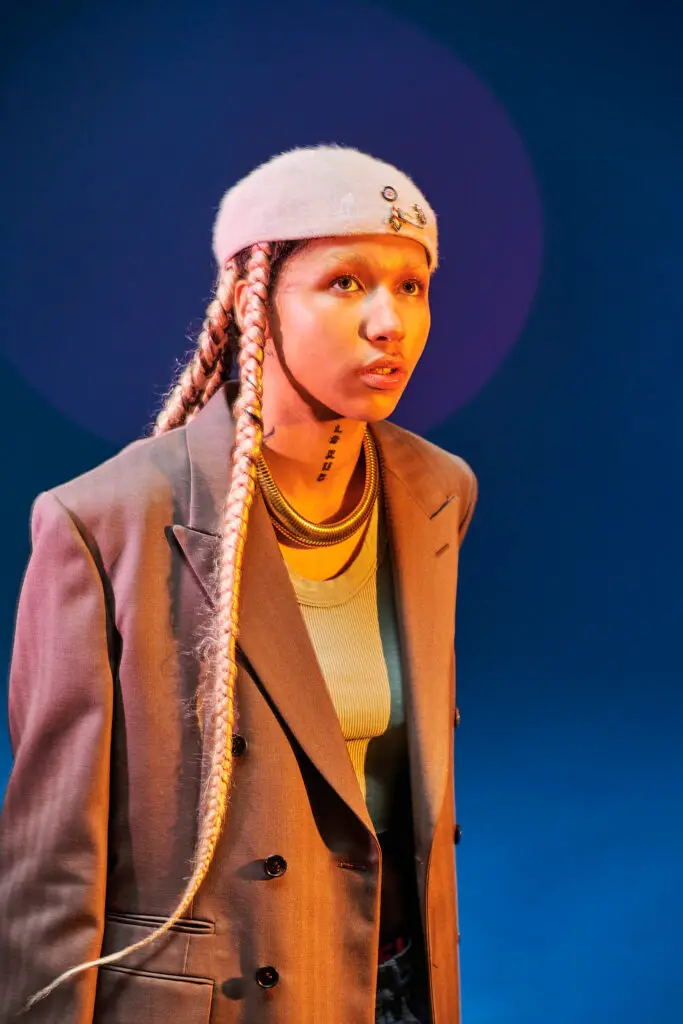 Recorded between L.A. and London, co-conspirators this time round included producers Vegyn, Karma Kid, Courage and Isom Innis of Foster The People, as well as guest vocalists Clairo and Brockhampton-associate Deb Never. When pressed, she mentions Hiatus Kaiyote and Unknown Mortal Orchestra as specific reference points for the record, but it was the concept of fusing the West Coast sound with the culture clash of her West London roots that proved most influential.
"It was about channelling the psychedelic, acid-rock vibe that came out of the Summer Of Love and San Fran and late 60s L.A., but with a bit of 80s Talking Heads vibes sprinkled in there, and then mixing that together with my own sunny Portobello [Road] vibes."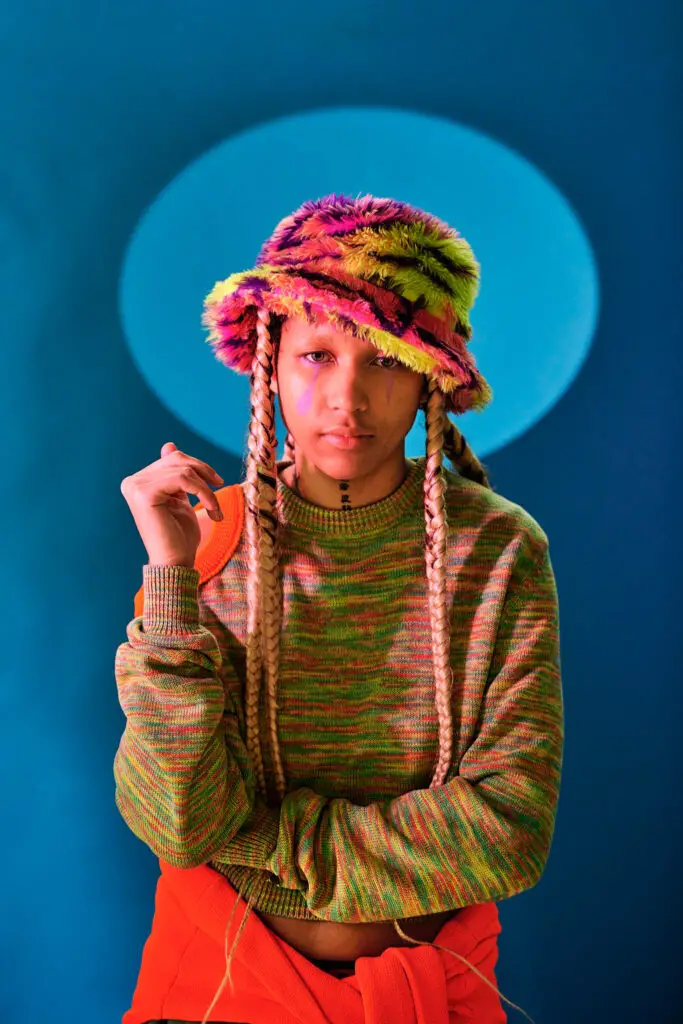 Sunny is definitely the operative word for 'G.O.Y.D'. Originally released last August, and accompanied by a zine featuring contributions from fans, the EP's balmy lead single was overseen by Frank Ocean-collaborator Vegyn, and finds shimmering synths skillfully intertwined with feather-light beats. It was followed in November by the Deb Never-starring 'Angel', a euphoric slice of sun-warped psych-rock, accompanied by trippy cowboy visuals that climaxed in Lava and her co-star sharing a lingering kiss. "I was reading some of the responses to 'Angel' online," Lava laughs. "They were like 'Oh my god, Lava and Deb Never – this is what the gays need right now!'"
Joking aside, this willingness to foreground her sexuality is unquestionably a new development for Lava. Where previously she used her flow to focus on social issues and more observational content, with 'Butter-Fly' she's leaning into her romantic life for the very first time, with each song zoning in on a different facet of love, whether that's the first flush of sexual attraction on 'G.O.Y.D.' (which stands for Girl Of Your Dreams) or learning to feel comfortable with intimacy ('Goofy Hearts Club'). As she explains, it's a decision she didn't take lightly.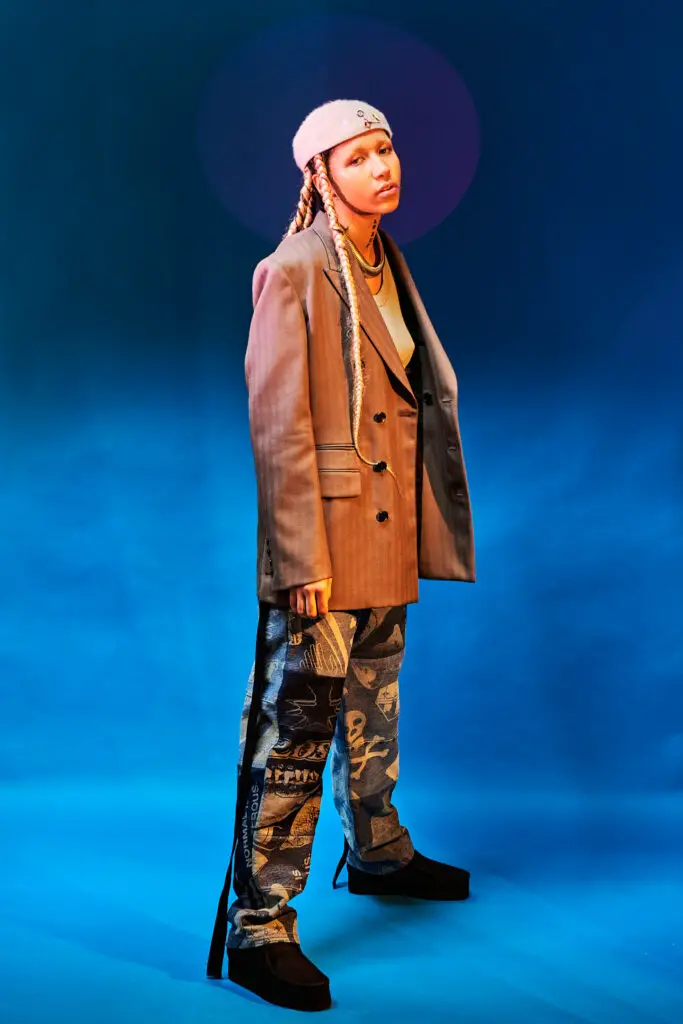 "I didn't approach love songs before because I was like, there are so many love songs, and so many 'I Want You Backs', and I just felt like I didn't need to put any more of that into the world. I had so much to say about life and my community and how in love I was platonically with the scene around me, so for the first two projects, 'Letra' and 'Stitches', it was a lot more focused on that.
"What changed, is that I realised actually how little black queer representation there is, specifically in genres that aren't just considered as queer music genres, whether that's music for the club or whatever else. Like, I don't know any psychedelic queer love songs and there should be loads. I realised that just by telling my story it was inherently political, because I feel like young, queer people deserve more choice and representation."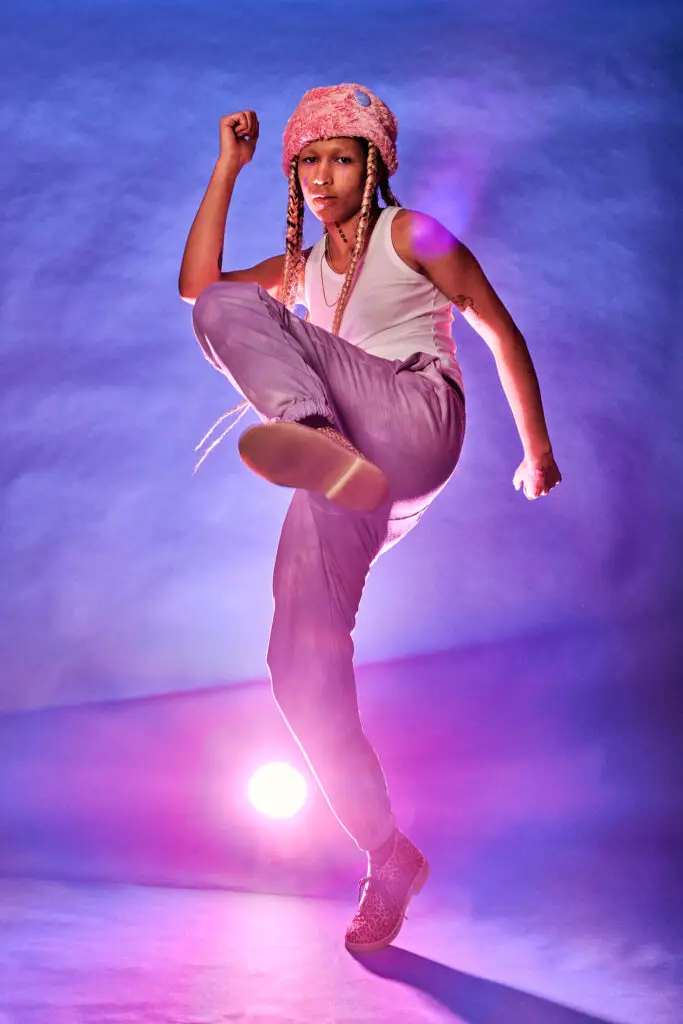 Lava can still vividly recall the struggle to find relatable, queer role models as an adolescent. "When I was younger and I was first looking for lesbian artists – whether that was rappers or singers – the choice of what to listen to was so slim, and often not up my street. Like, I didn't grow up having people who had that exact, specific intersection of music to represent me by – I just pulled out different intersections from different people. I'd get my rebelliousness and gender fluidity from Prince and Grace Jones, and I'd get my UK vibe from Britpop and Blur and The Streets, and then I'd get my punk, skate vibe from Paramore. I had never met an artist that managed to bring all of those worlds together."
---
---
Circling back to her recent collaboration with Deb Never, she continues. "I think It's cool that there can be a song where there's a Jamaican British girl and a Korean American girl and they're making psychedelic music together, do you know what I mean? That means that there are other kids that can relate to that and feel seen right now, which is exactly what I needed when I was younger."
Unsurprisingly for someone so community-minded, accountability is huge for Lava. With NiNE8 she's run songwriting workshops for local children, and for the release of 'G.O.Y.D.' she donated proceeds from the song to 'For Our Sibs', a Black Trans Exclusive collective centring Black Trans, Non-Binary, Gender Non-Conforming, and Intersex folk. It's not just about giving back to society either, it's about leading by example.
"The main message of NiNE8 is a collective vibe and solidarity across races and genders and identity and class. [As a solo artist] it's about something as simple as just trying to teach people self-love, and you know the best way to do that is to put that in your own life. Because there are so many artists that talk about that stuff and just don't follow it."
It's difficult to think of many other musicians who could enthuse about self-esteem, solidarity, and personal growth without coming over preachy or insincere. This ability to connect with audiences on a human level is precisely the reason we need an artist like Lava La Rue in 2021, a year that's already shaping up to be every bit as challenging as its predecessor.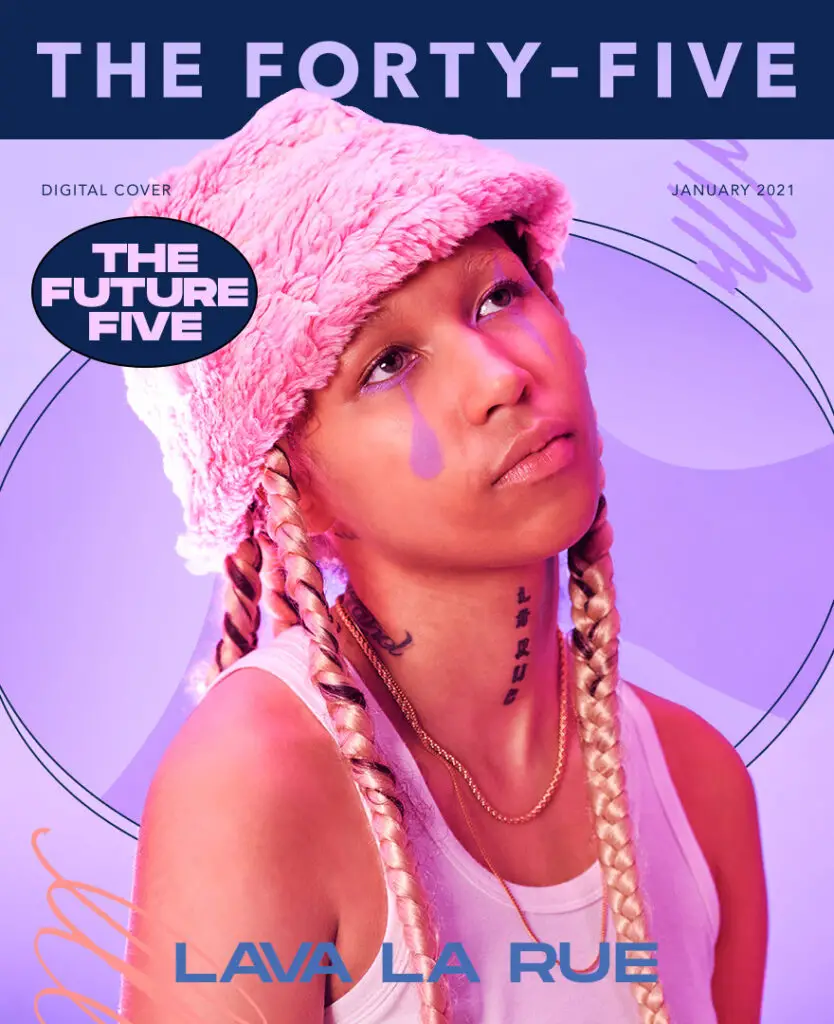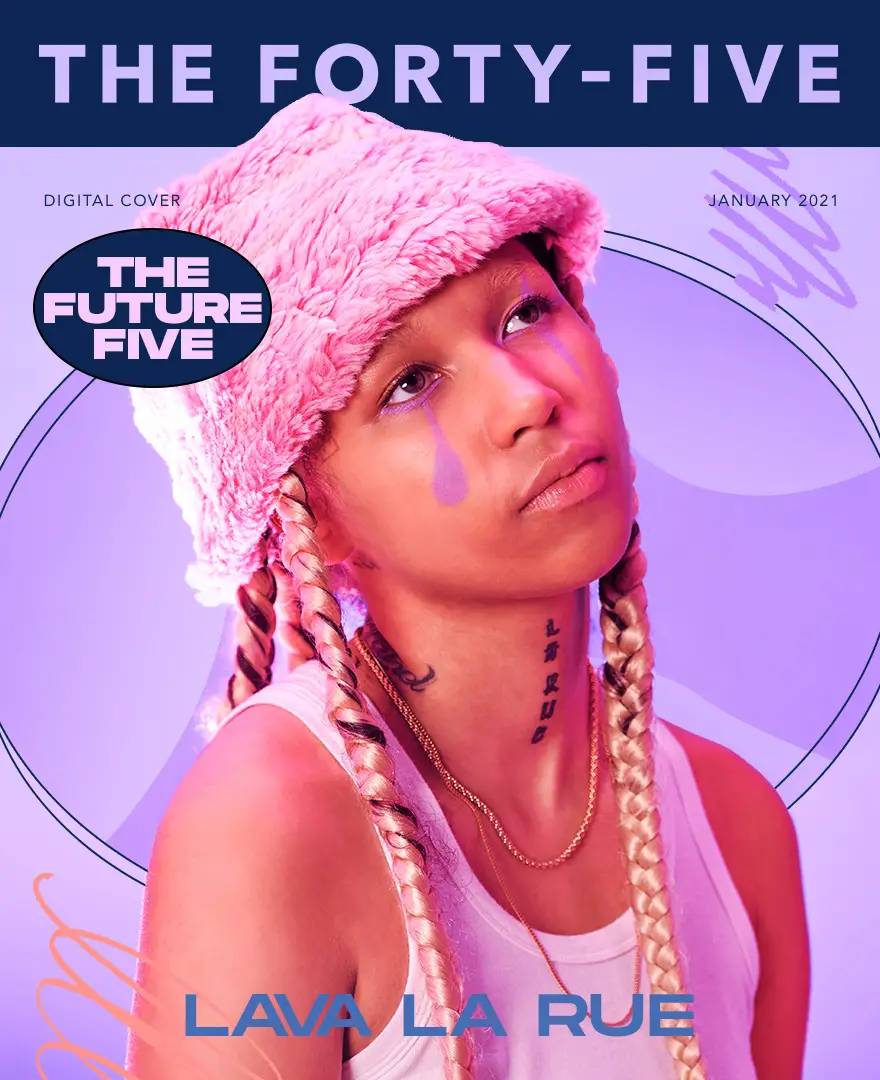 Ask Lava about her hopes for the year, however, and you'll find her eyes already trained far further into the distance. "I'm always thinking five years ahead," she asserts, deadly serious. "I already know the project I want to do at the end of next year and the year after that, and the project I want to release when I'm 25.
"I don't feel like I've remotely peaked or shown half of my capabilities. I've only just gotten into the groove. There's gonna be so much more to come."
---
Like what we do? Support The Forty-Five's original editorial with a monthly Patreon subscription. It gets you early access to our Cover Story and lots of other goodies – and crucially, helps fund our writers and photographers.
Become a Patron!