Julia Michaels is the music industry's worst kept secret – and she would quickly tell you the same. "I didn't ever plan on being an artist," she says over Zoom from LA, the Cali sun illuminating her easy, infectious smile. "And then, I started having songs with other musicians that became hugely successful. All of a sudden, people started to expect something more from me, as if I was able to shit gold!"
It's not hard to understand why the 27-year-old was once reluctant to kickstart her popstar career. Michaels started penning commercial ditties for Disney from the age of 14, but word-of-mouth recommendations amongst label bigwigs meant that by the time she was 22, she'd co-written behethomic bangers for Justin Bieber ('Sorry') and Selena Gomez ('Hands To Myself'). Her unrivalled songwriting catalogue now spans superstars including Zara Larsson, Ed Sheeran, and Demi Lovato – and her work has produced monumental results; 2019's 'Lose You To Love Me' became Gomez's first number one on the Billboard Hot 100.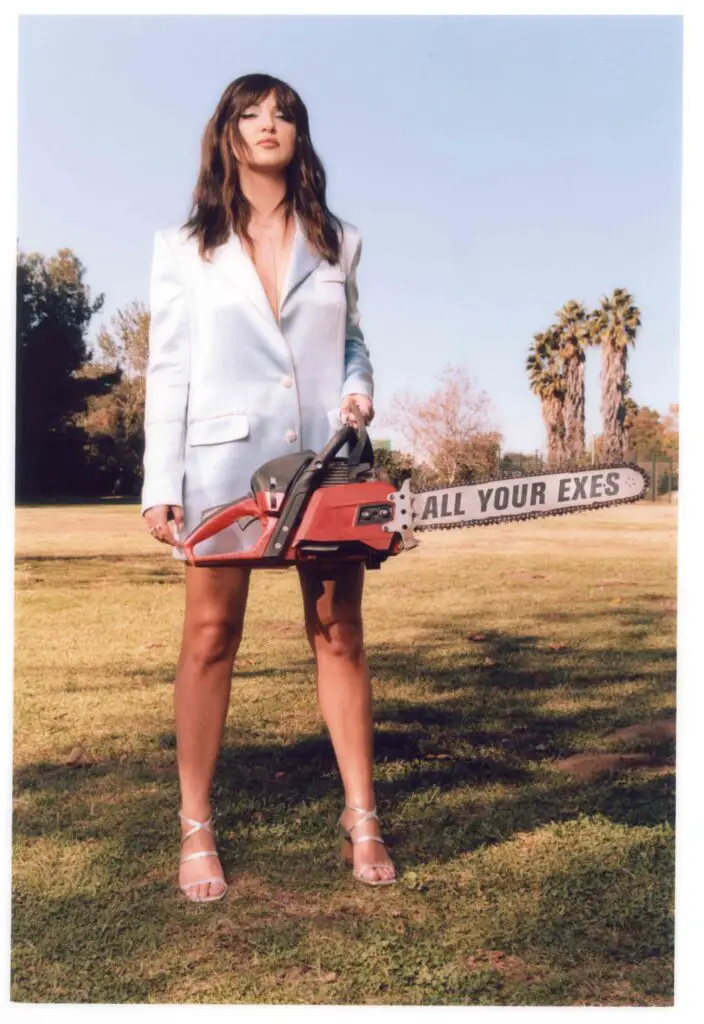 But while she worked behind the scenes for other artists, Michaels learned to sing in the studio – initially with autotune on – and became a solo artist on her own merit with her 2017 debut single, 'Issues'. The pathos-strewn pop anthem quickly transcended into a ubiquitous hit that has since surpassed a billion streams, and is now 5x Platinum in the US. Though being catapulted into the spotlight for reasons other than her co-writing credentials meant that Michaels' anxiety quickly became debilitating, and she soon suffered panic attacks during recording sessions.
"I just felt this constant, huge pressure to perform, and it scared the shit out of me," she says today. "I never really thought of myself as a singer; I always thought of myself as a songwriter, but with enough of a tone to carry out a song. But I learned to push through my fears because that battle only came from loving what I do."
This time last year, the Iowa-born artist locked in plans to finally challenge the stratospheric expectations that had long been placed on her: she started recording her long-promised debut album, 'Not In Chronological Order'. Preceded by five excellent EPs, this tight 10-song collection showcases an artist that has utilised her pain to grow stronger; with evocative songs that sound as though Michaels finally feels free – her newfound fearlessness is blatant and cathartic.
Michaels' personal life has changed a great deal since the release of 'Issues'. She wrote the majority of the new record with her partner, Canadian musician JP Saxe (with whom she collaborated on the Grammy-nominated single, 'If The World Was Ending', in 2019), and describes how she now values maintaining her emotional health much more than she did four years ago. Her "thriving and honest" relationship with Saxe has been integral to her journey of self-development: "Because I have anxiety, I always thought that I wasn't good enough for love, or that I didn't deserve it. But then you meet somebody that completely changes that," she says.
Love – in all its excess and its bliss – is a persistent theme throughout 'Not In Chronological Order'. The effusive 'Love Is Weird' details the head-over-heels giddiness that accompanies the early stages of dating ("Now we're kissing under lamp posts and we're asking deeper questions"), while twisted album opener 'All Your Exes', is immediate and biting; over a faintly menacing grunge pop riff, Michaels imagines what life would be like if her significant other hadn't previously ever loved anyone else.
The track, with its sardonic lyrics – "Be the only girl that's ever been in your bed/I want to live in a world where all your exes are dead" – is refreshingly to the point, and is also a necessary step forward for an artist whose songs have long been shot through with worry and despair. Michaels likens this unfussy writing style to therapy, and cites the disarmingly raw lyricism of both Fiona Apple and Tori Amos as inspiration. "Being in the studio is my safe space," she says. "It's where I feel the most brave and where I feel like I can say anything through my writing.
"It's funny for me," she adds, with a short laugh. "If I was my 13-year-old self and I heard this album, it would definitely be like the artists that I grew up listening to."
Michaels radiates a warm confidence when she talks about what she's learned while making 'Not In Chronological Order', and explains how the record has brought her to something of a full circle, all while providing her with a vision for the future.
"You know, I always thought that love was supposed to be like this crazy, toxic, dramatic, painful situation, and that I had to create fucked-up experiences in my own personal life in order to write songs," she says, followed by a self-assured nod. "And then I fell for someone, and finally realised that I can write about love in whatever way I want to."
'Not In Chronological Order' by Julia Michaels is out now