While nothing could ever make sense of the disorientating weirdness of these times, Georgia Ellery and Taylor Skye captured the spirit of it in their work as Jockstrap.
Having signed to Warp Records in February, the Dean Blunt and Björk-approved duo spent the year further confounding listeners, first with June's EP 'Wicked City', which fused orchestral pop, glitchy electronics, surreal monologues and schizophrenic song structures with brilliantly lysergic results. After completing their studies at London's Guildhall School of Music and Drama (Taylor got a 1st in Electronic Music, and Georgia a 2:1 in Jazz), it was followed in September by a six-track mixtape, intriguingly billed 'Beavercore'. It quickly transpired that the name was about the least remarkable thing about it, thanks to its stark juxtaposition of shapeshifting remixes and tranquil piano preludes.
Speaking from Taylor's parents' house in early December, here the duo talk us through their remarkable 2020, discuss forthcoming material and explain how Elton John, Charlie Kaufman and Disney porn have all been equally influential in shaping their esoteric creative universe.
How has 2020 treated Jockstrap?
Taylor: We've not actually seen that much of each other in real life.
Georgia: Yeah, we've been in various houses and flats, moving. We did get to release the two EPs, but because we didn't get to tour them it's felt a bit like the cycle isn't totally complete. But we're good otherwise.
You started 2020 by announcing your signing to Warp. Presumably you were already massive fans of their roster?
T: Yeah, that was a big deal. I think I didn't really believe it until it materialised. It's like I was trying to not get too excited. But yeah, it's great. It's also an interesting crowd to be a part of, because they're used to parts of what we do and then also parts of what we do is quite alien to die hard Warp fans.
G: Yeah, I don't feel like there's anyone on Warp that we resemble. We take from all these people on the label, but we've created our own thing. It definitely feels good to be amongst people that we would like to collaborate with. And to have the opportunity to do so, if we get the chance.
It feels totally impossible to predict what you're going to do from release to release. Is there an element of you wanting to confound people?
G: I think we try to confound ourselves, or at least try to make something that we haven't heard before. The only value we hold to our music is originality. When we're trying out new stuff, it's like, 'But is it original enough? Has it got something fresh about it?' I don't think we do much thinking about the audience at all. I don't know whether that's a good thing or a bad thing.
T: Yeah I'm trying to ignore [audience reaction], because that's not useful. Like, it's weird the interest in 'The City'. To me it's one of our least interesting songs structurally, because it's just two songs chopped together. But then I guess people don't do that that much.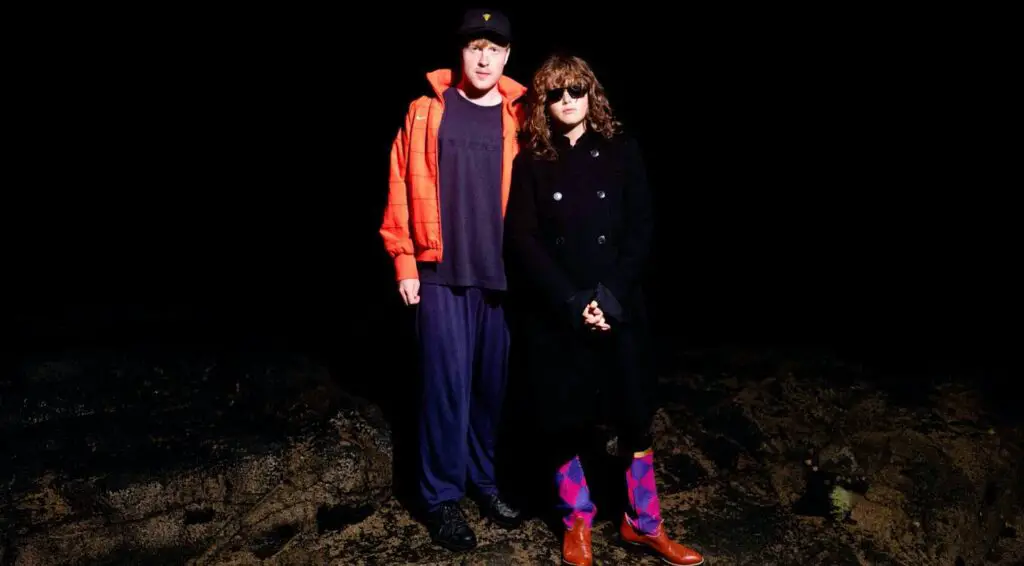 Can you tell us more about the composition of 'Wicked City'?
G: I guess the songs were written and finished over a year and a half or two years. It was quite a long period of time, but we were also doing our third year [of study] so we had a dissertation and stuff to do, so it was just finding the time.
Lyrically it's quite emotional, quite intense. I was going through a bunch of stuff and was kind of resetting. Usually I like to write songs that aren't necessarily about myself, but that changed with this EP. I was really into Elton John at the time. I mean, I'm always into Elton John, but I was really into Elton John on this one: 'Yellow Brick Road' and 'Madman Across The Water' especially.
There's definitely a surreal streak to your work too.
T: Yeah, I really like that. We both like that in films, I think. Like, I really like Tarkovsky. And that new Charlie Kaufman film, 'I'm Thinking Of Ending Things'. I think you can be a bit more abstract in films and get away with it. Like, Kaufman is a popular director and yet his films are incredibly surreal, and that's quite unusual. But yeah, with this project because it's two different, quite uncompromising minds coming together, that creates surrealness.
G: I think we like to make each other laugh too. And that can be translated in music without it being ironically funny.
T: It makes it more emotional when it's funny.
Which brings us back to 'The City', with its lyric, "He sat on the beaver's face". Can you elaborate?
G: So the second half of 'The City' is this magical story in the woods of this beaver and this bear and a monster. It's all quite incestuous in this household, and the beaver is sitting on the monster's face, which implies something but doesn't necessarily say that's what it is.
I made a video for 'The City' but we weren't allowed to release it via the label, because it had Disney porn in it. It's still on YouTube though. And we called it 'Beavercore'. And then Taylor suggested the name for the remix EP which was great, because it implies that we've coined our own genre of music called beavercore.
So what's next for you? Is it another EP, or an album?
T: I think we're just working on songs for now. But probably something bigger… We've done quite a lot of EPs now.
G: The situation with COVID has just really impacted the writing for me. I didn't realise how much going to gigs, going to the theatre, being around people, generally being sociable, how much that influences and informs the writing and gigging.
T: Yeah, we weren't sure for a while how things were going but it seems like we've started to pick up a bit. So we're hopefully going to have a decent amount done by the start of the year.
How do you feel you're evolving as artists?
G: We're getting better at what we do.
T: I don't think we are getting better; I think we're just changing. I don't want to assume that just because I'm getting older I'm getting better, because you can lose your naivety as you get older. I think what we did at the beginning [of Jockstrap] is different but just as valid.
Can you give us any idea what to expect from the new music?
G: Oh here it is! This is what she wants to know!
T: Erm…
G: Don't expect anything. Obviously, more banging songs than ever before.
T: Yeah there'll still be songs… Probably.