Think back over the most gripping shows of the last year, and they all have one distinctive quality in common – a standout soundtrack. From the eclectic, new artist-led music woven through Michaela Coel's I May Destroy You to the '80s hit-heavy arsenal of Russell T. Davies' heartbreaking AIDS-era drama It's A Sin, television's most affecting and memorable moments are interwoven with the songs accompanying the story. Normal People – the widely-watched adaptation of Sally Rooney's novel – even managed to breathe new life into Joy Division's 'Love Will Tear Us Apart' and Imogen Heap's 'Hide and Seek'. The latter, an auto tuned folk-pop classic, has long been associated with a particularly dramatic, slow-motion fight scene in soapy California drama The O.C. Sixteen years later, the same track soundtracks a steamy montage of Connell and Marianne's relationship, which takes place in secret. 
These repurposed moments and genius song choices are not just a happy accident; instead much of this is down to a music supervisor. Working closely with the show's director, producer and editing team, they're the member of the crew responsible for choosing nearly every song you hear on screen. Once the soundtrack is locked in, the music supervisor is also responsible for clearing the copyright to use each track.
"There's no such thing as a typical day at work," says Iain Cooke – music supervisor on It's A Sin. The role varies massively, he explains: one day might be spent reviewing an episode's final sound mix in a dubbing studio, while the next, he could be putting together mood boards and coming up with potential songs to match specific scenes. Other days might be spent getting in touch with record labels and publishers to obtain rights to songs from their catalogue, or going over scripts with a show's writer. If a production features scenes where actors sing or perform, a music supervisor might also be involved in rehearsals and shooting. For It's A Sin, Cooke and vocal coach Claire Underwood rehearsed with Years & Years' vocalist Olly Alexander (who plays Ritchie Tozer) and his co-star Lydia West (Jill Baxter) ahead of their joint karaoke numbers. "Obviously Olly has a track record in performing live," he says, "but it was lovely to see them come together as Baxter & Tozer."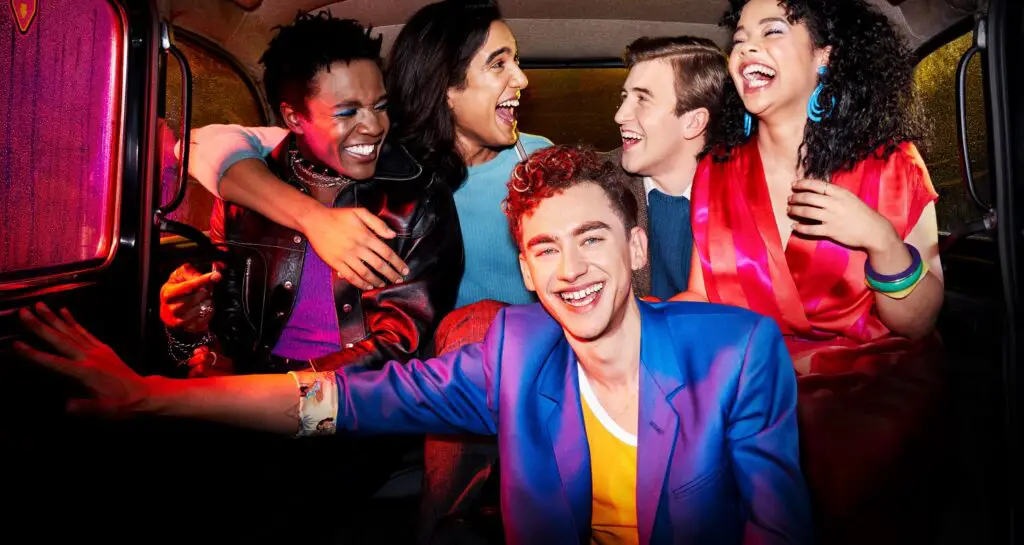 ---
READ MORE: Every song in It's A Sin is deliberate and tells its own powerful story
---
For Ciara Elwis – music director for shows such as I May Destroy You, Derry Girls, and Sex Education – her favourite part of the job is getting stuck into the storyline, and picking music to draw out particular aspects of a scene. "I'll go through a first draft of an episode with the director, editor and producer – then I'll go away and try out lots of music to find something that works. I'll pitch those tracks and then we'll all have a chat about the things that work and don't work. We rinse and repeat this a few times – it's always a really collaborative job."
With I May Destroy You in particular, Ciara and the show's writer, director and lead actor Michela Coel wanted the soundtrack to reflect the music that characters like Arabella, Terry and Kwame might listen to. "We really wanted the audience to decide things for themselves, and we didn't want there to be too much [emotional direction] leading from any of the music. That's actually quite difficult, and the opposite of what we do as music supervisors most of the time!" she explains. As a result, the show features a lot of newer musical talent – London artists Arlo Parks and Little Simz, Leicester indie band Easy Life and Philly-based Tierra Whack all appear on the soundtrack. Ciara, a music lover, enjoyed having the opportunity to give a wider platform to talented musicians early in their careers. "I worked on a show recently, and we had a message from one of the rights holders saying that the artist's streams were up by 900%," she says. "It really does make a difference."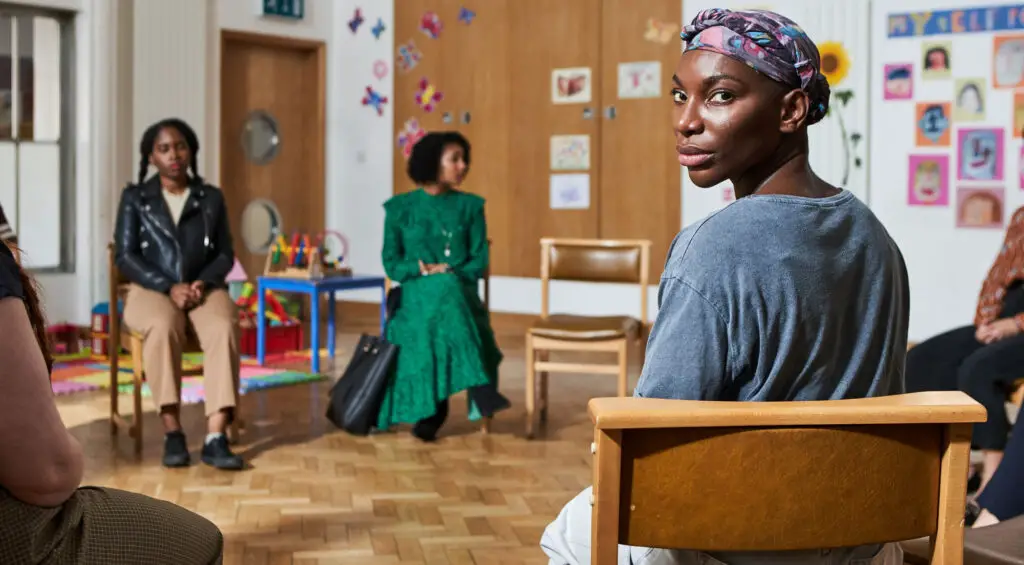 Similarly, Normal People – set in County Sligo and Dublin – features music from a fair few newer artists, particularly Irish musicians such as SOAK. "Having spoken to Irish artists that were placed in the series, Normal People has given them a lot of exposure – and has given their streaming figures a massive boost," says Juliet Martin, one of the show's music supervisors. "I feel really privileged to give Irish artists a platform. We have so much talent here, it's great to be able to showcase it."
Besides having an ear for music that works in a particular scene, "you also need to learn the rights side of the business," adds Juliet. "An apprenticeship with an established music supervisor would be a great way to learn. It's important to know that there is actually as much time on the paperwork as there is on the creative side!"
Though getting copyright to use certain songs may not be the "less sexy" side of the job, jokes Ciara, it's arguably one of the most crucial parts of a music supervisor's role. Sometimes writers will have a particular song in mind from the very beginning (with Derry Girls, creator Lisa McGee wrote The Cranberries' 'Dreams' into the original script) which brings a "certain pressure. Sometimes we can't clear it. The worst case scenario is if they have already shot something using a song as the temp-score, and we can't make it happen. With I May Destroy you, the scene with [The Prodigy's] 'Firestarter' had been shot already with the music, before it had been cleared. That was one that we just had to make happen!"
In some cases, a music supervisor might even write directly to an artist – essentially, to make a personal plea. "I did an Annie Lennox clearance recently where I wrote to her and she signed it off personally. It depends how protective an artist is," Ciara explains. "With Sex Education we had to write a lot of letters! A lot of scenes on that show come across as quite rude or ridiculous – but watching the show, you understand it's there to open up discussion. It's not just smut."
In the case of It's A Sin – which features a number of huge '80s hits from artists like Pet Shop Boys, Queen, and Soft Cell – many artists were happy for their music to appear on a show which dealt with such vitally important subject matter; the effects of the AIDS crisis in the UK. "We received several notes from some huge, huge artists or their estates wishing Russel T. Davies well with the project and sending their best wishes," Iain says.
Like the sound of music supervision? There isn't any one set route into the job – and it turns out having 'good' music taste is far less important than a wide knowledge of all different eras and genres. "I think having a good ear is important, and generally having empathy will help in this line of work," Juliet says. "You're trying to get into what the scene is saying and choosing music that works with that in some way. Music is really subjective – I love all genres of music more or less, and it's really about whatever works in the scene and in the broader context of the piece."
Growing up, Ciara was fascinated by how music could elevate everyday moments unfolding on TV – "I wanted to be the person who did the jingles for the adverts," she says. "I remember the Nikon advert which used 'Welcome Home, Son' by Radical Face really clearly. For me it was the fact that music can completely change the way that you view an image – it's such a powerful thing." After studying music at Edinburgh University, she got a job at the production studio Air-Edel, who represent composers and music supervisors.  "I started out on reception making tea for the people who made coffee – and worked my way up from there!"
Juliet, meanwhile, started out working at an independent record label and publishers. Sometimes she would work with music supervisors to clear tracks for use in TV and film, and "I learnt the rights side of the business that way," she says. From there, she got in touch with directors and producers, and got a job at Element Pictures. It's a similar story for It's a Sin's Iain Cooke, who originally worked at a record label, and first learned about music supervision from the other side of the business. "I really wasn't aware of music supervision being a career path! The first instance I remember hearing about it was when Thomas Golubić and Gary Calamar got in touch with the record label I was working at to license some songs for the HBO series Six Feet Under," he says.
"Everyone I know has come in through different areas," agrees Ciara, "whether that's from record labels, venues, or whatever. I don't know anybody who got here through any other route than starting at the bottom." The most important thing, she concludes is to be "open minded about the kinds of music you listen to. It's important not to have [set] taste! Last year I was working on this BBC children's series where we needed to clear pop songs – and then a show like I May Destroy You is very eclectic with a lot of R'nB, jazz, electronic, and afrobeat. From there, I went into trying to find copyright for sea shanties! It's most important that you want to consume as much music as possible."